Pigskin Diaries Week 1: A New Year in the NFL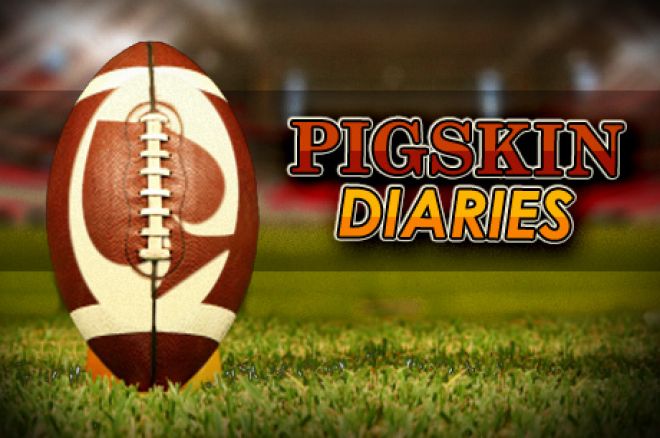 Week 1 of the NFL regular season is a lot like New Year's Day. Once the ball drops in Times Square, folks try to forget what happened in the previous year and approach the New Year as if they have a clean slate. Suddenly, at the stroke of midnight, anything is possible.
This sudden burst of inspiration tends to lead to New Year's resolutions, but resolutions never begin on Jan. 1 because everybody is too hung over to remember what resolutions they drunkenly professed the previous evening. Finally, on Jan. 2, some people begin adjusting to their "new life." In a week's time, the burst of inspiration has fled for most, and suddenly it becomes increasingly more difficult to get to the gym. Or avoid having a cigarette. Or not eat that tasty cheeseburger.
It's very hard for us humans to break our routines because, frankly, we love our routines — even if they're detrimental to our health. Those of us who have successfully incorporated dieting and exercise into their lifestyle did so not solely because of a burst of optimism, but because they made it a routine.
In July and August, NFL teams act just like our drunken friends on New Year's Eve. No matter the odds, they all think they can make the playoffs, or win their division, or even win the Super Bowl. Unlike our drunken friends, however, they bust their butts all day every day in preparation, but to be fair our friends don't get paid to work out or train.
Tis the season of optimism in the NFL, but in a month there will be basement dwellers and coaches on the hot seat. A key play or injury will turn a team that we once thought was great into an average or below-average squad, and a single bounce of the ball will turn a run-of-the-mill team into a playoff or even Super Bowl contender. It's impossible to predict, so our job is to jump onto trends as fast as possible.
This week, we're going to put our faith into a few ugly teams that you may have lost bets with last year. The public has no interest in betting on "bad teams," giving these underperformers some value right out of the gate.
Philadelphia @ Cleveland (+9)
Nobody in their right mind looks at this game and instantly circles Cleveland. Nobody.
Which is precisely why we did.
The Browns stunk last year. They ranked 25th in total DVOA, 25th in offensive DVOA, and 22nd in defensive DVOA. They lost 12 games — six by double figures — and finished the season on a six-game losing streak. Only two teams scored fewer points than Cleveland (218) during the regular season: the Kansas City Chiefs (212) and the St. Louis Rams (193).
With all that stinkiness, though, the Browns were 8-6-2 against the spread in 2011.
Brandon Weeden is an unproven rookie quarterback, Trent Richardson is a rookie running back coming off minor knee surgery, and the team's best receiver is Greg Little, a guy with "big play potential" who didn't make a single big play in his rookie year.
On paper, nothing is appealing about the Cleveland Browns, which is why the public is going to hammer the Eagles.
We'll gladly fade the public and take the stinky home dog getting more than a touchdown.
Fantasy: Richardson is a mystery, but if you drafted him, that means you used a third-round pick or better to obtain him. Don't get cute, start your studs.
Washington @ New Orleans (-7.5)
The New Orleans Saints are a well-oiled machine on offense. On Sunday, before you can say the words "Bounty-Gate" or "Sean Payton," Drew Brees is liable to throw two perfect seam routes for touchdowns, and pick up right where he left off in 2011. If anything, the off-season drama made the Saints a more valuable team this week because the public is unsure whether or not they'll be able to compete at a high level without their head coach and with a large black cloud looming over their heads.
This line opened at (-11) in April, and had it not been for Bounty-Gate, it would still be double digits. New Orleans was fantastic last year, finishing 13-3, but more importantly they were 12-4 ATS the spread. Backdoor covering is a lot easier against a team like the Pittsburgh Steelers (12-4 straight up, 7-9 ATS), than it is against a team like New Orleans because of Brees.
Don't be alarmed by the absence of Robert Meachem either. In passing offenses, any receiver can look good in the right system — just ask Dallas' Kevin Ogletree.
Barring any freak injuries or turnovers, it will take a monumental effort from Robert Griffin III for the Redskins to compete in this game. Even still, when Cam Newton threw for over 400 yards in his debut last season, the Panthers lost to the Cardinals by a touchdown.
Fantasy: The more I watched Washington in the preseason, the more I liked Pierre Garçon as a fantasy prospect. He's not a stud by any means, but RG3 looks his way constantly, and he's going to rack up a lot of targets.
Indianapolis (+10) @ Chicago
At some point this season, Andrew Luck will single-handedly devalue the Colts. The public will absolutely love him.
For now, while the scent of 2-14 (6-10 ATS) lingers in the air, we'll happily take the extra three points against one of the most public teams in the league.
Fanasy: Reggie Wayne is going to be one of the most consistent flex plays this year, even in standard scoring leagues, and has the potential to be a WR2 if Luck progresses quickly.
St. Louis (+7.5) @ Detroit
The Rams were the second-worst team in the NFL last year, finishing 2-14 (4-12 ATS). In the off-season, they fired head coach Steve Spagnuolo, hired Jeff Fisher to replace him, and traded the second overall pick to the aforementioned Redskins for three first-round draft picks and a second-round pick.
The organization has faith in third-year quarterback Sam Bradford, who only played in ten games in 2011 because of an injury. In his rookie season, Bradford nearly took the Rams to the playoffs, and last year the team was a trendy pick to win the NFC West.
Now they're completely passed over, and rightfully so — to go along with their dreadful record in 2011, they ranked 32nd in total DVOA, 32nd in offensive DVOA, and 21st in defensive DVOA. They were awful.
Which is of course why we like them to cover in week one.
The Lions are a darling team thanks to Calvin Johnson and Matthew Stafford. The public loves points. Real points, fantasy points, extra points, or two-point conversions, you name the points and they love them. Unbeknownst to the average fan, though, Detroit was very average at home last season, finishing 4-4 ATS. The Lions have major holes in their secondary, and if Bradford can sling it a little bit, the Rams can keep this one close.
Fantasy: If you play in a point-per-reception (PPR) league and own Danny Amendola, then he's a borderline flex play this week with the potential to be a WR1 by season's end.
Atlanta @ Kansas City (+3)
Jamaal Charles, Eric Berry, and Tony Moeaki are healthy. Stanford Routt, Peyton Hillis, Kevin Boss, and Eric Winston are new faces, and all very reliable. The Chiefs have one objective in mind this season: ground and pound.
Romeo Crennel is a defensive-minded head coach. He was the defensive coordinator for the New England Patriots during all three of the Super Bowl wins last decade, and last year as the defensive coordinator of the Chiefs, the team ranked 13th in defensive DVOA. However, without Charles at tailback, the offense struggled, finishing 29th in DVOA.
If the name Eric Winston doesn't ring a bell, he was Arian Foster's right tackle last year in Houston. According to FootballOutsiders.com, Houston ranked fourth in offensive line efficiency in 2011, and ran the ball to the right 19 percent of the time (third highest in the NFL). Winston will make Charles and Hillis' lives much easier over the next few months.
While the Chiefs plan to ground and pound, the visiting Falcons want to air it out. Matt Ryan is poised for a breakout season — again — and Julio Jones is being touted as one of the league's best receivers. But Atlanta was dismal on the road last year, finishing 3-5 ATS, and they even lost outright when they visited the Bucs, a team that finished 4-12.
We've never been on the Ryan bandwagon, and we won't be until he performs better on the road.
Fantasy: Both Hillis and Charles have fantasy value — Charles as an RB2 or RB1, and Hillis as a flex, possibly an RB2.
Jacksonville (+3.5) @ Minnesota
This Sunday! In the Metrodome! Blaine Gabbert! Christian Ponder! In a battle of mediocre quarterbacks, only one can lose … unless there's a tie!
Jaguars! Vikings! And maybe even Adrian Peterson if he's crazy enough to play less than nine months after knee surgery!
Fantasy: If you benched Jason Witten on Wednesday because he had a lacerated spleen, or you just need a tight end, go ahead and snag Kyle Rudolph if he's available. He has a big frame, good hands, and is one of Ponder's favorite targets.
Buffalo @ New York Jets (-3)
The Jets gave up a lot of points last season (363, 13th-most), but still ranked second in defensive DVOA. Since Rex Ryan became the head coach in 2009, the team has never ranked worse than fifth. Last year, both Eric Smith and Jim Leonhard struggled at safety, so Gang Green replaced them with free agents Laron Landry and Yeremiah Bell. They also added rookie Josh Bush.
In April, nearly a month after trading for Tim Tebow, the Jets opened as six-point favorites. Since April, the Jets have been hammered by both local and national pundits, while the Bills have become a trendy sleeper pick.
The Jets offense is a mystery, but their defense is still solid, and Ryan Fitzpatrick has to prove that it was "just a rib injury" that slowed Buffalo down last season. We're going to fade the public here, and pick one of the least public teams in the league.
Fantasy: You can joke about Tebow all you want, but if he gets enough snaps, he'll be fantasy relevant. If you have enough room on your bench, then he's definitely worth a roster spot.
New England @ Tennessee (+5)
Carolina @ Tampa Bay (+2.5)
Seattle @ Arizona (+3)
Yes, we're on all five home dogs this week. The Arizona Cardinals is the only team I considered excluding, but I have a sneaking suspicions that if we group all five together, we're going to win at least three games. I really like the Seattle Seahawks this year, and if they're for real, they'll handle Arizona.
But I'll be kicking myself if they don't, and Arizona is the only home dog I passed on.
New England can score (third in offensive DVOA in 2011), but their defense isn't trustworthy (30th in defensive DVOA). Cam Newton dazzled us in his rookie year, and Carolina's offense excelled as well (fourth in offensive DVOA), but they, too, struggled on defense (32nd in defensive DVOA). This is a passing league, and throwing the ball is paramount, but defense can't be forgotten completely.
The Bucs (31st in defensive DVOA) struggled, as well, but they quit on their coach toward the end of the season, and Greg Schiano could give the team the spark they needed. Don't be surprised if Tampa Bay gets a San Francisco-like life from their rookie head coach.
Jake Locker and Josh Freeman are both capable of making big plays, and against these poor defenses they could be the difference makers.
Fantasy: I absolutely love the Bucs' rookie running back Doug Martin this year, especially in PPR leagues.
Miami (+12) @ Houston
I promised you ugly this week. Well, it doesn't get uglier than this. Take the points and close your eyes.
Fantasy: Keep your eyes on DeVier Posey. Traditionally, Andre Johnson's fellow wide receivers have been a disappointment, but Posey looks much more explosive than Jacoby Jones and Kevin Walter.
San Francisco @ Green Bay (-5)
We mentioned last week that nobody overachieved more during 2011 than the Niners. Among the teams that won 13 or more regular season games, no one ranked worse than San Francisco in total DVOA (6th) or offensive DVOA (9th). How did they win 13 games, you ask? The team was plus -28 in turnover margin, losing the ball only five times the entire season.
The Packers were just as fortunate, turning the ball over just six times and recording a +24 turnover ratio, but Aaron Rodgers is arguably one of the best quarterbacks in the league. Alex Smith is not.
Smith is entering his eighth season as an NFL quarterback. Prior to 2011, Smith had never thrown for over 3,000 yards. He had never completed a season without throwing less than 10 interceptions. And more importantly, the team never won more than eight games.
One year is not a trend. Often, it's an anomaly. I love Green Bay in this game and think they'll win by two touchdowns or more.
Fantasy: Hold your horses on the Cedric Benson love. Yeah, he's a starting running back on one of the best offensive teams in the league, but have we forgotten how bad James Starks and Ryan Grant were last year?
Pittsburgh @ Denver (-2)
Peyton Manning won't "wow" you this season with his arm strength. From what I've seen in the preseason, he's lost a lot of zip on the ball. But he's still unbelievably accurate. He's still able to walk up to the line of scrimmage and position his offensive line and receivers accordingly. He's still going to make mediocre receivers look great. He's still going to win games.
Because he has a sickle cell trait, Steelers cornerback Ryan Clark won't be playing in Denver on Sunday night. His absence will be noticeable, just like it was back in January during Pittsburgh's wildcard loss in Denver. The rest of the team's aging defense will have to step up, and do so against Manning's fast-paced hurry-up offense.
On the other side of the ball, Pittsburgh will have to find ways to stop Von Miller and Elvis Dumervil from killing Big Ben, while Mike Wallace learns the playbook on the go.
It's hard to bet against Manning, even after multiple neck surgeries, especially when you're laying less than a field goal at home.
Fantasy: Demaryius Thomas has big play ability, while Eric Decker can run the entire route tree. Manning will prefer the latter, and he could be a WR1 in PPR formats.
Cincinnati (+6) @ Baltimore
San Diego @ Oakland (-1)
Am I the only one who loves Monday Night Football doubleheaders more than Thursday Night Football? We get to see more West Coast teams (no bias here), and Monday night was made for football, while Thursday night is just ... random. It also screws up the schedule.
Apparently, it's time for Joe Flacco to make his Matt Ryan leap this year. The only problem is Ryan never made said leap.
In all fairness, Flacco looked good in the playoffs, but if you were starting a franchise today, would you take him over Andy Dalton? Would you take Torrey Smith (also receiving insane amounts of hype) over A.J. Green? Would you take Ray Lewis (37) and Ed Reed (33) over Rey Maualuga (25) and Reggie Nelson (28)?
If the Flacco hype is real, then the Ravens could win 14 games and earn home-field advantage in the AFC. If it's not, then the Ravens have a 12-win ceiling, and an eight-win floor. We're betting on the latter, and think the Bengals can win outright on Monday.
As for Oakland, we may not have great faith in Carson Palmer, but Darren McFadden is a superstar. If he plays in sixteen, he'll be top three in total yards from scrimmage.
Fantasy: Try to avoid Denarius Moore (hamstring) and Ryan Matthews (shoulder). Even if they play, they won't produce at the same level as they do when healthy.
This Week: 0-1-0
Season: 0-1-0
All lines are courtesy of Covers.com, and are accurate as of 10:00 a.m. EDT on Friday
Follow PokerNews on Twitter for up-to-the-minute news.