The Nightly Turbo: Voulgaris on Full Tilt Poker and Lindgren, FeltStars Closes, and More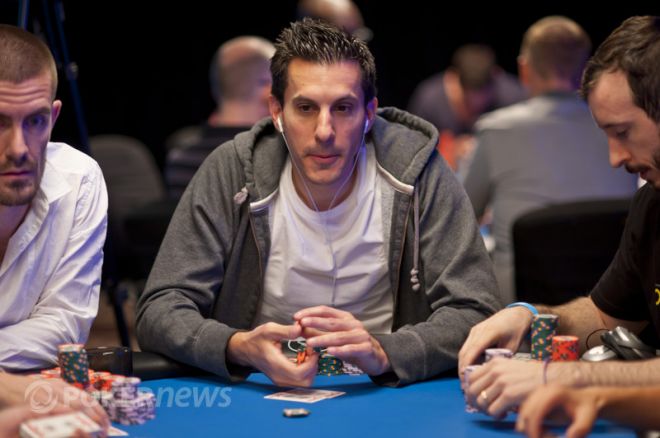 More information seems to be leaking every day about the previous owners of Full Tilt Poker. The latest comes from high-stakes poker player Haralabos Voulgaris. We'll cover that story, plus the closing of another U.S.-facing poker room, in this edition of the Nightly Turbo.
In Case You Missed It
The European Poker Tour Sanremo Main Event played down to 24 players on Day 4. Jason Tompkins emerged as the chip leader, but some big names were still in contention.
Over the past two years, Phil Hellmuth has has reached seven final tables and won two bracelets at the World Series of Poker. Rich Ryan discusses Hellmuth's amazing run in his latest Five Thoughts piece.
Did you miss ESPN's coverage of the World Series of Poker on Tuesday night? Get caught up in our weekly recap.
Nevada is inching closer toward a real-money online poker market. But many poker pros are concerned that Nevada's liquidity pool won't be large enough to play full-time.
Voulgaris Speaks Out
Although he was never involved in the inner-workings at Full Tilt Poker, a recent blog by Haralabos Voulgaris is getting a lot of attention from the poker community this week. Voulgaris, best known for his sports-betting prowess, also rubbed elbows with many of the Team Full Tilt pros at the high-stakes poker tables and even had the opportunity to be shareholder of the once prosperous business.
Voulgaris claims he was offered a 3 percent stake in Full Tilt Poker when the company was first seeking investors, but Voulgaris passed because he was "less than impressed" with CEO Ray Bitar during a dinner meeting with Bitar and Chris Ferguson.
"In the end I decided that I wasn't really interested in doing any other non-sports betting work at that time, and I was not going to pay a markup to invest in what was at best a grey area gaming company headed by a (hardworking) Buffoon," Voulgaris wrote about Bitar.
It was a decision that likely cost Voulgaris around $10 million in shareholder distributions. And while he felt somewhat vindicated on Black Friday, he still regrets passing on the offer.
Much of Voulgaris' blog focuses on the overwhelming debts of former Team Full Tilt Pro Erick Lindgren, who supposedly still owes Voulgaris a large chunk of money. Many community members have piled on Lindgren regarding his outstanding debts, especially since Howard Lederer revealed a shocking piece of information about a double-credited loan Lindgren never paid back to Full Tilt Poker.
Be sure to check out Voulgaris' full blog at aloneinthecorner.com.
FeltStars Closes
Poker players in the U.S. have one less online poker option following the recent closure of FeltStars.. The U.S.-facing site shut its doors with no explanation to customers this week. FeltStars players will now have the option of moving funds over to one of the 70 other skins on the Merge Gaming Network.
Players received the following email from the Merge Network support team this week:
The entire FeltStars Team would like to thank all of our loyal players for at the years you have played poker on FeltStars. We are saddened to announce that we will be leaving online poker and no longer offer these services on our website.
According to the email, players have been instructed to create an account at another Merge skin and email the support staff to complete the funds transfer. If players already have another account on a Merge Gaming Network partner, then players would need to email Merge Gaming and pass along the appropriate information to make the transfer.
Former FeltStars sponsored pro Chris "Fox" Wallace opened up about the online poker room in his blog at PokerXFactor.com, saying, "Getting paid was impossible, all kinds of shady things popped up about the site in the past, and I couldn't get anything done."
Christina Lindley, Matt Perrins, Matt Brady, and Andres Pereyra were among the many members of the FeltStars Team.
Read more at TwoPlusTwo.com.
Global Poker Index Player of the Year
The Global Poker Index Player of the Year standings were released on Wednesday with Dan Smith again on top of the standings.
Smith's five major victories on the 2012 circuit give him a comfortable lead for the seventh consecutive week, but there's still plenty of time for a number of contenders to steal the top spot. Kyle Julius climbed two spots to No. 2 this week after taking 14th place at the World Series of Poker Europe Main Event. Julius moved past Marvin Rettenmaier and Andrew Lichtenberger in this week's GPI POY rankings.
Phil Hellmuth's victory at the WSOP Europe Main Event shot him all the way up to No. 4 this week. The Main Event title gave Hellmuth his second million-dollar score of the year; he finished fourth at the Big One for One Drop in July for more than $2.6 million. Also moving up the rankings this week were Jason Mercier (up three spots to No. 7) and Bertrand Grospellier (up three spots to No. 8).
Here's a look at the Top 10 of the Global Poker Index Player of the Year standings:
| Place | Player | Total Score | Change in Rank |
| --- | --- | --- | --- |
| 1 | Dan Smith | 1044.71 | -- |
| 2 | Kyle Julius | 906.02 | +2 |
| 3 | Marvin Rettenmaier | 891.34 | -1 |
| 4 | Phil Hellmuth | 846.83 | +8 |
| 5 | Andrew Lichtenberger | 819.75 | -2 |
| 6 | David Baker | 790.71 | -1 |
| 7 | Jason Mercier | 766.71 | +3 |
| 8 | Bertrand Grospellier | 752.53 | +3 |
| 9 | Daniel Negreanu | 747.64 | -- |
| 10 | Jonathan Duhamel | 741.23 | -4 |
The Global Poker Index Player of the Year, presented by PokerNews, honors the player who has the strongest performance in live tournaments during the calendar year, according to the USA Today Global Poker Index point system.
For the full GPI Player of the Year standings, head on over to GlobalPokerIndex.com.
Bally Partners With Mohegan Sun
On Wednesday, slot machine maker Bally Technologies announced that it has reached an agreement to provide its iGaming platform to Mohegan Sun's casinos in Uncasville, Connecticut. and Wilkes-Barre, Pennsylvania.
The agreement will allow Mohegan Sun to offer play-for-free online poker in Connecticut and Pennsylvania in preparation for real-money Internet poker regulation. The poker site will be operated by Bally's iGaming platform, which is designed for mobile integration and is ready to accommodate online gaming beyond poker, such as casino table games, video slots, sports betting, and social.
"We are proud of our long-term strategic partnership with Mohegan Sun," said Bally Technologies CEO Richard Haddrill. "This partnership will demonstrate the advantages of having an open iGaming platform, which allows for best-in-class content."
In June, Bally Technologies became the first company licensed in the Nevada as an interactive gaming system manufacturer and service provider. Bally recently partnered with American Casino & Entertainment Properties LLC to provide online poker in Nevada once its technology is approved by gaming regulators.
Read the full press release at 4-traders.com.
Go-Karting in Sanremo
This year, the European Poker Tour introduced a concierge service to provide entertainment for players while on tour. Sarah Grant got a first look at the fun during a go-kart trip in Sanremo.
Follow PokerNews on Twitter for up-to-the-minute news.