Top Ten Moments of the 2012 WSOP Main Event: Merson's Huge Double and a Near Cooler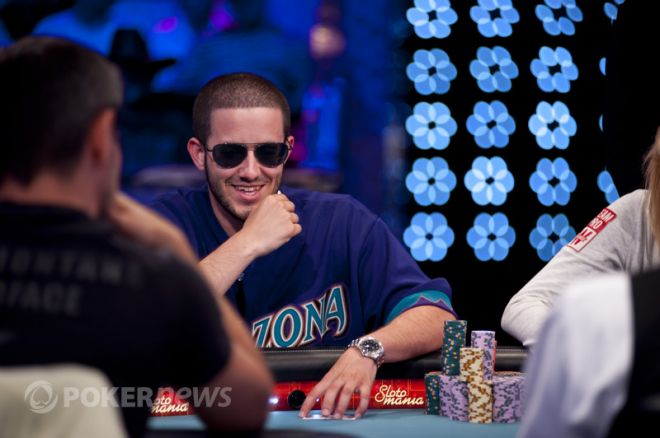 Welcome to the penultimate edition of our top-10 moments from the 2012 World Series of Poker Main Event. Our final four moments all had a direct impact on the formation of the Octo-Nine, and all but one of them occurred on the play-down day. In hand number four, a 2012 WSOP bracelet winner turned the nuts and his opponent rivered the second nuts, and in hand number three, two Octo-Niners made insane preflop folds.
Before you go on however, make sure you check out the first three installments of this series.
4. Straight vs. Straight
Despite being crippled by Fabrizio Gonzalez on Day 5 of the Main Event, 2012 WSOP bracelet winner Greg Merson found himself on Day 7, inching closer and closer to the final table. Minutes before the dinner break, Merson won a massive, 21 million-chip pot off of Wilfried Harig:
Greg Merson raised to 400,000 from middle position only to have Wilfried Harig three-bet to 960,000 from the button. The blinds both got out of the way and Merson made the call.
Both players proceeded to check the
flop, bringing about the
turn. Merson led out for 1.05 million, Harig called, and the
peeled off on the river. Merson took a moment before announcing that he was all in for 8.385 million, and Harig snap-called.
Merson slapped down
for the nuts, and his cheering section erupted; meanwhile, a shell-shocked Harig revealed
for the inferior nine-high straight.
The aforementioned hand got to the river, but No. 3 did not. Why? Because two Octo-Niners made huge folds.
3. They Folded What????
On Hand #4 of the official final table bubble, Russell Thomas five-bet jammed all in. At the time, it seemed obvious what he had, and he confirmed all suspicions by tabling two aces:
Robert Salaburu started with the button. Russell Thomas raised to 750,000 from under the gun, Jacob Balsiger called from a seat over, and action folded around to Greg Merson who raised to 1.85 million. Then Jesse Sylvia pumped it up to 4.6 million from the cutoff seat. It folded back to Thomas who paused a bit and moved all in for more than 17 million.
That big push was enough to force folds all around, and Thomas showed his
.
What we didn't know at the time, is that Merson had queens, Balsiger had ace-king, and Michael Esposito — who snap-folded — had pocket tens!
Who knows what would've happened had Sylvia not four-bet, but he did, and it may have saved both Merson and Balsiger a lot of money — or Thomas' dreams may have even been shattered with aces.
Follow PokerNews on Twitter for up-to-the-minute news.