The Weekly Turbo: Mike Matusow Wins NBC Heads-Up, Phil Ivey's New Talent, and More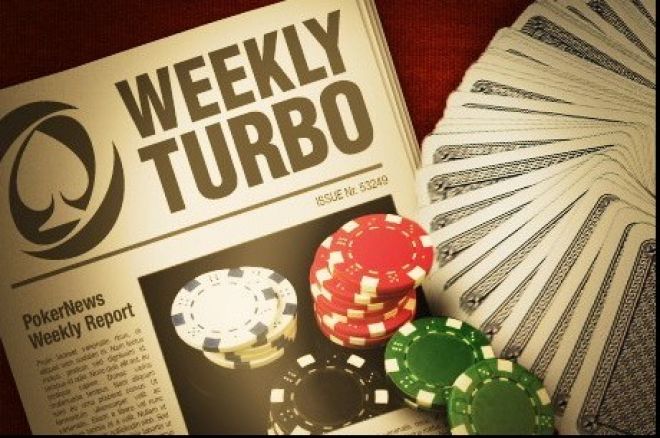 Did you miss any of the top poker news stories this week? Well you've come to the right place to get caught up. We're covering Mike Matusow's victory in the NBC National Heads-Up Poker Championship, the new poker players signed by Phil Ivey, and more.
Poker Tournaments
"The Mouth" Roars
Some said Mike Matusow didn't belong in the field of 64 at the NBC National Heads-Up Poker Championship. But Matusow slienced the doubters on Saturday by emerging victorious in the invitation-only event, earning $750,000 in the process.
Matusow defeated his good friend Phil Hellmuth in the championship match and denied Hellmuth of becoming the first two-time winner of the event. To reach the final, Matusow beat Scott Seiver and Hellmuth ousted Joe Serock in the semifinals.
Here's how the final hand played out, as reported by PokerNews' Donnie Peters and Pamela Maldenado:
Mike Matusow raised to 32,000 on the button, and Phil Hellmuth called to see the flop. Hellmuth checked, and Matusow bet 30,000. Hellmuth called.

The turn was the , and Hellmuth checked again. Matusow bet 105,000, and Hellmuth took some time. He placed a hand on his cheek, shook his head and looked at his cards. After a couple of minutes, he removed his sunglasses and said, "I'm thinking of making one of the worst laydowns of my life here."

After a couple minutes more, Hellmuth raised all in. Matusow was now left with a decision as Hellmuth shouted with excitement, "Yes! You didn't snap call!"

After some time, Matusow called with the for a flush draw. Hellmuth held top pair with the . On the river, Hellmuth needed to dodge a diamond to win the hand and double up or it would be all over.

The dealer burned one last time, then dealt the on the river, delivering Matusow the flush and awarding him the tournament.

"You gotta go for it, baby! I told you it was my time!" exclaimed Matusow after winning the hand. Hellmuth took home $300,000 for his runner-up finish while Matusow earned the title and $750,000.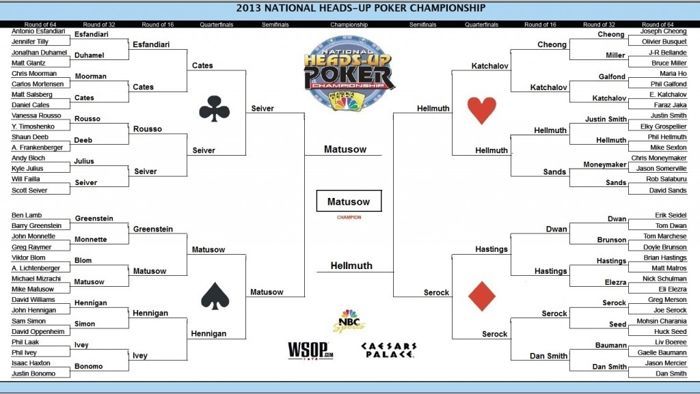 For more details from the NBC Heads-Up Poker Championship, check out the live blog here at PokerNews.com.
LAPT Season 6 Schedule
On Thursday, PokerStars.net announced the schedule for Season 6 of the Latin American Poker Tour (LAPT). The biggest and richest poker tour in Latin America will feature six stops, with tournaments taking place in Chile, Brazil, Colombia, Peru, Panama and Uruguay, where the season-ending Grand Final will be held.
The sixth season will get under way at the Enjoy Casino & Resort in Viña del Mar, Chile, from March 13 through 17. It marks the fourth time the LAPT will visit Chile. Nine events are scheduled for the opening stop on the tour, including a $5,000 buy-in high roller and the flagship $1,100 Main Event. Last year's Main Event attracted 672 players and generated a prize pool of $651,840.
"We are very proud to be part of the biggest poker tournament in Latin America, held by the Latin American Poker Tour," said Eduardo Garcia, Commercial Manager at the Enjoy Casino & Resort. "It is due to this association that the Enjoy Casino & Resort in Chile has led this initiative, five years in a row, which stands for quality and constitutes an effective way to boost tourism by bringing tourists to Chile from around the world."
LAPT Season 6 Schedule
| Event | Location | Dates | Main Event Buy-in |
| --- | --- | --- | --- |
| LAPT Chile National Poker Championship | Viña del Mar | March 13-17 | USD $1,100 |
| LAPT Brazil | São Paulo | April 25-30 | R$4,000 (approx. USD $2,000) |
| LAPT Colombia National Poker Championship | Medellin | June 5-9 | COP 2,000,000 (approx. USD $1,000) |
| LAPT Peru | Lima | July 31 – Aug. 4 | USD $1,650 |
| LAPT Panama | Panama City | Sept. 18-22 | USD $1,650 |
| LAPT Uruguay Grand Final | Punta del Este | November 13-17 | USD $2,500 |
For full details of the LAPT Season 6 schedule, go to LAPT.com.
Nadal Wins First Poker Tournament
Tennis superstar Rafael Nadal has done it again. No, he didn't win another Grand Slam tennis tournament. But Rafa did win his first poker tournament on PokerStars.es this week.
Nadal, who signed a sponsorship deal with PokerStars last July, has been benched from tennis for nearly eight months with tendonitis in his left knee. The persistent injury forced him to withdraw from the London Olympic Games, the U.S. Open, and now the Australian Open taking place this month.
Nadal has used his spare time to recuperate, rest, and hit the online felt to practice his poker. In a €10 No Limit Hold'm event on Wednesday, Nadal scooped the first place prize of €152.40 after outlasting a field of 47 players. Although the prize may be small (Nadal has more than $33 million in career earnings), it is likely a nice boost to his confidence after being unable to compete on the court for months.
For a closer look at his win, visit the PokerStars Blog.
Poker Players
#TeamIvey
The rumored Jan. 14 launch of IveyPoker.com has come and gone, but Phil Ivey is still expanding his team before the site goes live. In the past few days, Ivey signed Dan Smith, Andrew Lichtenberger, Aaron Jones, Kevin Vandersmissen, Mathew Frankland and Ronnie Bardah to represent the site as pros and instructors.
Smith, Lichtenberger and Jones have been high-stakes pros for years and have long been a part of LeggoPoker.com, an online poker training site. White Jones focuses mostly on cash games, Smith and Lichtenberger have become two of the most successful players on the live tournament circuit. Earlier this month, Smith was named the 2012 Global Poker Index Player of the Year after winning six tournaments during 2012.
Bardah is best known for winning his first bracelet at the 2012 WSOP $2,500 Limit Hold'em Six Handed event, raking in $182,088. Bardah also finished 24th at the 2010 WSOP Main Event, adding $317,161 to his earnings. Bardah has two career titles and over a million in overall winnings during his decade-long poker career.
Vandermissen burst onto the live tournament scene with a runner-up finish at the 2011 PokerStars EPT Snowfest Main Event, earning $368,601. He also received $533,316 for taking the title at the 2012 Irish Open last April. Vandersmissen is also a feared tournament grinder on the virtual felts, and on Sunday, he won the Sunday 500 on PokerStars for $77,130.
You may recognize Frankland from last spring's PartyPoker Premier League V, where he earned his seat as a qualifier and held his own against some of the game's top pros. The U.K. native has yet to win a major live title but did place third in the 2010 English Open for $110, 409.
Ivey's website will be dedicated to teaching people how to play poker the "right way." Ivey and his team of pros will provide free, downloadable video instruction to the poker community. As yet, no new launch date has been released.
Find out more at IveyPoker.com.
Hansen and Rettenmaier Win Poker Awards
On Tuesday night, members of the poker community gathered at the Aviation Club De Paris for the 2012 European Poker Awards.
It was the first year the event was sponsored by Global Poker Index (GPI), and after a few words from GPI CEO Alexandre Dreyfus, the presentation commenced and a number of talented players were recognized.
Kara Scott hosted the ceremony and received the award for Poker Personality of the Year. The overall reaction to the event was positive, and many attendees posted their thoughts via Twitter:
Thank you @GlobalPokerIndx European Poker Awards for giving me a beautiful trophy for Poker Personality of the Year!! Shocked & so happy :)

— Kara Scott (@KaraOTR)
Amazing night at #GPI #EPA2013, awarded for #1 French player of the year!! @sylvainventre @rocollinet @nojennyno

— Bertrand Grospellier (@elkypoker)
Attended European Poker & @GlobalPokerIndx awards in Paris tonight, fascinating mix of industry and player celebrities. It's a big business

— Patrick Nally (@patrick_nally)
German poker pro Marvin Rettenmaier was the lone double-winner of the night, receiving the German Player of the Year and European Player of the Year. Another major honor went to Gus Hansen, who was presented with the Lifetime Achievement Award.
Here's a look at the winners:
Rookie of the Year: Ole Schemion
Best Tournament Performance of the Year: Davidi Kitai
Europe's Leading Lady: Lucille Cailly
Internet Player of the Year: Jens Kyllönen
Poker Staff Person of the Year: Simon Trumper
Rob Gardner Memorial Award for Poker Personality of the Year: Kara Scott
Best Tournament of the Year: EPT Barcelona
GPI Player of the Year: Marvin Rettenmaier
Lifetime Achievement Award: Gus Hansen
French Player of the Year: Bertrand Grospellier
German Player of the Year: Marvin Rettenmaier
UK Player of the Year: Roberto Romanello
Belgian Player of the Year: Davidi Kitai
Irish Player of the Year: Dermot Blain
Finnish Player of the Year: Juha Helppi
Italian Player of the Year: Andrea Dato
Austrian Player of the Year: Ivo Donev
Spanish Player of the Year: Cesar Garcia
For more, read the story at the Global Poker Index website.
Poker Terms IRL: Matt Matros on the Debt Ceiling
Three-time World Series of Poker bracelet winner Matt Matros has combined his expertise in poker with his interest in politics to create an interesting piece for CNN Money, breaking down the U.S. debt ceiling using poker terms.
Matros, a Yale University graduate, poker pro, and esteemed author, wrote a piece called Debt ceiling poker: The worst bluffers and the biggest 'nits.' Using a unique style to describe his thoughts on the matter, Matros uses poker terms such as "bluff" and "nit" to explain the recent actions taken by the government.
In the article, the "worst bluff" is given to House Speaker John Boehner and the rest of the House Republicans for threatening to not raise the debt ceiling.
Matros goes on to describe Mitch McConnell, senior Republican of the Senate, as the "most adept at the 'float,'' which explains how McConnell made a deal to avoid the fiscal cliff. According to Matros, McConnell's plan appeared as a big win for Obama with tax hikes on the rich and no spending cuts, but in reality, he is using the deal to prolong the debate into 2013, allowing Republicans time to "gauge public reaction before solidifying their stance."
Matros called Federal Reserve Chairman Ben Bernanke the "best railbird," someone who is on the sidelines ready to give his input on the game but not acting as the player taking the risks.
He even went as far as to describe President Barack Obama as the "biggest nit," adding him to the rest of the politicians who avoid solutions to "remain safe within party lines."
With more than 100 comments on this piece as of press time, it is clear Matros created a solid debate. More can be read at money.cnn.com.
Poker Legislation
Undecided in New Jersey
Poker players in New Jersey are one step away from being able to play poker legally online. But that last step could once again prove difficult to be hurdle.
During an "Ask the Governor" show on a New Jersey radio station Tuesday night, Governor Chris Christie was asked by a caller whether he was prepared to sign the online gambling bill that moved through the state legislature last month. The answer wasn't quite what poker players hoped for.
Here's what Christie said about the bill, courtesy of NorthJersey.com:
Well, [the bill] is sitting on my desk. I've got to make a decision very soon. I haven't made a final decision yet, but here are the things – two things that I'm concerned about.

The first is that I don't know that it really will help Atlantic City. And I'm concerned that it may drive traffic away from Atlantic City – that if people can gamble in their own homes on their laptops, why are they going to go to Atlantic City? And I think it's contrary to what we're trying to accomplish there.

Secondly, I'm also really concerned about setting up a whole new generation of addicted gamblers. You know, if you can sit on the edge on your bed on your laptop and gamble away the paycheck – that's a lot different than making the decision to go down to Atlantic City to gamble in a casino. So I've got those two concerns.

I haven't made a final decision yet, but I have those two concerns, and you should know that that's the way I feel. And [there is] in part the reasons that I vetoed the bill before, in addition to some ways that it was constructed that made no sense, either. So I'm taking a very close look at it, I was reading it over the weekend, and reading the briefing from my staff in depth, and I'm going to have to make a decision in the next couple of days.
Christie has until Feb. 4 to act on sign, veto, or allow the bill to proceed without action. Sen. Ray Lesniak put a similar bill on Christie's desk in March 2011, but the governor vetoed it despite warming up to the idea of an Atlantic City-centric online gambling market. Christie's comments on Wednesday seem to indicate that he's again wavering on the issue.
Read NorthJersey.com for the full story.
Mississippi Online Poker Bill Back on the Table
Mississippi Rep. Bobby Moak has reintroduced an online gambling bill that would make real-money online poker legal within state lines. This is Moak's second attempt at legalizing online gambling in Mississippi; his initial run failed to pass through committee in early 2012.
The Mississippi Lawful Internet Gaming Act of 2013, or House Bill No. 254, is similar to the one Moak file in February last year. Those holding gaming licenses would be issued permits from the state's Gaming Commission.
According to the bill, Internet games would be taxed at 5 percent of gross revenues and would require operators to apply for five-year licenses through the Mississippi Gaming Commission.
To protect the state from any wrong, the bill would "inhibit underage wagering and otherwise protect vulnerable individuals, ensure that the games offered through the Internet are fair and safe," and would require that all players be at least 21 years old and sign a wagering agreement.
Along with Mississippi, New Jersey, California, and Iowa are also working on legislation while Nevada and Delaware have already legalized real-money wagering online.