The Weekly Turbo: Ivey Dominates High-Stakes Action Online, Chris Ferguson's Civil Case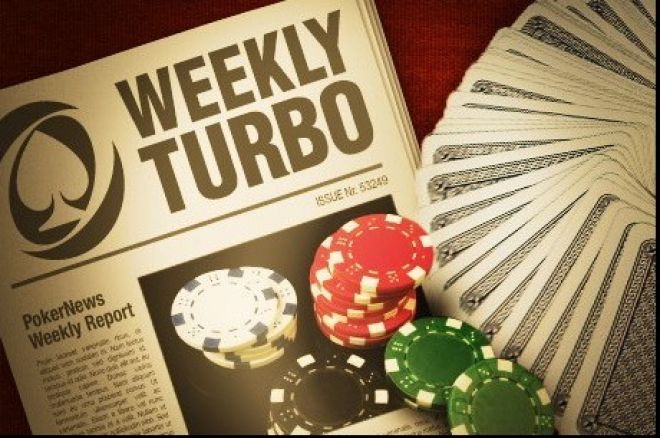 Did you miss any of the top poker news stories this week? Well you've come to the right place to get caught up. We're covering Phil Ivey's big week at Full Tilt Poker's high stakes tables, the latest on Chris Ferguson's civil case, and more.
Poker Players
Ivey Ivey Ivey
How does Phil Ivey cope with busting out of a major poker tournament? By making nearly $600,000 playing online cash games. That's how.
Shortly after he finished 30th in the Aussie Millions Main Event on Thursday, Ivey hit the high-stakes tables at Full Tilt Poker and made $589,000 playing mixed games, pot-limit Omaha and no-limit hold'em. According to HighStakesDB.com, Ivey has made $818,000 on FTP over the last three days, bringing him out of the red for the first time since the site relaunched in November.
Ivey's biggest win on Thursday came in a $300/600 no-limit hold'em heads-up match against Alex "IReadYrSoul" Millar. Playing under the name "Polarizing," Ivey won more than $280,000 from the young Brit during a one-hour session. The session produced three six-figure pots, all of which were pushed to Ivey. The biggest came when Ivey's
held up against Millar's
after Millar called Ivey's five-bet shove preflop. The board ran out
, sending a pot worth $135,598 to Ivey.
For a full recap of Ivey's big win, be sure to catch next week's edition of the Online Railbird Report. You can also find more at HighStakesDB.com.
The Kid is Back
After being absent from the PokerStars tables since Black Friday, Team PokerStars Pro and former world champion Joe Cada recently made his return to the virtual felts.
This week, Cada wrote a blog entry about setting up a second residence in Canada to resume online poker at PokerStars. As a Michigan resident, Cada is only a 45-minute drive from the Canadian border, and he now he intends to make weekend trips to play the online game that he's been away from for so long. He joins a slew of American players — including Team PokerStars Pros Chris Moneymaker, Chad Brown, Randy Lew and Isaac Haxton — who have made the move outside the U.S. to play poker.
"Don't know why it took me this long to start back online poker," Cada posted on Facebook about his first day back playing online. "Feels good to be motivated again and first day went really well online. I actually feel lucky to live in Michigan to be able to make the drive once or twice a week to play and be able to be home with family and friends. Now I need to find a way to play more live tournaments because I hate traveling most of the time for poker."
Since Black Friday hit the U.S. on April 15, 2011, Cada hadn't played a single real-money hand at PokerStars. Before that, he found tremendous success as a cash-game player and also had big scores in a number of tournaments. In the fall of 2009, shortly before becoming the youngest WSOP Main Event champion ever, he won the WCOOP 2nd Chance No Limit event to bag $28,872. After that, he won the Sunday $200 Rebuy in August 2010 for another $38,012.
Cada also blogged about an African Safari that he recently ventured on with fellow PokerStars pros Chris Moneymaker and Liv Boeree. According to Cada, the group had a chance to interact with giraffes, lion clubs, and observe other wild animals. "It was amazing, really a once in a lifetime experience," Cada said about the trip.
Cada ended the blog in good spirits, saying: "It's a new year with new opportunities on the horizon. Let's hope it's a good one."
Read Cada's full entry at the PokerStars Blog.
Professor Timex
Former online poker pro Will Ma is instructing a three-week course at MIT that discusses the mathematical strategies needed to be a no-limit hold'em specialist.
Ma, who played at PokerStars as "CutiePi314," introduced the poker course to the university last year, and is now teaching the mathematical aspects of the game to his second group of students. As seen in his course syllabus, Ma covers topics like preflop ranges, bet sizing, implied odds, flop texture, polarization, variance and risk, and much more.
The course also features an assortment of guest lecturers like World Series of Poker bracelet winners Bill Chen and Matt Hawrilenko, European Poker Tour champ Mike "Timex" McDonald, two-time women's chess champion Jennifer Shahade, and others.
McDonald is the latest guest instructor to lend his knowledge to Ma's students. Here's a look at his in-depth lecture.
Bluff Europe has more.
Poker Business
Ferguson Working on Settlement with DOJ
The U.S. government has been granted an extension to respond to a motion to dismiss filed by former Full Tilt Poker executive Chris Ferguson. The two sides have been engaged in "extensive settlement conversations" regarding Ferguson's pending civil case but were unable to reach an agreement by the deadline date of Jan. 28. The government will now have until Feb. 18, 2013, to respond to Ferguson's motion.
Late last year, former Full Tilt Poker board members Rafe Furst and Howard Lederer settled their respective civil cases, leaving only Ferguson and Ray Bitar seeking resolution to the Second Amended Civil Complaint filed by the Department of Justice in September 2011. Lederer settled his case on Dec. 18, forfeiting millions in assets to the government. Ferguson joined Lederer's motion to dismiss and has since been negotiating with the DOJ.
Furst, Lederer and Ferguson aren't facing criminal charges for their involvement with FTP, but Bitar is facing up to 145 years in prison on charges of conspiracy to violate the Unlawful Internet Gambling Enforcement Act (UIGEA), conspiracy to commit bank fraud, and money laundering. Bitar turned himself in to U.S. authorities last July and was freed on $2.5 million bail.
Announcement Coming Soon for U.S. Players
Meanwhile, Full Tilt Poker's U.S. players are still waiting to be repaid by the U.S. government, which took on the responsibility of a remission process last July. The U.S. Attorney's Office for the Southern District of New York said in November that a third-party claims administrator would be hired to begin work on the repayment of players by the end of this month. While we're still waiting on details surrounding that process, a source at the Department of Justice told PokerNews on Wednesday that an announcement would happen "very soon."
Scientific Games Acquires WMS for $1.5 Billion
In a deal that could eventually have an effect on the online poker landscape in Nevada, Scientific Games Corporation has agreed to purchase slot machine operator WMS Industries Inc. for $1.5 billion.
According to a press release, the transaction "combines two leading companies in the gaming industry to create an organization that will supply an extensive range of products and services to public and private sector lottery and gaming customers throughout the world."
Last July, online gaming operator WMS announced a strategic partnership with 888. The deal will see the launch of a real-money online poker offering once the licensing and regulation process is completed in Nevada and other U.S. states.
Under the terms of the partnership, WMS will market and distribute 888's online poker platform to land-based casino customers in venues in the U.S., initially with a play-for-free offering. The joint offering will be ready to go as soon as a real-money platform is given the green light by gaming authorities.
WMS was granted a Nevada online gaming license in September. 888 has applied for a license and is waiting to meet with state regulators.
"The combination of Scientific Games and WMS yields tremendous benefits to our customers, shareholders and employees," said WMS chairman and CEO Brian R. Gamache. "We view this transaction as the next logical and strategic step in offering continued innovation in gaming.
Read more here.
Poker Legislation
PPA Lobbies Gov. Chris Christie
Time is running out for Gov. Chris Christie to act on a New Jersey Internet gambling bill, and the Poker Players Alliance is now asking its members to urge Christie to sign the bill into law before the Feb. 4 deadline.
"The New Jersey legislature voted in near unanimity to revive the state's gaming economy by making New Jersey an epicenter for online gaming and poker," the PPA said in a statement on Monday.
"Thousands of New Jersey residents have contacted the Governor urging him to sign the bill into law," said John Pappas, executive director of the PPA. "In addition to providing New Jersey poker players with a safe and regulated online poker market, this important legislation will add millions in state revenue and thousands of jobs to the state. New Jersey has the opportunity to be a leader in a vibrant and thriving 21st Century industry, and we hope Governor Christie recognizes the many benefits this bill will bring to this state and its citizens."
Christie has until Feb. 4 to sign, veto, or allow the legislation to go through without action. Christie vetoed a similar bill in 2011 and remains undecided on the issue. In an interview with a New Jersey radio station last week, Christie expressed his concerns about online gambling driving traffic away from Atlantic City, as well as the potential creation of a new generation of problem gamblers.
New Jersey Sen. Ray Lesniak, the main sponsor of the bill, responded to Christie's comments by telling PokerNews that the governor is "clueless" about online gambling. "He thinks he knows better than all the Atlantic City casinos, because they know it will help their bottom line and keep their jobs and money going," Lesniak said. "There are economic studies that this will generate business and doesn't drive traffic away."
Read the full PPA statement about New Jersey at theppa.org.
Iowa Eyes Online Poker
Legislators in Iowa have reintroduced a bill that could legalize online poker within state lines.
Last week, Iowa Senate Study Bill 1068 was proposed by Iowa State Senator Jeff Danielson and co-sponsored by Sens. Wally Horn and Randy Feenstra. The poker-only bill proposes that Iowa consider establishing requirements for the issuing of Internet gambling licenses.
Study bills in Iowa are generally developed to evaluate political reactions to a proposal before it is formally introduced in the legislature. Study Bill 1068 is "an Act authorizing licensees authorized to conduct gambling games on an excursion boat, gambling structure, or racetrack enclosure to operate internet wagering on poker and making penalties applicable."
Last year, the Iowa Senate approved a similar study bill to legalize and regulate intrastate online poker. However, the bill never moved through the House of Representatives due to a "general lack of interest" on the issue, according to House Speaker Kraig Paulsen.
The legalization of online poker in the Hawkeye State could generate between $3 million and $13 million in state tax revenue, according to a study by the Iowa Racing and Gaming Commission last year.
Iowa Senate Study Bill 1068 can be viewed in full at Iowa.gov.
Poker Tournaments
Seiver, Negreanu Enter Premier League
Scott Seiver and Daniel Negreanu have confirmed they will be participating in the PartyPoker Premiere League VI in Stratford City, London March 17 through 23. They are the first two entrants of the 16-player field who will partake in the $125,000 buy-in event.
Seiver will return as the defending champion because he won the Premier League Poker V last year, defeating top talents like Dan Cates, Phil Laak, Sam Trickett and Patrik Antonius at the final table. His victory came with a $500,000 grand prize and a seat to the World Poker Tour World Championship. On returning to the Premier League this year, Seiver said, "I really enjoyed the interesting format last year and it was great to win. I am looking forward to defending my title."
Negreanu's last appearance was in Season IV when it was held in Las Vegas. Talking about his return to the event, he said: "I'm really excited to be back playing the Premier League this year! I love the format and unique events like this are great for poker. I'm honored to be invited and happily support the event and plan on winning it!"
According to a PartyPoker press release, the event will feature "16 players split up into two groups of eight in the Main Event, each competing in four league matches showcasing the famous point system ($2,000 per point). The top three from each group will automatically go through to the final table, while the fourth and fifth seeds will square off in a series of heads-up matches (best of three) for spots in the eight-handed finale."
The inaugural £1,500 WPT National London Main Event will run alongside the Premier League VI from March 15 through 19.The tournament will offer re-entries and have two Day 1 starting flights. Qualifiers and weekly satellites will be offered to give players a chance to enter the Main Event on a freeroll. The $3,400 package includes a WPT National London Main Event buy-in and $750 spending money.
For more on the Premier League VI, visit the PartyPoker Blog.
PokerStars TCOOP Sets New Marks
The second annual PokerStars Turbo Championship of Online Poker (TCOOP) ended on Sunday, Jan. 27 and the overall numbers from the series were enormous.
The 50 fast-paced turbo events proved to be a huge success as 240,321 total entrants generated a combined prize pool of more than $24 million — about $4.5 million more than last year's inaugural series.
Sunday's TCOOP Main Event drew in 5,060 entrants (about 1,300 more than last year). The $3,364,900 prize pool shattered the $2 million guarantee, and Sweden's "froma1103," was the eventual winner, collecting $326,880 after a seven-way deal that saw all seven players pocket six-figures.
The TCOOP Player of the Series was awarded to "Tjepan," who made two final tables and scored 12 cashes to earn a total of $79,819 across 46 events. "Tjepan" won the champion's trophy and a 2014 PCA package worth $16,500. The TCOOP leaderboard runner-up was "Tinas21," who received a 2013 SCOOP ticket worth $5,200 after making three TCOOP finals tables.
2013 TCOOP Lederboard
| Place | Player | Points | Events Played |
| --- | --- | --- | --- |
| 1 | Tjepan | 270
 | 46 |
| 2 | Tinas21 | 245
 | 28 |
| 3 | Faith#1Virtu | 230 | 50 |
| 4 | Assad91 | 225
 | 41 |
| 5 | PSMozak | 215
 | 39 |
| 5 | TMMPOKPOK | 215
 | 50 |
| 5 | Xerophyten | 215 | 34 |
| 8 | bullyon | 205
 | 39 |
| 8 | Ian "staknchips83" Gillespie | 205
 | 43 |
| 8 | uremyatm | 205
 | 32 |
| 8 | Allan "Yaba" Drake, Canada | 205
 | 49 |
| 8 | ZlatkoJohan | 205
 | 44 |
Team PokerStars Pro Marcel Luske also enjoyed a nice series after taking third place in Event #42, a $27 No Limit Hold'em [2x-Turbo], for $58,510.24. Luske is off to a great start in 2013; at the PokerStars Caribbean Adventure earlier this month, he managed to win the $1,100 8-Game event ($13,810) and the $1,100 H.O.R.S.E. event ($18,500).
More on the TCOOP series can be found at the PokerStars blog.
UKIPT Releases Season 4 Schedule
On Friday, the UK and Ireland Poker Tour (UKIPT) unveiled the schedule for its upcoming fourth season. The UKIPT has some big changes in store for this year, opting to venture out of the U.K. entirely, and promises a £500,000 guarantee for every Main Event.
The UKIPT also partnered with the Estrellas Poker Tour to bring the first stop of the season in Marbella on the Costa del Sol in Spain. It will be held at the Casino Marbella and feature a Main Event with a €1,100 buy-in.
The tour will then move on to Galway and showcase a two-week festival during Galway Race Week, playing host to a cash-game event, the Irish Bridge Masters, and the inaugural UK vs. Ireland Heads-Up Championship.
The UKIPT will then stop in London at the Connaught Rooms, followed by the Isle of Man at the Villa Marina in November. The season will close in Nottingham at the Dusk Till Dawn Poker Club in December. That last series will host the first six-max Main Event in the history of the UKIPT. All stops will feature the same €1,100 buy-in for the Main Event.
Here is the full schedule:
| Location | Venue | Date | Main Event Buy-In |
| --- | --- | --- | --- |
| Marbella | Casino Marbella | June 10-16
 | €1,000 + €100 |
| Galway | Volvo Race | Aug. 8-12
 | €1,000 + €100 |
| London | Connaught Rooms
 | Oct. 2-6
 | £1,000 + £100 |
| Isle Of Man | Villa Marina | Oct. 31-Nov. 4
 | £1,000 + £100 |
| Nottingham | Dusk Till Dawn
 | Nov. 28-Dec. 2
 | £1,000 + £100 |
More information can be found at the PokerStars Blog.
Get all the latest PokerNews updates on your social media outlets. Follow us on Twitter and like us on Facebook today!