The Weekly Turbo: Nevada Versus New Jersey, Tony G's Massive Cash Game, and More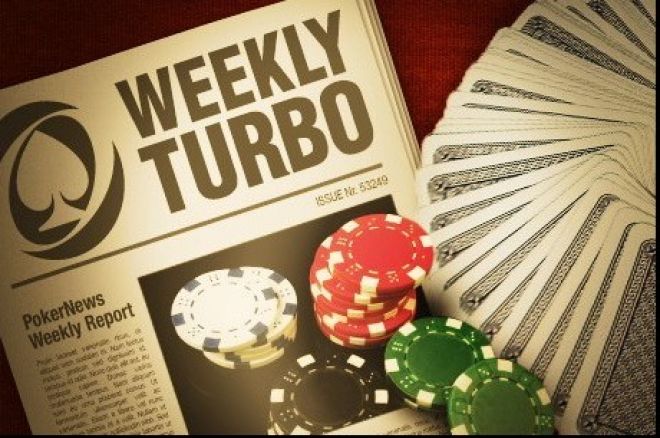 Did you miss any of the top poker news stories this week? Well you've come to the right place to get caught up. We're covering the race to launch online poker in the United States, a massive heads-up match between Tony G and a casino owner, and more.
Poker Legislation
Nevada Makes History
On Thursday, the Nevada Legislature fast-tracked an online poker bill that will allow Gov. Brian Sandoval to expand the state's customer base by entering into interstate compacts. The law is the first of its kind in the U.S. and could potentially pave the way for Nevada to partner up with other states to increase online poker liquidity pools.
"This is an historic day for the great state of Nevada," Sandoval said on Thurday. "Today I sign into law the framework that will usher in the next frontier of gaming in Nevada. This bill is critical to our state's economy and ensures that we will continue to be the gold standard for gaming regulation."
The Assembly Judiciary Committee voted unanimously Thursday morning to amend and pass the bill that may allow Nevada to launch a real-money online poker market before Delaware and New Jersey. The bill the moved through the full Assembly and Senate before making its way to Sandoval's desk for final signature Thursday evening.
"We're going to beat New Jersey," said Assembly Majority Leader William Horne, according to the Las Vegas Sun.
Read more here at PokerNews.com.
Christie Aims to Move Quickly on Internet Gambling
Meanwhile in New Jersey, Gov. Chris Christie says he intends to quickly sign an Internet gambling bill if lawmakers make the appropriate changes to a measure presented to him earlier this month.
On Feb. 7, Christie filed a 31-page conditional veto on the bill, recommending a number of changes that need to be made before he can sign off on it. These recommendations include a tax increase from 10 to 15 percent, with part of the additional proceeds going to compulsive gambling programs, and a time limit of 10 years for the authorization of Internet gaming unless re-established by law.
During an appearance in Lavallette, NJ, Christie said he could sign the bill the same day the Legislature approved those changes, "depending on how my day is going." State legislators said last week that they are planning to vote on amendments to the bill on Feb. 26 before putting it back on Christie's desk for signature.
"There's no reason not to sign it quickly," Christie said Tuesday, according to NorthJersey.com.
State Sen. Ray Lesniak, the chief sponsor of the bill, told PokerNews this month that he anticipates the launch of real-money online poker in New Jersey this fall. That would throw the state back into the race with Nevada and Delaware to become the first to offer regulated online poker in the U.S.
NorthJersey.com has more.
Federal Bill Back on the Table?
Efforts to legalize online poker at the federal level subsided late in 2012, but another federal bill could soon be introduced in the U.S. House of Representatives.
During an interview with Jim Ralston of Ralston Reports on Tuesday, American Gaming Association Chairman Frank Fahrenkopf said that we may see a federal online poker bill reach Capitol Hill in the next few weeks. Fahrenkopf's comments came as a bit of a surprise after a federal effort spearheaded by Senate Majority Leader Harry Reid stalled just two months ago.
"There's still an effort in the House," Fahrenkopf said. "Plus, I think the activity of a number of states — particularly Delaware where they authorized all forms of casino games — could (result in) the largest expansion of legal gaming in this country's history if states start to emulate what Delaware did."
Fahrenkopf believes Congressman Joe Barton will "probably" carry the federal bill again. Barton introduced federal measures during two legislative sessions in the past but failed to get the necessary support from Congress. Said Fahrenkopf, "I've talked to the congressman and he's doing a little spadework with the members. We'll just have to wait and see. It's a little early."
Check out Fahrenkopf's full interview with Ralston here (federal bill discussion begins five minutes in):
Poker Players
Tony G Wins €1.85M Pot
If there's a cast-iron guarantee when Tony G sits down at a poker table, it's that he'll take every opportunity to play big pots. Tony's friend, King's Casino owner Leon Tsoukernik, has the same approach to the game. Throw the two high rollers into a heads-up match, and fireworks are certain to ensue.
That's exactly what happened this past weekend at the Czech Republic's King's Casino Rozvadov, which Tony calls the "best casino in the world." During a three-day trip to the casino, Tony G played a massive heads-up match against Tsoukernik that resulted in some crazy million-dollar swings.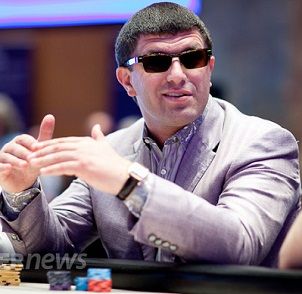 Tony G and Tsoukernik began their match by playing €2,000/€4,000 pot-limit Omaha on Friday, Feb. 15. Tsoukernik was a €500,000 winner in their first match, but Tony got redemption two days later.
After falling behind another €1 million on Sunday, Tony G offered to jack up the stakes to €5,000/€10,000, and subsequently won a massive €1.85 million pot that allowed him to leave as a €300,000 winner overall. Tony explained the action to PokerNews on Tuesday:
"Basically, Leon just cracked it at the end and shoved it in blind. I ended up having aces,
, against
I believe. We just decided to let the last hand run out and it got me out of the hole.
"Playing with the owner of the casino, Leon, it's just a really great casino, and they take great care of me," he added. "It's also been profitable on top of it. Leon's a great guy, and I'm going back there in a couple days to start again."
After Tony returns to King's Club for more action next week, he'll travel to London for next month's $125,000 buy-in PartyPoker Premier League VI. Following a brief hiatus from the game, it's nice to see our fearless leader where he belongs — showing his heart and commitment at a poker table.
Read his full trip report at TonyGPoker.com.
Duhamel Enters Premier League
2010 World Series of Poker Main Event champ Jonathan Duhamel is the latest player to join next month's PartyPoker Premier League VI lineup. Duhamel joins a stacked field that already includes Phil Hellmuth, Daniel Negreanu, Antonio Esfandiari, Tony G, Phil Laak, Dan "Jungleman" Cates, Scott Seiver, and Luke Schwartz.
"This is my first Premier League and I cannot wait! I am excited and honored to play in such a unique event," Duhamel told the PartyPoker Blog.
PartyPoker Premier League VI will take place at Aspers Casino in London form March 17 through 23. The 16 players will each put up $125,000 and be split into two groups of eight in the Main Event, each competing in four league matches to earn points in the standings ($2,000 per point). The top three from each group will automatically go through to the final table, while the fourth and fifth seeds will square off in a series of heads-up matches (best of three) for spots in the eight-handed finale.
Discussing his strategy going into the prestigious event, Duhamel said: "I'll have to adapt my game to the format that is completely different from what we usually see in poker tournament, but at the end you'll see me with the trophy in my hand"!
The PartyPoker Blog has more.
Sully Erna's Return to Poker
Godsmack front man Sully Erna has made several appearances at major poker tournaments over the years, including numerous stops at the World Series of Poker Main Event. And now, after taking a long break from the game, Erna is looking to take his poker game to the next level while the band is on hiatus from touring.
"I was finding that was I was very impatient and playing crappy hands," Erna told ESPN this week. "I was losing patience every time I was playing. I had to take a break."
Erna has two cashes at the WSOP Main Event (2006 and 2007) to go along with a runner-up finish at a $5,000 buy-in side event at the 2007 Doyle Brunson Five Diamond World Poker Classic. Surrounded at the final table by poker pros Shane Schleger, Andrew Rob, David Williams, and Mark Teltscher, Erna advanced all the way to a heads-up match against JC Tran, eventually falling in second place for $307,325. Big finishes like that have given Erna the appetite for more poker tournaments.
"I'm making my comeback! I've studied the game. I'm getting the itch to play poker again," Erna said. "In fact, I'm in Los Angeles today and I'll be playing tonight. I need to shake the rust off. I'm ready to go deep and win a lot of money!"
ESPN has more.
Poker Tournaments
Tournament Roundup
Several poker tournaments around the world wrapped up this week, each offering big prizes to the winners. Here's a recap of some of the action:
WSOP Circuit Event #7: No-Limit Hold'em

| Buy-in | Entrants | Prize Pool |
| --- | --- | --- |
| $580 | 212 | $106,000 |
Poker pro Ari Engel won his fifth World Series of Poker Circuit ring on Thursday, moving him within one victory of catching all-time leader Alex Masek (six).
Engel bested a field of 212 to win the $580 buy-in No-Limit Hold'em tournament at WSOPC West Palm Beach, collecting a payday of $26,501. With his family in attendance to watch him win a ring for the first time, Engel defeated William Richardson heads-up to secure the title.
| Place | Player | Prize |
| --- | --- | --- |
| 1 | Ari Engel | $26,501 |
| 2 | William Richardson | $16,379 |
| 3 | Eddie Tronolone | $11,921 |
| 4 | Andrew Kelsall | $8,816 |
| 5 | Abbey Daniels | $6,622 |
| 6 | Harold Mahaffey | $5,051 |
| 7 | Jurgen Sternad | $3,911 |
| 8 | John Rhodes | $3,074 |
| 9 | David Bellavia | $2,452 |
With the victory, Engel joined three players with five gold rings each: Mark "Pegasus" Smith, Kyle Cartwright, and Kurt Jewell. They're all chasing Masek, who won his sixth ring last month at the Bicycle Casino.
"There's a very friendly rivalry between us," Engel told the WSOP Blog about the Circuit's most successful players. "Some of these guys have been around for a long time. We see each other a lot and because we are some of the more aggressive players we bump heads a lot in tournaments around the country."
"When Alex (Masek) got his sixth gold ring, I (finished) 18th in that event," Engel added. "He busted me, in fact. So, he got some chips that way — even though he already had a lot of chips. So, I made my own contribution, I guess you could say. But seriously, competition is good because everyone tries to get better."
WSOP Circuit Event #1A: No-Limit Hold'em Re-Entry ($1,000,000 Guaranteed)

| Buy-in | Entrants | Prize Pool |
| --- | --- | --- |
| $580 | 2,539 | $1,269,000 |
The opening event at the World Series of Poker Circuit Palm Beach Kennel Club attracted the largest field of the 2012-13 WSOP Circuit season thus far. The $580 buy-in re-entry event had 2,539 entrants, making it the second largest major poker tournament ever held in Florida.
Lou Cheffy, a financial planner from Naples, Florida, bested the large field to collect $183,983 in prize money along with his first WSOP-C gold ring. The final table included David Nicholson, who was seeking his fifth WSOPC ring, and John Holley, who was looking to collect his third. Cheffy entered the heads-up match second in chips behind Joel Furney who couldn't hold the lead.
| Place | Winner | Prize Money |
| --- | --- | --- |
| 1 | Louis Cheffy | $183,983 |
| 2 | Joel Furney | $114,540 |
| 3 | Derek Csanadi | $87,206 |
| 4 | David MacDonald | $67,333 |
| 5 | William Pappas | $52,372 |
| 6 | Daniel Suied | $41,052 |
| 7 | John Holley | $32,436 |
| 8 | Marty Hogan | $25,824 |
| 9 | David Nicholson | $20,735 |
UKIPT Cork Main Event (€250,000 Guaranteed)

| Buy-in | Entrants | Prize Pool |
| --- | --- | --- |
| €700+70 | 387 | €262,773 |
Thomas Finneran, a 35-year-old poker player from Galway, Ireland topped a field of 387 to take down the Main Event at the UKIPT Cork. After six levels of play at the final table, Finneran defeated Stephen McGrath for the top prize of €55,440 after the two players agreed to a heads-up deal.
"I've played a fair bit of heads-up and worked on my game, it's important to do that as the difference between first and second is big," Finneran told the PokerStars Blog after the win.
| Place | Winner | Prize Money |
| --- | --- | --- |
| 1 | Thomas Finneran | €55,440* |
| 2 | Stephen McGrath | €45,600* |
| 3 | Pawel Keller | €24,960 |
| 4 | Fridjon Thordarson | €19,360 |
| 5 | Deborah Worley-Roberts | €14,780 |
| 6 | Alexander Rhys-Davies | €10,510 |
| 7 | Pascal Töngi | €7,885 |
| 8 | Nicholas Newport | €5,910 |
*Denotes heads-up deal
Parx Big Stax Main Event ($500,000 Guaranteed)

| Buy-in | Entrants | Prize Pool |
| --- | --- | --- |
| $1,500 | 517 | $775,500 |
The Big Stax Poker Series at Parx Casino ended Monday with police officer Robert Boyko winning the $1,500 buy-in Main Event for $134,269. The win came after Boyko and Patrick Halter agreed to an even heads-up chop. Because Boyko started the heads-up match with a significant chip lead, he was awarded the title and trophy.
| Place | Winner | Prize Money |
| --- | --- | --- |
| 1 | Robert Boyko | $134,269* |
| 2 | Patrick Halter | $134,269* |
| 3 | Vinny Napolitano | $71,086 |
| 4 | Michael Dentale | $52,656 |
| 5 | Melad Marji | $39,492 |
| 6 | James Anderson | $31,594 |
| 7 | Barry Dehlin | $26,328 |
| 8 | Vinny Ha | $21,063 |
| 9 | Mark Wahab | $15,797 |
| 10 | Andrew Rosskamm | $11,509 |
*Denotes heads-up deal
WPT Returns to Canada
On Tuesday, PartyPoker announced it will be sponsoring two World Poker Tour stops in Canada in 2013. The Playground Poker Club in Montreal will play host to the WPT Canadian Spring Championship May 3 through 9, followed by WPT Montreal Nov. 29 through Dec. 5.
The WPT Canadian Spring Championship is a new stop for Season XI and will feature a C$3,300 Main Event. PartyPoker.net will be running freerolls and qualifiers for the Spring Championship beginning March 11.
WPT Montreal will be a key stop in Season XII and will showcase a televised C$3,850 Main Event. A high-roller event will also be added and is expected to draw names like Antonio Esfandiari, Phil Laak, Daniel Negreanu, Gavin Smith, and Toronto Maple Leafs star Phil Kessel, all of whom played in the Main Event last year. The WPT's Mike Sexton, Vince Van Patten, Tony Dunst, and Kimberly Lansing have already confirmed their attendance for the event.
Last year, 25-year-old Quebec native Jonathan Roy won the inaugural C$3,300 WPT Montreal Main Event, earning C$779,710, the trophy. The event in November attracted 1,173 players for a total prize pool of C$3,387,930 making it the third largest WPT event in history and the largest WPT event ever in Canada.
For more, visit worldpokertour.com.
Get all the latest PokerNews updates on your social media outlets. Follow us on Twitter and find us both Facebook and Google+!