The Nightly Turbo: Tony G Bets on Himself, PartyPoker Premier League Returns, and More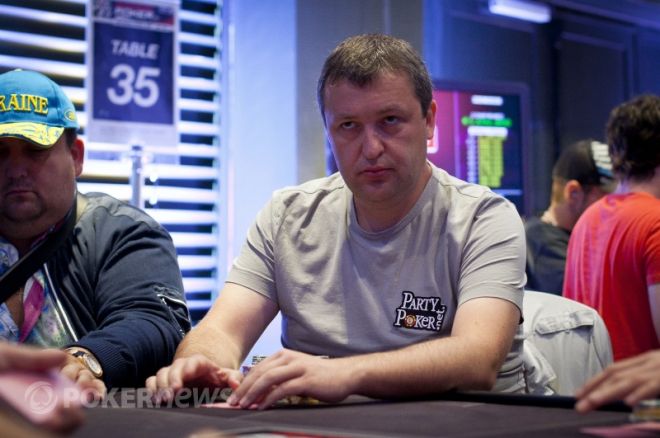 The 2011 World Series of Poker Europe Main Event is in full swing, and Tony G has a lot riding on his performance. In this edition of the Nightly Turbo, we bring you Tony G's huge WSOPE prop bet, details on the upcoming PartyPoker Premier League, and more.
In Case You Missed It
Tomer Benvenisti made the final table of World Series of Poker Main Event in 2003, but he hasn't been seen on the circuit much since. We caught up with Benvenisti to find out what he's been up to in the latest edition of Where Are They Now.
PokerStars had players seeing double on Sunday. Find out why in The Sunday Briefing.
The inaugural PokerStars.net Latin American Poker Tour stop in Colombia ended late Sunday evening. After a six-way chop, Julian Menendez emerged as the champion in Medellin.
This week's edition of Sin City Series takes you inside your own home game. PokerNews' Sarah Grant and Kristy Arnett break down the dos and don'ts in home-game poker etiquette.
Who ended as chip leader of Day 1b in the record-breaking WSOP Europe Main Event? Find out in our daily recap.
We all know what poker players do on the felt, but what about "normal" life? In the latest from the Off the Felt series, Brent Hanks discusses his ideal boy band, Saved by the Bell, and more.
Tony G. is Committed
Last week, Phil Hellmuth added Ben Lamb and Jason Mercier to his "Team Americas" Caesars Cup team at the World Series of Poker Europe to replace Doyle Brunson and Huck Seed. Now, "Team Europe" captain Bertrand "ElkY" Grospellier has made an adjustment to his squad before the event takes place on Oct. 19.
With Dario Minieri bowing out of the event over the weekend, Grospellier chose the flamboyant Tony G to represent "Team Europe." The Lithuanian businessman and poker player joins Grospellier, Gus Hansen, Jake Cody and Max Lykov to face off in the Ryder Cup-style format against the team from across the pond.
"I had packed the bike and was ready to leave Cannes today when Elky called to say he wanted me in his European Team for Wednesday's Caesar's Cup tussle with America," said Tony G on his blog Saturday. "I couldn't say no, it is an honor — I really cannot wait. It is true that I am the captain but on this occasion Elky is as well."
Reasons for Minieri's withdrawal are unknown, but even the WSOP took a jab at the talented Italian player upon hearing the news.
@Kevmath @Club_Poker It's true. Rumor was Minieri's scarf got held up in customs...thus he couldn't make it.

— WSOP (@WSOP)
Before dueling against his nemesis Hellmuth in the Caesars Cup, Tony G has business to take care of in the WSOPE Main Event. He placed a large bet on himself at MatchBook.com to cash in the tournament — a $20,000 bet at 5-1 odds — and was still in excellent shape to win the wager at the time of this writing. Sixty-four players will get paid, and Tony G was among the big stacks with around 150 players remaining on Day 2.
Read more about Tony G's prop bet in the press release.
PartyPoker Premier League Returns
The popular PartyPoker.com Premier League will return next month with a special new format. Twelve of the world's best players will be tested in three disciplines of poker — no-limit hold'em, pot-limit hold'em and pot-limit Omaha — at the PartyPoker.com Premier League Poker Mixed Game.
The event will be hosted by the Playboy Club London in Mayfair from Nov. 13 through 17, 2011. Sky Sports will broadcast the show in the UK, and the shows will then be distributed internationally.
Tony G, Mike Sexton, Sam Trickett and Luke Schwartz are the first four players to sign up for the $25,000 buy-in event. Eight more names will follow in the coming weeks. Previous winners of the PartyPoker Premier League include Juha Helppi, Andy Black, J.C. Tran and David Benyamine.
"I cannot wait — I am going to take everything they have," said Tony G. "I am going to mix the mixed game up and put on a show!"
Visit PartyPoker.com for more information.
Tilt Can Lead to Prison Time
Let this be a lesson to poker players out there: No matter how bad you're running, don't threaten the staff of an online poker site.
Michael Gallagher, a 35-year-old from the United Kingdom, has been sentenced to jail time for threatening to murder the support staff of an online poker room. Gallagher reportedly ran up close to £20,000 in losses at the virtual felts and then demanded £33,000 from the online poker site in a series of hostile emails. He threatened to travel to the company's headquarters and "blow the (expletive) brains out of every single person who crosses my path" if he didn't get his money.
The threats came after Gallagher complained about the site's Random Number Generator and didn't receive the response he was looking for from the site's support team. Gallagher apologized the following day, blaming his outburst on a drinking binge, but a member of the staff still alerted the authorities about Gallagher's emails. Gallagher was arrested later that day and charged with blackmail.
The blackmail charges were dropped when Gallagher met with Judge Peter Fox last week, but he still pleaded guilty to a lesser offense under the U.K.'s Malicious Communications Act of 1988.
Get the full story at the Darlington and Stockton Times.
ESPN to Provide "Near-Live" Coverage of WSOP Main Event Final Table
The same-day coverage of the World Series of Poker Main Event on ESPN was a big hit in July. So much so that ESPN and the WSOP have decided to provide near-live coverage of next month's final table to viewers across three networks.
Caesars Interactive Entertainment announced Sunday that it has pushed back the starting date of the November Nine final table to Sunday, Nov. 6, to accommodate live tournament coverage by ESPN. Sunday's field will be cut to three players who will return on Tuesday, Nov. 8 at 5 p.m. to play down to a winner.
The entire final table will air onESPN and ESPN2 and stream online at ESPN3.com, giving fans a chance to see the action go down in near real-time. Each hand will be shown with hole cards on a 15-minute delay.
Get more information in PokerNews' report from earlier today.
Who would you rather?
The World Series of Poker Main Event final table is just a few weeks away, so PokerNews' Kristy Arnett caught up with Anton Makievskyi and Sam Holden for another installment of Who Would You Rather: November Nine edition.
Are you following PokerNews on Twitter? Like us on Facebook while you're at it, and sign up for the newsletter. You know you want to.