PartyPoker Weekly: Inaugural PokerFest & Tony G Speaks Out Against Robl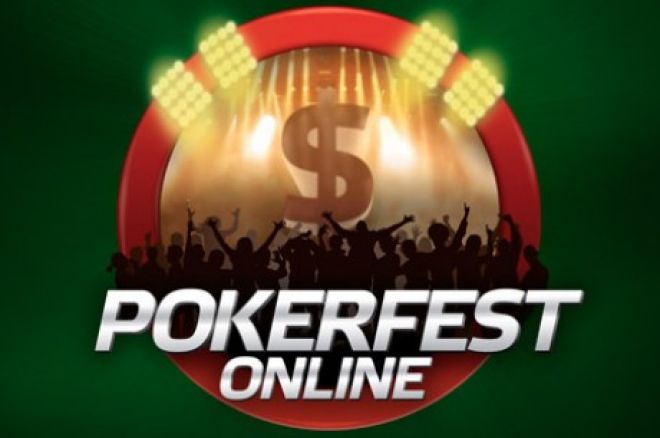 This week in the PartyPoker Weekly, we'll tell you all about the inaugural PokerFest tournament series, how to win your way to the World Poker Tour, and the latest from Tony G's blog where he has branded Andrew "good2cu" Robl a "shameful example of a modern Internet player."
PartyPoker PokerFest Guarantees a $3 Million Prize Pool
PartyPoker has finally filled the void of not offering a championship poker tournament series by introducing the 2011 PartyPoker PokerFest.
Taking place from Oct. 23 through Nov. 6, the PokerFest will feature 47 championship events during the two-week series, and will offer a massive $3,000,000 guaranteed prize pool.
The opening event is set to kick off in less than a week and will feature a $300,000 guarantee for the $215 buy-in. Satellites are well under way on PartyPoker, and players are already heading to the virtual felt in droves as they hope to cement their names in the history books as the first PokerFest champion.
The Main Event will take place on Nov. 6 and features a giant $1 million guaranteed prize pool. With satellites starting from as little as $1, there are no excuses for not taking your chance at poker glory and the life changing money that goes along with it.
PartyPoker Pokerfest 2011

$3,000,000 guaranteed prize pool
A total of 47 events
When: Oct. 23 through Nov. 6
$1,000,000 guaranteed Main Event on the Nov. 6
Qualify for as little as $1 from now
The PokerFest is sure to become one of the most prestigious online tournament titles to have on your poker resume, so be sure to hit the tables this week and start securing your chance at becoming an inaugural PokerFest champ!
Become a World Poker Tour Champion
The World Poker Tour is responsible for holding some of the biggest tournaments on the poker calendar in the most beautiful locations in the world and PartyPoker is the best place to win a tournament package.
Satellites are now running on PartyPoker to win a WPT Amneville package which includes $5,000 buy-in to the Main Event, $1,100 spending money, hotel accommodation and the famous PartyPoker hospitality. The event kicks off on Nov. 1, so time is running out to win your package.
Just a few weeks after the Amneville event wraps up, players from all around the world will be descending on the Czech Republic to take part in the WPT Bohemia, which is set to take place from Nov. 18. The event has an affordable $2,150 buy-in, so it is sure to attract a wide variety of players. There's a $3,000 tournament package up for grabs at PartyPoker, so there's no reason not to take your shot at a WPT title.
The latest addition to the World Poker Tour is WPT Prague, and the inaugural event is set to become a welcomed stop on the tour. Beginning on Dec. 1, there is still plenty of time to head over to PartyPoker and lock up a $7,500 package which includes the Main Event buy-in, hotel accommodation and $1,300 in spending money.
With WPT Amneville just around the corner, WPT Bohemia closing in and WPT Prague the latest addition on the World Poker Tour, make sure you fire up PartyPoker and start winning your way to becoming a WPT champion!
Tony G Speaks Out Against Andrew Robl — Again
Tony G and Andrew "good2cu" Robl have had a rocky relationship which began late last year when Tony G and Robl had a run-in on an episode of the Big Game. After terrorizing Robl for taking too long to make decisions, Tony G wrote a blog post apologizing to Robl. The blog, entitled, I Am the Third Most Hated Man in Poker has recently received somewhat of a sequel, as the Tony G and Robl story continues.
The controversy began when Tony G and Robl were taking part in a big hand against each other at the World Series of Poker Europe. Apparently Robl was inattentive, and wearing headphones, therefore he couldn't hear Tony G. The headphones made Robl "deaf" according to Tony G, who suggested that if Robl was deaf, he would lend him his dog Zasko as a guide dog. Tony G went as far as claiming that Robl's behavior made him a "shameful example of a modern Internet player, and this cost him his respect."
Full details of the hand and Tony G's comments on Robl's etiquette can be found on Tony G's Blog.
The Best Bonus in Online Poker
If you don't have a PartyPoker account, be sure to utilize the special relationship between PokerNews and PartyPoker with the best no deposit bonus available anywhere online.
All you have to do to get a free $50 bankroll is sign up for a PartyPoker account via PokerNews and when you sign up you will get an immediate $25 bonus for free and then a second free $25 when you earn just 200 PartyPoints. If you're thinking it must be hard to earn PartyPoints, think again. With points earned at every cash table and in every tournament, you'll have your free $50 in no time!
If free money sounds good to you then head over to our Free $50 No Deposit Page and make sure to use the bonus code "PN50Free" as outlined in the walkthrough guide.
If you experience any problems with this or any of our promotions, please contact our Ticketed Promo Support System.