The Weekly Turbo: World Series of Poker Schedule, Hellmuth and Esfandiari to Face Off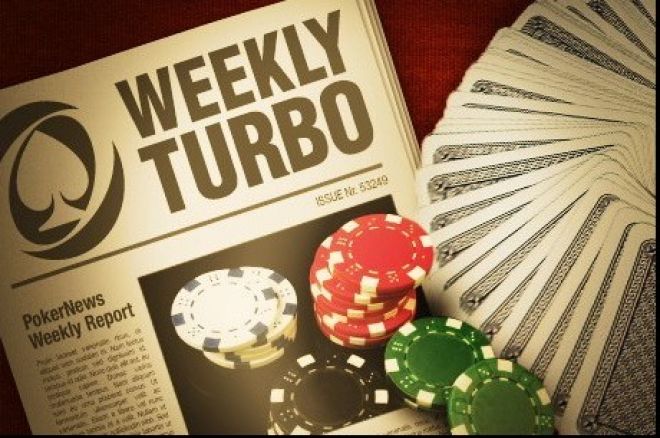 Did you miss any of the top poker news stories this week? Well you've come to the right place to get caught up. We're covering the release of the 2013 World Series of Poker Schedule, the latest additions of the PartyPoker Premier League lineup, and more.
Poker Tournaments
2013 World Series of Poker Schedule Unveiled
On Thursday, Caesars Interactive Entertainment revealed the official schedule for the 2013 World Series of Poker. Beginning Wednesday, May 29, at the Rio All-Suite Hotel and Casino in Las Vegas, the 44th Annual World Series of Poker will feature 62 bracelet events, ending with the flagship $10,000 Main Event beginning on July 7.
The 2013 WSOP will feature several brand new events, including two bracelet tournaments benefiting the ONE DROP Foundation. The "Little One for ONE DROP" offers an $1,1111 buy-in with unlimited re-entries over two starting days, giving it the potential to be one of the largest events at the 2013 WSOP. For those with bigger bankrolls, there will also be an $111,111 buy-in high roller from June 26 through 28. As the WSOP's charity partner, ONE DROP will receive a percentage of each buy-in from both events.
To kick off this year's WSOP opening weekend festivities, a new "Millionaire Maker" (Event #6) will see one person turn a $1,500 buy-in into a cool $1 million. The event begins on Saturday, June 1, featuring a one-day start, two-flight, single re-entry, no-limit hold'em event. The prize pool will be changed from the usual WSOP pay structure into one in which one winner will take home a seven-figure payday.
"Bring your bankroll, whatever it is, and come have the time of your life," said WSOP Tournament Director Jack Effel. "We think this is the most diverse schedule we've ever had and we'll be ready for an all-time turn-out at the 44th annual WSOP."
For more info, including the full schedule of events, check out the article here at PokerNews.com.
FTOPS XXII Schedule
It's only been three months since Full Tilt Poker reopened its doors, but the site has already announced its second Full Tilt Poker Online Poker Series (FTOPS) since relaunch. On Friday, FTP announced that FTOPS XXII will run from March 17 through 31, featuring 38 tournaments and millions in guarantees.
The series gets under way March 17 with a $216 buy-in event with an $850,000 guarantee and culminates March 31 with the flagship $640 buy-in re-entry Main Event with a $2 million guarantee. In December's FTOPS XXI Main Event, Yann "yadio1111" Dion outlasted a field of 4,766 entries to claim the $453,229 top prize. It was the first FTOPS Main Event since Full Tilt June 2011, when Full Tilt closed its doors to customers all over the world. Now, the site operates under PokerStars' management.
Other key events on the FTOPS XXII schedule include a $1,060 re-entry six-max event on March 18, a $1,050 no-limit hold'em double-chance event on March 25, and a $2,100 no-limit hold'em event with antes from the start on March 30-31.
Check out FullTiltPoker.com for the full schedule of events.
$7 Million Sunday at PokerStars
PokerStars is set to celebrate the seventh anniversary of the Sunday Million on March 3, 2013, and for that day only the site has increased the guaranteed prize pool from $1 million to $7 million, with $1 million going to the champion.
The event will kick off at 14:30 ET with the usual buy-in of $215. Players can also qualify for a seat through a variety of satellites, including a 1,000-seat guaranteed satellite starting Feb. 24, with feeder satellites starting at just $1.
"I remember playing in previous Sunday Million Anniversary tournaments well," said Team PokerStars Pro Lex Veldhuis. "The gigantic prize pools make them so memorable and I'm sure this one will be no different with $1 million for the winner! I'm going to stock up on food and drink so I'm ready to grind this one! It's so big that it's like playing an EPT online."
Last year's Sixth Anniversary Sunday Million celebration attracted 33,732 players, with the top prize of $480,761 going to "slyfox151" after an eight-way deal at the final table.
The biggest Sunday Million ever was in December 2011 for PokerStars' 10th Anniversary. The tournament saw 62,116 players create a record prize pool of $12,423,200, with first place and $1,146,574 eventually going to Kyle "First-Eagle" Weir.
For more information on satellite details, check out PokerStars.com.
Poker Players
Hellmuth and Esfandiari Join Premier League
Let the needling begin.
On Monday, PartyPoker announced that Phil Hellmuth and Antonio Esfandiari will participate in the $125,000 buy-in PartyPoker.com Premier League Poker VI at Aspers Casino in London from March 17 through 23. They will also compete at the World Poker Tour Venice Main Event from March 25 through 30.
Esfandiari, who's taken every chance to provoke the temperamental Hellmuth in the past, will be participating in the Premier League for the first time. Hellmuth has been a regular fixture in the popular event, but returns in 2013 after missing Premier League V in Vienna last year.
Said Esfandiari, "For years I have been hearing about Premier League Poker – it's nice to finally make it over there to play in it!"
"I am looking forward to competing in the Premier League: 16 players, one winner," Hellmuth added.
Esfandiari and Hellmuth join Daniel Negreanu, Tony G, Phil Laak and Scott Seiver on the Premier League VI lineup. The 16-player tournament will award the winner with a top prize of $450,000.
According to a press release, "the event will feature 16 players split up into two groups of eight in the Main Event, each competing in four league matches showcasing the famous point system ($2,000 per point). The top three from each group will automatically go through to the final table, while the fourth and fifth seeds will square off in a series of heads-up matches (best of three) for spots in the eight-handed finale."
The PartyPoker Blog has more.
Stealing from the "Robin Hood" of Poker?
Open-Face Chinese Poker has become the latest craze in the poker community. The game continues to grow in popularity by the day, sparked greatly by the constant Twitter interchange between many of poker's most renowned professionals. But a recent finding by Team PokerStars Pro Barry Greenstein could put a slight damper on the mobile-based versions of the game.
On Friday, in his latest entry at the PokerStars Blog, Greenstein pointed out a major flaw in a popular iPad app, "Chinese Open Face Poker Pass N' Play," which allows players to select which cards they receive at any point in the game. Although the app itself is free to play, a lot of money is being exchanged on the side between players. Greenstein became wary of the app after allegedly being hustled by an unnamed player.
Greenstein's suspicion began when, after beating his opponent out of about 100 points at $50 per point, the stakes were doubled. From there, he realized something was wrong — that perhaps his opponent could have been cheating.
"It seemed like after being in trouble he kept getting saved on the river over and over and over," Greenstein wrote. "I decided I wanted to start keeping track of when he needed to get outs in these situations. When he had to get an out on the river to beat me, I wanted to see what his percentage was."
Greenstein found that his opponent was saved on the river seven out of 14 times. It was enough to force Greenstein to quit and seek out the advice of his nephew, a computer programmer, to figure out if cheating was possible.
The verdict: Yes.
"My nephew downloaded the app and once he had a chance to start looking at it he called me back within 30 minutes," Greenstein said. "He said anyone who's a programmer who knows how to hook up an iPad to another computer could easily cheat using the app.
"He said he could see all the cards and do whatever he wanted. I asked him if he could give me a demo, and we played a game and he sent me three kings on top, a flush in the middle, and a straight flush in the back. He explained that anyone who was a programmer or who had a friend who was a programmer could cheat me at the game, no problem."
Greenstein's blog quickly generated discussion among poker players on Friday. In response, the creators of "Chinese Open Face Poker Pass N' Play" went to work to fix the issue.
The current update that is waiting for review in the App Store addresses the security issue Barry Greenstein mentions in his latest blog

— ChineseOpenFacePoker (@ChineseOpenFace)
To read Greenstein's full blog entry, check out the PokerStars Blog.
Online Poker
ACEP Launches Ongame-Powered Poker Site
On Tuesday, American Casino & Entertainment Properties (ACEP) Interactive officially launched its free-to-play poker website, acePLAYpoker.com. The site will use the Ongame poker software recently acquired by Bally Technologies.
The new website allows players the opportunity to play free online poker 24-hours a day, seven days a week. The site provides online players with exclusive promotions, including show tickets to critically acclaimed shows at the iconic Stratosphere Casino, which is owned by ACEP. Other prizes include opportunities to experience Stratosphere's thrill rides at the top of the Tower, including SkyJump, a controlled free fall from 108 floors above the Las Vegas Strip.
"With the launch of this free to play website, we can now bring the excitement of play found at our properties to anyone with Internet access, no matter their location," said Alec Driscoll, director of gaming development for ACEP. "We are also positioning ACEP and acePLAYpoker.com for the potential approval of legalized online gaming."
Last September, the Nevada Gaming Commission approved ACEP as an interactive gaming operator ahead of the state's real-money online poker market. ACEP's software platform is provided byBally Technologies, which recently acquired Amaya Gaming and will incorporate Amaya's Ongame software into Bally's iGaming platform.
Bally was approved for a Nevada gaming license as a service provider last June. ACEP and Bally teamed up on Sept. 25, 2012, shortly after ACEP was approved for its license.
Visit acePLAYpoker.com for more information on the new site.
FullTiltPoker.eu Launches
If you were playing on Full Tilt Poker early Monday morning, you probably received this message: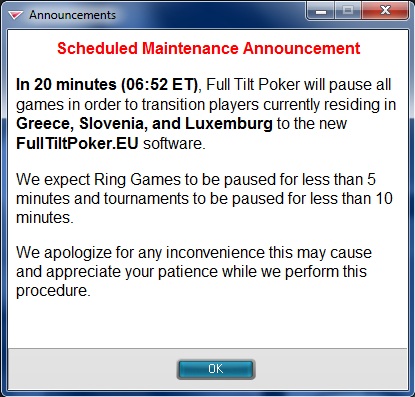 Just days after announcing that FullTiltPoker.eu would launch "in the next few weeks," the sister site of PokerStars is up and running in Malta. Players from Greece, Luxembourg and Slovenia have already been transitioned to the new site, while players in Finland, Germany, Netherlands, Poland, Romania and Sweden will most likely be switching soon.
The client is indistinguishable to FullTiltPoker.com. The tables, player pools, promotions, and features are identical. The difference is that, according to certain income tax laws in the EU, gambling winnings from sites based with the European Economic Area (EEA) are tax free. The Isle of Man, where both PokerStars and Full Tilt Poker operate their ".com" clients, is not a part of the EEA.
For players in Greece, Luxembourg and Slovenia, using the new client is mandatory. Players must agree to new terms and conditions, and download new software. Account balances will remain in USD.
Poker Legislation
New Jersey's iGaming Efforts Moving Quickly
After an interstate online gambling bill (A2578/S1565) was conditionally vetoed by New Jersey Gov. Chris Christie last week, state legislators say they are planning to vote on amendments to the bill on Feb. 26 before putting it back on Christie's desk for signature.
"The Senate will move forward to adopt the governor's conditional veto on Feb. 26," said Senate President Steve Sweeney on Monday. "The sooner we bring Internet gaming to New Jersey, the better off Atlantic City is going to be."
State Sen. Ray Lesniak, the chief sponsor of the bill, said he will work on making the recommended changes to the measure and get it returned to the governor. Among Christie's recommendations include a tax increase from 10 to 15 percent, with part of the additional proceeds going to compulsive gambling programs, and a time limit of 10 years for the authorization of Internet gaming unless re-established by law.
"The sooner we get Internet gaming in place, the sooner we will begin to see the economic benefits that will come with it," Lesniak said.
Lesniak told PokerNews last week that he expects the assembly to have already passed the revisions during its voting session on Feb. 14 or Feb. 21. Then, following six months to finalize regulations and review casino applicants, Lesniak anticipates the first virtual hands to be dealt in New Jersey this fall.
New Jersey is attempting to become the third state to legalize online poker in the U.S. Nevada authorized Internet poker in December 2011, and Delaware passed legislation last June.
Read more in the press release at PolitickerNJ.
Clash in Nevada
A new online gambling bill in Nevada is creating some tension between Gov. Brian Sandoval and state legislators.
On Wednesday, Assembly Bill 114 was referred to the Judiciary Committee, seeking to double online gambling license fees from $500,000 to $1,000,000 and the renewal fees from $250,000 to $500,000. It also contains language that would prohibit companies from receiving a license for 10 years if they took real-money bets in the U.S. after the Unlawful Internet Gambling Enforcement Act was passed in 2006. That would include companies like PokerStars and Full Tilt Poker.
Sandoval is pushing to remove much of the text from the revised bill. "Governor Sandoval does not support the increased fee and will work to resolve this issue before the legislation is passed into law," Sandoval spokesperson Mary-Sarah Kinner said on Wednesday.
Last month, after Gov. Chris Christie showed his support of online gambling in New Jersey, Sandoval stressed to Nevada lawmakers that the state's online gambling be passed within 30 days. Sandoval said it is "critical" that Nevada move quickly on the bill now that other states are making progress on the issue.
Read more at the Las Vegas Review-Journal.
Get all the latest PokerNews updates on your social media outlets. Follow us on Twitter and find us both Facebook and Google+!