PokerStars: "Tournaments can Zoom now!"
Lee Jones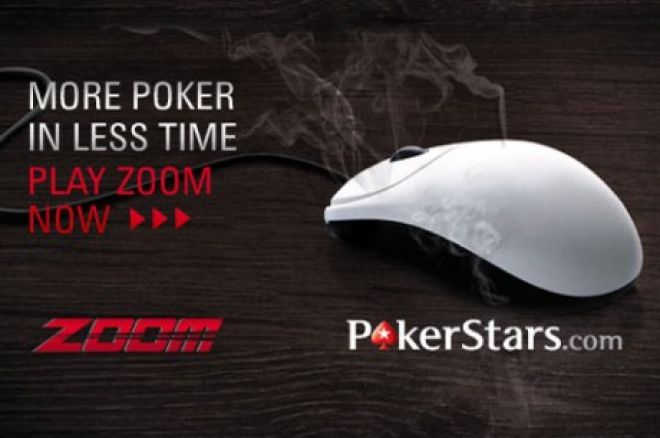 Everybody loves a good poker tournament. They're a great opportunity to turn a small investment into a big score. For instance, just a couple of days ago, three guys spent a night on PokerStars and turned $215 (each) into over $800,000 (each) in the 7th Anniversary Sunday Million. Nice evening's work.
But tournaments have their downsides. For instance, there's often one guy at the table who thinks he, too, is at the final table of the Sunday Million and makes every decision as if thousands of dollars were riding on it. Every. Single. Hand. Or the fellow whose Internet connection seems to be fashioned from a piece of string and two tin cans. He disconnects every other hand and then you wait. While. He. Recon. Nects.
But what if you could fold your hand, bail out of the table and quick-like get dealt a new hand at a different table in the same tournament?
What if the Aztecs had thought of chopping up avocado, tomato, onion, and spreading the mixture on warm corn tortillas?
That's right – Zoom tournaments are here. Now, we're not saying that the arrival of Zoom tournaments is as earthshaking as the invention of guacamole, but it's, well, really exciting.
You've probably played Zoom Poker (and if you haven't, what are you waiting for?); a Zoom tournament is just a regular poker tournament played in Zoom format. Of course, when you get down to the final table, you're stuck with the same group of opponents until the end of the tournament, but you probably won't mind very much at that point.
We're rolling out the first Zoom tournament on March 14th, event #4 in the Micro Millions. It's just $5.50 to get in and we're guaranteeing $75,000 in the prize pool. I mean, that's 15,000 runners just to meet the guarantee (which I'm virtually sure we'll do), and you'll get to play against a significant percentage of them, thanks to the Zoom format.
The only downside of Zoom tournaments: the game goes so fast you'll barely have time to dip a chip in the guacamole before the next hand is flying your way.
Thanks to the special relationship PokerStars and PokerNews share, PokerNews customers can compete in two special freerolls that will award 50 seats to each of the MicroMillions Zoom events. Read about all the details here!