The Nightly Turbo: PokerStars Celebrates 95 Billionth Hand, Macau Poker Cup, and More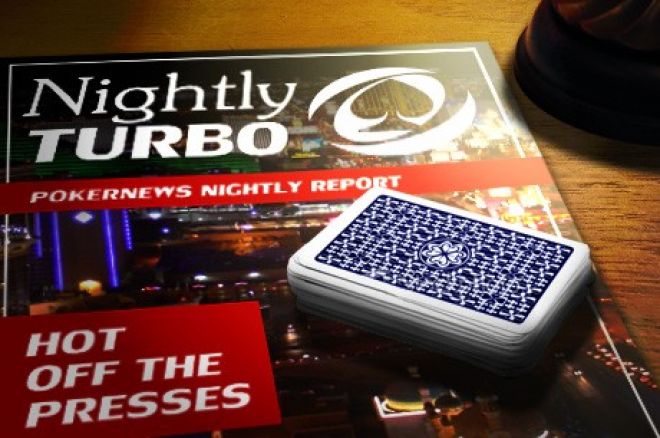 On Monday, PokerStars celebrated its 95 billionth hand. The hand was recorded on a lucky $.08/$.16 table, and one lucky micro grinder earned nearly $24,000. Find out who that lucky player was, and who nearly missed out on $10,000 tonight in the Nightly Turbo.
In Case You Missed It
The Seat Open series continues with Part 2 of our interview with Jay Tan. Tan continues her story, sharing her experience moving into playing poker as a full-time job, the progression of her career, and being in a relationship with another poker player, Kenny Wong. Listen here.
The second episode of the World Poker Tour Parx Open Poker Classic aired on Sunday. Chad Holloway recaps the episode here.
The Seventh Anniversary of the PokerStars Sunday Million took place this weekend. Find out who won the largest chunk of the more than $9.8 million prize pool in the Sunday Briefing.
Matthew Kredell believes that New Jersey will influence other states to legalize online poker. Find out why here.
PokerNews sat down with Viktor Blom in an exclusive interview. See what he has to say about PokerStars, Full Tilt Poker, and his swingy start to 2013 here.
PokerStars Deals its 95 Billionth Hand
On Monday, PokerStars reached another milestone on the Road to 100 Billion Hands, dealing their 95 billionth hand. The monumental hand was dealt on a $.08/$.16 table named "Pasiphae," and "RichB17" won the hand, earning him $23,920.
PokerStars 95 Billionth Hand
| Player | Prize |
| --- | --- |
| RichB17 | $23,920 |
| pacheko23980 | $14,800 |
| yanno | $13,070 |
| soya-aware | $12,400 |
| SAURO1980 | $12,240 |
| popp00 | $12,000 |
| Dummkobb | $11,700 |
| Domy07 | $11,660 |
| MenFedlak | $10,240 |
According to Lee Jones, who moderated the hand, the prize money was supplemented by the number of VPPs the players earned in the 50 hands at the table leading up to the 95 billionth hand.
Before the drama unfolded, play was halted at the table to allow spectators to view the outcome of the hand.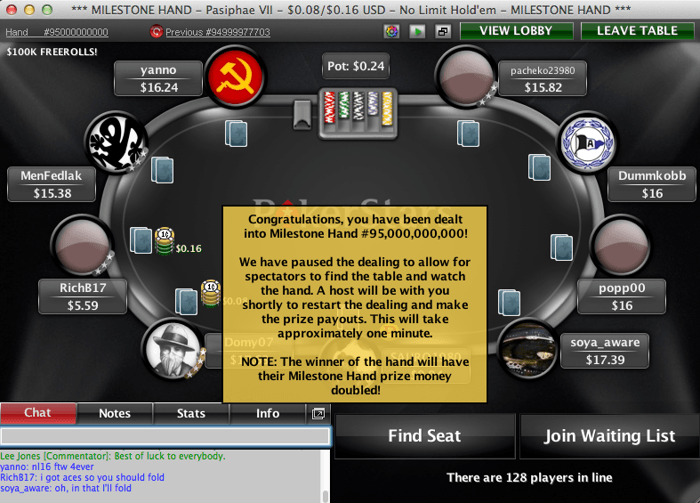 The table was paused for an extended period, however, because Hungarian "MenFedlak" was disconnected from the server. Jones announced to the table that they would wait for up to a half hour for the player to reconnect.
"Whats [sic] wrong with internets [sic] in Hungary, lol," one player at the table typed.
Finally, the hand was dealt, and every play but the Hungarian moved all in preflop:
Initially, it looked as if "Domy07" won the hand with
on a board of
, but at the very last second, "RichB17" slapped over
for a straight. He won the lion's share of over $122,000 in prizes, while each other player at the table, even the Hungarian, earned over $10,000.
After the hand, Jones thanked and congratulated the players at the table. He also said something about the upcoming 100 billionth hand:
"Oh and if you think this was great, wait until you see what we have planned for the 100 BILLIONTH hand. It will be spectacular."
Bader Wins GUKPT London Main Event
Martin Bader won the 2013 Grosvenor UK Poker Tour (GUKPT) Main Event in London on Sunday, besting a field of 397 to collect a prize of £56,000. The £1,070 buy-in tournament drew some of the top players to the London Victoria Casino, including Marvin Rettenmaier, Surinder Sunar, Martin Jacobson, Chris Bjorin, and last year's GUKPT London champion Robin Keston.
Chiraag Thanki started the final day as overall chip leader, but couldn't keep his lead till the end busting in seventh place at the final table. Thanki three-bet all in for 550,000 over an open to 110,000 from Bader. Bader called with
, which trailed the
of Thanki, but there was a queen on the flop. Bader's pair of queens held on the turn and river, and Thanki was off to collect £13,100 from the cage.
Entering into heads-up play, David Barraclough held a six-to-one chip lead, but struck a deal with Martin Bader. The two decided that £62,000 would go to Barraclough and £56,000 to Bader. With a heads-up deal in place Bader, went on a tear, catching cards, hitting boards, and most importantly, winning the key pots. Eventually, Barraclough was ahead with a 6,400,000 to 1,5000,000-chip advantage.
On the final hand of the tournament, Barraclough got his money in with
against Bader's
. The board ran out and neither play improved, leaving Bader champion of GUKPT London with ace-high.
GUKPT London Final Table Results
| | | |
| --- | --- | --- |
| Position | Player | Prize |
| 1 | Martin Bader | £56,000*** |
| 2 | David Barraclough | £62,000*** |
| 3 | Paul Alterman | £50,000** |
| 4 | Jeff Duval | £50,000** |
| 5 | Marc Wright | £45,000* |
| 6 | Jamie Roberts | £16,670 |
| 7 | Chiraag Thanki | £13,100 |
| 8 | Antonio Millan | £9,530 |
| 9 | Sin Melin | £7,150 |
***Denotes heads-up deal
**Denotes four-handed deal
*Denotes five-handed deal

The next leg of the GUKPT will begin on April 8 at the Grosvenor G Casino Didsbury.
For a closer look at the final table, head on over to UK.PokerNews.com.
Macau Poker Cup Schedule Announced
On Thursday, PokerStars announced the schedule for the Macau Poker Cup (MPC), which will take place at PokerStars LIVE at the City of Dreams from April 19-28. This will be the 18th installment of the MPC, and PokerStars expects it to be the largest ever. The tournament series will culminated with the HKD $11,000 Red Dragon Main Event, which will feature a guarantee of HKD $5,000,000.
In February of 2012, the Red Dragon Main Event attracted 635 unique players, making it Asia's largest tournament field ever. Danny McDonagh, PokerStars' Director of Live Operations in the Asia-Pacific, expects to break this record.
"It's become a tradition of sorts for PokerStars LIVE Macau to open with the Macau Poker Cup," said McDonagh. "There's been an incredible buzz since we announced the move to City of Dreams, Macau and we are doing everything possible to ensure our new home begins with a new record."
Steven Webster, owner, developer, and operator of City of Dreams added, "City of Dreams always strives to bring the most innovative, premium gaming experience to our patrons. 'PokerStars LIVE at the City of Dreams' is set to provide a sophisticated yet fun atmosphere designed with the player's comfort in mind to attract the world's top poker players and will become the permanent venue for Asia's most successful poker tournaments. We believe 'PokerStars LIVE at the City of Dreams' will significantly enhance the face of the Macau Poker scene."
The 10-day schedule contains nine Official Asia Player of the Year (APOY) events. The 2013 APOY winner will receive a one-year sponsorship deal with PokerStars LIVE Macau.
"I always get excited about the Macau Poker Cup, but this is the one Red Dragon you don't want to miss," said two-time Red Dragon winner Celina Lin. The Team PokerStars Pro added, "You never need an excuse to go to City of Dreams. If you're in Macau and like to have fun then you've definitely been there already. Adding poker just means that certain people may never leave the property now."
Macau Poker Cup Schedule
| Date | Time | Event |
| --- | --- | --- |
| Fri. April 19 | 20:00 | $2,000 Deepstack ($200,000 Guarantee) [Two-day event] |
| Sat. April 20 | 18:00 | $5,500 NLH ($500,000 Guarantee) - Day 1A (Day 1B re-entry allowed) |
| Sun. April 21 | 18:00 | $5,500 NLH ($500,000 Guarantee) - Day 1B [Two-day event] |
| Mon. April 22 | 20:00 | $5,000 Bounty [Two-day event] |
| Tue. April 23 | 20:00 | $3,000 NLH Turbo |
| Wed. April 24 | 19:00 | $11,000 Red Dragon ($5,000,000 Guarantee) - Day 1A |
| Thur. April 25 | 19:00 | $11,000 Red Dragon ($5,000,000 Guarantee) - Day 1B |
| Fri. April 26 | 16:00 | $1,500 NLH Turbo |
| | 20:00 | $11,000 Red Dragon ($5,000,000 Guarantee) - Day 1C |
| Sat. April 27 | 17:00 | $20,000 NLH ($1,000,000 Guarantee) [Two-day event] |
| | 20:00 | $6,000 NLH [Two-day event] |
| Sun. April 28 | 14:30 | $2,500 Bounty |
All tournaments are subject to regulatory approval. For more, head to www.pokerstarsmacau.com.
Private Poker Clubs in Mainland China
According to Forbes, the Goldfish Club, a new poker club in Beijing, is set to open in mainland China. Gambling is only legal in the Chinese territory of Macau, where over $38 billion was raked in gambling revenue in 2012, and Chinese authorities have been cracking down on illegal gambling for years. Chinese Police say that over 30,000 gambling venues were busted in 2012, netting around $700 million in illicit funds.
The Goldfish plans to host poker, chess, bridge, and other games, but the principal investors claim that guests won't be gambling. The players who frequent the club will not cash out their winnings, rather the club is intended for "intellectual jousting and meeting like-minded players."
"We offer them a chance to play with people of the same social status or with people they admire and want to meet," says Shen Jian, a principal investor in the club.
Under the operating title iTOP, the investors plan to open 10 or more gaming clubs in the largest cities in China. The Goldfish Club will be the first to open, and it will be located near Beijing's Workers' Stadium.
Annual membership will start at $16,000, while high rollers can spend up to $320,00 for VIP status. While players may not be able to "cash out" on a nightly basis, iTOP plans to host tournaments with sponsors providing prizes to the competitors.
The ultimate goal is to eventually bring land-based gaming to mainland China, and not just Macau.
Winfred Yu, CEO of the Poker King Club at StarWorld has seen and played in some of the biggest games in Macau, and he knows that China can support big money gaming.
"Players from Asia have the money to support [high-stakes] games," he said.
Forbes has more.
Get all the latest PokerNews updates on your social media outlets. Follow us on Twitter and find us both Facebook and Google+!