WPT on FSN Parx Open Poker Classic Part II: Off to the Races, "Genius28" & a Fish Tank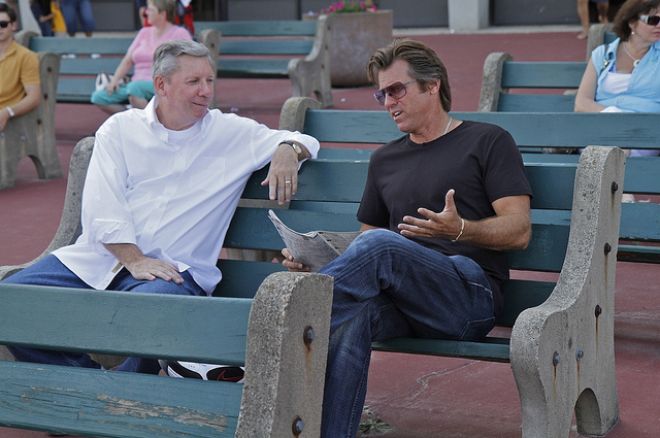 Last week I brought you my first recap of the World Poker Tour Season XI on Fox Sports Network—Part I of the Parx Open Poker Classic. On Sunday, March 3, Part II of the $3,300 Main Event, which attracted 500 entries in August 2012 and created a prize pool of $1,600,500, aired on FSN.
Before I get to the highlights, let me remind you that there was only one elimination in Part I, that of Andre Nyffeler. It happened when he moved all in from the cutoff for 515,000 with the
on Hand #43 of the final table and Larry Sharp called with
in the big blind. The board ran out
and the man from Michigan was eliminated in sixth place for $61,619.
"Adrian!": This week's episode kicked off with an alarm clock going off at the ungodly hour of 4 a.m. A hand then slammed down on the snooze button and a disheveled Vince Van Patten awoke in bed. When the camera zoomed out, Mike Sexton was seen laying in the same bed with a blue eye mask on. "Mike, wake up," Van Patten said to his long-time co-host. "It's show time."
"Are we really going to do this?" Sexton asked before a montage showed the two making breakfast, going for a run (in front of the famous Rocky statue) and exercising at the gym. It was corny, but in a good way that elicited a bit of a chuckle. It'll be interesting to see if they continue to poke fun at themselves as the season moves forward.
Here's how things stacked up at the top of the broadcast:
WPT Season XI Parx Open Poker Classic Final Table
| Seat | Player | Chips |
| --- | --- | --- |
| 1 | Stephen Reynolds | 4,385,000 (109 BB) |
| 2 | -empty- | N/A |
| 3 | Chris "Genius28" Lee | 3,305,000 (82 BB) |
| 4 | Tony Gregg | 4,110,000 (102 BB) |
| 5 | Larry Sharp | 1,220,000 (30 BB) |
| 6 | Chris Vandeursen | 1,850,000 (46 BB) |
A Day at the Track: Before action got too heated, Mike and Vince, along with the Royal Flush Girls, paid a visit to the local Parx horse track. Van Patten bet on the No. 8 horse, and both Sexton and the RFGs on No. 4. "They're neck and neck," Raw Deal host Tony Dunst exclaimed while sweating the race. Who won? Give it up to Sexton and the RFGs for seleting the winner. They also followed up with a photo shoot with the jockey.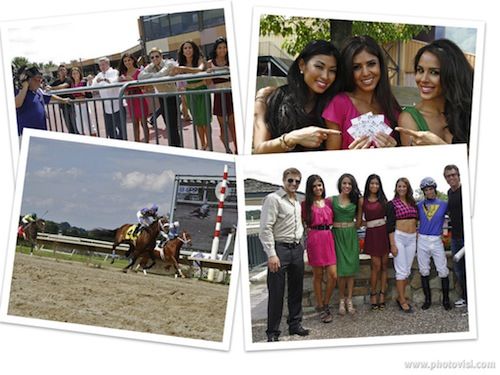 Getting to Know Genius28: In our weekly Online Railbird Report, we tend to report on a specific stable of players who play the highest online stakes available. One of those players, Chris "Genius28" Lee, happened to be making a splash at the Parx Open Poker Classic by making the final table. Given that Lee usually hides behind an avatar online, the WPT took the opportunity to get to know one of the most respected high-stakes players in the world by talking about the importance of education.
"It's weird because people think that poker's just about the strategic element of the game, but really I think there's a lot of, I call them 'soft skills', understanding bankroll management, understanding emotional control," Lee, a graduate of Duke University, explained. "You just accrue life experience when you're in college and then you come out and you're a little bit old, you know, a little bit wiser, and think maybe you're better prepared to go with the emotional and mental swings that come with poker. I think finishing school can help you. It helped me, I know that."
The Fish Tank Busts: On what would be Hand #101 of the final table, which happened in Level 27 with the blinds at 20,000/40,000/5,000, a short-stacked Chris "Fish Tank" Vandeursen moved all in for 890,000 from the button holding the
only to receive a snap-call from Chris "Genius28" Lee, who held the
in the big blind. "You've got to put two diamonds up, right?" Vandeursen asked the dealer, who did not oblige by putting out an
flop. "You gotta put the five up at least," Vandeursen said. The
turn wasn't what he needed, though it did pave the way to a possible chop if either a three or four peeled off on the river. Unfortunately for Vandeursen, it was the useless
and he was eliminated in fifth place for $76,824.
The local from Philadelphia joined WPT sideline reporter Matt Savage and offered some quick parting words. "It was cool, you know," Vandeursen said. "It was my home casino. I like to play, I had fun [and] they're great players."
Getting Raw: I'll be the first to admit, I wasn't much of a fan of Tony Dunst's The Raw Deal segment when it first debuted on WPT broadcast. Since then, though, it's managed to grow on me. In this week's installment, Dunst breaks down Anthony Gregg, who he admits isn't much of a poker personality, but who has skills that strike fear into his opponents.
While Dunst is busy analyzing a hand, it struck me that this segment is the perfect example of how the WPT, and the game of poker, have evolved in the last decade. Remember the early days of the WPT when Mike Sexton explained how Texas hold'em, the "Cadillac of Poker," was played with each player receiving two down cards. Now, here we are with Dunst explaining "blockers," five-bet jams and value range. Needless to say, the game has changed, and the WPT has done a good job of keeping up with that evolution while still appealing to the casual fan.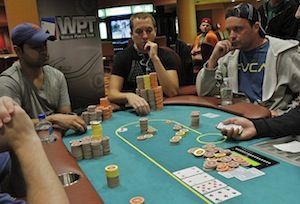 Sharp Dulled: In the last hand of the broadcast, which happened to be Hand #111 of the final table, the blinds were 30,000/60,000/10,000 when Stephen Reynolds opened for 125,000 under the gun with the
, Anthony Gregg called from the small blind holding
, and a short-stacked Larry Sharp moved all in from the big blind with the
. Reynolds moved all in over the top, and Gregg quickly got out of the way. It was essentially a flip because Sharp was a 52% favorite to win the hand, a figure that jumped up 78% on the
after he made two pair. However, the
turn made things interesting with Reynolds picking up a flush draw. "Let's do this," he said with his rather annoying laugh. "That's a good one."
The crowd was clamoring for various cards, and then half of them erupted in cheers when the
peeled off on the river to give Reynolds the runner-runner flush. Sharp, who finished in fourth place for $108,034, shook hands with his opponents and then made his way over to talk to Matt Savage. "It was a really good experience. I mean the final four especially, very, very tough," Sharp pointed out. "Got it in good, can't do anything about it."
Tune in Next Week: The conclusion of the Parx Open Poker Classic is set to air on Sunday, March 10 on FSN, so be sure to check your local listings. If by chance you miss it, check back next week for the latest recap of all the action here on PokerNews.
*Pictures courtesy of World Poker Tour.
Get all the latest PokerNews updates on your social media outlets. Follow us on Twitter and find us both Facebook and Google+!