WPT on FSN: Lansing Returns, New Ones to Watch & More from the Parx Open Poker Classic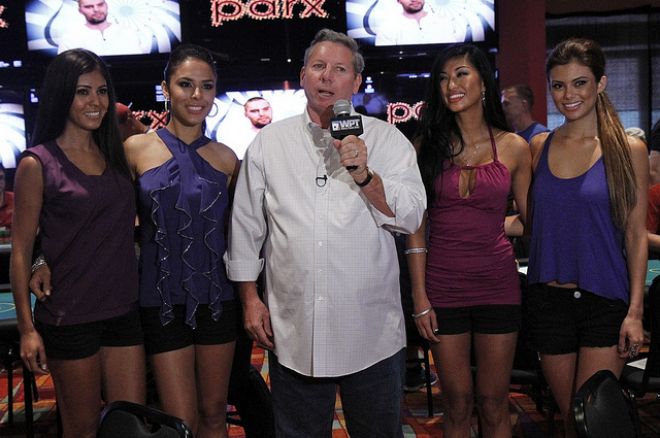 The World Poker Tour is back on Fox Sports Network! This past Sunday, the first episode of Season XI kicked off with action from the Parx Open Poker Classic, a $3,300 Main Event that attracted 500 entries in August 2012 at the Parx Casino in Bensalem, Pennsylvania. The $1,600,500 prize pool was distributed to the top 54 players, with $416,127 going to the eventual winner.
Now that I've covered the details, let's take a look at what happened in last night's episode.
Lansing is Back: The broadcast began as any Part I does—with a look at the early stages of the tournament. Telling the tale was a familiar face in Kimberly Lansing, returning after having taken maternity leave during the second half of Season X. Although Marianela Pereyra did a fine job filling in for Lansing, seeing a staple of the WPT back in place felt comfortable.
A Quick Look at the Day 1s: Like most stops on the WPT, the Parx Open Poker Classic was a re-entry event, meaning players who busted on Day 1a could fire another bullet on Day 1b. Day 1a wasn't featured much on the broadcast other than to show that Dan O'Brien, Amanda Musumeci, Daniel Buzgon, Darren Elias and Tony Dunst all busted. The day also saw two-time WPT champion Cornel Cimpan bagging up 242,800 for the chip lead. Cimpan's wins came back in the 2009 World Poker Finals ($910,058 prize) and 2009 L.A. Poker Classic ($1,686,760), and he was looking to join Gus Hansen and Carlos Mortensen as the only three-time winners in WPT history. Meanwhile, Henry Liu finished Day 1b as chip leader with 302,500, and 196 players advanced to Day 2.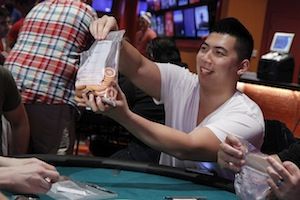 Bubble, Bubble Toil and Trouble: The money bubble hit fairly quickly on Day 2, and it took only one hand to break through when a short-stacked Michael Ruana got all in preflop with the
only to run into the
and
of two opponents. The aces held and Ruana was finished as the bubble boy. Seven more eliminations brought about the end of Day 2 with 47 players remaining and Brent Roberts leading the way with 749,500.
Freerolling to a Spade: Henry Liu's run ended late on Day 3 courtesy of a sick beat. It happened when he was all-in preflop with the
against the
of Anthony Gregg. It looked to be a chopped pot, but the
flop fell to give Gregg a freeroll to a spade. The
turn wasn't one, but the
river was. After firing off some expletives, Liu left in 19th place ($10,403), and Gregg went on to finish the day atop the chip counts with 2.786 million with 16 players remaining.
The Royal Treatment: The final two tables were paid a visit by Tugba (pronounced Tuba) and Brittany of the Royal Flush Girls, and I have to say, most of the guys looked incredibly uncomfortable. I'm not sure if they're uncomfortable around pretty women, but c'mon guys, the cameras are rolling. Ask them out on a date or something. If it was me, I'd have said to Tugba, "You know, I play the tuba, and in my section of the orchestra pit, we all have big brass ones."
The TV Bubble Bursts: In Level 25, with the blinds at 15,000/30,000/5,000, just seven players remained, meaning just one more had to hit the rail before the final table was set. It happened when Joey Couden raised to 60,000 from middle position and then called off for 550,000 total when Anthony Gregg moved all in from the small blind. Couden got it in good with the
as he was up against the
of Gregg. The
flop was safe for Couden, but the
turn was not. Gregg spiked his two outer, eliminating Couden as the TV bubble boy in seventh place for $47,215 after the
blanked on the river.
Here's how things stacked up at the start of the final table: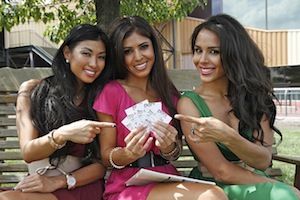 WPT Season XI Parx Open Poker Classic Final Table
| Seat | Player | Chips |
| --- | --- | --- |
| 1 | Stephen Reynolds | 4,035,000 (134 BBs) |
| 2 | Andre Nyffeler | 895,000 (28 BBs) |
| 3 | Chris "Genius28" Lee | 3,040,000 (101 BBs) |
| 4 | Tony Gregg | 3,600,000 (120 BBs) |
| 5 | Larry Sharp | 870,000 (29 BBs) |
| 6 | Chris Vandeursen | 2,430,000 (81 BBs) |
The Final Table Fashion Report: Mike Sexton argues that it's important for players to dress up for TV final tables to promote themselves and the game, so how did the Parx Open Poker Classic finalists fare? I don't consider myself a fashion expert, though I do read GQ, but here are my ratings.
Stephen Reynolds: Traditionally handsome, Reynolds is the type of man made by the clothes. Fortunately for him, he opted to go with a black sweater over a baby-blue button-down, and while black on blue doesn't always work, he pulled it off and looked quite dapper in the process. I'm not sure what his pink bracelet was about, but the rest of his outfit worked. Grade: A
Anthony Gregg: A light grey/violet button-down is rather blasé, but it's more respectable than a tee. Gregg strikes me as a bow-tie kind of guy, and that he would certainly have been memorable. Grade: B-
Andre Nyffeler: Repeat Gregg's assessment but for a blue button-down. Grade B-
Chris Lee: Repeat the previous two assessments but for a grey button-down. What's with all the plain button-downs, people? I'm giving Lee a little better rating just because he had the best color choice and what looked like the crispest shirt. Grade: B
Chris "Fish Tank" Vandeursen: A black tee shirt is about as boring as they come, and not in a good way. You're playing for hundreds of thousands of dollars and have a chance to make a name for yourself; the least you could do is try to be memorable. Grade: D-
Larry Sharp: There's something about a sharply dressed man, but that man is not Larry Sharp. While the blue Lacoste polo (which was a button or two too exposed) and backward baseball cap didn't flatter Sharp, it did at least match. Grade: C
Ones to Watch: A new season means it's time for a new stable of Ones to Watch. This year's lineup included Jason Somerville, Shaun Deeb, Amanda Musumeci, AP Phahurat, Xuan Liu, Jason Koon, Dee Dozier and Brian Hastings.
"Poker to me has become something more than just a game," Musumeci said. "Poker kind of gives me hope for the future in the sense that if I can really make something of myself, I'll one day be able to branch off and do more meaningful things."
Hey Amanda: "You know, I play the tuba, and in my section of the orchestra pit, we all have big brass ones."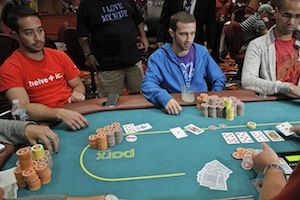 Nyffeler is the First to Go: After having his aces cracked by the tens of Chris Lee, Andre Nyffeler was left on a short stack and moved all in from the cutoff for 515,000 with the
on Hand #43 of the final table. Larry Sharp looked down at the
in the big blind and made a quick call. Nyffeler was on his feet to watch the flop, which came down
.
Nyffeler looked crushed as he simply shrugged, while Sharp remained seated and shook his head up and down. Neither the
turn nor
river helped Nyffeler, and the man from Michigan was eliminated in sixth place for $61,619.
"I'm excited to be here, it's awesome," Nyffeler told WPT sideline reporter Matt Savage after his elimination. "Lucky to make it this far. I had some fun, played with a bunch of good players, so I can't complain. I'm still looking for a job. Poker's fun to play sometimes, but not every day for a living."
Tune in Next Week: Part II of the Parx Open Poker Classic is set to air on Sunday, March 3 on FSN, so be sure to check your local listings. If by chance you miss it, check back next week for the latest recap of all the action here on PokerNews.
*Pictures courtesy of World Poker Tour.
Get all the latest PokerNews updates on your social media outlets. Follow us on Twitter and find us both Facebook and Google+!