Poker Room Review: Planet Hollywood, Las Vegas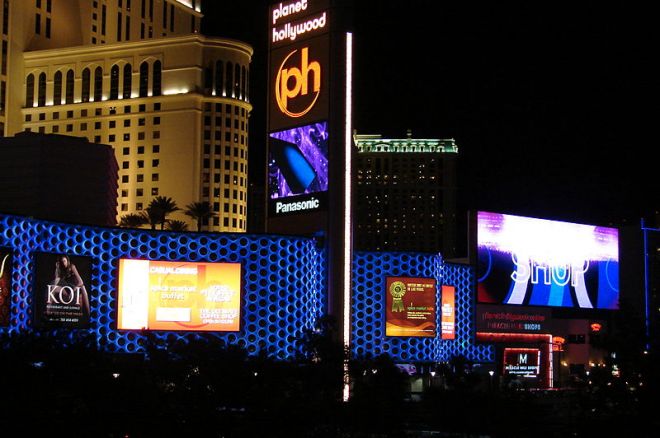 Planet Hollywood's poker room, located in the casino next to the Heart Bar, is one of the most beautiful places to play low-limit poker on the entire strip.
The room holds 11 poker tables and features $1/$2 and $2/$5 no-limit hold'em. Other casino poker games and limits available upon request. There is always a high-hand jackpot to be won, with quads paying $100, straight flushes paying $200, and royal flushes progressing, starting at $1,000. In fact, if a qualifying royal flush is dealt at your table, you could earn $100 to $500 just for being there.
The rake is 10 percent up to a $5 maximum, plus a $1 drop for the high hand bonuses. No smoking is allowed at the table, but smoking is allowed on the casino floor. The tables are beautiful, with excellent firm felt and an unobtrusive design. They have recessed cup holders, a black cushioned ring around the perimeter and an inlaid wooden outer circle for stacking chips. The chairs are very nice, with rollers and ample cushioning.
The staff is as friendly and efficient. Players are each welcomed with a smile, asked what they want to play, and either put on a list or directed to a table efficiently. Floor people are available to settle disputes, which they do with a smile and with good humor.
Planet Hollywood also has some of the best tournament action in Las Vegas – as it has since its Aladdin days. There are four tournaments every day – at 10 p.m., 1 p.m., 4 p.m., and 7 p.m. All four tournaments feature $1,500 guaranteed prize pools, and first place will receive a minimum of $1,000. Each tournament is a $70+5 buy in with a starting stack of 6,000 and 20-minute blind levels. The tournaments usually take two-and-a-half to three hours to complete.
For more information on the Planet Hollywood poker room, follow @PH_Poker on Twitter.
Planet Hollywood
3667 Las Vegas Blvd
Las Vegas, NV
702-785-5555