WPT on FSN Borgata Poker Open Part I: Old Thrill, Bubble Etiquette & RFGs in Bikinis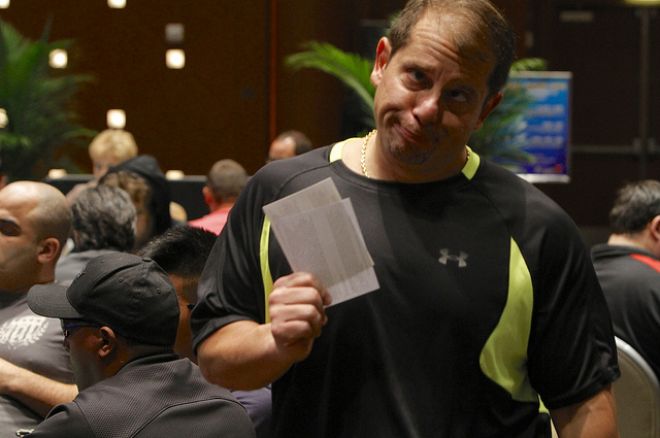 Season XI of the World Poker Tour continued on Fox Sports Network Sunday night with the first of three episodes from the Borgata Poker Open, a $3,500 Main Event that attracted 1,181 entries (the second largest in WPT history) at the Borgata Hotel Casino in Atlantic City, New Jersey back in September of 2012.. The $3,897,300 prize pool was distributed to the top 110 players, with $818,847 reserved for the eventual winner.
What a Thrill: Part I of every World Poker Tour broadcast starts by highlighting the early stages of the tournaments, and this one was no different. Appropriately, a hand was show from Day 1a featuring popular East Coast grinder Will "The Thrill" Failla, who moved his short stack all in preflop without even looking at his cards. Jake Schwartz called with the
, but wouldn't you know it, Failla rolled over the
. The table was in disbelief, but the
flop put a halt to all the excitement. Neither the
turn nor
river helped Failla and the former WPT champ was left to re-enter on Day 1b.
$10K Bonus: Speaking of Day 1a, just 179 players advanced with local player Robert Boyko leading the way. As a reward for finishing as the top chip stack, Boyko was awarded a $10,000 prize (the same would go to the Day 1b chip leader Brian Lemke). I'm a fan of this little bonus as it seems to get the stacks moving at a time when many players would usually be sitting tight to make it through the day,
Love is in the Air: Day 2 saw 625 players return to action, and by the end of the night 450 of them had hit the rail. Two players that thrived were poker couple Orson Young and Cherish Andrews, who finish as chip leader and seventh in chips respectively. While poker is an individual game, there are more couples than one might thing. Some that come to this experienced tournament reporter's mind are Rex Clinkscales and Ting Ho; Jay Tan and "Hong Kong" Kenny Wong; the recently married David "Doc" Sands and Erika Moutinho; and Collin Moshman and Katie "hotjenny314" Dozier.
Bubble Etiquette: As someone who has live reported dozens of money bubbles over the years, I can tell you there are three ways people react. They either throw a fit, leave quietly or exit graciously. The Borgata Poker Open had two perfect examples of this.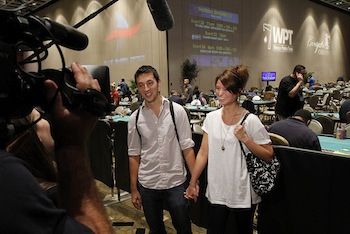 The first was from the defending champ Bobby Oboodi, who was eliminated two spots from the money. He shook hands with his opponent but not long after was on his phone complaining to whoever was on the other end. Oboodi could have been playing it up for the cameras, but it was hard to tell.
Cut to Albert Smith who got his chips in with the
and was up against the
of Andrew Lee. The
flop wasn't anything special, but the
turn was as it gave Lee the lead. The
river changed nothing and Smith, who was the bubble boy, had every right to be upset after suffering a bad beat at a crucial point in the tournament. Instead, he quietly walked around the table, shook hands with his opponent, and patted him on the back. Losing with class is hard to do, but Smith pulled it off.
After the bubble burst, the eliminations stacked up including Season IX champ Dwyte Pilgrim (109th - $7,070); Day 2 chip leader Orson Young (73rd - $8,085); and Day 1b chip leader Brian Lemke (67th - $8,762). Eventually, just 27 players made it though Day 3.
More Bubble Action: After the field had played down to the final seven players, another bubble was in effect—the WPT final table TV bubble. It ended up bursting when Matt Brady got his stack all in with the
and was well out in front of the
held by Ofir Mor, who you may recall as the Season IX Borgata Poker Open third-place finisher. Unfortunately for Brady, the board ran out
and Mor's flopped full house took down the pot. "I really wanted to make the TV table, but I did the best I could," Brady said of his seventh-place finish, which earned him a $131,613 payday.
Here's how things stacked up at the start of the final table:
WPT Season XI Borgata Poker Open Final Table

| Seat | Player | Chips |
| --- | --- | --- |
| 1 | Matthew Burnitz | 8,885,000 (74 BBs) |
| 2 | Steve Brecher | 5,755,000 (47 BBs) |
| 3 | David Diaz | 7,250,000 (60 BBs) |
| 4 | Ben Hamnett | 4,720,000 (39 BBs) |
| 5 | Ofir Mor | 3,580,000 (29 BBs) |
| 6 | Tyler Patterson | 5,260,000 (43 BBs) |
The Final Table Fashion Report: Mike Sexton has always said it's good for the games when players dress up for the TV final table. So did the Borgata Poker Open finalists take his advice? Here's my take on each player's wardrobe.
Steve Brecher: At his third final table and looking for his second title, Brecher knows how to dress for success. He's an older gentleman, so it was no surprise to see him make a simplistic choice—a long-sleeve baby blue button complimented by a nice pair of aviators and a watch. Simple and sleek. Grade: B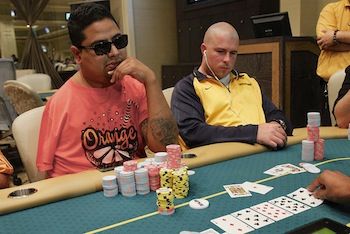 David Diaz: If that name sounds familiar, it's because he just finished as the chip leader with 25 left in the 2013 WPT Jacksonville bestbet Open. Diaz will likely make another final table, and it'll be interesting to see what he wears as his choice at the Borgata was top notch. A grey button-up toed the line between blue collar and upscale casual, and it was just a look that worked for Diaz, who also wore black shades and what looked like an expensive watch. Grade: B
Ben Hamnett: Like Brecher, Hamnett donned a baby blue button-up, but it was a different variety. Neither the sleeves nor collar were buttoned up, and Hamnett gave off a kind of South Florida nightclub douche, especially with the reflective sunglasses. Even so, it wasn't too bad and did give the air of confidence. Grade: B-
Tyler Patterson: I like vintage, and Patterson's yellow polo with stripped sleeves looked like something straight out of the seventies. Even so, I wasn't too big a fan. Grade: C
Matthew Burnitz: A grey hoodie pulled up over a hat. Here was the quintessential poker player. Unfortunately that look can be found on hundreds of other players and is easily forgettable once he busts. Missed opportunity to make an impression in my opinion. Grade: D
Ofir Mor: You can't go wrong with an all-black getup, and that's the approach Mor took on his second appearances at a Borgata final table. Black long-sleeve shirt, black sunglasses, and a black watch. He brought to mind Johnny Cash's Man in Black, and you can't help but appreciate that. Grade: B-
Get to Know David Diaz: If you've traveled the circuit extensively, you've no doubt crossed paths with David Diaz. He's easy to recognize as he only has one arm, a result of a cancer discovery when he was four years old in Honduras. Fortunately Diaz was taken in by St. Jude's Children Hospital, but his diagnosis required amputation. Despite the early childhood setback, Diaz hasn't let it affect his poker game. Not only has he been on a role on the WPT, he also won a World Series of Poker bracelet back in 2011.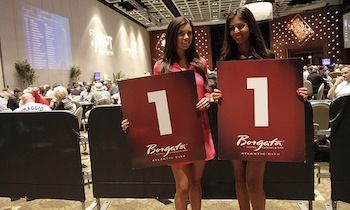 Royal Flush Girls in Bikinis: Holy hell, these girls know how to wear the shit out of a bikini. Tugba's green getup, Danielle's yellow top and bottom, Ivy's grey bikini with some shiny belt accessory, and Angelique's bouncing blue swimsuit and hoop earrings as she got out of the pool, well let's just say I'd like to take them out to a nice seafood dinner.
From the Short Stack to the Chip Lead: In the last hand of the broadcast, chip leader Ben Hamnett opened for 325,000 from the button holding the
. Tyler Patterson defended from the big blind with the
and it became apparent there'd be fireworks as the clop came down
. Both players had flopped trips and Patterson promptly checked. Hamnett bet 400,000, Patterson check-raised to 1.1 million and Hamnett thought for a but before moving all in and Patterson snap-called off for 3.345 million. Neither the
turn nor
river changed a thing and Patterson's ten kicker earned him the 7.54 million pot. Just like that, he went from the short stack to the big stack in one hand.
Tune in Next Week: Part II of the Borgata Poker Open is set to air on Sunday, May 5 on FSN, so be sure to check your local listings. If by chance you miss it, check back next week for the latest recap of all the action here on PokerNews.
Who will be the next player to add his or her name to this prestigious list of champions?
Past Borgata Poker Open Champions
| Season | Player | Entrants | Earnings |
| --- | --- | --- | --- |
| 2 | Noli Francisco | 235 | $470,000 |
| 3 | Daniel Negreanu | 302 | $1,117,400 |
| 4 | Al Ardebili | 515 | $1,498,650 |
| 5 | Mark Newhouse | 545 | $1,519,020 |
| 6 | Roy Winston | 560 | $1,575,280 |
| 7 | Vivek Rajkumar | 516 | $1,424,500 |
| 8 | Olivier Busquet | 1,018 | $925,514 |
| 9 | Dwyte Pilgrim | 1,042 | $733,802 |
| 10 | Bobby Oboodi | 1,131 | $922,441 |
| 11 | ??? | 1,181 | $818,847 |
*Pictures courtesy of World Poker Tour.
Get all the latest PokerNews updates on your social media outlets. Follow us on Twitter and find us both Facebook and Google+!