2013 PokerStars.net ANZPT Melbourne Repechange Day 1a: Anthony Hachem Leads
Mat Pater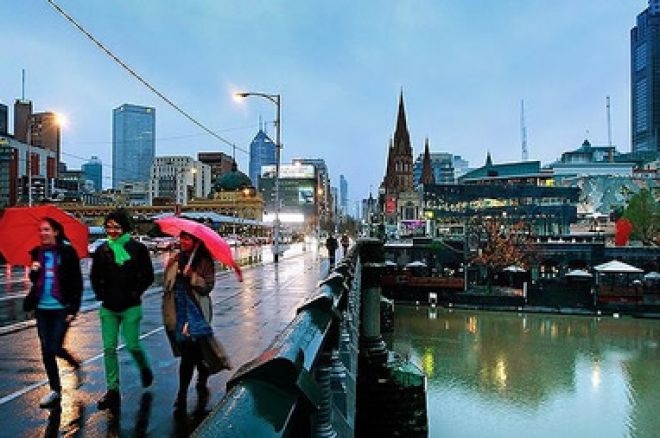 After 13 tough levels of poker, the first of three Day 1 flights has come to an end at the 2013 PokerStars.net ANZPT Melbourne Repechage Main Event. A total of 224 players (including a number of no-shows) invested the $1,100 buy-in, and at the end of the night approximately 33 had survived. Anthony Hachem, the son of Joe Hachem, managed to bag the largest stack and will take 386,000 in chips into Sunday's Day 2.
Some of the best players in the region took part in the action, including David Allan, Benn Skender, Liam O'Rourke, Andrew Hinrichsen, Tom Grigg, Michael Kanaan, Jarrod Glennon, Tom Wing, Jackie Glazier, Trung Tran, and Michael Fadersen. Allan, Skender, O'Rourke, Hinrichsen, Grigg, Kanaan and Glennon weren't able to survive the night, while the rest are still in contention.
Hachem stormed to the top of the counts in a brutal hand against Gautam Dhingra during the final level of the day. The action started with a raise from Dhingra. Hachem three-bet to 15,000 before Dhingra four-bet to 37,000. Hachem then declared himself all in and Dhingra snap-called.
Hachem:

Dhingra:
There were 350,000 chips in the middle during the ultimate cooler, but the drama only intensified when the flop landed
to give Hachem a set of kings. Dhingra stood up and walked away from the table while the dealer rolled out the
turn and
river, giving Hachem the double up into the chip lead.
Some of the other players who survived the night were Martin Cardno, Luke Brabin, Eric Assadourian, Jie Gao and Iori Yogo. Joining Hachem at the top of the chip counts are Dhingra (203,000), Dale Marsland (202,000), Aron Joyce (190,500), and Patrick Healy (165,000). A full list of surviving players and chip counts will be posted once they are made available.
Be sure to join us at 2:10 PM local time on Friday as we bring you all the live coverage from Day 1b of the ANZPT Melbourne Repechage Main Event.
Photo courtesy of the PokerStars Blog.
Follow PokerNews on Twitter and like us on Facebook for up-to-the-minute news.