WPT on FSN Bay 101 Part II: Bounties, Royal Flush Girl Laser Tag & More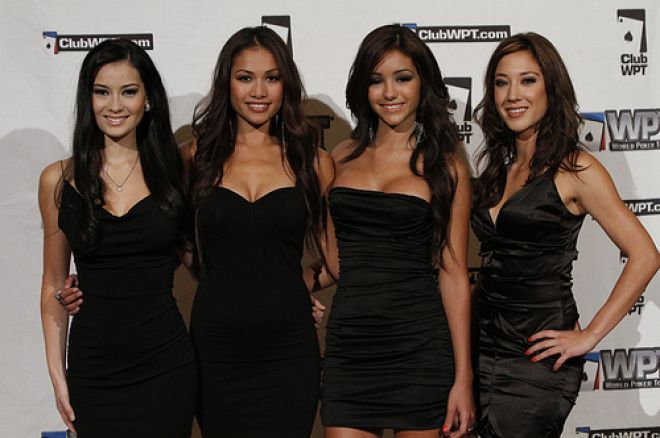 On Sunday night, the World Poker Tour Season XI continued with a brand new episode on Fox Sports Network. Part II of the Bay 101 Shooting Star was shown, and what an episode it turned out to be. If you recall, in last week's recap of Part I, I gave you my take on the Bay 101 Shooting Star, my patented final table fashion report and showed you why Andrew "lucky chewy" Lichtenberger was excited for the new movie The Wolverine.
Here's a look at how things stacked up at the top of this week's broadcast, which began with the blinds at 25,000/50,000/5,000:
WPT Season XI Bay 101 Shooting Star Final Table
| Seat | Player | Chips |
| --- | --- | --- |
| 1 | Joe Nguyen | 3,985,000 (79 BBs) |
| 2 | Erik Seidel | 1,755,000 (35 BBs) |
| 3 | Chris Johnson | 2,215,000 (44 BBs) |
| 4 | Paul Volpe | 4,955,000 (99 BBs) |
| 5 | Kai Chang | 5,255,000 (105 BBs) |
| 6 | Joe Kuether | 1,130,000 (22 BBs) |
Without further ado, here's what I have to say on this week's episode:
No Bounties for Kuether: There was only one $2,500 Shooting Star bounty left at the table in Erik Seidel. Joe Kuether was hoping to claim it as he had failed to collect any during the tournament. Unfortunately for him, that didn't happen.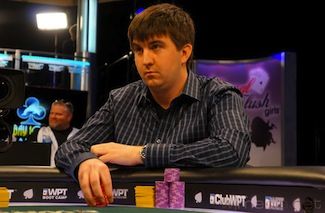 In one of the first hands broadcast, Kai Chang opened for 125,000 on the button holding the
and Kuether moved all for 860,000 from the small blind with the
. Joe Nguyen then looked down at the
in the big and moved all in over the top. Chang got out of the way and Kuether discovered the bad news.
According to the PokerNews Odds Calculator, Kuether had a 18.64% chance of staying alive while Nguyen was an 80.94% favorite. Kuether was in desperate need of a jack, but the
flop wasn't what he had in mind; in fact, Nguyen spiked a set to become the overwhelming 1.72% favorite. Kuether needed either running jacks or running ten-king to stay alive, but the
turn destroyed any chance of that happening. Nguyen made a full house, and after the inconsequential
was put out on the river, Kuether exited in sixth place and earned $162,240 for his performance.
"That last hand is obviously really standard, so nothing much I could do right there," Kuether told WPT sideline reporter Matt Savage after the hand.
Tapioca Pudding Time for Chris Johnson: In the next broadcast hand, Chris Johnson opened for 125,000 with the
and Chang just called with the
from the button. Seidel came along from the big with the
and three players saw the
flop. Seidel checked, Johnson bet 200,000 and Chang raised to 700,000. Seidel folded, Johnson moved all in for 1.92 million with top pair and Chang called with top set.
"He stands up. He knows it's about Tapiocoa pudding time for him," WPT commentator Mike Sexton chimed as the dealer put out the
to leave Johnson drawing dead. The meaningless
was put out on the river and then the pro from Las Vegas hit the rail in fifth place for $208,910.
Laser Tag: I've got to admit, the WPT does some pretty cool things off the felt. That was evidenced this week by a clip featuring The Royal Flush girls playing laser tag on an absolutely gigantic course. Also in the mix were Joe Serock, Darryll Fish and Dylan Hortin. Have a look:
The Best of Season X: This week's segment took a look back at the best suck out of the season prior. It happened at the Bay 101 when Ubaid Habib, who was quite active at the final table, moved all in for 1.445 million with the
after Serock, who went on to become the WPT Season X Player of the Year, had raised to 160,000. Serock called with the
and improved his lot on the
flop. Habib, who needed running cards, had just an 8% chance of surviving. The
turn left him in need of a three on the river to survive, and it wouldn't be the season's best suck out if it didn't come. The
appeared on the river and Vince Van Patten literally fell out of his chair.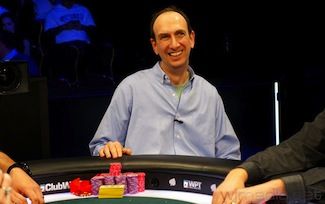 Pocket Rockets: Chang looked down at the
under the gun and made it 175,000 to go. Chang had been extremely aggressive up to that point so it was no surprise to see Joe Nguyen, who qualified for the tournament via a $500 satellite, three-bet to 350,000 from the button with the
. Chang pushed back with a four-bet to 1.375 million and Nguyen took a big gulp of water before laying down his hand.
Chang Tries to Claim the Final Bounty: After dwindling to just seven big blinds, Seidel moved all in for 570,000 from the button with the
. For anyone who watch it was about time as Seidel had made some very questionable laydowns up to that point, which I'm sure he'd readily admit. Chang ended up calling from the big blind with the
, but Seidel stayed in the lead on the
. The
turn meant Seidel needed to dodge both a queen and a nine, and that's what he did after the
blanked on the river.
Tune in Next Week: The conclusion of the Bay 101 Shooting Star is set to air on Sunday, July 14 on FSN, so be sure to check your local listings. If by chance you miss it, check back next week for the latest recap of all the action here on PokerNews.
Who will be the next player to add his name to this prestigious list of champions?
Past WPT Bay 101 Shooting Star Champions
| Season | Player | Entrants | Earnings |
| --- | --- | --- | --- |
| 2 | Phil Gordon | 243 | $360,000 |
| 3 | Danny Nguyen | 438 | $1,025,000 |
| 4 | Nam Le | 518 | $1,198,300 |
| 5 | Ted Forrest | 450 | $1,100,000 |
| 6 | Brandon Cantu | 376 | $1,000,000 |
| 7 | Steve Brecher | 391 | $1,025,500 |
| 8 | McLean Karr | 333 | $878,500 |
| 9 | Alan Sternberg | 415 | $1,039,000 |
| 10 | Moon Kim | 364 | $960,900 |
| 11 | ??? | 643 | $1,138,350 |
*Pictures courtesy of World Poker Tour.
Get all the latest PokerNews updates on your social media outlets. Follow us on Twitter and find us both Facebook and Google+!