WPT on FSN Bay 101 Part I: Volpe Makes History and Seidel Loves a Hometown Hero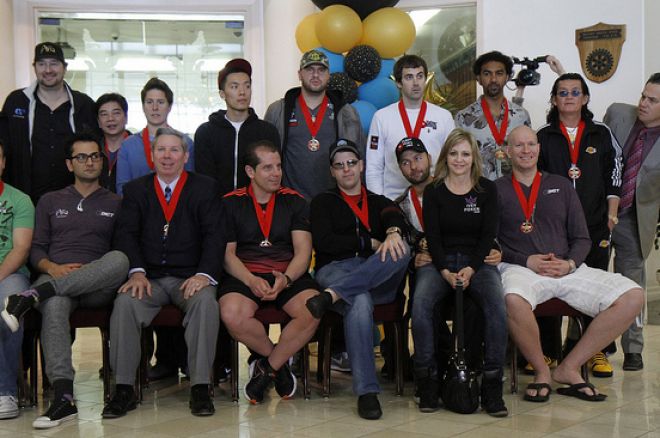 The World Poker Tour Season XI continued Sunday night with a new episode on Fox Sports Network. It was the first of three episodes from the Bay 101 Shooting Star, a $7,500 Main Event that took place at the Bay 101 Casino in San Jose from March 4 through 8, 2013. The event attracted 643 entries to create a prize pool of $4,597,450. Now that the details are out of the way, let's get down to business with my recap of the episode.
My Take on the Bay 101: Given that I've never been to that particular property, I want to turn my attention to the Shooting Star event. As a poker fan, this has been one of my favorite stops for the better part of a decade. Not only is it a prestigious poker tournament, it's also a rare opportunity for players to meet and play alongside the game's biggest names.
For instance, 26 "Shooting Stars" played on Day 1a, each with a $2,500 bounty on their head, and 27 new ones joined in on Day 1b. Each got their own introduction, and then when they were eliminated the person who knocked them out received the bounty and a signed commemorative t-shirt. It may seem a bit corny, but I think it's great for the game.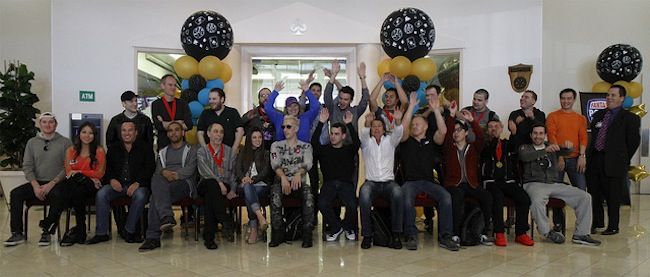 Changing Your Luck: I've seen players span the gamut of superstition. Some have "lucky" routines and charms, while others believe there's no such thing as luck and variance is the only divinity. Whatever the case, Will "The Thrill" Failla obviously believes in bad luck because after running bad early on he made an appointment to get his head buzzed. Off went the hair, but it did little to change his luck as he was eliminated during Day 1a.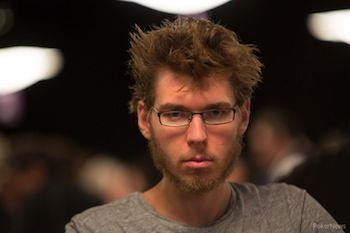 The Grizzled Lucky Chewey: Remember the sweet, innocent-looking Andrew "lucky chewy" Lichtenberger? At one point the baby-faced poker pro conjured up images of actor Michael Cera, but nowadays he's a little more rough with a full beard. While Lichtenberger is sporting the look at this year's WSOP, it started way back at the Bay 101. Come on, try to tell us this man isn't excited for the new Hugh Jackman flick The Wolverine.
The All-Time WPT Money Earner: Do you know who that man is? It's none other than 2001 World Series of Poker Main Event champ Carlos Mortensen with $6,425,290. Speaking of Mortensen, he eliminated 22-year-old Jeremy Druckman on the money bubble. Druckman had shoved holding the
only to run into the
of Mortensen. The board ran out a clean
and that was all she wrote for Druckman. Mortensen went on to finish in 36th place for $22,670.
Here's a look at this week's final table, which began with the blinds at 15,000/30,000/5,000:
WPT Season XI Bay 101 Shooting Star Final Table
| Seat | Player | Chips |
| --- | --- | --- |
| 1 | Joe Nguyen | 2,190,000 (73 BBs) |
| 2 | Erik Seidel | 3,450,000 (115 BBs) |
| 3 | Chris Johnson | 2,695,000 (89 BBs) |
| 4 | Paul Volpe | 5,450,000 (181 BBs) |
| 5 | Kai Chang | 2,710,000 (90 BBs) |
| 6 | Joe Kuether | 2,800,000 (93 BBs) |
Making History: In 11 seasons of the WPT no one has ever made back-to-back final tables holding the chip lead in both—that is until Paul Volpe accomplished it at the Bay 101. That's because he also made the final table of the LAPC weeks before where he ultimately finished runner-up to Paul Klann. We'd like to say we're surprised, but PokerNews' Rich Ryan predicted Volpe's extraordinary success at the beginning of the year.
The Final Table Fashion Report: Mike Sexton has always said it's good for the game when players dress up for the TV final table. So how did the Bay 101 Shooting Star Season XI finalists fare? Here's my take on each player's wardrobe.
Kai Chang: A light-blue button-up, sunglasses and a baseball cap. It's almost like this guy doesn't want to be remembered. Granted he's a local pro who has probably never been on TV before, but in my opinion that's a poor excuse. Grade: C-
Joe Kuether: A black and green striped button-up with a nice watch. Nothing to special, but I know Joe and for him it's definitely classing it up. You also get a good look at his face as he doesn't sport a cap or glasses. Grade: B-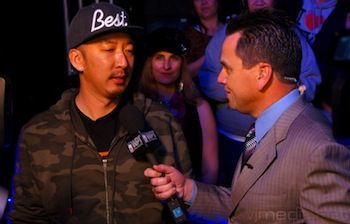 Joe Nguyen: His outfit—which consisted of a camouflage hoodie, big black sunglasses and a hat that read "Best"—wasn't classy by any means, but it did stand out. Throw in his tattooed forearms and some jewelry on his fingers and wrists, and Nguyen is certainly memorable. The getup would get a low mark, but establishing a recognizable look is important in the poker world. Grade: B
Erik Seidel: Establishing a look isn't something this Poker Hall of Famer needs to do. He is instantly recognizable no matter what he wears. That said, I was neither moved nor disappointed in his choice to go with a light blue button-up. Grade: C+
Chris Johnson: A black-button up with a hint of gray, Johnson's designer shirt was simple and quaint. Grade: B-
Paul Volpe: For my analysis on Volpe, check out what I wrote for his past final table because it's pretty much the same:
It's not fancy, but Paul Volpe has cultivated a look. For me, that's important in the poker industry. A consistent look helps people recognize and relate, which is important to a brand ... Unfortunately, he wasn't able to wear his trademark Phillies hat because the WPT forbids certain logos (he had black tape covering the logos). That's not Volpe's fault, and I know for a fact he was unhappy about it. Grade: B-
Hometown Hero: There were no elimination hands in this week's broadcast, but there was one particularly entertaining hand involving Joe Nguyen and Chris Johnson. It began with Johnson opening to 105,000 with the
in early position and Nguyen calling from the big blind with the
. When the flop fell
, Nguyen check-raised Johnson's bet of 125,000 up to 275,000. Johnson called the additional 150,000 and then called a bet of 325,000 when he made two pair on the
turn. The
river was a bad card for Johnson, especially when Nguyen bluffed 800,000 with absolute zip and pip. Johnson folded and then Nguyen, who was a local player, tabled the bluff.
Nguyen's rail, which included his brother, went wild while Johnson appeared a little unnerved. Right after, an interview with Erik Seidel was shown in which he talked about Nguyen.
"I'm excited for Joe. I love hearing the crowd and the enthusiasm," Seidel said. "It's just really fun to have a hometown pro in the mix. He's the kind of guy you just really want to root for."
Tune in Next Week: Part II of the Bay 101 Shooting Star is set to air on Sunday, July 7 on FSN, so be sure to check your local listings. If by chance you miss it, check back next week for the latest recap of all the action here on PokerNews.
Who will be the next player to add his name to this prestigious list of champions?
Past WPT Bay 101 Shooting Star Champions
| Season | Player | Entrants | Earnings |
| --- | --- | --- | --- |
| 2 | Phil Gordon | 243 | $360,000 |
| 3 | Danny Nguyen | 438 | $1,025,000 |
| 4 | Nam Le | 518 | $1,198,300 |
| 5 | Ted Forrest | 450 | $1,100,000 |
| 6 | Brandon Cantu | 376 | $1,000,000 |
| 7 | Steve Brecher | 391 | $1,025,500 |
| 8 | McLean Karr | 333 | $878,500 |
| 9 | Alan Sternberg | 415 | $1,039,000 |
| 10 | Moon Kim | 364 | $960,900 |
| 11 | ??? | 643 | $1,138,350 |
*Pictures courtesy of World Poker Tour.
Get all the latest PokerNews updates on your social media outlets. Follow us on Twitter and find us both Facebook and Google+!