WPT on FSN Five Diamond Part II: Fish Cakes, Pet Peeves & Jason Koon's Hard Bod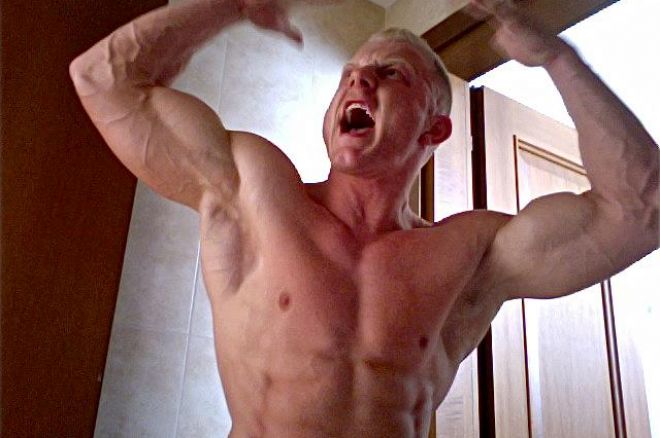 On Sunday night, the World Poker Tour Season XI on Fox Sports Network continued with a new episode: Part II of the Five Diamond World Poker Classic. The $10,000 Main Event, which took place at the Bellagio in Las Vegas from Dec. 4 through 9, 2012, has a long history on the WPT. In fact, it's the one that started it all way back in Season 1 when Gus Hansen defeated a field of 146 to capture the $556,480 first-place prize.
In our recap of Part I, we highlighted the event's history, the early stages of the tournament, and the first elimination from the final table — Jeremy Kottler. The first exit occurred when Tommy Winters opened for 115,000 with the
and then called when Jeremy Kottler moved all in for 720,000 holding the
. The board ran out
, and that was all she wrote for Kottler, who took home $187,845 for his sixth-place finish.
Here's how things stacked up at the top of the broadcast, which began in Level 27 with the blinds at 25,000/50,000/5,000.
WPT Season XI Five Diamond World Poker Classic Final Table

| Seat | Player | Chips |
| --- | --- | --- |
| 1 | Antonio Esfandiari | 4,500,000 (90 BBs) |
| 2 | Andrew Lichtenberger | 2,560,000 (51 BBs) |
| 3 | -empty- | -- |
| 4 | Ravi Raghavan | 1,705,000 (34 BBs) |
| 5 | Shawn Buchanan | 4,150,000 (83 BBs) |
| 6 | Thomas Winters | 2,180,000 (43 BBs) |
Fish Cakes: The world's all-time greatest Olympian, Michael Phelps, joined Mike Sexton and Vince Van Patten in front of the Royal Flush Girl Social Bar for a quick interview. Phelps was in attendance to sweat his good friend Antonio Esfandiari, who you may recall won the Five Diamond back in Season 9.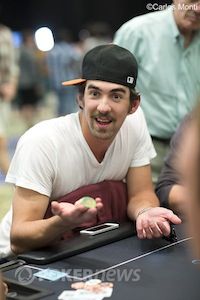 Sexton asked whether Esfandiari's "Fish Cakes" nickname for Phelps was in reference to his unequaled swimming abilities or his status at the poker table.
"We just have little nicknames," Phelps said with his million-dollar smile. "He's actually Mr. Truth, is what we call him. We joke around, we have fun a lot. It's kind of cool being here and being able to sweat him."
A Sexton Pet Peeve: Mike Sexton briefly mentioned one of his pet peeves in life: people who take drinks out on the dance floor. It makes sense considering that he's one heck of a ballroom dancer. So remember, if you're ever at a club with the Poker Hall of Famer, and you wore your dancing shoes, leave your drink at the bar.
Ravi Doubles; Chewy Not So Lucky: After Andrew "LuckyChewy" Lichtenberger had opened to 120,000 holding the
, Ravi Raghavan looked down at the
and made it 385,000 to go. Action folded back around to Lichtenberger, who moved all in, and Raghavan called off for 2.035 million. Up to that point the pocket pair had won every race, but that trend busted when the board ran out
. Raghavan doubled to 4.21 million, while Lichtenberger was crippled.
Not long after, action folded to Lichtenberger in the small blind, and he shipped his last 395,000 holding the
. Raghavan was in the big blind with the
and made an instant call. Lichtenberger was a 62% favorite to survive the hand, but Raghavan had his number the entire final table. That wouldn't change as the
flop gave Raghavan the lead with a pair of fours. Neither the
turn nor
river helped Lichtenberger and he was eliminated in 5th place for $234,197. Not too shabby for the man who finished fourth and eighth in the same tournament the previous two years.
Record Book Watch: Ravi Raghavan began the final table as the short stack, but by eliminating Andrew Lichtenberger, he managed to take over the chip lead. If he was able to hold onto that lead and claim victory, Raghavan would be only the fourth player in WPT history to go from sixth in chips to having his name etched on the WPT Champions Cup.
Poker and Fitness: In the latest installment of Ones to Watch, the fabulously fit Jason Koon was featured.
"It's important to have the balance. Being passionate and caring about every situation but also letting go of the things that are out of your hands," Koon said. "I think that if you want to be truly great at something you can't be motivated by external things, you have to be motivated by passion and love. If you want to be successful at it, you'd better love it.
During the montage, Koon was shown working out, which included him doing backflips and showing off his chiseled physique. That made both Xuan Liu and Dee Dozier swoon a bit. I guess the guys get to see the Royal Flush Girls on a weekly basis, so the girls need a little eye candy too. Here you go ladies:
Cliffhanger: After doubling Tommy Winters, Antonio Esfandiari took a big hit to his chip stack and his chances of winning the title for the second time in three years (he made the final table three consecutive years) dwindled significantly. The WPT made sure to end this week's broadcast before viewers could see if the "Magician" could make a comeback.
Tune in Next Week: The conclusion of the Five Diamond World Poker Classic is set to air on Sunday, June 2 on FSN, so be sure to check your local listings. If by chance you miss it, check back next week for the latest recap of all the action here on PokerNews.
Who will be the next player to add his or her name to this prestigious list of champions?
Past Five Diamond World Poker Classic Champions
| Season | Player | Entrants | Earnings |
| --- | --- | --- | --- |
| 1 | Gus Hansen | 146 | $556,480 |
| 2 | Paul Phillips | 314 | $1,101,908 |
| 3 | Daniel Negreanu | 376 | $1,770,218 |
| 4 | Rehne Pedersen | 555 | $2,078,185 |
| 5 | Joe Hachem | 583 | $2,207,575 |
| 6 | Eugene Katchalov | 626 | $2,482,605 |
| 7 | Chino Rheem | 497 | $1,538,730 |
| 8 | Daniel Alaei | 329 | $1,428,430 |
| 9 | Antonio Esfandiari | 438 | $870,124 |
| 10 | James Dempsey | 413 | $821,612 |
| 11 | ??? | 503 | $1,268,571 |
*Pictures courtesy of World Poker Tour.
**Lead picture courtesy of Jason Koon's Facebook profile.
Get all the latest PokerNews updates on your social media outlets. Follow us on Twitter and find us both Facebook and Google+!