Former Footballer Dwight Yorke On Poker, Manchester United, and Tiger Woods
Michelle Orpe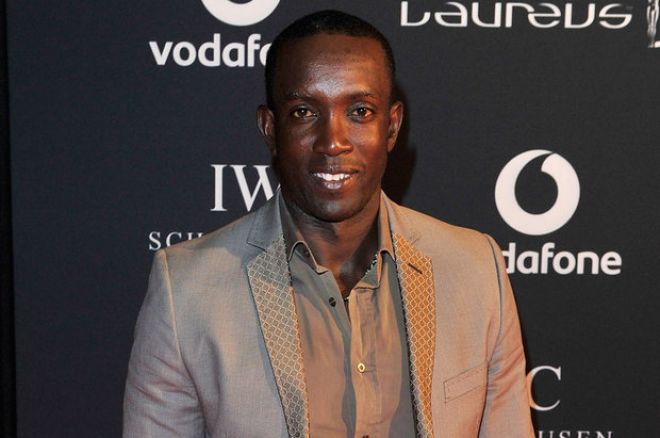 The second day of the PartyPoker Road to Old Trafford event saw 55 players all vying for the £10,000 first-place prize. I was one of them, although only briefly before my pocket kings were cracked by
. I wasn't too upset, though, as it meant I was able to play in a celebrity sit-n-go with former football star Dwight Yorke, who sneakily tricked me into believing he had no idea how to play in his interview.
Yorke has been a professional footballer since the age of 19 when he made his debut with Aston Villa. Since then, he has played for six clubs and captained his national team of Trinidad and Tobago. He made his move to Manchester United in 1998 for a fee of £12.6 million. Yorke played a pivotal role for the club and became the top goal scorer in the 1998-1999 season as well as being a key member of the team that saw a treble win (Premier League, FA Cup, UEFA Champions League) for Manchester United in 1999.
I caught up with Yorke to find out more about the man behind the assassin's smile.
In your football career you have played at six clubs. Do you have fond memories of your time at Manchester United?
Manchester was a very happy place for me. I was very fortunate that when I came here I had the opportunity to play at the club. The manager in charge was Sir Alex Ferguson, and I played with a bunch of wonderful players. It was a great time in my career and a great time in United's success. So I was very fortunate.
What was the highlight of your many years as a professional footballer?
I would normally say the treble-winning year, which was obviously the most outstanding year in terms of achievement. To do it with such grace and with the players and the manager and everything else to go with it, it was a very special time, but I was also very fortunate to represent my country in the World Cup in 2006 in Germany. I didn't think anything could eclipse my treble-winning year, but playing for my country at that particular time and being the Captain, that was a really special moment.
You have also been an assistant manager for your home country Trinidad and Tabago, which must have been an honor?
Well, people say that, but I literally just helped out. I did it for maybe two or three games because they didn't have anybody to help the poor kid that was put into the situation. Because of my experience and being around, I felt it was my duty to try and help out, but I was never officially an assistant manager.
That must of given you a little taste of what it would be like?
It did, but an assistant manager and a manager are not quite the same. The manager is the one to make the calls and pick the team, and even though I had a little part in that as well, the last call is with the manager.
Is being a manager something you would like to do?
It is something I will do. It is just a matter of when. I have a lot of things on at the moment.
You are currently working as a pundit for Sky Sports. How are finding analyzing games instead of playing in them?
Yes, it has been great. You know football has been very good to me and I have been in the game for over 22 years as a professional, and my experience in the game means I have an opinion. It is not really a road I thought I would go down, but it fell right into my lap, so to speak, so I have just been going with it and so far it has been a great learning curve. But yes it has been pretty good.
Did you have the dream to play football when you were a kid?
I think we all did. It was double difficult for me because of the fact that I was born in the Caribbean, not born here with all these wonderful football pitches and stadiums and that kind of stuff. I was pretty much brought up through the streets, but I wouldn't change it because I learned my trade at the beach, which was a great environment. I was very, very fortunate because in those days the opportunity to come to these parts of the world to play professional football was a once-in-a-lifetime opportunity.
Was football a natural talent for you or did it take a lot of hard work and dedication?
I think I had a certain amount of talent, but I also had a lot of determination to take that talent and become a success. It was pretty simple really — chill out on the beach, kick about a ball, be a professional footballer and become somebody and be a name. I didn't want to be like everybody else back home, that was too much like the obvious choice. I had to take the opportunity of a lifetime.
You have an entire stadium named after you in Trinidad and Tobago, "The Dwight Yorke Stadium." How does it feel to be given this honor?
I have been very humbled by the whole thing. We are a very small country with only a population of 1.5 million, so it is something very awesome and such an honor. It's crazy.
What would you say to any young lads out there who are currently having the football dream?
I think it is all to do with encouraging people from all parts of the world. I come from a very poor family. We lived in a one-bedroom house, but I was prepared to turn it around with very little resources. I had the heart and will to make it, and all I ever wanted was that one opportunity and it happened. I am the perfect example to anybody who thinks they can't do it because of where they are from.
How does it feel to be back at Old Trafford, but to play poker instead of football?
I have to be honest, poker isn't really my cup of tea. I'm here to support PartyPoker and The Road to Old Trafford event. I still live here, and I work here, and I have an ambassador role for the club. But I think, "if they are giving me some free money to play with, yes I will play." I'm certainly not good enough to be playing with my own money.
Read about Sam Trickett's win in the PartyPoker Road to Old Trafford event and his kind donation of the prize to charity here.
Are there any attributes you have learned from being a professional footballer that you could use at the poker table?
I think that we as footballers have a concentration span of 90 minutes. Beyond that, I think we are hopeless. So I'll be good for an hour and a half and then I will just say "you know what, all in" and that's when all the sharks out there will be ready to pounce.
Do you think the players at your table will be intimidated by your celebrity status?
No, I think if anything it will be a hindrance. I think people will want to challenge me even more.
You have been given the nickname "The Smiling Assasin" due to your killer goal scoring abilities and cheeky smile. Will that be your poker alias and your poker face?
I don't know, yes I guess. Normally, an assassin is associated with someone who is about to kill you, so I doubt they will be smiling, but there are worse names.
Well, have you ever seen an assassin before they kill, they might be smiling.
[Laughs] I have only seen them on the movies, and they don't usually smile. Hopefully I will never have see one before they kill. That would not be good.
Do you have a poker strategy for your game this afternoon.
All in. That is all I know. All in.
Do you have a favorite poker hand?
I don't know, the best one.
Are you feeling good about it? Do you think you can win?
Of course I can win!
Well I will be playing in the game as well, so you better watch out.
I will watch out, for your chips.
If you could play heads-up poker with anybody in the world, alive or dead, who would it be?
I am a huge golf fan, so I would have to say Tiger Woods. Actually, I pick Halle Berry. No, it has to be me and Woods.
Could you beat him?
He would be a tough nut to crack. His concentration would be incredible. In golf, they play for hours. It would be hard, but we could play a round of golf afterwards.
After the interview, Yorke took to the felt in the event, but was unfortunately the first player eliminated. Yes, he did keep going all in, but that strategy seemed to fail him.
Photo courtesy of http://www.dailystar.co.uk.
Get all the latest PokerNews updates on your social media outlets. Follow us on Twitter and find us both Facebook and Google+!