A Review of the WSOP.com Software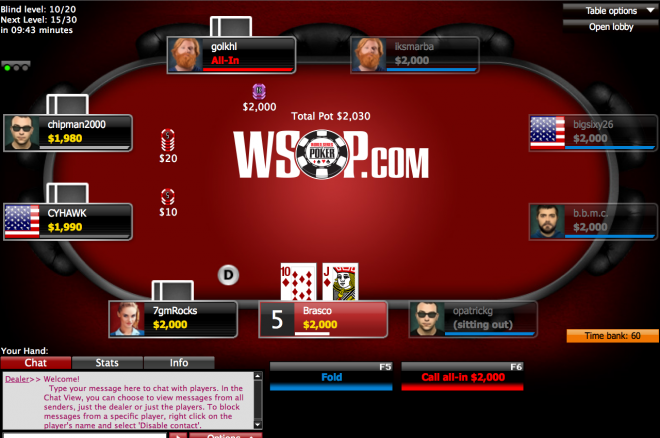 Eleven days ago, WSOP.com officially opened its virtual doors for business, becoming the second legalized and regulated online poker site in the state of Nevada.
Since the official launch, WSOP.com has seen a peak traffic average of 131 players, according to PokerScout.com. While that average is less than half of the 297-player mark achieved by Ultimate Poker over the same period of time, it feels like it's only a matter of time before WSOP.com becomes the top online site in the state. This prediction can be attributed to the World Series of Poker brand that backs WSOP.com and the superior software available for play.
Having two options available to play in Nevada is great, and it gives players a choice. If you're part of the Apple family, though, your choice resides only with WSOP.com, as Ultimate Poker is not Mac friendly just yet. As prominent as they are today, and the more Mac computers grow, this is a huge advantage for WSOP.com, and an example that other rooms should follow when launching in the future.
The second big positive for WSOP.com is the chance to win seats to actual WSOP events, starting with WSOP Europe in October. There are a few ways to go about doing this. First, one could buy in directly to the $215 mega satellite to be held on Oct. 5 at 4 p.m. PST. The event has one package guaranteed, which will award a winner a €10,000 WSOP Europe Main Event seat and €3,000 in cash for travel. Second, players can participate in any of five daily super satellites in order to win a seat to the $215 mega satellite. These super satellites take place every hour from 4 p.m. to 8 p.m. PST and range in buy-ins from $2.35-$55. Lastly, sit-n-gos run around the clock on the client. There are one-, two-, and three-table sit-n-gos available with buy-ins from $8.50-$39, and every $215 in the prize pool equals a seat in the mega satellite.
For more information, visit the WSOP Europe satellite page.
One thing that sticks out is that a person can't deposit at live venues like at Ultimate Poker.
While it can be understood that the world is now highly digital, there are many, many folks out there who simply feel much more comfortable not having to submit their bank account or credit card information over the Internet. Depositing and withdrawing through live venues can also be extremely convenient for people. Just think about it, you click a button to withdraw $500 from your account via a live cashier, then you head down to the casino, grab the cash at the cage, and it's in your pocket. If you're Caesars and WSOP.com, this is something you want — you want your players with money in the casinos. Why? Because they can then spend more money. Whether it be on food, drinks, shopping, or casino games, players will be tempted to spend the money they just cashed out in the casino.
Furthermore, let's say someone is strolling around the casino and sees an advertisement for WSOP.com. That person could inquire at the cage about playing, but not actually deposit, so there is a chance an additional player could be lost. Having someone available to sell them on the product and having that person hand you cash right then and there guarantees they will be playing on the site, as opposed to possible changing their mind on the ride home.
If you would like to play on WSOP.com, what are you waiting for? Register now and get in on the action!
Getting back to the review of the software, there aren't many complaints with the display itself. A couple of things that stick out are the blue, green, and orange colors for the fold, call, and raise buttons; the distorting and blurring of graphics when a table is stretched in size; and some of the default text in the text boxes doesn't align correctly. These things might be very picky, though, because overall the display is very good.
When playing on the site itself, there are several excellent features like player notes, uniform seat placement around the table, the option to select your seat, quick-action buttons for play, clean graphics, and even a hand replayer.
It would be nice if you were able to double click a player's name or the note icon to bring up the player notes faster, and the hand replayer doesn't allow for the actual hand history text to be seen. Hand histories should be made available to email to yourself, so you can have them and review later if you'd like, and the hand replayer should be linked to social media for posting, much like it is on PokerStars.
The font text and graphics are good, but might be considered a little too basic such that it really doesn't give WSOP.com a unique pop all its own. Still, everything is clean, crisp, and displayed in a very functional manner. All button placement is good, allowing for easy and simple gameplay. There are plenty of display options including changing the colors of the cards and the felt, and several avatar images are available.
As for the gameplay itself, the flow is smooth and fast. Many of the players on the site act in a loose-passive fashion, and there is a lot of limping going on. The structures for tournaments seems a little too fast at first, but it's not a bad thing really. People who play online are generally looking for faster gameplay and a little more action than the live realm, so this caters to that.
The variety of games available is huge and really sets WSOP.com apart from its competitor, Ultimate Poker. While Ultimate Poker only offers hold'em in its current version, WSOP.com offers hold'em, Omaha, and seven-card stud variants. For Omaha and seven-card stud, there are both high and high-low versions available.
Right now, the limits range from $0.01/$0.02 to $5/$10 for cash games and $1.10 to $215 for sit-n-gos and multi-table tournaments. There are also freerolls available every day, so you could even start a bankroll from scratch.
One thing noticed while playing seven-card stud eight-or-better was that you are able to bet double (big bet) on fourth straight when a player is showing a pair. This is a rule that only applies for stud, not stud eight-or-better, but there seems to be a small glitch here.
When it comes to rake, the cash games are raked 5% from each pot. Compare this to Ultimate Poker's 4-4.5% for cash games, the rake is slightly higher. For sit-n-gos and multi-table tournaments, the standard 10% entry fee applies to most. You can find complete limits and rake information by clicking here.
The big event every week is the $15,000 Weekly Sunday Guarantee with a $215 buy-in. The event has run two times now and provided great value as the prize pool generated from the entrants fell short of the guarantee twice, creating a juicy overlay. With television commercials set to begin this week, one should expect an uptick in numbers across the board.
All in all, the WSOP.com software is great, which is a testament to how good 888 has become in building online poker rooms over the years. With such an elite brand like the WSOP, great software available for play, and plenty of variety on the site, WSOP.com is clearly the top site to play on in Nevada. It's only a matter of short time before the numbers reflect this.
If you would like to play on WSOP.com, what are you waiting for? Register now and get in on the action!
Get all the latest PokerNews updates on your social media outlets. Follow us on Twitter and find us on both Facebook and Google+!