WPT on FSN $100K Super High Roller Part II: Fashion Report, Model Citizens Fund & More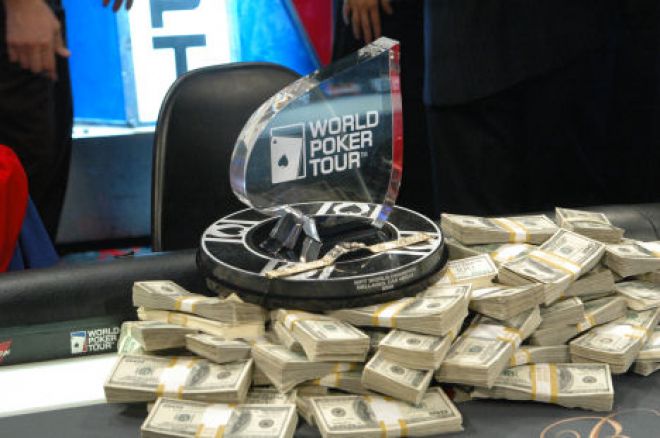 This past Sunday was kickoff weekend for the NFL, and while we're sure you read the latest Pigskins Diary presented by DraftKings, we hope you set aside some time to check out the new episode of the World Poker Tour as the Season XI broadcast continued on Fox Sports Network (FSN) with Part II of the $100,000 Super High Roller. We also hope you had time to check out the new episode of Breaking Bad, because c'mon, it's the best show on television.
In my recap of last week's WPT on FSN, I highlighted the tournament (which attracted 21 entries), profiled some of the high rollers (like Steven Silverman, who you may recall recently won the first-ever WPT Alpha8 event in South Florida for $891,660., and wrote about the elimination of Andrew Robl.
Congrats Lynn: Before I get into this week's episode, I want to say congratulations to Lynn Gilmartin. It was recently announced that she would take over for Kimberly Lansing as the host of WPT broadcast. Lynn has been a beloved member of the PokerNews family for many years, and I know I speak for all of my colleagues when I wish her nothing but the best while taking the next step in her career.
Thanks for the hard work and many memories over the years Lynn! I can't wait to write about you in upcoming WPT on FSN recaps, so be sure to wear something nice!
Now that I got that out of the way, here's how things stacked up at the top of this week's episode:
WPT Season XI Super High Roller Final Table

| Seat | Player | Chips |
| --- | --- | --- |
| 1 | Joseph Cheong | 1,255,000 (52 BBs) |
| 2 | -empty- | N/A |
| 3 | Jim Courtney | 1,309,000 (54 BBs) |
| 4 | Steven Silverman | 1,073,000 (44 BBs) |
| 5 | Dan Perper | 799,000 (33 BBs) |
| 6 | David "Doc" Sands | 1,858,000 (77 BBs) |
Final Table Fashion Report: If it's one thing that everyone can agree upon it's that I have fashion sense, as evidenced by my World Series of Poker bracelet winner's pic. As I see it, that qualifies me to pass judgment on other people's wardrobes. WPT commentator Mike Sexton encourages players to dress up whenever they make a TV final table, so how did the final five do in the Super High Roller? Here's my take:
Joseph Cheong: Ever since he finished third in the 2010 WSOP Main Event, Joseph Cheong has pretty much maintained the same look — hat, black-rimmed glasses and a hoodie over a t-shirt. It's not much, but the consistency makes him instantly recognizable. He doesn't have to worry about building a brand, he has to maintain it. He did it at the SHR final table. Grade: B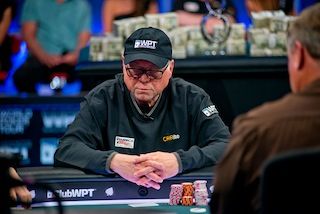 Steve Silverman: There aren't very many players on the circuit more nondescript and low key than Silverman. He tends to wear a solid-colored long-sleeve shirt most of the time (this week it was black). The best way to pick him out of a crowd is actually by his eyeglasses. Winning aside, Silverman hasn't set himself apart for me in terms of personality and wardrobe. I expect that might change as he opened up a bit at the European Poker Tour Barcelona and will be featured in PokerNews' popular Seat Open video series in the near future. Grade: C+
Jim Courtney: The only amateur businessman remaining in the tournament, Jim Courtney was in it for the experience more than the money. The 68-year-old elder statesman was wearing a black jumper, a black WPT hat and a pair of black-rimmed glasses. Nothing special, but for a man who no doubt gets dressed up every day for the office, you could tell this was his poker gear. Grade: B-
Daniel Perper: His long-sleeve black button-up shirt was nice, but that's not what makes Perper stand out. He's just got a face and look that is unique and recognizable. That said, I'd rather see him in a nice button-up like he was wearing than shlubbing it up in a t-shirt and hoodie. Grade: B+
David "Doc" Sands: I've both played with and reported on David "Doc" Sands, and I can tell you that he tends to dress in either a t-shirt or hoodie. It was nice to see him dress up a bit for his second WPT final table. Granted, it was the same outfit as Perper, but he did slap a 3BET patch on, which is of course the poker clothing company he represents. I'd like to see him spice it up a bit with some cufflinks! Grade: B+
Best of Season X: This season on the WPT, producers have been airing a small segment called "Best of Season X" in which they take a look back at some of the prior season's best moments. This week it was the best re-entry, which happened at last year's Super High Roller when Tom Marchese busted early to Justin Bonomo.
"Some friends convinced me to come back and that there was value. We'll see if it works out or not," Marchese had said. Indeed it did as Marchese went on to win the tournament, which you can read about by clicking here.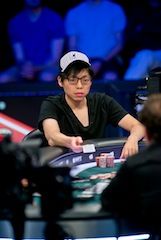 The Odds of Becoming the Chip Leader: With the blinds at 20,000/40,000/5,000, Cheong looked down at the
and raised to 80,000 from the button. Silverman, who held the
in the big blind, asked how much Cheong had back and then announced that he was all in. Cheong thought for a bit and then called off for 980,000. "This could literally be a million-dollar race for real money," Sexton said. "Whoever wins it will be the chip leader at the final table. If Joseph loses it he'll be out in fifth place."
It was a race, and according to the PokerNews Odds Calculator, Silverman was a small favorite at 55.03% while Cheong would survive 44.53% of the time. The
flop was no help to Cheong, who saw his chances drop to 26.46%. Luckily for him, the dealer burned and turned the
to pair his ace and make him an overwhelming 95.45% favorite. Silverman needed one of the two remaining fives in the deck to eliminate his opponent, which would happen 4.55% of the time. The dealer burned and put out the
on the river to give Cheong the chip lead and leave Silverman on a short stack.
The WPT Foundation: Dan Fleyshman is well known in the poker community. He is not only a successful player, but also a highly respected businessman (you may recall him as the CEO of Victory Poker). Now, Fleyshman has set about helping the homeless by founding the Model Citizens Fund. I have the privilege of seeing Fleyshman update his successes on social media, and I must admit it's extremely admirable. Have a look:
Silver Bullet: Cheong opened the action for 100,000 from the cutoff with the
only to have a short-stacked Silverman three-bet all in for 685,000 from the small blind with the
. Courtney then four-bet all in over the top from the big after picking up the
, which prompted Cheong to fold.
The players and railbirds were eerily quiet as the board ran out an uneventful
. Silverman shook hands with the remaining players and then exited in fifth place two spots shy of the money.
Tune in Next Week: Part III of the $100,000 Super High Roller is set to air on Sunday, September 15 on FSN, so be sure to check your local listings. If by chance you miss it, check back next week for the latest recap of all the action here on PokerNews.
Who will be the next player to add his name to this prestigious list of champions?
Past WPT $100,000 Super High Roller Champions
| Season | Winner | Earnings |
| --- | --- | --- |
| Season 9 | Erik Seidel | $1,118,280 |
| Season 10 | Tom Marchese | $1,308,405 |
*Pictures courtesy of World Poker Tour.
Get all the latest PokerNews updates on your social media outlets. Follow us on Twitter and find us on both Facebook and Google+!