2013 WSOP Europe: Shannon Shorr is a Man With a Plan, and He's Playing With Confidence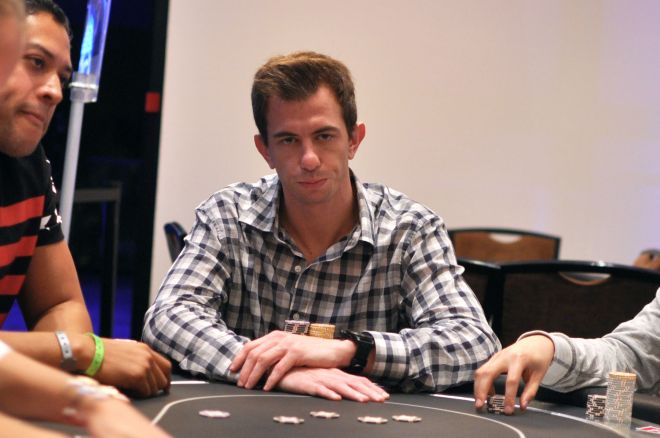 After bagging on Day 1a of the World Series of Poker Europe Main Event, American pro Shannon Shorr went to Paris on his day off. Shorr didn't gaze at the Eiffel Tower or the wonderful artwork in the historical Louvre Museum though – he headed to Gare du Nord to jump on a train bound for Brussels, Belgium.
Unlike in France, citizens and visitors in Belgium are allowed to play on PokerStars.com and FullTiltPoker.com. Shorr wanted to grind the Sunday majors, and planned ahead, opting to play on the less popular first flight of the Main Event.
"I don't think it was optimal," Shorr said, looking back on the day. "It was quite a bit of work and the train station didn't go smoothly, but it was an adventure and it was fun. I ended up losing a little bit, but I got to see Brussels."
Things don't always go as planned in poker, but Shorr deserves credit for thinking ahead. Now he knows that traveling on an off day may be more strenuous than it is profitable, and Gare du Nord can be a nightmare. Planning is paramount when traveling the poker circuit, and Shorr knows that.
"It is essential if you want to beat the tournament circuit," said Shorr. "The way most poker players operate they just book stuff last minute and spew money. I'm guilt of that too, but you're not going to beat the tournament circuit if you're not managing your expenses and keeping an eye on money. It's a little bit of extra work, but it's well worth it."
Ironically, great poker players tend to be great planners on the felt. Sizing bets on the turn in order to shove the river or folding to a bet on the flop knowing that your opponent's hand will likely improve on the turn or river takes planning, but somehow this characteristic doesn't translate off of the felt.
"The cool thing about being a poker player is the freedom," Shorr said when asked why poker players struggle to plan away from the table. "When you get away from the table you can do whatever you want. That's what a lot of us do."
Shorr sometimes loves the freedom, but he's married to the plan.
"It's the way to go about it. When you plan you can see where you want to be when you want to be. You waste a lot of time if you're not planning."
One of Shorr's biggest struggles on the circuit is keeping up with his favorite football team – the Alabama Crimson Tide.
"I'm really slacking," Shorr chuckled. "The start of the season was during WCOOP so I caught the second half of the [Texas] A&M game."
Shorr attended the 2013 BCS National Championship Game in Miami, where the Tide rolled Notre Dame 42-14. This year the title game is in California, and if Alabama makes it, he doesn't know if he'll be in attendance.
"It's close," Shorr grinned. "I've already been to Pasadena, but I don't know. I've been to the last three they've won so I feel like I should keep the streak alive."
Sick humble brag, Shannon.
As for poker, Shorr is hungry for some hardware of his own. He recently finished fifth in Event #3: €5,300 Mixed Max No-Limit Hold'em at the WSOPE, and he says he has a great game plan for live deep-structured tournaments like the Main Event.
"Live poker is a whole lot different," said Shorr. "You can look at these guys and watch what they do. There's a world of information to absorb. I try to focus on that and not make decisions on autopilot."
Shorr's strategy has been sound thus far, and he says he's playing with a lot of confidence. We'll keep an eye on him as Day 2 comes to a close in the 2013 WSOPE Main Event.
Get all the latest PokerNews updates on your social media outlets. Follow us on Twitter and like us on Facebook today!