Inside Gaming: Boston Mayor Knew of Caesars' Troubles, Casino Ban in Japan, and More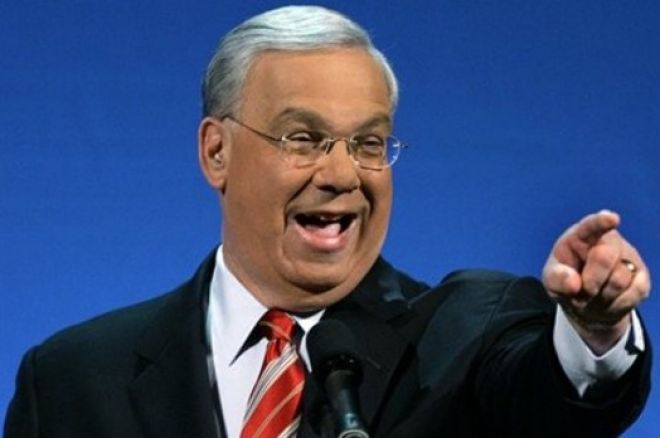 This week's edition of Inside Gaming looks at the downfall of Caesars in Massachusetts, 24-hour gaming in Illinois, and the casino ban in Japan.
Boston Mayor Knew of Caesars Problems; Wynn "Flabbergasted"
Last week, the Boston Globe reported that Caesars Entertainment was dropped from the Suffolk Downs proposal for the Greater Boston resort casino license. According to the Globe, state casino investigators raised several concerns about Caesars, including a business relationship with a person alleged to have family members involved in organized crime outside of the United States.
In a statement, Caesars said, "We believe that the Gaming Commission is attempting to set suitability requirements that are arbitrary, unreasonable, and inconsistent with those that exist in every other jurisdiction."
Mayor Thomas M. Menino (pictured) has long supported the Suffolk Downs proposal, but he is happy the Gaming Commission has been diligent.
"While the mayor is pleased that Suffolk Downs if moving forward in seeking a new operator for their gaming operations, his first priority is protecting the interests of the city and especially the residents of East Boston," said Dot Joyce, Menino's spokeswoman.
On Friday, the Boston Herald reported that Menino was flagged weeks ago about the alleged problems, yet continued to promote the proposal.
"They never notified anybody that there was anything untoward in the background investigation," City Council President Stephen J. Murphy said. "They just went along as though everything was fine, which was disingenuous at best.
Along with alleged ties to organized crime, a damning 600-page report on Caesars says the company is also $24 billion in debt.
Suffolk downs will continue to campaign for the Boston bid, but first they will need to pair up with a casino operator.
Steve Wynn, founder of Wynn Resorts Ltd., is competing with Suffolk Downs in Beantown, and says he was "flabbergasted" when Caesars pulled out. He agrees that the regulatory process in Massachusetts was tougher than others.
"In my 47 years of business in the gaming industry, this is probably one of the most challenging, complex situations that I've ever face," Wynn said in a conference call. "If I was in any other business, and I was willing to spend the kind of money, create the kind of jobs that these states have requested, we would have the red carpet rolled out for us. But if you're in the gaming business, there's sort of a crummy presumption that you might be unsavory."
East Boston voters will decide on the casino on Nov. 5. Foxwoods is also competing against Wynn and Suffolk Downs.
The Boston Herald and Bloomberg have more.
Illinois Casinos Cannot Operate 24 Hours a Day
On Thursday, Illinois Gaming Board Chairman Aaron Jaffe announced that casinos won't be allowed to stay open for 24 hours a day. Jaffe says the board reached its decision after listening to both sides on the issue.
Lobbyists for Illinois casinos argued that the change would allow the properties to compete after the state legalized 24-hour video gambling at truck stops. Opponents believe that nonstop betting would allow for more gambling addicts, creating a bad environment for the state.
"We think it was an opportunity to keep some money in the state of Illinois, and also we have more restrictions and compliance when it comes to compulsive gamblers and problem gamblers," said Tom Swoik, director of the Illinois Casino Gaming Association. "We felt like we have a better control of that. There's no control at all at the video poker facilities."
Currently, each casino is allowed to set different hours, but they must be approved by regulators. No casino can stay open for more than 22 hours a day.
This decision may have a negative impact on the push for expanding casino gaming in Illinois. Inside Gaming reported earlier this year that there were negotiations in Chicago for a casino in the city, but they fell apart during the end of the spring legislative session. Since then, the state government has moved on, focusing on other issues like underfunded pensions.
There is a still a five-casino expansion plan on the table for Chicago and its north and south suburbs. The proposal would also allow for slot machines at racetracks.
Bob Molaro, a lobbyist and former state representative, believes the expansion would create jobs and tax revenue.
"Indiana, Iowa, Ohio, Pennsylvania, New York, [and] Florida have slots in their racetracks," he said.
Illinois gambling regulators are still concerned about the negative effects of having casino gambling in Chicago, and there has been no positive traction as of yet.
For more, check out the Chicago Tribune and WUIS.org.
Japan Closer to Lifting Casino Ban
According to Financial Times, a proposal to lift the ban on casino gambling in Japan could come to fruition, because a multi-party group of lawmakers agreed to submit a bill in the current session of parliament.
Casino supporters are using the upcoming 2020 Olympic Games in Tokyo as a bargaining chip.
"There will be a major world event here, and we should make this a goal in our effort to turn Japan into a tourism power," said Iwaya Tsutomu, a member of the ruling Liberal Democratic party and part of the pro-casino group.
Betting on horseracing and boat and bicycle races, lotteries and pachinko (a version of pinball) are all legal. Other forms of gambling are currently banned.
Wynn, Caesars, and MGM all see Japan, the world's third-largest economy, as a very viable market. Like Macau, the number one gaming market in the world, the companies believe that Tokyo and other Japanese cities could attract gamblers from mainland China.
According to Michael Paladino, a gaming analyst, bidding and licensing for the first Japanese casinos would likely take one to two years and construction would take three or four years. If the legislation process is quick, the first casinos could open their doors by the start of the Olympic Games in 2020.
Along with Tokyo, the site of the Olympics, Osaka is a likely candidate for casino gaming in Japan, but lawmakers believe facilities should be allowed in smaller cities as well.
The current parliamentary session ends in December, while the actual passage of the bill would likely take until early 2014.
Financial Times has more.
Photo courtesy of hellogiggles.com
Get all the latest PokerNews updates on your social media outlets. Follow us on Twitter and find us on both Facebook and Google+!