Inside Gaming: Casino Boats in Hong Kong, the House Votes Against an AZ Tribe, and More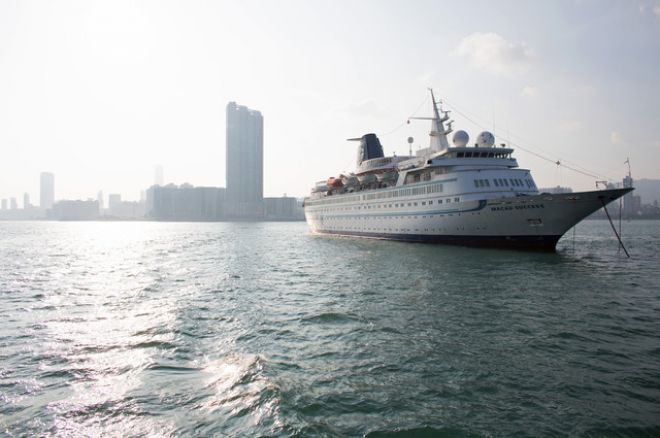 In this week's edition of Inside Gaming, we took a look at a floating casino in Hong Kong, a House vote to block a casino in Arizona, and a potential casino project in Japan.
Overnight Gambling Boats in Hong Kong
Chinese citizens who can't afford to or don't have the time to make the trip from mainland China to Macau can still gamble off the shores of Hong Kong on casino boats. While Macau's world-class casinos drew $38 billion in revenue last year, the visitors on the eight casino boats, operated by Success Universe Group Ltd. and Genting Hong Kong Ltd., rose nine percent to 615,328 people during the first half of 2013.
"The cruise ship can be a good substitute for mainland tourists," said Hoffman Ma, deputy chairman of Success Universe.
Success Universe's profits over the first half of 2013 doubled to HK$2.15 million ($277,000) when compared to 2012. On Monday, the company's shares rose 6.8 percent on the Hong Kong Stock Market, pushing the 2013 gains to 54 percent.
The city, which is half the size of Manhattan yet drew roughly 14 million tourists in the first sixth months of 2013, can't keep up with the accelerating demand, allowing new businesses to capitalize.
The casino boats, which legally operate in international waters outside of sovereign China, are very affordable. While, according to the government, rooms in Macau averaged $175 per night in July (Bloomberg Industries estimates Vegas rates average roughly $108 in 2012), a room on a Hong Kong casino boat can cost as little as $52.
Macau casino operators aren't worried about the competition, citing that the casino boats don't offer much in terms of dining and shopping. Also, they only generate a small percentage of the gaming revenue.
The impact is "minimal," said Ambrose So, CEO of SJM Holdings Ltd.. "The pie is growing bigger and some money overflows there."
Once in Hong Kong, mainland tourists don't need a separate visa to board the casino ships, which is an added benefit for businessmen looking to stay incognito.
"Everyone knows that Macau is closely monitored by the central government," CLSA Ltd. analyst Richard Huang said in an email.
The boats also benefit from tax relief. Unlike the 39 percent gaming levy paid on gross revenue by Macau casinos, the boats pay no taxes on their receipts.
Business Week has more.
House Blocks Casino in Arizona
On Tuesday, the U.S. House of Representatives voted to block an Indian casino project in Phoenix, Arizona that President Barack Obama's administration and state and federal courts approved.
The Tohono O'odham Nation, located on a reservation the size of Connecticut near Tucson, had planned to build a 225,000-square-foot resort not far from University of Phoenix Stadium in Glendale.
Rep. Trent Franks (R-AZ), who initially sponsored the legislation, said in an interview that the tribe "operated in bad faith."
The bill will now go to the Senate, where no one openly opposes legislation. The chamber is more focused on federal spending and replacing Ben Bernanke as chairman of the Federal Reserve.
Sen. Jeff Flake (R-AZ) backed Franks' bill when he was a representative. Flake spokeswoman Brown Lance Chester didn't respond to an email from Bloomberg requesting a comment. And neither did Brian Rogers, a spokesman for Sen. John McCain (R-AZ).
Pres. Obama recently spoke about helping tribes pull themselves out of poverty through gaming revenue, a $27 billion industry in the U.S. Obama has overturned rules instituted by Pres. Georg W. Bush that restricted Indian gaming, including limits on how far from a tribe's homeland it can build a casino.
The Obama campaign collected $2.5 million from tribal government during the Presidential election, while Mitt Romney only received $500,000.
"Obama is trying to gain favor with tribal entities," Rep. Franks said. "They seem to believe that all of the negatives associated with gambling are subordinate to the political advantage that they believe it brings them by approving these projects."
Arizona plays host to 23 casinos owned by Indian tribes. The Tohono Indians have three betting facilities outside of Tucson, and the proposed resort, which would be built across from a high school, would have 400 hotel rooms, 1,100 slot machines, 68 table games, and poker tables.
If Franks' legislation passes the Senate, and Obama signs it into law, the Interior Department's approval of the Tohono's application would be void. The Interior Department is on record opposing the bill.
For more, check out Bloomberg News.
Possible Casino Gaming in Japan
Nearly two weeks ago, Tokyo, Japan won the bid to host the 2020 Summer Olympic Games, and casino developers see this as an opportunity to get a casino resort built in the Land of the Rising Sun.
For more than a decade, resort operators such as Las Vegas Sands Corp. and Wynn Resorts Ltd. have eyed Japan, but due to political instability and concerns regarding corruption, money laundering, and other crime, legislation has never been passed.
A casino bill has been submitted to the Diet, Japan's parliament, and the bill's backers are excited because Prime Minister Shinzo Abe has a strong approval rating and supports the casino plan. Lawmakers in favor of the bill believe Japan could generate revenue up to $10 billion a year, which could combat the country's rising debt.
Hosting the Olympics will force the country to find ways to raise money, and a casino resort could provide additional housing and entertainment for visitors. If a bill is passed during the net legislative session, Japan could open its first casino resort as early as 2019.
"This is the best chance we have ever had for casinos in Japan, and I want to make sure this law passes," Takeshi Iwaya, a lower-house member of the ruling Liberal Democratic Party said in a speech on Wednesday.
Currently, Japanese citizens can place bets on horse races, bicycle races, motorboat races, and lotteries. The most popular forms of gambling in Japan are pachinko (similar to pinball) and pachislot (a cross between pachinko and a slot machine). These games account for ¥19 trillion ($192 billion) in wagers annually, and according to the Japan Productivity Center, roughly 30% of leisure spending time in 2012 was spent playing these games.
There are several other issues facing Japan's government which may keep casino gambling on the backburner, including consumption tax and passing the budget.
"This is the best chance for casinos in Japan," said Toru Mihara, a commerce professor at Osaka University. "But the odds may be around 40 percent to 50 percent. Come to think of it, that's not bad in the gaming industry."
The news of the Olympic bid has already had a positive impact on gaming in Japan – shares for slot-machine makers Sega Sammy Holdings Inc. and Konami Corp. have raised over the past few days.
"We've been watching Japan for 20 years," said Gamal Aziz, the COO of Wynn Resorts Development LLC. "We think Japan could be Wynn's biggest opportunity…but you have to be patient in Japan."
The Wall Street Journal has more.
Photo courtesy of Business Week
Get all the latest PokerNews updates on your social media outlets. Follow us on Twitter and find us on both Facebook and Google+!