No Charges to be Filed Against No. 2 Nuke Commander in Counterfeit Poker Chip Debacle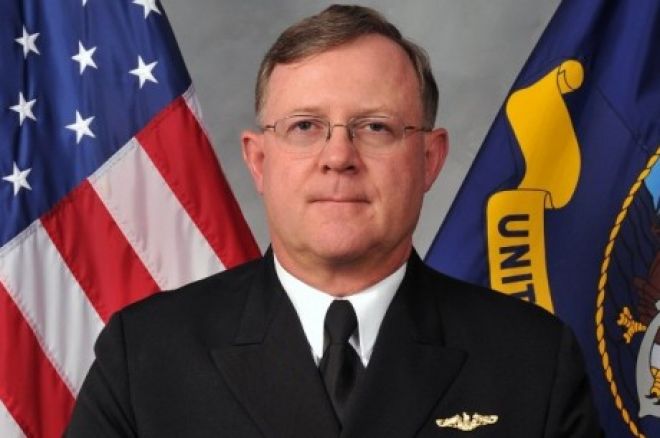 Earlier this week, we reported that Navy Vice Adm. Tim Giardina, the No. 2 officer at the military command in charge of all U.S. nuclear war-fighting forces, was suspected of passing counterfeit chips in a poker game at the Horseshoe Council Bluffs Casino in Council Bluffs, Iowa. Using fake gambling chips at a casino is a felony in Iowa, but Iowa authorities have opted not to prosecute Giardina.
"At this point we're not going to press state charges," said Iowa Division of Criminal Investigation Special Agent David Dales.
The state investigation concluded in August and their findings have been turned over to the U.S. Defense Department. While Giardina's fate is now in the hands of military authorities, Iowa prosecutors are keeping the case open pending new developments.
Details regarding the alleged counterfeit chips are sketchy, but according to Pottawattamie County Attorney Matt Wilber, it is believed Giardina used at least $1,500 in counterfeit chips while playing at the Horseshoe Council Bluffs, which is located just across the river from Omaha, Nebraska. Officials would not confirm if anyone else was a suspect in the case.
A source familiar with the situation told PokerNews, "It was a few chips discovered in a cash game on only one occasion [back in June]." The players in the game that ended up with the chips was paid face value by the Horseshoe. Upon discovering the chips, the Horseshoe took that denomination of chip out of play for the month that followed.
"Considering Adm. Giardina's lack of criminal history as well as his career in the military, we concluded there wasn't any chance of him receiving anything other than deferred judgment," Wilber said. "We chose to let [the Defense Department] handle it."
After the allegations surfaced, Giardina was suspended by Air Force Gen. Robert Kehler and prohibited from performing duties at the Offutt Air Force Base near Bellevue. Kehler also recommended to Defense Secretary Chuck Hagel that Giardina be reassigned.
Giardina has been the deputy commander of Strategic Command since December 2011, but was to be rotated out of that position later this year as President Obama had appointed someone to replace him back in early July. According to his biography on navy.mil, Giardina "most recently served as deputy commander and chief of staff, United States Pacific Fleet. His most recent command assignment was as commander, Submarine Group Trident, Submarine Group Nine, and Submarine Group 10 where he was responsible for all 18 U.S. Trident Submarines."
The Horseshoe Council Bluffs is a popular stop on the World Series of Poker Circuit, which saw Blair Hinkle win the latest marquee event on the property. The casino also recently concluded the 2013 Horseshoe Poker Classic back in August.
For more information visit Omaha.com.
*Lead photo courtesy of navy.mil.
Get all the latest PokerNews updates on your social media outlets. Follow us on Twitter and find us on both Facebook and Google+!