The Nightly Turbo: Bipartisan Online Gambling Bill Introduced, Daniel Negreanu Discusses Viktor "Isildur1" Blom, and More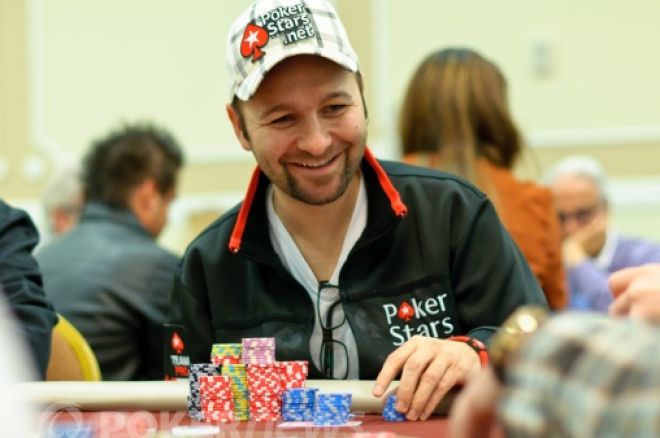 All the green beer is gone, but there's still plenty of March Madness to be watched. So we're going to get this out of the way quickly for you. Plus, it's the weekend and we want to get out of here. A bipartisan bill was introduced at the federal level that could legalize online poker. We'll tell you about that, what Daniel Negreanu thinks about Viktor "Isildur1" Blom, and more in tonight's Nightly Turbo.
In Case You Missed It
The World Poker Tour Bay 101 Shooting Star final table is set. One of the final tablists will need to get a stand-in for his World Poker Tour hosting duties. To find out who made it to the final table, check out the WPT recap.
Las Vegas is fairly close to Area 51, and we always wondered whether all the tales of aliens were true. We don't know for sure, but we wanted to get some of your favorite poker pros' thoughts on the subject. The latest Sin City Series has the answers.
With the NCAA March Madness tournament under way, we wanted to talk to some of your favorite poker players (who love sports) and find out who they think will do well. Find out what they said in March Madness: Cinderellas, MVPs, Final Four Picks and More.
Gus Hansen's Monday on the virtual felt did nothing to boost his bankroll. Luckily for him, he recouped some of his loses the next day. The Online Railbird Report has more.
Bills, Bills, Bills
U.S. Rep. John Campbell (R-Calif.) and U.S. Rep. Barney Frank (D-Mass.) have co-authored a bill that would federally license and regulate online wagering, specifically poker.
"Given that millions of Americans currently play online poker, states across the country are recognizing the value in licensing and regulating the game and many are introducing their own laws ... while collecting millions in tax revenue," Poker Player Alliance chairman and former republican senator Alfonse D'Amato of New York said.
Provisions in this bill include creating a list of illegal operators and mandatory implementation of technology to prevent underage gambling, as well as establishing daily, weekly, or monthly limits on deposits and losses.
The Las Vegas Review Journal has more.
I'm Old Beaten Up Rocky
Jesse May was joined by Daniel Negreanu for the latest episode of The Poker Show and the two discussed the upcoming SuperStar Showdown, where Negreanu will take on Victor "Isildur1" Blom in a two part match.
Negreanu discusses his strategy going into the match and how he prepared for the match. According to the PartyPoker Blog, Negreanu is an 11/8 underdog.
"I've got a feeling there's going to be some late money coming in on me," Negreanu said, "My friends say they've never seen me so motivated. I want it a lot more than him!"
Listen to the show on the PartyPoker Blog to find out more about what Negreanu has to say about the SuperStar Showdown.
Ultimate High Stakes
If you've got $7.5 million laying around your house, you could have a shiny (and we mean shiny) new chip set for your home game. Yes, you read that right - $7.5 million.
British game maker Geoffrey Parker has raised the bar in its latest chip set creation. The chips come housed in an alligator skin case with 18-karat white gold combination locks and hardware. The case is lined in suede and framed by 18-karat gold and diamonds.
Each of the 384 chips are 18-karat white gold, inlaid with shagreen (stingray skin) on both sides and embossed with whatever value the buyer pleases. The edge of the chips are set with white diamonds for the white chips, sapphires for the blue, rubies for the red, emeralds for the green, and black diamonds for the black. The dealer button is an 18-karat white gold chip edged with two rows of diamonds. Total weight in karats? 1,012. Total stones? 22,364. Oh yes, we forgot to mention the four platinum-plated decks of cards.
JustLuxe.com has a photo of the chip set and info on how you can pick one up — if you just can't live without it.
It's That Time Again
The tax deadline is just around the corner, and all you poker players probably wish you could deduct that flight to Monte Carlo last year, or that hotel in Los Angeles when you were playing in a tournament. Well, now you can. The U.S. Tax Court ruled in January that expenses related to a gambling trip with gambling losses were deductible.
"On the whole, gamblers are probably celebrating," Steve Johnson, a professor at the University of Nevada, Las Vegas Boyd School of Law said. "What the decision says is that gambling is a business trade that is not any different than any other profession. A professional gambler can deduct business expenses."
Tax law experts have said that the IRS will view professional gambling as a full-time profession, not as a hobby.
"To qualify, gambling really has to be a full-time activity that is the person's principal source of livelihood," Judy Patterson, senior vice president and executive director of American Gaming Association said. "It's a pretty high standard that few will be able to meet."
You can find out more on the Las Vegas Review Journal website.
Like us on Facebook, and follow us on Twitter for up-to-the-minute news.
If you have the skills, we have $55,000 in added prizes. PokerNews Skills Challenge at Full Tilt Poker is a series of money added tournaments every Wednesday night, which culminate in a $20,000 Freeroll.