The Online Railbird Report: Hansen Gets Back on Track, XWINK Action, and More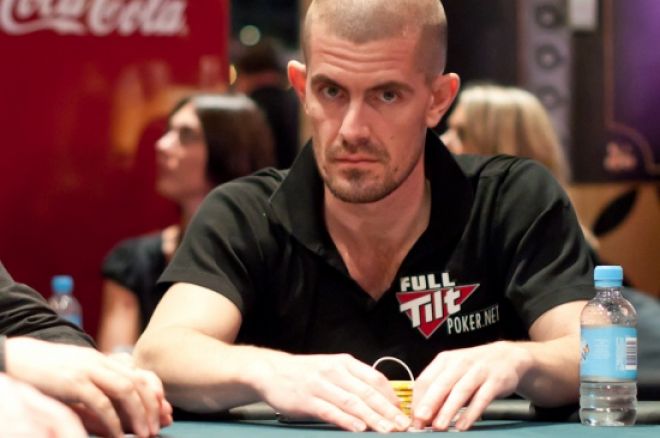 The midweek saw plenty of high-stakes action take place on Full Tilt Poker. Gus Hansen got back on track after a horrendous Monday by building some momentum on the pot-limit Omaha tables. Meanwhile, the "XWINK" saga briefly continued on Thursday when he battled Andreas "skjervoy" Torbergsen on the $200/$400 pot-limit Omaha tables. Check out the highlights.
Hansen Hits His Stride
On Monday, Hansen played a session of $1500/$3000 2-7 triple draw heads-up on Full Tilt Poker against "O Fortuna PLS". Hansen, who has been on fire in 2011, didn't fare so well, dropping around $560,000 in 1,100 hands. Luckily, Hansen was able to recoup some of those losses on Tuesday at the $500/$1000 PLO tables where he won $260,000, 88 percent of which came from Cole South.
Hansen took that momentum into Wednesday when he faced off against some PLO regulars. Over 36 hours, Hansen was up $520,000 while others were left in his dust. In fact, some heavy hitters, including Scott "URnotINdanger2" Palmer (-$150,000), Rami "Arbianight" Boukai (-$240,000), and Torbergsen (-$140,000) all wound up losers in the same period.
Small Flush for Hansen Gets It Done
In one of Hansen's biggest hands, Torbergsen ($210,980) raised to $2,000 on the button and Hansen reraised to $6,000 from the big blind. Torbergsen made the call and the two watched the flop fall
, which inspired Hansen to check-call a bet of $7,000. When the
hit the turn, Hansen checked-called Torbergsen's $15,000 bet and the
peeled off on the river.
Once again Hansen opted for a check, which opened the door for another Torbergsen bet, which he made to the tune of $44,500. Hansen made the call and Torbergsen rolled over
for just a pair of deuces. Hansen revealed his
flush and took down the pot worth $145,000.
Torbergsen's Aces Hold
Not all things went Hansen's way in his match with Torbergsen. In another hand, Hansen ($62,496) was on the button and raised to $3,000 only to have Torbergsen ($237,493) reraise to $9,000. The raising war didn't stop there as Hansen made it $27,000, Torbergsen popped it to $81,000, and Hansen called off his remaining $35,496.
Hansen:

Torbergsen:
The entire board was run twice with the first coming
followed by the
on the second. Torbergsen's aces held on both runs to scoop the entire $124,991 pot.
Hansen Gets the Last Laugh
Hansen ($53,877.50) wasn't done there. Not long after, he raised to $3,000 on the button and then called Torbergsen's ($146,112) reraise to $9,000. When the flop came down
, Torbergsen checked, Hansen bet $8,000, and Torbergsen check-raised to $16,000. Hansen went ahead and made it $24,000, Torbergsen fired out $106,000, and Hansen called off his remaining $21,377.50.
Torbergsen:

Hansen:
Both players had flopped a straight, but Hansen's was bigger with a flush draw to boot. The turn and river were both run twice, but neither the
and
on the first run nor the
and
on the second, changed a thing, giving Hansen the $123,755 pot.
Torbergsen's Bad Run Continues Against XWINK
On Thursday, XWINK was back in action against Torbergsen. In one of their more notable hands, XWINK ($46,395) raised to $800 on the button and Torbergsen ($104,703) called from the big blind. When the
was put out on the flop, Torbergsen checked, XWINK bet $1,200, Torbergsen check-raised to $4,000, XWINK reraised to $13,600, Torbergsen four-bet to $46,400, and XWINK called off for a total of $45,595.
Torbergsen:

XWINK:
There was $92,790 in the pot, and XWINK was ahead with his set, but Torbergsen had flush-draw hopes. As usual, the turn and river were run twice with the first bringing the
and
. XWINK's set held up to ensure half the pot, which was followed by the other half being pushed his way when the
and
appeared on the second run.
Who's Up? Who's Down?
Week's biggest winners (3/15-3/17): "NoPasaran" (+$211,215), "EazyPeazy" (+$185,332), "bixiu" (+$156,901), Justin "Boosted J" Smith (+$79,429), *"LuckyGump" (+$78,894)
Week's biggest losers: "O Fortuna PLS" (-$298,010), "zivziv isr" (-$167,600), *Rafael "refaelamit" Amit (-$97,258), *"genua_st" (-$93,636)
Year-to-date winners: Gus Hansen (+$2,927,997), Matt Hawrilenko (+$1,821,917), Daniel "jungleman12" Cates (+$1,729,858), *Gavin "gavz101" Cochrane ($1,603,173), NoPasaran (+$1,302,743), Phil Ivey (+$1,083,483)
Year-to-date losers: "kagome kagome" (-$1,802,182), Tom "durrrr" Dwan (-$1,295,635), "fishosaurusREX (-$1,089,317), UarePileous (-$977,926), cadillac1944 (-$939,626)
*on PokerStars
*data obtained from HighStakesDB.com
If you have the skills, we have $55,000 in added prizes. PokerNews Skills Challenge at Full Tilt Poker is a series of money-added tournaments every Wednesday night, which culminate in a $20,000 Freeroll. Also, don't forget to follow us on Twitter and like us on Facebook.