March Madness: Cinderellas, MVPs, Final Four Picks and More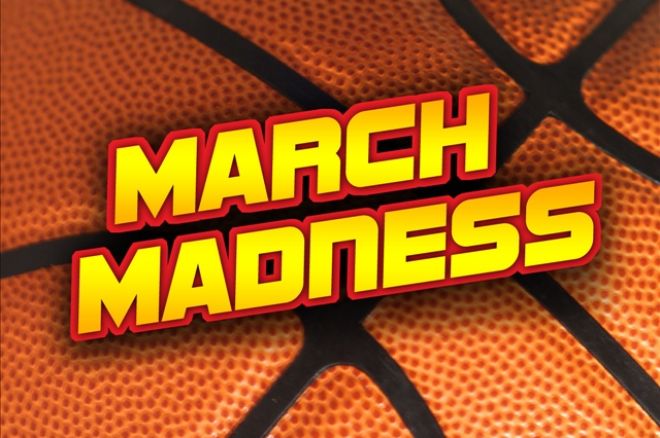 "First off, this is my favorite time of year, second to none (including WSOP)." – Matt Vengrin
Most poker players love sports, it's in their blood. Not much in the sports world can compare to the exciting atmosphere that the NCAA March Madness brings to the table. Last Sunday, on selection day, 68 teams were named to the tournament. This year the number one seeds are Ohio State from the East, Kansas from the Southwest, Duke from the West, and Pittsburgh from the Southeast. Ohio State is the overall number one. These willl be the teams everyone is gunning for in their respective regions, but there's going to be some great action during the entire tournament.
Many poker players get in on the madness this time of year, so once again, PokerNews has reached out to get some of their picks and predictions. We asked who is going to be this year's Cinderella, which number-one seed will go down first, and, of course, who's going to be cutting down the nets in the championship game. We've also included the picks of PokerNews' own resident sports guy, Rich Ryan, and we'll see how well he picks against the players.
We'll also have Ryan weigh in on what he thinks about the picks the players made. Here's what they had to say:
Who's your Cinderella team?
Rich Ryan: Washington
Chris Klodnicki: Temple
Brent Hanks: Richmond
Jason Young: Washington
Matt Vengrin: St. John's
Dan Smith: George Mason
Matt Waxman: Gonzaga or St. John's
Brett Richey: Washington
Kevin Calenzo: Georgetown
Evan Panesis: Belmont
Eric Baldwin: San Diego State
Chistian Harder: George Mason
Billy Kopp: Washington
Amit Makhija: Michigan State
Faraz Jaka: Kansas State
Dan O'Brien: Xavier
Tristan Wade: Boston University
Rich Ryan: I'm pleased to see that I'm not the only one high on Washington. The Huskies have momentum after winning the Pac-10 tournament, and point guard Isaiah Thomas is a game-changer. I also like Hanks' pick of Richmond and O'Brien's pick of Xavier. The Atlantic 10 was a sneaky-good conference this year and it wouldn't surprise me if either of these two teams ends up in the Sweet 16 or beyond. Xavier's Tru Holloway can score with anybody and Richmond's Justin Harper is an extremely efficient forward. The only Cinderella that I don't like here is San Diego State. Come on Eric, I know you have them winning, but a two seed can't be a Cinderella!
Which #1 seed will be the first beaten?
Rich Ryan: Pittsburgh
Chris Klodnicki: Duke
Brent Hanks: None til Final Four
Jason Young: Kansas
Matt Vengrin: Duke and Ohio State
Dan Smith: Duke
Matt Waxman: Ohio State
Brett Richey: Ohio State
Kevin Calenzo: Duke
Evan Panesis: Pittsburgh
Eric Baldwin: PIttsburgh
Chistian Harder: Duke
Billy Kopp: Pittsburgh
Amit Makhija: Duke and Kansas
Faraz Jaka: Pittsburgh
Dan O'Brien: Pittsburgh
Tristan Wade: Pittsburgh
Rich Ryan: Most of us think that despite having the easiest road, Pitt will be the first number one to be bounced from the tournament. The Panthers always seem to struggle in March and outside of the Big East their only impressive win this season was a two-point victory over Texas. Ohio State and Kansas received the most love from the players we polled — and justifiably so. The Buckeyes have arguably the best player in the country in Jared Sullinger and the Jayhawks are fifth in the NCAA in scoring and first in field goal percentage.
Which region is the hardest?
Rich Ryan: East
Chris Klodnicki: East
Brent Hanks: East
Jason Young: East
Matt Vengrin: West
Dan Smith: East
Matt Waxman: East
Brett Richey: East
Kevin Calenzo: East
Evan Panesis: East
Eric Baldwin: East
Chistian Harder: East
Billy Kopp: East
Amit Makhija: East
Faraz Jaka: East
Dan O'Brien: West
Tristan Wade: East or West
Rich Ryan: This one is a no-brainer. Ohio State, UConn, Syracuse and UNC are all legitimate championship contenders and both Kentucky and Washington have the talent to compete with anybody. It's actually absurd that the number one overall seed was put in this region while Pitt — arguably the weakest — could play teams like Florida, BYU and Wisconsin.
Who's your tournament MVP?
Rich Ryan: Isaiah Thomas (Washington)
Chris Klodnicki: Jared Sullinger (Ohio State)
Brent Hanks: Kyle Singler (Duke)
Jason Young: Nolan Smith (Duke)
Matt Vengrin: Marcus and Markieff Morris (Kansas)
Dan Smith: Jon Diebler (Ohio State)
Matt Waxman: Ben Hansbrough (Notre Dame)
Brett Richey: Ashton Gibbs (Pittsburgh)
Kevin Calenzo: Jared Sullinger (Ohio State)
Evan Panesis: Marcus and Markieff Morris (Kansas)
Eric Baldwin: Billy White and Kawhi Leonard (San Diego State)
Chistian Harder: Jared Sullinger (Ohio State)
Billy Kopp: Undecided
Amit Makhija: Jared Sullinger (Ohio State)
Faraz Jaka: Jared Sullinger (Ohio State)
Dan O'Brien: Kyle Singler (Duke)
Tristan Wade: Nolan Smith (Duke)
Rich Ryan: If I'm going to pick Washington to make a deep run, then I'm going to let it ride and take their star player too. Gus Johnson coined Thomas' new nickname "Cold-blooded" when he hit a game-winning buzzer beater in the Pac-10 championship and as Bill Raftery would say, this kid has "onions". I can't really argue with everyone who took Sullinger — the dude's a beast. At 6 feet 9 inches and 280 pounds, he is a nightmare in the post and can also create his own shot from mid-range. Props to Vengrin and Panesis for picking the Morris brothers from Kansas. Marcus and Markieff play at a very high tempo, which is a nightmare for teams in their bracket like Purdue, Notre Dame, Georgetown and Illinois.
Who's in your final four?
Rich Ryan: Washington, Kansas, St. John's, Duke
Chris Klodnicki: Ohio State, Purdue, Florida, Duke
Brent Hanks: Ohio State, Duke, Pittsburgh, Kansas
Jason Young: Duke, Pittsburgh, Notre Dame, Ohio State
Matt Vengrin: North Carolina, Texas, Kansas, Pittsburgh
Dan Smith: Undecided
Matt Waxman: Ohio State, Pittsburgh, Duke, Notre Dame
Brett Richey: Kentucky, San Diego State, Pittsburgh, Purdue
Kevin Calenzo: Ohio State, Notre Dame, Texas, Pittsburgh
Evan Panesis: Syracuse, Connecticut, Kansas, BYU
Eric Baldwin: Ohio State, Kansas, San Diego State, BYU
Chistian Harder: Ohio State, Texas, Kansas, Pittsburgh
Billy Kopp: Kansas, St. John's, Kentucky, Texas
Amit Makhija: Ohio State, San Diego State, Notre Dame, Pittsburgh
Faraz Jaka: Kansas, Ohio State, Kansas State, Connecticut
Dan O'Brien: Ohio State, Duke, Kansas, Florida
Tristan Wade: North Carolina, Kansas, Florida, Duke
Rich Ryan: I went half chalk, half long shots. Unfortunately, St. Johns was bounced already (fail), but hopefully a random team like Gonzaga will emerge from the southeast region and screw everyone's bracket up. If history is any indication, then the final four will be mostly one's and two's. I don't like Pitt at all, however, so my favorite final four of this bunch is O'Brien's. I also want to give props to Kopp, Harder, Calenzo and Vengrin for picking Texas. The Longhorns can suffocate a team with that quick, Big-12 pace, but they'll have to play incredibly to beat both Arizona and Duke if they meet. The only team I despise on this list is BYU. I know Jimmer Fredette can pour it in from anywhere on the court, but without Brandon Davies this team doesn't have the inside presence necessary to make a deep run.
Who's going to win?
Rich Ryan: Duke
Chris Klodnicki: Ohio State
Brent Hanks: Duke
Jason Young: Duke
Matt Vengrin: Kansas
Dan Smith: Ohio State
Matt Waxman: Duke
Brett Richey: Pittsburgh
Kevin Calenzo: Ohio State
Evan Panesis: Kansas
Eric Baldwin: San Diego State
Chistian Harder: Ohio State
Billy Kopp: Kansas
Amit Makhija: Ohio State
Faraz Jaka: Ohio State
Dan O'Brien: Duke
Tristan Wade: Duke
Rich Ryan: Mike Krzyzewski is without a doubt the best coach in college basketball. I love Michigan State's Tom Izzo, as well, but Coach K's ability to lead on and off the court is unmatched. Parlay that with leadership on the court from Nolan Smith and Kyle Singler, inside presence from the Plumlee brothers and outside shooting from Andre Dawkins and Seth Curry, and you have the most complete team in the tournament. Oh, and I almost forgot that Kyrie Irving — the projected number one pick in the NBA draft — will be back from injury and play big minutes off the bench. It wouldn't shock me if either Kansas or Ohio State ended up cutting the nets down, but my money is on Coach K and the Blue Devils to repeat as champions.
Let us know what you think about the picks in the comments section, and as always, follow us on Twitter for up-to-the-minute news.
Leading March Madness photo courtesy of Sportscasm.