No. 2 Nuke Commander Suspended After Using Fake Gambling Chips in Iowa Poker Game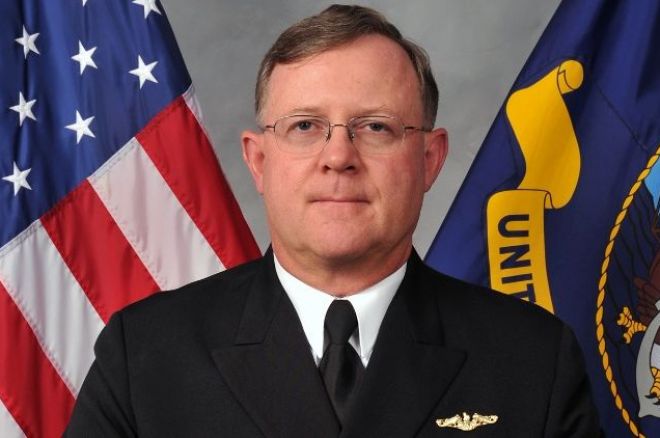 Over the weekend, news broke that Navy Vice Adm. Tim Giardina, the No. 2 officer at the military command in charge of all U.S. nuclear war-fighting forces, was suspended for passing fake gambling chips in a poker game at the Horseshoe Council Bluffs Casino in Council Bluffs, Iowa, which is just across the river from Omaha, Nebraska. Giardina, who was suspended on Sept. 3, is currently under investigation by the Naval Criminal Investigation Command.
"[The situation] deals with alleged violations of the law when it comes to patrons playing in a poker game," said Iowa Division of Criminal Investigation Special Agent David Dales, who revealed Giardina had been under surveillance since June.
Details on what transpired have not been released, but it is alleged that Giardina knowingly broke the law by passing an undisclosed amount of counterfeit chips playing poker at the property. A source familiar with the situation told PokerNews, "It was a few chips discovered in a cash game on only one occasion [back in June]." The players in the game that ended up with the chips was paid face value by the Horseshoe. Upon discovering the chips, the Horseshoe took that denomination of chip out of play for the month that followed.
Even though using fake gambling chips at a casino is a felony in Iowa, Giardina has not been charged, though Dales suggested there could be charges on both the state and federal level in the future. In the meantime, Giardina was suspended by Air Force Gen. Robert Kehler, and is prohibited from performing duties at the Offutt Air Force Base near Bellevue. Kehler also recommended to Defense Secretary Chuck Hagel that Giardina be reassigned.
"Obviously the nature of the allegations, as well as the person we found out was possibly involved in this, led us to go ahead and contact the authorities at Offutt," Dales said.
Giardina has been the deputy commander of Strategic Command since December 2011, but was to be rotated out of that position later this year as President Obama had appointed someone to replace him back in early July. According to his biography on navy.mil, Giardina "most recently served as deputy commander and chief of staff, United States Pacific Fleet. His most recent command assignment was as commander, Submarine Group Trident, Submarine Group Nine, and Submarine Group 10 where he was responsible for all 18 U.S. Trident Submarines."
The Horseshoe Council Bluffs is a popular stop on the World Series of Poker Circuit, which saw Blair Hinkle win the latest marquee event on the property. The casino also recently concluded the 2013 Horseshoe Poker Classic back in August.
PokerNews will keep an eye on this story and bring you updates as they develop.
For more information visit ketv.com.
*Lead photo courtesy of navy.mil.
Get all the latest PokerNews updates on your social media outlets. Follow us on Twitter and find us on both Facebook and Google+!