Pigskin Diaries Presented by DraftKings Week 5: The Gap Between the Best and the Worst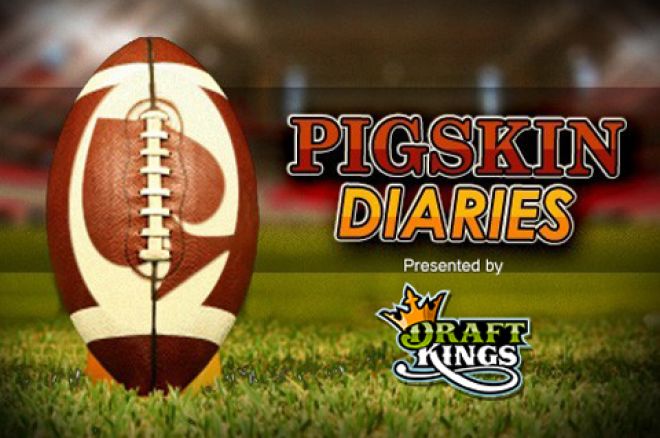 It's Week 5 of the NFL regular season, which means Football Outsiders has four weeks of data and will begin adjusting their team VOA's for both offense and defense. The entire 17-week professional football season is a small sample in itself, but after four games are in the books, Aaron Schatz and company believe they have enough information to generate accurate values on offense, defense, and special teams.
After Week 5 of the 2012 season, the top five teams were Houston, San Francisco, New England, Atlanta, and Denver. Baltimore was sixth, and No. 2 in offense DVOA (21.5%).
The bottom five teams, from 32 up, were Kansas City, Oakland, Tennessee, Jacksonville, and Pittsburgh.
If you want to view all of the current rankings, click here, but there are three specific observations I want to focus on. The first is how good the Broncos are, the second is how bad the Jaguars are, and the third is the overvalued and undervalued teams according to DVOA.
Denver is ranked first in total DVOA (62.2%), and offense DVOA (53.2%). The closest team to them in total DVOA is Seattle (43.1%), and the closest offense to them is San Diego (33.1%). The Football Outsiders database extends back to 1989, and since then only two teams have had a higher DVOA through four games — the 2007 New England Patriots (73.4%, finished the regular season 16-0) and the 1991 Washington Redskins (71.8%, finished the regular season 14-2).
Only the 1999 Washington Redskins had a higher offense DVOA (54.9%, finished the regular season 10-6).
Conversely, the Jaguars are the worst team ever through four games in the last 24 years. The team's -83.8% total DVOA ranks last by over 10 percentage points (2001 Washington Redskins averaged -71.6%), and their offense DVOA also ranks dead last at -67.1%. The 2002 Houston Texans had an offense DVOA of -61.5% through four weeks.
Ironically, Denver and Jacksonville will meet next week, and according to Las Vegas Hilton sportsbook director Jay Kornegay, the Broncos may be favored by 28 points.
That would be the largest spread in NFL history by four points.
Denver is capable of covering large spreads, but historically large spreads are a whole different question. Likewise, bookmakers are going to jack up the lines in Jacksonville games, praying for people to bet them in order to balance ticket distribution. We are going to stay away from them if they are anywhere near a touchdown, but once it starts creeping up to double-digits (28 is just absurd), we are going to start to take the points.
Now, let's look at some overvalued and undervalued teams. DVOA obviously likes the 1-2 Green Bay Packers, who rank ninth in total DVOA (11.2%). The Packers lost a tough opening day game against San Francisco and a bizarre game against Cincinnati. The database also favors the 1-2 Carolina Panthers, who rank sixth in total DVOA (21.8%), and the 2-2 Buffalo Bills, who rank 10th (9.4%).
Among the teams who rank poorly in DVOA but are 2-2 or better are the 2-2 Arizona Cardinals (27th, -17.4%), 2-2 Cleveland Browns (24th, -12.1%), 2-2 Baltimore Ravens (23rd, -6.8%), 2-2 New York Jets (20th, -1.5%), and the 3-1 Miami Dolphins (19th, -1.4%).
One of the overvalued teams is favored by more than a field goal against one of the undervalued teams on Thursday Night Football. We'll get to that pick in a second, but first I have to remind you to head over to DraftKings.com and jump into some same-day fantasy football. Personally, I'm now a combined 0-8 in my two big money leagues (super le sigh), but I'm grinding my buy-ins back each week in the DraftKings $250,000. In the middle of this article I will offer my top 10 value plays, and you can put them to use this weekend to make some quick cash, maybe even earn a seat in the Football Millionaire Grand Final, where the winner will take home $1 million of the $3.1 million prize pool.
As always, my picks include the number and all advanced statistics are courtesy of the wizards over at Football Outsiders.
Buffalo (+3.5) @ Cleveland
If gambling is legal in your part of the world, don't take the points, grab the Bills moneyline. Despite this silly Brian Hoyer phase, the Browns still rank 27th in offense DVOA (-18.3%).
Buffalo has the seventh-ranked defense DVOA (-13.3%), and NOBODY circles the wagons like they do.
Fantasy: C.J. Spiller missed Wednesday's practice, and, like Dan LeBatard, is highly questionable. Be sure to keep your ear to the ground before setting your lineup on Thursday.
Philadelphia (+1.5) @ New York Giants
There are very few teams the Giants should be home favorites against, but the Eagles are certainly one of them. Philadelphia ranks 30th in pass defense DVOA (-7.4%), and Big Blue's strongpoint when Eli Manning is upright is their passing attack.
Unfortunately for the G-Men, they can't seem to protect Manning at all. He's been sacked 14 times, and on top of poor pass protection, Football Outsiders ranks the Giants offensive line dead last in run blocking (2.62 adjusted line yards).
The Eagles give up points, but they will certainly score as well, ranking fifth in offense DVOA (18.7%). I still believe in Chip Kelly and his methods, and I think this will be a game like the Washington game where his offense makes people say, "wow."
Fantasy: With Da'Rel Scott's release, it appears as if David Wilson is fully out of the doghouse. Now all he needs is some half-decent blocking.
Kansas City (-3) @ Tennessee
This Chiefs team is eerily similar to the 2009 and 2010 New York Jets. Whether it be by design or because Alex Smith is petrified to throw the ball more than five yards, Kansas City has no vertical passing game and a very strong rushing attack. On defense they're tough as nails, ranking third in DVOA (-18.9%) and second in pass defense DVOA (-35.1%).
KC's flaws will become more apparent when they face a team like Denver and need to score points, but I'm not worried about a Jock Locker Ewing Theory. Ryan Fitzpatrick is a below average quarterback with below average weapons.
Fantasy: Now is the time to sell high on Dwayne Bowe. I was high on him coming into the season, thinking Andy Reid would try to stretch the field, but he hasn't. Sell, sell, sell.
New Orleans (PK) @ Chicago
The Saints team that dominated on Monday Night Football is the team I expect to see for the rest of the season. New Orleans ranks sixth in defense DVOA (-15.5%) and third in pass defense DVOA (-30.4%). Their offense finally got on track, and while they currently rank seventh in DVOA (15.4%), I suspect that number will climb. Drew Brees is developing a real special rapport with rookie receiver Kenny Stills, and Lance Moore hasn't been healthy all season.
Chicago's eight-point loss last week against Detroit was actually much worse than the score indicates, as they were down 40-16 with nine minutes remaining. The Bears are still a very solid team (11th in total DVOA at 7.7%), but Jay Cutler is still turnover prone and the defense is still too dependent on turnovers.
If Chicago didn't have such a large betting contingent, New Orleans would probably be one or two-point favorites.
Fantasy: Brees wants to get Stills involved. In the two games he was fully healthy, he averaged 5.5 targets and 62 yards. Stills is a WR4 and could be a great bye week fill-in going forward.
Jacksonville (+11.5) @ St. Louis
This line opened up at 14 and was immediately bet down, but it's still too high. I noted earlier that the Jags are historically terrible, but the Rams are still ranked 30th in total DVOA (35.5%) and have only scored 18 points in the last eight quarters.
The last time the Rams were favored by 11.5 points or more, Sam Bradford had just turned 16. They didn't cover, losing outright to the Lions 30-20.
Jacksonville may end up being the worst team of all time, but they should be capable of staying within double-digits of St. Louis.
Fantasy: Justin Blackmon returns this week, and could shake things up for the Jags, but if you have other options I would wait a week or two.
New England (+1) @ Cincinnati
Since 2002, the Patriots are 7-2 ATS on the road when getting less than a field goal. The Bengals scored six points last week against the Browns. Am I missing something here?
Fantasy: I've been on #TeamDobson, but after an injury to the rookie out of Marshall and an outstanding performance by Kenbrell Thompkins, I might have to make the switch. Just look at this catch he made downfield.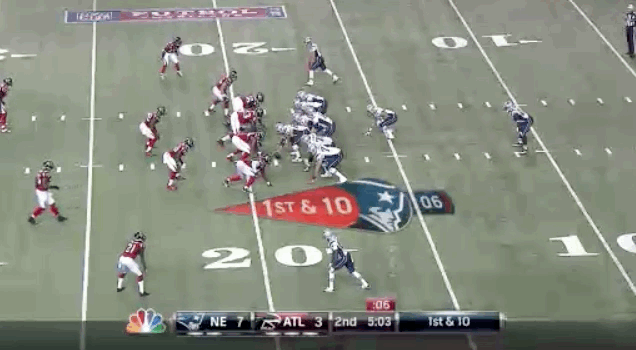 Detroit (+7) @ Green Bay
The Packers received a much-needed bye week, but even with 13 days of rehabilitation they shouldn't be touchdown favorites over Detroit. Since 2009, Green Bay has only been favored by a touchdown or more at home against a playoff team four times, going 2-2 ATS.
I believe that the Lions – 13th in total DVOA (4.8%) – are a playoff team, especially with Reggie Bush healthy. He adds so much to their already impressive offense, and I don't know now Green Bay plans to stop him or anybody else on Detroit. The Packers ran 31st in defense DVOA, and 32nd in pass defense DVOA.
The Lions are right in the middle, ranking 15th in total defense DVOA (-3.1%), but rank 10th against the pass (-3.7%).
Fantasy: On the surface, the Kevin Ogletree signing appears bad for Ryan Broyles, but there was a silver lining Broyles' zero-catch effort last week. He doubled the amount of snaps he played from Week 3, lining up on 62% of Detroit's offensive plays. If you're willing to be patient and deal with the baby steps, I think Broyles will pay dividends in the fantasy playoffs.
DraftKings Top 10 Value Plays
Last week, my value plays were terrible. Ahmad Bradshaw and Terrelle Pryor didn't even play. Unsurprisingly, I didn't cash in a single DraftKings game. We're going to change that this week, as we dive into the value plays.
As always, these players are ranked by price.
| Position | Player | Opponent | Salary |
| --- | --- | --- | --- |
| QB | Matthew Stafford | Green Bay | $8,500 |
| RB | Marshawn Lynch | Indianapolis | $7,200 |
| QB | Geno Smith | Atlanta | $5,400 |
| TE | Greg Olsen | Arizona | $5,000 |
| WR | Kenbrell Thompkins | Cincinnati | $4,500 |
| RB | DeAngelo Williams | Arizona | $4,300 |
| TE | Charles Clay | Baltimore | $4,000 |
| DST | St. Louis | Jacksonville | $3,700 |
| WR | Jeremy Kerley | Atlanta | $3,100 |
| K | Ryan Succop | Tennessee | $3,100 |
Matthew Stafford: Rarely do I spend big money on quarterbacks, but the Packers rank last in pass defense DVOA and have given up the fifth most points per game to quarterbacks in ESPN standard leagues.
Marshawn Lynch: "Beast Mode" has one of the best match ups this week, yet he's $1,600 cheaper than Jamaal Charles. Welcome to value town.
Geno Smith: If you don't want to spend money on a QB, Smith could be a nice gamble. The Falcons struggle to defend the pass, but the rookie will be without his two best receivers and could be behind in the game.
Greg Olsen: Olsen is Killa Cam's favorite target not named Steve Smith, and Arizona has given up the second-most fantasy points to tight ends in ESPN standard leagues.
Kenbrell Thompkins: This is a really good price for a legitimate WR2 getting balls from Tom Brady.
DeAngelo Williams: At this price, Williams will be on all of my DraftKings rosters.
Charles Clay: Clay is slowly becoming a value all-star, scoring 14.9 points per game over the first four weeks. His price is still cheap, and he's worth every dime.
St. Louis: They are playing the Jaguars and they are cheaper than the majority of defenses. This one's easy.
Jeremy Kerley: Kerley is a solid PPR receiver in an offense full of injured players. He is Geno's only real target.
Ryan Succop: We rarely look at kickers, but for $3,100, Succop is a nice value in that dink-and-dunk offense.
Baltimore @ Miami (-3)
Neither the Ravens nor the Dolphins are particularly great, but this line insinuates that they are equal. I disagree, as Miami has only played one bad game, and it was against a top-five team on the road on Monday Night Football. The Dolphins rank four spots higher in total DVOA, 13 spots higher in offense DVOA, and two spots higher in special teams DVOA, while Baltimore ranks 12 spots higher in defense DVOA.
Miami's issues on defense were glaring on Monday, as they were unable to cover Darren Sproles out of the backfield, but the with Ray Rice battling an injury, the Ravens won't have that luxury. Brent Grimes is capable of limiting a player like Torrey Smith, and that will force Joe Flacco to look elsewhere. Marlon Brown has impressed over the first four weeks, but he is battling a hamstring injury, and no other receiver on Baltimore is ready to step up.
Unless they can create some defensive or special teams scores like they did against Houston, Baltimore will struggle to put up points against Miami, giving the Fins an edge in this game.
Fantasy: Charles Clay continues to have value as Miami's H-back/tight end, especially in PPR formats.
Seattle (-3) @ Indianapolis
In both of their road games the Seahawks looked very vulnerable, and yet they walked away two wins and are either 2-0 ATS or 1-0-1 ATS on the road, depending on when you bet them last week. Matt Schaub is fully responsible for Houston's meltdown last week, throwing an inexcusable pick-six to Richard Sherman, but Seattle's never-say-die attitude is noteworthy.
The time zone change doesn't worry me. During training camp, Pete Carroll had his players practicing earlier in the morning than usual to prepare for trips like these. Seattle has five road games that begin at 10:00 a.m. PDT, including this one.
What does worry me is Trent Richardson. Seattle's big weakness is between the tackles (Football Outsiders ranks them 29th in power run situations) and Houston had a lot of success running downhill against the Seahawks' undersized defensive linemen.
Indy has the 26th-ranked rush defense DVOA (2.6%), however, and Marshawn Lynch could control the game from start to finish.
Fantasy: This might not be a great game for fantasy receivers. The Seahawks are the best team in the league against WRs (12 points per game in ESPN standard scoring), while the Colts are the fourth-best (14.8).
Carolina (-1.5) @ Arizona
Thanks to Mike Glennon, the Arizona Cardinals are 2-2, but as we mentioned in the opening, DVOA considers them the most overrated two-win team in football. Conversely, DVOA considers the Panthers to be the most underrated one-win team in the NFL.
Carolina's defensive front is a mean bunch, ranking third in adjusted line yards and fourth in adjusted sack rate. On offense, the Panthers need to allow Cam Newton to be aggressive, especially this week – Arizona's pass defense DVOA ranks 21st (14.2%).
Carson Palmer has been very average thus far for the Cardinals, and on defense, save for a few Patrick Peterson interceptions and Tyrann Mathieu's ridiculous strip against Jared Cook in Week 1, the team has taken a big step backwards from 2012.
Fantasy: Until Jonathan Stewart is fully healthy, DeAngelo Williams continues to be a solid RB2 and FLEX option.
Denver (-7) @ Dallas
Houston @ San Francisco (-6.5)
If you read the beginning of this article, you already know why I'm on the Broncos. I will rarely pick against them if they're giving less than 10 points.
Dallas is a middling team (16th in total DVOA, 2.3%).
As for the latter game in Candlestick Park, the Niners are a really bad matchup for the Texans. As stated before, Houston had a lot of success running up the middle against Seattle, but defending the A-gap is something San Fran does very well. The Texans will have to rely on Schaub a bit more, which as we know from last week can produce some very terrifying results.
Houston does have one bright spot – they are successful at defending the tight end position, which will help them against Vernon Davis.
I really believe in Colin Kaepernick's talent, however, and soon enough he is going to string together a few games that make you say "wow." This could be one of them.
Fantasy: Not a week should go by where Eric Decker is on your bench. He started off slow, but there are just too many balls to go around in Denver. He will get his more often than not.
San Diego @ Oakland (+4)
This is me not believing in Philip Rivers enough, loving Tyrelle Pryor too much, and taking the points. San Diego ranks 12th in total DVOA (6.6%), but are dead last in defense DVOA (25.5%). Pryor is cleared to play on Sunday night, and could have a field day against that terrible defense.
Oakland's defense (28th in DVOA, 17.1%) is just as poor, but I believe the Chargers offensive numbers will decline as the Raiders offense begins to blossom.
Fantasy: When Pryor is healthy, Denarius Moore is a legitimate WR2. I would much rather have him than Eddie Royal, who is no longer on pace to score 50 touchdowns.
New York Jets (+9.5) @ Atlanta
This is simply too many points. The Jets are 3-1 ATS under Rex Ryan when getting 9.5 or more points. Even without Santonio Holmes and Stephen Hill, Gang Green will find a way to score a few points. The Falcons rank 26th in defense DVOA (14.9%), and 27th against the pass (30.2%).
Even a turnover machine like Geno Smith can exploit that for a touchdown or two.
Don't be fooled by the score last week either, the Jets defense remains solid, ranking fourth in DVOA (-17.9%).
Fantasy: The Jets linebackers struggle in coverage, so Tony Gonzalez is prime to have another big game. On the other side of the ball, expect Bilal Powell to get the lion's share of carries once again. Chris Ivory is still recovering from an injury, and Mike Goodson is just now getting up to speed with the team.
All spreads are courtesy of Covers.com, and are accurate as of 6:00 a.m. EDT on Thursday Sep. 26.
Last Week: 7-7-1
Season: 26-33-4
Bye: Tampa Bay, Minnesota, Washington, Pittsburgh
Get all the latest PokerNews updates on your social media outlets. Follow us on Twitter and find us on both Facebook and Google+!