Inside Gaming: Wynn Pulls Out of Philadelphia, bwin.party's Struggles in Greece and More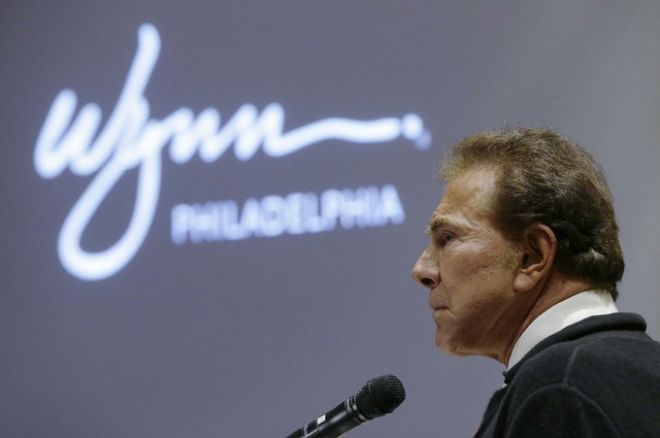 In this edition of Inside Gaming, we take a look at Wynn Resorts pulling out of Philadelphia, bwin.party's issues in Greece, the future of mobile gaming, a gambling addiction bill in Korea, and the third quarter results from Stations Casinos, Atlantic City, and Affinity Gaming.
Wynn Exits Philadelphia
On Monday, Wynn Resorts Ltd. announced that it will no longer be pursuing a casino application in Philadelphia.
"The Wynn Resorts board of directors recently met to carefully examine the feasibility and opportunities associated with the company's domestic development in Philadelphia," the company said in a statement. "At this time, the board has decided that the best course for the company is to pursue business opportunities elsewhere."
Wynn had proposed to build an estimated $935 million, 150,000-square-foot casino with 900 slot machines, 100 table games, and a 300-room hotel over 60 acres of land in the Fishtown neighborhood of Philadelphia.
The recent news in neighboring New York also influenced Wynn's decision, as the board "took a host of factors into consideration, including the Philadelphia market performance over the past year and the competition which will result from the recent approval of gaming in the State of New York."
This is the second time in three years that Wynn has withdrawn an application for a casino license in the City of Brotherly Love. In April 2010, Wynn was prepared to work with local investors to build a $600 million casino before pulling out.
There are still five applicants competing for Philadelphia's second casino license — Tower Entertainment LLC, Market East Associates, PHL Local Gaming, PA Gaming Ventures, and Stadium Casino LLC. The Pennsylvania Gaming Control Board plans to select a winner in March or early April.
The Las Vegas Review-Journal has more.
Bwin.part Struggles with Greece, Ready for United States
On Wednesday, bwin.party announced that a blackout in Greece would lower their revenue and profits in 2013.
The company reported a 21-percent loss in the third quarter (roughly €145.7 million, or $195.8 million), and plans to focus on fewer markets where they believe they can generate higher returns.
Greek authorities recently blocked Internet access to over 400 sites, including bwin.party's, and the company said it would have a "modest net impact" on revenue.
"As we expected, our underlying third quarter performance appears to have represented the floor in what has been a transitional year for the group," said chief executive Norbert Teufelberger.
He added that savings in 2013 would likely exceed the company's target of €70 million, helping to offset the impact of Greece's actions.
One of the markets the company is prepared to focus on is the U.S., where bwin.party has partnered with the Borgata. Both companies have received online gaming licenses from the New Jersey Department of Gaming Enforcement, and plan to re-launch partypoker on Nov. 26.
"New Jersey may well be the catalyst for other, larger states to embrace online gaming," Teufelberger told reporters. "There is speculation that momentum for online gaming will continue in California next year."
The company owners have agreed to sell a combined stake of 14.3 percent in order to attain a license in New Jersey. This is the first time since 2006 that bwin.party will operate in the United States.
For more, head to Reuters.com.
Mobile Gaming to Make Up 44 Percent of Interactive Gross Win by 2018
According to H2 Gambling Capital's report "Mobile: The Future of Interactive Gambling," mobile betting, gaming and lottery will generate just over a €19 billion gross win by the end of 2018. This number should be just under 44 percent of the total interactive gambling gross win or just over five percent of the gross win on all gambling.
H2 measured a €4.5 billion gross win for mobile gaming in 2012, which accounted for 18 percent of the interactive gross win. This was nearly double the mobile gaming gross win in 2010 of €2.4 billion, with more than half of that coming from Asian horseracing companies Japanese Racing Association and the Hong Kong Jockey Club.
The report says, "The trend has been driven by the stellar growth in both smartphone and tablet penetration, increased device capability and the confidence of users [to] spend via these devices."
Betting accounts for over 75 percent of mobile gambling's gross win, but should change as the industry continues to develop. H2 believes gaming has developed slowly because "it requires increased device capacity to support enhanced graphics and sustained periods of play."
H2 believes this will change as the sophistication of smartphones and tablets increases each year.
iGaming Business, the exclusive data partner of H2 Gambling Capital, has more.
Korean Government Battling a "Gaming Addiction" Bill
On Wednesday, the Korea Times reported that the Korean Ministry of Culture and Tourism will not support a new proposal to regulate online games.
The bill, proposed by Shin Eui-jin of the conservative ruling Saenuri Party in May, would place Internet gaming in the same category of addictive activities such as drugs and alcohol, along with gambling.
"We are against managing game addiction in the same way as containing drugs, drinking, and gambling," Lee Soo-myung, a director at the ministry, said Tuesday. "Our position remains the same as it was in June, when we first released a review of the bill."
The review opposed the bill, arguing that games are a legitimate activity for everyone, including minors, unlike doing drugs, consuming alchohol, and gambling.
"We do sympathize with the intent of this bill and recognize the seriousness of game addiction," he added. "But it is our position that gaming does not belong in this bill. We see the need for more discussion from relevant parties and the industry on settling differences regarding the bill."
Eui-jin is a former psychiatrist, and believes that the impact of online gaming can be as harmful as alcohol, drugs, or gambling. He believes that more than six percent of the Korean population is in need of treatment for addiction to alcohol, drugs, games or gambling, and is calling for tougher state control, and proposes the establishment of the National Addiction Control Committee as a unit of the Prime Minister's Office.
The game industry views the bill as unacceptable and outdated. Korea is one of the global centers of online video games played on servers rather than consoles, and there is already a law in place which prevents gamers under the age of 16 from playing between midnight and 6 a.m. French professional poker player Bertrand "ElkY" Grospellier used to play [i[Starcraft[/i] professionally in Korea.
Check out the Korea Times for more.
Revenues Rise in Atlantic City, Affinity Gaming Declines, and Station Casinos Records Net Loss
Atlantic City casino revenues increased by 3.6 percent in October when compared to the same month in 2012, but last year the area was closed for roughly a week due to Superstorm Sandy.
The city's 12 casinos brought in $216.9 million in October 2013. Slot machine revenue increased 9.7 percent to $163.6 million, while table game revenue fell 11.5 percent to $53.3 million.
Table game revenue at the Tropicana plummeted 118 percent, as the casino lost $588,000 during October. The Trop has adopted a strategy of high-stakes table games, in an attempt to attract high rollers, and according to President Tony Rodio one or more "whales" beat the casino out of a lot of money.
Gaming revenue at Revel, a casino trying to recover from bankruptcy, was up 21 percent, and the Borgata's gaming revenue was up 13.2 percent to $47.6 million.
Out in Las Vegas, Station Casinos LLC reported a net loss of $4.7 million on Tuesday for the third quarter compared to a $7.8 million profit during the same period in 2012.
The company, whose properties include Red Rock Resort, Green Valley Ranch, and Palace Station, posted revenues of $304.7 million, compared to $295.7 million in the third quarter of 2012.
"Despite the soft revenue environment, Station Casinos reported revenue increases across all major departments and generated double-digit growth in adjusted EBITDAM (earnings before interest, taxes, depreciation, amortization, and management fees)," said Marc Falcone, executive vice president, CFO, and treasurer of Station Casinos.
This marked the company's 10th consecutive quarter of gains in adjusted EBITDAM, and they are prepared to launch Ultimate Poker and Ultimate Casino in New Jersey and are excited about the prospects of Graton Resort & Casino in Northern California.
"The interactive team has been hard at work developing its platform in New Jersey, and we look forward to offering a fun, convenient and secure online gaming experience to the people of New Jersey," Falcone said.
Affinity Gaming also reported a third quarter loss on Wednesday. The company said that it generated $8.3 million during Q3, down from $10 million a year ago. Total revenues decline 1.6 percent to $99.1 million.
CEO David Ross said the company experience "continued soft regional gaming trends," and that remodeling the company's three casinos in Colorado disrupted business.
"The grand reopening of our Colorado properties was well-received by our customers, and the market, and we look forward to focusing on operations now that the renovations are complete," Ross said. "We expect these investments will result in meaningful long-term return on investment."
The Las Vegas Review-Journal has more on Atlantic City, Stations Casinos, and Affinity.
Photo courtesy of the Associated Press/Matt Rourke
Get all the latest PokerNews updates on your social media outlets. Follow us on Twitter and find us on both Facebook and Google+!