New Jersey Sen. Lesniak Fights Back Against Adelson's Anti-Web Gambling Campaign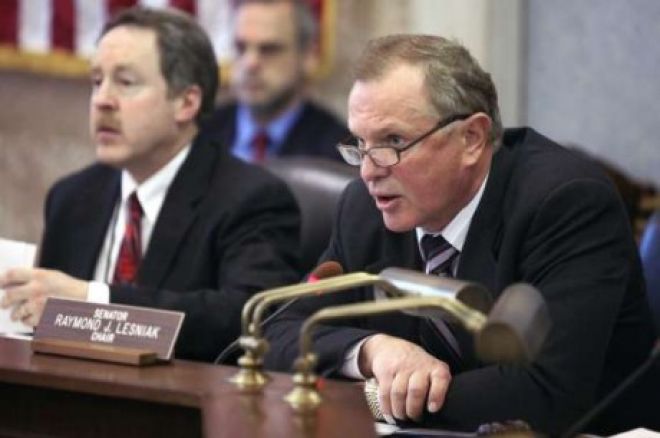 Sheldon Adelson has made clear his intentions to go on the offensive against Internet gambling. Now it's time for the poker community to go on the offensive against him.
New Jersey State Sen. Raymond Lesniak, the biggest proponent of Internet gambling in the Garden State, has already written to relevant parties in New Jersey letting them know of Adelson's intentions.
"I'm going to stop him in his tracks," Lesniak said of Adelson. "Internet gaming is a lifeline for our Atlantic City casinos, and there's no chance he's going to stop us once we get started. He's a powerful, well-funded guy, but that never scared me away from any fight. I have a pretty good track record on my side, and more importantly have the economy of the state of New Jersey on my side. We have thousands of jobs at stake."
Adelson, the billionaire chairman and CEO of Las Vegas Sands, is preparing to launch a public campaign against online gambling and has begun hiring lobbyists to seek a federal ban and oppose state efforts, as reported by the Washington Post. According to Lesniak, former New York Gov. George Pataki is one of the lobbyists hired by Adelson.
"George Pataki supported lotteries," Lesniak told PokerNews. "He should be ashamed of himself."
Poker Players Alliance executive director John Pappas said Adelson has cemented his legacy as Internet gaming's biggest opponent. There previously was hope that Adelson, like former Sen. Jon Kyl before him, might be convinced to draw a distinction between Internet poker and other forms of gambling.
"He's retreading a whole lot of old arguments that may have made sense 10 years ago but don't make sense today, particularly from the standpoint that regulation has gotten so much stronger," Pappas told PokerNews. "But also how farther down the road we are as a country for legalizing Internet gambling. We already have three states that have authorized it and another dozen states looking into it. We already have regulated Internet gaming in other forms like lotteries and horse racing. He's well behind the times in his opposition. While he's well funded, he'll have a hard time turning the tide here in the U.S."
That doesn't mean he won't try. Lesniak expects that Adelson will find a legislator to introduce a federal bill attempting to ban Internet gambling, including poker, in 2014, but that the New Jersey Senators would block any attempts to move such a bill.
"I'm sure there's going to be somebody who introduces it, but thousands of bills get introduced in Congress every year and go nowhere, and I expect this to go nowhere as well," Lesniak said. "He's fighting against the future. The future of economic activity, whether gaming or anything else, is over the Internet, and you cannot shut down the Internet. It's an unwinnable fight."
Pappas thinks it would be a blow to the credibility of Congress just to have someone introduce an online gaming prohibition bill on behalf of Adelson.
"I think, if legislation is introduced, then that would demonstrate everything the public hates about Congress, that they're willing to take up an issue on behalf of a wealthy individual, disregarding the interests of millions of Americans and dozens of states who want the freedom to play and offer online poker," Pappas said. "It would really undermine Congress as a body if they were to push this, because really it's just Sheldon Adelson who is pushing this. No one else is calling for a ban on Internet gambling."
That Adelson is unlikely to be able to push through federal legislation banning Internet gambling in 2014 doesn't mean he cannot make a negative impact on the spread of legal online poker in the country.
He might be able to make a bigger impact at the state level, particularly with states that are on the fence regarding online poker. This could hurt New Jersey by delaying movement from states that could potentially partner to run their online gambling operations through Atlantic City. Over time, he could also make progress on changing public opinion against online poker.
"An unlimited ad budget can run lots of negative ads about Internet gambling," Pappas said. "Average Americans who know nothing about Internet gambling could very well be influenced by an ad campaign put together by Adelson. We have to be worried that he can influence enough Americans that all the work we've done up until now could be nullified."
Adelson claims to be morally opposed to Internet gambling, which he calls a danger to society, particularly children and the poor. Naturally, this seems hypocritical coming from someone who made his fortune through casinos. He separates online gambling as being easy to access while gambling at his casinos takes effort and planning.
None of this is a surprise coming from Adelson. Back in July, he called Internet poker fool's gold economically, a plague and cancer waiting to happen morally, and not even a game of skill. He also claims to have studies that indicate online gaming will hurt brick-and-mortar casinos, though most of his competitors disagree and will participate in Internet gaming in Nevada and New Jersey.
Pappas thinks the financial angle is really Adelson's top concern. He points out that Adelson already is offering online wagering. The sports book at the Venetian, one of Adelson's properties, advertises a mobile app that allows people to place bets anywhere in Nevada.
"We need to remind people that Adelson may have specific business interests at heart, not the interests of poor children like he claims," Pappas said. "He's always mentioned not only that he is opposed to this morally, but that it would be a cannibalization of brick-and-mortar properties. I think everyone can read between the lines of what he's saying, that this is more a business concern for him than it is a moral one."
Lesniak said that Internet gaming is by-and-large a middle class activity, and if Adelson really is concerned about poor people, he should go after lotteries or put the money he is planning on using to fight Internet gambling into helping the poor and producing jobs for people. "If he had a moral fiber in his body, that's what he'd be doing."
In addition to the Venetian, Adelson's properties include the Palazzo in Las Vegas, and casinos in Macau and Singapore. Since he made his intentions in opposing Internet gambling known, some individual poker players have come out saying they will never again play at an Adelson property. It's a sentiment supported by Pappas, but he said the PPA won't attempt to organize a boycott of Adelson casinos. Given that poker players are notoriously difficult to organize, that they make up a miniscule part of the customer base for his Las Vegas casinos, and that the Las Vegas properties represent a small amount of Sands' revenues compared to Asia, a boycott isn't likely to make the desired impact.
"I think players should shop with their feet and make decisions based on the positions Adelson holds, but I don't think an organized boycott is the right approach," Pappas said. "It's better to organize players to contact legislators to make sure Adelson's wishes don't come true."
The American Gaming Association, the nation's leading casino trade association, also responded to Adelson's latest anti-online gambling push with the following statement:
Time and again, government efforts to prohibit use of everyday products have failed. In 2012, Americans spent nearly $3 billion gambling with rogue offshore operators. The Internet cannot be forced back into the bottle — nor can market demand. We support pragmatism and strong regulation of online gaming that protects consumers, prevents underage play, ensures the integrity of the games and empowers law enforcement. New government efforts to prohibit online gaming will unintentionally strengthen black market providers, create more risk for American consumers, including children, and drive U.S. jobs and potential revenues overseas. We appreciate divergent viewpoints and welcome a healthy discussion on this complex issue.
Lead photo courtesy of media.northjersey.com.
We'll have continuing coverage of iGaming in New Jersey this month. Get all the latest PokerNews updates on your social media outlets. Follow us on Twitter and find us on both Facebook and Google+!