PokerStars Introducing Zoom Heads-Up Cash Game Tables in December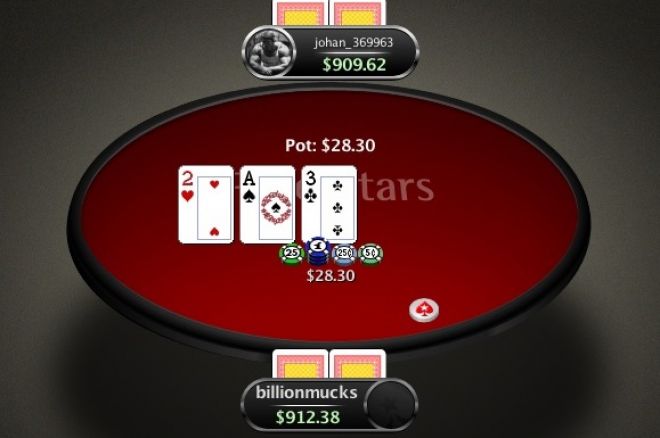 Online poker players have spoken, and once again PokerStars has answered. This time, the world's leading online poker room has addressed a way to reduce bum-hunting at heads-up online cash games.
In a post at the TwoPlusTwo forums on Wednesday, PokerStars representative Steve Day announced that heads-up Zoom Poker tables will be introduced to the software next month. The new Zoom tables will be offered as an alternative to traditional heads-up cash games. The "fast-fold" heads-up Zoom format would play similarly to the six-max and full table Zoom games; as soon as you fold a hand, you are removed from the table you were seated at and placed at a new table with a different player.
This format provides a solution to bum-hunting, or players who prey on weaker opponents as part of their table selection process. PokerStars addressed the issue earlier this year by announcing a new feature that would remove a player from the table if they don't play a required number of hands once a second player takes a seat. However, this "forced play" feature won't be rolled out until next year.
PokerStars Providing for DASH
PokerStars also announced this week that it has teamed up online gaming company Microgaming to help save the Drug Advice Service Helpline (DASH), an organization located in PokerStars' home of the Isle of Man. PokerStars and Microgaming will be working together to provide financial backing as well as advice and support on marketing and fundraising. The end goal is to make the charity "sustainable for the future."
"We wanted to find a way of giving DASH the best opportunity for long term survival and we knew this couldn't be done with just a one off donation; having the opportunity to work with the team at Microgaming to come up with a longer term plan for the charity seemed an ideal solution and we would encourage other companies to do the same," said Sue Hammett, Head of Corporate Giving for PokerStars. "We all have different skills within our work forces and time and expertise can be just as valuable as money to organizations such as DASH."
"Both DASH and our clients are sincerely grateful to Microgaming and PokerStars, two of the largest e-Gaming companies on the Island for joining together to support DASH to give us time to build sustainability," said Shelly Stanley, Director of Services at DASH. "We have had much support from the local community over the past 17 years and that shows an understanding in the public of the issues affecting the Island. What we need now is partnership from the corporate sector, to come on board to help us make the difference we have already started. Drug and Alcohol problems are part of a complex mix of other social, individual and environmental issues, they don't occur in isolation; that means we can all improve the outcomes in our community by working together."
For more on DASH, visit drugs.org.im.
Get all the latest PokerNews updates on your social media outlets. Follow us on Twitter and like us on Facebook now!