The Nightly Turbo: Alex Rodriguez's Charity Poker Controversy, Zynga CEO Talks Gambling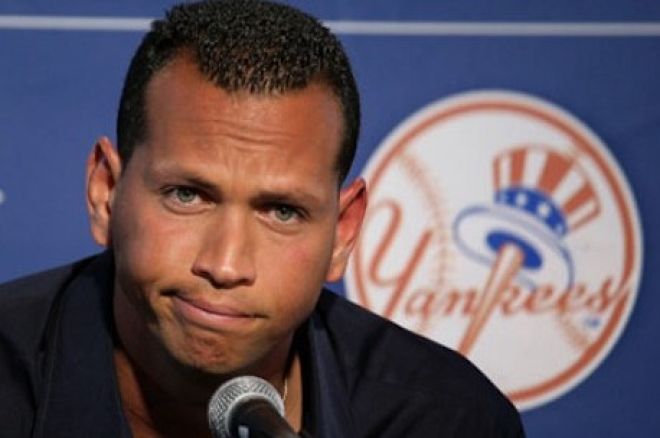 Alex Rodriguez's appetite for poker has created problems for him in the past. He's facing more scrutiny this week involving a charity poker tournament from 2006. We'll bring you that story, plus the latest on Zynga's real-money online gaming plans, in this edition of the Nightly Turbo.
In Case You Missed It:
Online poker was legalized in New Jersey on Tuesday. When will the state have real-money games up and running? Matthew Kredell spoke with Sen. Ray Lesniak to find out.
Day 3 of the World Poker Tour L.A. Poker Classic wrapped up on Monday. 2012 Octo-Niner Jeremy Ausmus was the only player to eclipse the 1 million-chip mark.
CardRunners instructor Daniel "Markuis" Marks is a heads-up no-limit hold'em specialist. In his latest free training video, Marks discusses meta game, adjusting pot-to-stack ratios versus habitual three-bettors, making reads, and more.
Jonathan Tamayo won the 2012-13 World Series of Poker Circuit Palm Beach Kennel Club Main Event early Tuesday morning. Get the full recap here at PokerNews.com.
Web-based show Game Theory has become quite popular during its first three weeks of airing. Chad Holloway spoke with director Aidin Nakjai to find out more about the show.
A-Rod's Error
In 2006, New York Yankees third baseman Alex Rodriguez teamed up with celebrities for a charity poker tournament to raise money for the Boys & Girls Club of Miami. The event, dubbed the 2nd Annual Dewar's 12 Hold'em Poker Tournament, attracted a who's who of A-list artists and athletes, including Michael Jordan, Shawn "Jay-Z" Carter, Lenny Kravitz, Vin Diesel, and Gary Sheffield. Phil Hellmuth was even invited to emcee and offer poker tips to the tournament's 300 guests.
All proceeds from the tournament went to the A-Rod Family Foundation. When it was all said and done, the event raised more than $400,000 toward Rodriguez's charitable foundation. It was deemed an incredible success.
But questions are now being raised about whether money raised in that event actually went where it was supposed to go.
According to a report by the Boston Globe, Rodriguez's foundation only donated 1% of the money it raised from the poker tournament. The Globe reported that the foundation used the money to make a $5,000 donation to the Shawn Carter Scholarship Fund and a $90 donation to a Little League team in Miami. The rest? Your guess is as good as ours.
On top of that, the Globe reports that A-Rod's foundation stopped submitting mandatory financial reports to the IRS later that year. Thus, it was stripped of its tax-exempt status.
Apparently, Rodriguez isn't the only athlete to fall short on charitable promises. Read the full Boston Globe story for more.
Zynga's Picus Addresses Real-Money Gaming
During a Morgan Stanley conference in San Francisco on Monday, Zynga CEO Mark Pincus discussed his intentions to launch real-money gaming in both the United Kingdom and the U.S. Although Pincus didn't provide much new information regarding the company's real-money gaming plans, he said that the company will offer something different from most gambling sites by focusing on making social gambling games.
"We're not the company to win the hardcore real-money gamers," Pincus said. "But we think we are for the mass market audience."
The hype of real-money gambling stemmed from Zynga's deal with U.K.-based poker company bwin.party Digital Entertainment last October. The deal will see the two companies launch real-money games such as poker, slots, roulette, and blackjack in the first half of 2013.
According to allthingsd.com, ZyngaPlusPoker and ZyngaPlusCasino are expected to launch in the U.K. by the end of June. Additional platforms are expected to launch during the first half of the year.
While Zynga's plans in the U.K. move forward, the company has also begun the process of getting licensed as an operator in Nevada. As of Tuesday, only Nevada, Delaware, and New Jersey had approved some form of online gaming in the U.S., but others like California could soon follow suit. Zynga's headquarters are located in San Francisco.
Despite the company's ambition and partnerships, not all has gone smoothly for Zynga during the past year. The company announced on Monday that it was cutting about 30 employees and closing or consolidating offices in Baltimore, New York, and Texas. Baltimore was home to a game studio that focused on CityVille2, which is now shutting down because of poor performance. The company will also be closing Texas offices in McKinney and downtown Austin, but employees in those offices will be given the opportunity to relocate to Dallas and North Austin.
CNET.com has more.
Road to 100 Billion
PokerStars is about to hit another milestone en route to its "Road to 100 Billion" promotion. On Tuesday, the world's leading poker site began the countdown to its 95 billionth hand. To celebrate the momentous occasion, PokerStars will be giving away up to $1 million in prizes!
More than 300 players will cash in on the promotion, with prizes being awarded to players dealt into every one millionth hand from 94,700,000,000 to 95,000,000,000. The winner of the Mega Milestone hand will collect at least $20,000, so if you're playing in a regular ring game next week make sure that you keep an eye on the lobby for the real-time count on the number of hands dealt.
In November, PokerStars player "m1sspiggy" was the lucky winner of the 90 Billionth Hand promotion. At a six-handed $1/$2 no-limit hold'em table, "m1sspiggy" and five other players moved all-in preflop for a shot at the milestone prize, and the flopped two pair of "m1sspiggy" was good enough to win the $1,220 main pot, plus another $66,380 for winning the promotion. The other five players split $162,150, with each receiving at least $14,000.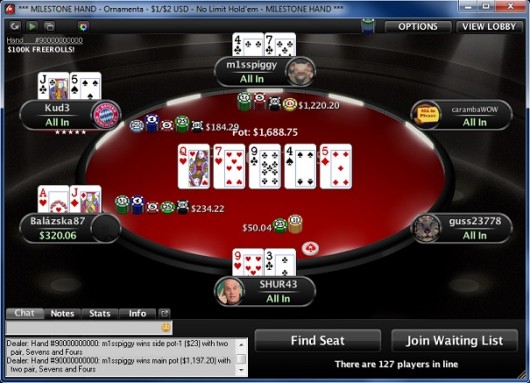 For more information on the 95 Billionth Hand promotion, check out PokerStars.com.
EPT Grand Final Schedule
PokerStars recently announced the details for the PokerStars and Monte-Carlo®Casino European Poker Tour Grand Final. The EPT's end-of-season finale will take place at the Monte Carlo Bay Hotel and Resort in Monaco May 6 through 15, offering a range of side events and — for the first time — live cash games.
This year's series will have a total of 50 events including the €100,000 Super High Roller, the €25,000 High Roller, the €10,300 High Roller Turbo, and a €1,000 buy-in event with a €500,000 guaranteed. As you may recall from last year, Dan Smith turned the EPT Grand Final side events into his own personal playground, winning three €5,000 buy-in no-limit hold'em tournaments for more than $488,000.
The series will close with the flagship €10,600 Main Event. Last year, Mohsin Charania added his name to a prestigious list of EPT Grand Final Main Event winners by beating Lucille Cailly heads-up for the $1,782,343.
For a look at the schedule, check out europeanpokertour.com.
Edible Poker Table
Chicago Bulls forward Richard "Rip" Hamilton celebrated his 35th birthday this past weekend. Apparently, the basketball star is a big poker fan, so his friends had this awesome cake made for him: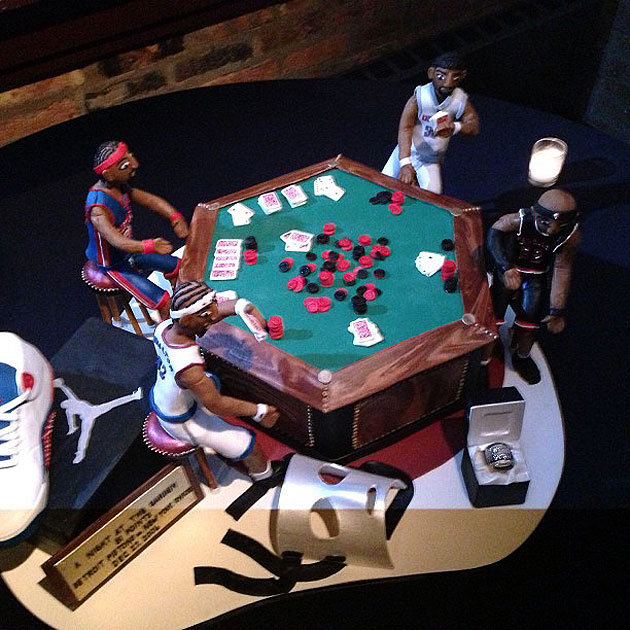 The four figures playing poker represent Hamilton during his playing days with the UConn Huskies, Washington Wizards, Detroit Pistons and Chicago Bulls. According to Hamilton, his mini depictions were even edible.
My birthday cake. Can u believe that everything u see is cake. #holdat #cv4life http://t.co/AwdG2jGMDd

— Rip Hamilton (@ripcityhamilton)
Get all the latest PokerNews updates on your social media outlets. Follow us on Twitter and find us both Facebook and Google+!