The Nightly Turbo: PokerStars Honored, Poker After Dark, and More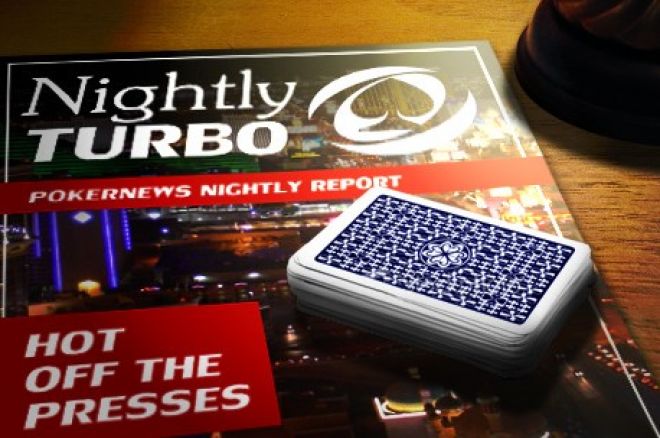 It's finally the weekend, and we can't wait to take a short break before the World Series of Poker madness is upon us on Sunday. You're finalizing the sale of your summer action and Rafa Nadal is getting in the zone for Roland Garros. Why the tennis reference? You'll have to keep reading for that. Why a job at PokerStars has plenty of benefits, never-before-seen episodes of Poker After Dark, and much more.
In Case You Missed It
Want to catch up on the week's news but would rather watch it? We've got you covered in the latest edition of the PokerNews Weekly.
Is the mystery surrounding AsianSpa interesting to you? Want to know how the life of Spa went this week? Check out the latest @AsianSpa blog for all the dirt.
Even though SCOOP was finishing up, the high-stakes cash-game action was still in full swing. Who came out the biggest winner this week? You know you'll have to read the Online Railbird Report for that answer.
With the World Series of Poker kicking off in a few days, "SrslySirius" decided to celebrate not only the WSOP's kick off, but also that he's headed to Vegas for the summer. Check out the new summer jam he wrote about it.
We've been introducing you to WSOP rookies all week. We're closing out the week with the last WSOP greenhorn, Viktor "Isildur1" Blom.
Gold Star to PokerStars
PokerStars has been selected as one of the United Kingdom's Best Workplaces by The Great Place to Work® Institute, a consultancy company specializing in workplace assessment and enhancement.
The institute, which has given the awards annually in the U.K. since 2000, assesses the practices of more than 5,500 companies around the world on set of criteria to identify the very best in leadership, people management and positive workplace culture.
PokerStars was ranked No. 22 among the large companies in 2012. The world's leading online poker room employs 1,200 people worldwide, with half in the U.K. and the company's headquarters in the Isle of Man. The company says it is distinguished by its "robust employee benefits and rewards, strong professional development opportunities and a diverse workforce."
"As a fast-growing company, attracting and retaining talented people is critical to our business, so we are dedicated to ensuring our employees are well supported, nurtured and rewarded," said Lynn Hunter, director of HR at PokerStars. "This is the first time we've participated in the Great Place to Work survey, so it's especially gratifying to know that our efforts are contributing to the success of our business, and that employees consider PokerStars to be a Great Place to Work."
Other companies listed among the U.K.'s Best 25 Workplaces were Admiral Group, Capital One, McDonalds, Microsoft, Volkswagon, Starbucks, Nike and Ikea.
The full list can be found at the Great Place to Work website.
The Lost Episodes
The NBC Sports Network, formerly Versus, will air two weeks of a never-before-seen Poker After Dark in June, a source close to the show told PokerNews this week.
The $200,000 buy-in cash game will begin airing Monday, June 4 at 12 a.m. EDT. The lineup of pros includes David "Viffer" Peat, Eli Elezra, David Oppenheim, Patrik Antonius, Phil Ivey, and Tom Dwan. Footage of the game was shot in 2010 and was scheduled to air last year, but the show was cancelled by NBC in the aftermath of Black Friday.
Earlier this year, Mori Eskandani of POKER PROductions told PokerNews that he feels like there will be a "bunch of [poker] shows coming back" in the next year or so. Eskandani added that there was a "90 percent chance" that the NBC National Head Up Championship will return next year after taking a one-year hiatus in 2012.
Trading the Clay for the Felt?
The king of the clay courts might soon be gracing the felts. PokerGenio.com is reporting that Rafael Nadal might be sporting the red spade soon. PokerNews reached out to PokerStars for confirmation, but they have nothing to report on the news.
For more from PokerGenio, check out the translated news.
New Jersey Amendments
On Thursday, the New Jersey State Senate approved amendments to Senate Bill 1565, which would legalize Internet gambling in the state. The bill is sponsored by Senators Raymond Lesniak and James Whelan.
add a findings and declarations section to the bill;
clarify that any game authorized to be played in a casino may, with the approval of the division, be offered through Internet gaming;
replace references to "Internet wagering" with "Internet gaming";
add Internet gaming companies to the definition of "casino service industry enterprises" and to the licensing requirements applicable to those industries;
include additional language to provide that the division must test both the hardware and software used in Internet gaming;
require that all Internet gaming equipment must be located within the licensed casino hotel in Atlantic City, rather than within Atlantic City;
permit participation agreements between casino service industry enterprises providing Internet gaming goods and services and casino licensees;
amend a provision in current law, which directs the state to undertake an educational campaign on Internet gaming;
require information to assist persons who have a compulsive gambling problem to be displayed prominently on the screen during log-on and log-off times, rather than continuously during an Internet gaming session; and
increase funds available for compulsive gambling treatment.
Also on Thursday, New Jersey governor Chris Christie stated that he plans on approving state regulations that would allow horse tracks in New Jersey to accept wagers on all sports. Christie essentially challenged the federal government, saying in a press conference, "If someone wants to stop us, then let them try to stop us.... Am I expecting there may be legal action taken against us to try to prevent it? Yes. But I have every confidence we're going to be successful."
For more, check out Yahoo.com.
Bernard Lee Charity
Poker player and media personality Bernard Lee announced this week that he will continue his Full House Charity Program for a second year. Together with sponsor Cabot Cheese, Lee will help raise a minimum of $20,000 for children's organizations around New England in 2012 and beyond.
Lee will donate $500 to the charity for each full house he makes while playing tournaments all over the world. In addition, during the World Series of Poker in Las Vegas, Lee will increase his full house donations to $750.
"I'm delighted to continue The Full House Charity Program again this year, and hope to again provide much-needed funds to organizations that work tirelessly to improve the lives of children in Massachusetts and across New England," said Lee. "Being able to give back to the community is a joy for me and my family."
Celebración!
Lynn Gilmartin is doing double duty in Punta del Este for the PokerStars Latin American Poker Tour, hosting both PokerNews and PokerStars.tv videos.
In one of her latest videos for PokerStars.tv, she brings us a look at the Welcome Party where she spoke with Team PokerStars Pros and found out why all the Brazilian players were absent from the party.
Follow PokerNews on Twitter for up-to-the-minute news.