The Weekly Turbo: Antonius Joins Premier League, PokerStars Mobile App, and More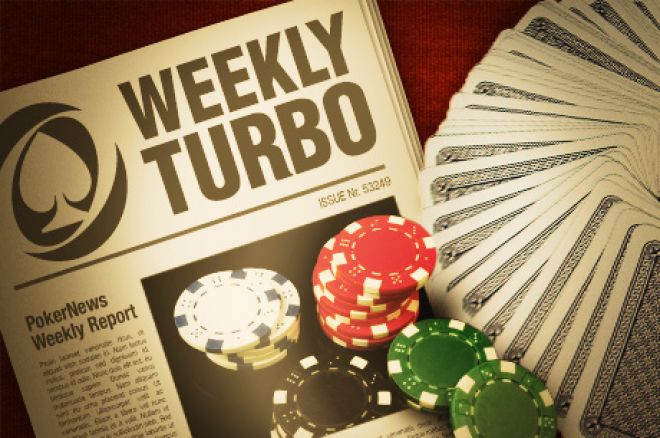 Did you miss any of the top poker news stories this week? Well you've come to the right place to get caught up. Patrik Antonius has been added to the PartyPoker Premier League V lineup. And, if you can get over dreaming about seeing Antonius' heavenly mug on your television, you can keep reading to find out about PokerStars' mobile app, and more.
Poker Tournaments
Patrik Antonius Joins PartyPoker Premier League
What's a good way to boost ratings for a televised poker program? Add Patrik Antonius to the lineup.
PartyPoker announced Thursday that Antonius will join Tony G, Luke "FullFlush" Schwartz, Vanessa Selbst, Sam Trickett, and others for the $125,000 buy-in PartyPoker.com Premier League Poker V Main Event from April 4 through 10 in Vienna.
The 16-player event is part of the World Poker Tour Vienna festivities and will award the winner with entry into the $25,000 WPT World Championship at Bellagio, in addition to the league's top cash prize.
Reigning WPT Player of the Year Andy Frankenberger will also be in attendance to defend his PartyPoker Premier League title. Last November, Frankenberger bested Andrew Feldman, Sorel Mizzi and others to win the Premier League Mixed Games Championship for $100,000. The previous Premier League winners are David Benyamine, Andy Black, JC Tran and Juha Helppi.
PartyPoker is offering players a chance to qualify for two seats in April's prestigious event. Visit PartyPoker.com for the details.
So Sick!
Phil Laak and Antonio Esfandiari will be hosting the Laak & Esfandiari Open from March 1 through 4 at Montreal's Playground Poker Club.
The first event on tap is a $2,200 heads-up tournament, which features a best-of-three format and will be capped at 32 players. Notables likely to attend the event include Erik Cajelais, Marc Karam, Mike "Timex" McDonald, Pascal Lefrancois and former NHL player Guy Carbonneau.
Part of the fun during the festivities will be the friendly prop bets between Laak and Esfandiari. The two friends have already agreed on a last-longer bet for the heads-up event, and the loser will be humiliated by the other in front of everyone at the Playground on Sunday, March 4th.
There will also be a $550 Deepstack event beginning on Friday, March 2. The field will be broken down into two days — Day 1a's players will represent "Team Laak," and Day 1b's players will represent "Team Esfandiari." Depending on which day the winner of the tournament advanced from, the loser will again be humiliated in front of everyone in attendance.
Laak and Esfandiari love to torment each other, so we're looking forward to this one.
For a full schedule and details on the Laak & Esfandiari Open, visit www.PlaygroundPoker.ca.
The Prince of South Africa
The 2012 World Series of Poker Africa is rolling into Johannesburg on Feb. 21, and five-time WSOP bracelet winner Scotty Nguyen has been named host of the festivities.
The series will be held at the Emerald Resort and Casino from Feb. 21 through 26, and will consist of six events, including a $3,300 Main Event beginning on Friday, Feb. 24. Last year, South African Warren Zackey outlasted 188 players to collect the WSOP ring and the top prize of $222,477.
Nguyen has never been to South Africa and says he's looking forward to his first trip to the country's largest city.
"You know, the Prince has been all over the world baby, you name it: Australia, Asia, Europe, but this is my first time going to South Africa and I'm so excited to come out and share this great game we love with the players there, to get to know them and to just have a good time baby," Nguyen told Sport24.
"Just make sure the people at the Emerald protect me from any lions and I promise you we'll have a lot of fun baby!"
Check out the full story at Sport24.
Online Poker
Take PokerStars With You Wherever You Go
On Tuesday, PokerStars announced the launch of a new mobile poker app that will allow players in the United Kingdom to play free and real money games on Apple and Android devices.
Just like the desktop software, the PokerStars Mobile app offers real-money games in varieties like Texas hold'em, Omaha and Omaha hi-lo. Players can compete in multi-table tournaments, sit-and-gos and ring games, and they'll even find familiar features like multi-tabling and hand histories.
"PokerStars Mobile is more than just the migration of the existing PokerStars game product to the mobile platform," said PokerStars' Director of New Platforms Jeffrey Haas. "It's an intentional product designed specifically for the form factors of mobile and tablet devices, and the different ways people play games on them. This is the best authentic poker experience available for mobile devices today."
Check out the full story at PokerNews.com.
PokerStars Launches New Site
Poker players in Sweden and Finland received great news Monday when PokerStars launched a new site that will allow residents of those nations to play on the site tax-free. PokerStars.eu will continue to offer the same games and software as the dot-com site, but PokerStars' new Maltese gaming license will allow players in European markets to take advantage of the gambling-friendly tax laws of the European Union.
Until now, gamblers in Sweden and Finland were taxed high amounts on their online gambling winnings earned outside the EU. Poker players from those countries will now be able to play tax-free on the dot.eu site because Malta, a member of the EU, does not tax gambling winnings.
"Some markets treat European Union-licensed operators differently than other license-holders," said PokerStars head of business development Guy Templer. "Offering our online poker on www.pokerstars.eu with a Maltese license provides benefits to players in Sweden and Finland in particular and we are always striving to offer the best product possible to our players, wherever they are located."
Get the full story at PokerNews.com.
Iowa Pushes for Online Poker
Online poker is expected to be one of many topics discussed by Iowa lawmakers when they return to the Statehouse this week.
Sen. Jeff Danielson says he expects to receive a draft of legislation establishing regulatory perimeters for state-licensed casinos to offer online poker to Iowa residents. The outlook of online poker in the state improved when the Department of Justice changed its stance on the Wire Act of 1961, but Senate Majority Leader Mike Gronstal told The Gazette that it's "hard to tell" whether a bill could be approved by the end of the year.
"We have this messy circumstance where there's this gray market or black market online poker business going on," Gronstal said. "I think it's something worth exploring. I think there's a lot of potential side tracks for this bill to go down. But I think it probably makes sense for us to try to regulate this industry that's already going on."
The Gazette has more.
Online Poker Won't Ride Payroll Tax Bill
According to a report at PublicGaming.com, regulated online poker will not be included in the payroll tax bill, which some pundits believe will be the last major piece of legislation passed by the Obama administration before the November elections.
Sen. Harry Reid (D-Nevada) was rumored to be planning to attach federal online poker to the bill, which is aimed to extend payroll tax breaks and unemployment payments. According to Politico writer David Saleh Rauf, a spokesperson for Reid said that regulating Internet poker will not be part of a tentative deal.
The report was later confirmed by Steve Tetreault of the Las Vegas Review-Journal:
Straight from @SenatorReid: #Webpoker is NOT in final payroll tax bill.

— Steve Tetreault (@STetreaultDC)
Online poker's exclusion from the final payroll bill could be viewed as the end of the road for federal legislation in the U.S before the lame duck session. Making matters worse, Republican presidential frontrunners Mitt Romney and Rick Santorum have both expressed disapproval of online gaming, which could present a weighty challenge for poker supporters if either candidate supplants Obama as president this November.
PublicGaming.com has more.
Poker Players
Duhamel's Bracelet Recovered
On Friday, reports surfaced that Jonathan Duhamel's 2010 World Series of Poker Main Event bracelet had been recovered — well, what was left of it anyway. The bracelet was found by a street sweeper in Montreal last Wednesday.
"The sentimental value [of the bracelet] is priceless. We are giving the bracelet to the police, because it is still a piece of evidence, and should help the police with the investigation. We are happy, and Jonathan is doing very well," said Philippe Jette, Duhamel's manager.
Read more, and see images of the damaged bracelet on PokerNews.com.
Never Too Old To Quit
Doyle Brunson admitted last year that traveling the tournament circuit is becoming too much of a grind at his age. But the 78-year-old legend is still crushing the Las Vegas cash games as if he was still in his twenties.
Brunson recently wrote in his blog that he's been playing lengthy sessions over the past few weeks at Aria and the Bellagio. The high volume has apparently paid off, too, as Brunson said he'd won 14 of the last 15 days as of Friday, Feb. 10.
"Poker is going strong in Vegas," Brunson wrote. "There are two or three medium stake poker games every day. The games aren't nearly as high as they were before Black Friday, but at least they are going every day. The games are $300/$600 at the Aria and $600/$1,200 at the Bellagio with the stakes going a little higher sometimes. There seems to be lots of players because there is usually a waiting list."
Brunson did mention one lousy beat: Doctors told him he had to lay off the Cheetos and Goldfish crackers for a while. If he's looking for a replacement snack to keep the heater running, we recommend apples.
Read Doyle's full blog at doylebrunson.com.
Jason Somerville Breaks His Silence
World Series of Poker bracelet winner Jason Somerville opened his heart to the poker community Tuesday by divulging on his blog that he is gay.
Among other things, the 24-year-old discussed the lack of openly gay poker players in the industry, as well as the struggle to balance his private life with his desire to be himself in public and at the poker table.
"I'm noDaniel Negreanu, the royalty of real talk, but I do pride myself on saying what I think and simply being who I am," Somerville wrote. "But I suppose you could say in the past being 'truly myself' has come with a bit of an asterisk. Privately, amongst friends, I can say I've been doing that for some amount of time — but publicly, and in poker, that hasn't completely been the case. I haven't exactly always been where I am now, though, and haven't really been ready to share my story publicly. Privacy reasons excepted, that won't be the case anymore."
Somerville, one of the most admired and respected players in poker, has received an outpouring of support on Twitter, TwoPlusTwo and even YouTube. Negreanu, a close friend of Somerville, even posted a video blog discussing Somerville's decision to "come out" (as well as some harsh words for the board members at Full Tilt):
Read Jason's full blog at jcarver.badbeatscrew.com
Liv Boeree Check-raises for Chipata
Team PokerStars Pro Liv Boeree has launched a charity called Check-raise for Chipata dedicated to bettering the lives of orphans in the nation of Zambia. SOS Children, the world's largest orphan charity, is building a village in Chipata for children who have been abandoned as a result of poverty and disease, and Boeree is looking to raise enough money to build a home in the village for children to live in.
"Any donation on this site, however big or small will be gratefully received and goes straight to SOS Children," Boeree said. "The current goal is to raise £75,000 which I'm aiming to reach by the summer."
Boeree has already made a contribution of £2,500. To get involved by making a donation, visit Boeree's page at Virgin Giving Money.
And Because This Meme Isn't Played Out Enough...
...we bring you, the What People Think I Do meme for poker players — again. For probably the last time.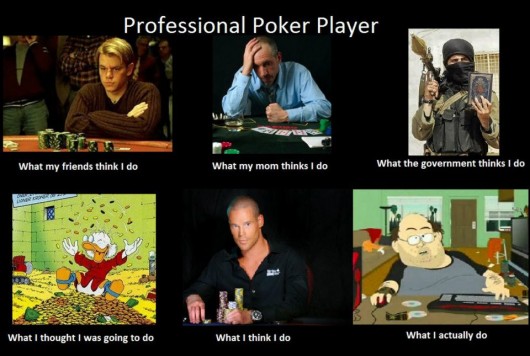 Follow PokerNews on Twitter for up-to-the-minute news.