The Nightly Turbo: PokerStars Launches on Facebook, New York Mets Casino Plans Rejected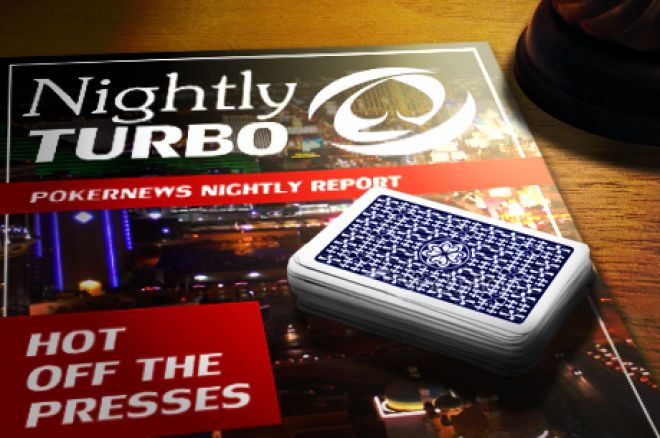 Miss any of the day's biggest poker stories? You've come to the right place. In this edition of the Nightly Turbo, we're bringing you the launch of PokerStars on Facebook, the failed casino plans of the New York Mets, and more.
In Case You Missed It:
In 2005, Scott Lazar made the final table of the World Series of Poker Main Event. What has he been up to lately? Lazar sat down with Chad Holloway for the latest Where Are They Now piece.
Ryan Stevenson won the 2012-13 World Series of Poker Circuit Harrah's Tunica Main Event on Monday. Read about Stevenson's road to victory in our WSOPC recap.
Ever needed poker advice at the table but didn't have a coach? MagicHoldem offers a new companion tool that serves as the next best thing to your own real-life poker coach.
PokerStars on Facebook
On Tuesday, PokerStars announced that its free-to-play site, PokerStars.net, has launched on Facebook. The product will now compete with Zynga Poker and other poker applications on Facebook's social platform, potentially cutting into Zynga's sizable lead in the play-money realm.
"This is part of our ongoing research and development efforts, and is just one of a whole range of areas that we are working on," Eric Hollreiser, PokerStars' head of corporate communications, told PokerNews on Tuesday.
Hollreiser added that the product was launched it in beta to test it and ensure that it is up to PokerStars' high-standard. "There's still a lot of work to be done, and while the beta testing is just beginning, we will allow new participants to join as and when we are able to do so," he said.
PokerStars' Facebook application has a similar look and feel to the PokerStars.net platform, even offering the popular Zoom Poker format. Players who already have a PokerStars account can access the PokerStars.net application using their existing login information, and they'll find their accounts' play-money chip balance upon login.
More information on the PokerStars Facebook app can be found at PokerStars.net.
Mets Denied Casino in New York City
The New York Mets plan to build a Las Vegas-style casino next to Citi Field, the team's home stadium, has been rejected by the New York City Economic Development Corporation.
According to the New York Post, Mets owners Fred Wilpon and Saul Katz used their real estate company, Sterling Equities, for a proposal to build a "massive casino with gaming tables and slots, a 500-room, full service hotel, 1.8 million square feet of retail and amenities to the Willets Point Development site in Queens."
The proposal was pitched in Sept. 2011 and offered $100 million to purchase 62 acres for the development of the project. Shinnecock Indian Nation would have operated the casino, but live-dealer casinos are not legal in New York except on tribal grounds, posing potential roadblocks for the venue to offer table games.
The casino plans were initially created after owners settled their financial troubles related to Bernard Madoff's Ponzi scheme. The Mets owners were allegedly profiting from the scheme, resulting in a settled lawsuit of $162 million.
This week, rather than approving the Mets' casino proposal, Mayor Bloomberg's administration granted 23 of the 62 acres of land to be used toward a $3 billion retail and entertainment complex, minus the casino. City officials pulled the casino from the Willets Point plan partly because they thought the government-approval process would take too long, sources told the Post.
"The submission that included a gaming use was quickly dismissed as unviable," a spokesman with the city's Economic Development Corp. told the Post. "A different plan is now moving through the approvals process for a project that will create a dynamic new destination, hundreds of units of affordable housing, and thousands of jobs."
Geoffrey Croft of NYC Park Advocates said the casino was bad business. "It's hard to think of anything more corrupt than putting a casino in the middle of low-income communities," he told the Post.
For more read the full story at the New York Post.
Movement in Delaware
Legal, real-money online poker could make its way to Delaware by Sept. 30, 2013, according to a recent proposal by the Delaware State Lottery.
On Monday, iGaming Business reported that Delaware issued a request for proposal for implementing an Internet gaming system and associated services solution. The proposal also calls for companies to bid for the rights to provide the technology platform alongside operations manager services. The state wants the Internet system up and running no later than Sept. 30.
"The Delaware State Lottery is issuing this request for proposal to invite interested vendors to submit proposals for the implementation of an Internet gaming system and services solution, which is a turnkey offering inclusive of a back-end technology platform, operations management and support services, as well as an array of game content from multiple vendors to offer casino table games, video lottery games, poker, bingo and keno," read a statement from the Delaware State Lottery.
"The solution may at some point in the future integrate with the Delaware State Lottery's future Internet lottery system and Internet sports wagering system, which does not currently exist and is not included in this request for proposal."
Gaming is a large part of Delaware's budget, generating more than $250 million annually in tax dollars compared to a state budget of about $3.4 billion. The new forms of online gambling are expected to generate an additional $7.75 million for the state in 2013.
Delaware and Nevada are the only two states to authorize interstate online poker. New Jersey could join the list this week if Gov. Chris Christie elects not to veto the online gambling bill that was placed on his desk last month. Christie has until Thursday, Feb. 7 to act on the bill.
iGaming Business has more.
And The Winner Is...
On Monday night, members of the gaming community gathered in London for the 2013 International Gaming Awards. PokerStars was among a list of winners who took home an award, specifically the Online Poker Operator of the Year.
PokerStars defeated 14 nominees to be named best global poker operator. "This has been a year of great achievement for PokerStars and this award is recognition of the hard work and dedication of our employees around the world who are setting the standard for quality in the industry," said Eric Hollreiser, PokerStars' head of corporate communications.
A list of developments in 2012 contributed to PokerStars being recognized at Monday's event. In 2012, PokerStars released a mobile app that allowed players to play anywhere and anytime. PokerStars also launched a new gaming format, Zoom Poker, which enabled players to play faster. The MicroMillions tournament series was also created and launched in March last year, as well as the Turbo Championship of Online Poker (TCOOP).
PokerStars also expanded with new regulated licenses in Malta (PokerStars.EU), Denmark (PokerStars.DK), and Spain (PokerStars.es), which led to the signing of Spanish tennis superstar Rafael Nadal to Team PokerStars.
Other winners at the event included Melco Crown Entertainment, which was awarded Casino/Integrated Resort of the Year, and Skrill, which won Payment Solutions Provider Company of the Year.
PokerStars was also a finalist for Socially Responsible Operator of the Year, Mobile Poker Operator of the Year, and Gaming Industry Fair Play.
The PokerStars Blog has more.
Grospellier Versus Cody
Team PokerStars Pros Bertrand "ElkY" Grospellier and Jake Cody were seated next to each other on Day 2 of the PokerStars European Poker Tour Deauville Main Event. Kristy Arnett caught up with both of them for the latest edition of Versus.
Get all the latest PokerNews updates on your social media outlets. Follow us on Twitter and like us on Facebook today!