The Nightly Turbo: A-Rod's Poker Woes, PocketFives Says No, and More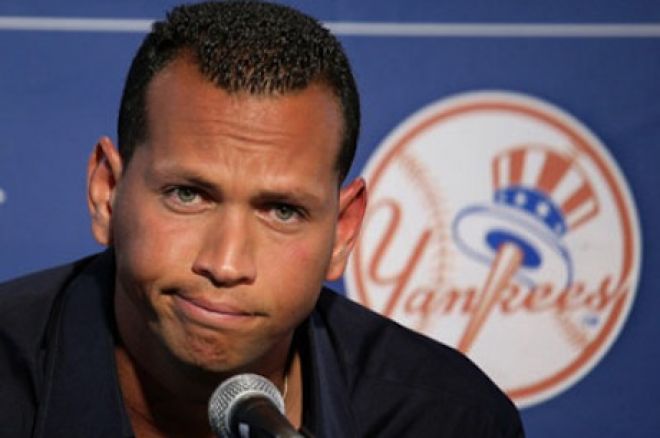 The buzz on Wednesday surrounded Yankees third baseman Alex Rodriguez. It had nothing to do with his return to workouts after knee surgery or his love for Cameron Diaz, but everything to do with his appearances at underground poker games. We'll give you the scoop on that, what you won't be seeing on PocketFives anymore, and more.
In Case You Missed It
Players in the U.S. who once made their bread and butter online are turning to live poker to continue making a living. Brian Hastings is one of those players, and in our latest strategy piece, he recounts a pot-limit Omaha hand he played at the Bellagio.
Coverage of the 2011 World Series of Poker aired on ESPN Tuesday night.If you missed it, you missed the intense heads-up battles between Yevgeniy Timoshenko and Eric Froehlich and Jake Cody and Gus Hansen in the $25,000 Heads-Up Championship.
Day 1b of the PokerStars.com European Poker Tour Tallinn attracted 190 players. Oscar Lima not only finished in the chip lead for Day 1b, but he finished as the overall chip leader going into Day 2.

*Above photo courtesy of Forbes.com
No More U.S. Ads
If you're a frequent PocketFiver, then you might notice that things look a little different on the website. PocketFives issued a statement Tuesday regarding the "state of affairs in online poker." The owners of the site have decided to cease promoting any rake-based U.S.-facing poker rooms.
"I'd like to be clear that this should not be taken as a denouncement of any U.S.-facing room specifically, nor as a statement regarding the trustworthiness of the rooms that have decided to continue offering their services to U.S. players. We at P5s have a great deal of respect for a number of these companies and the individuals behind them. That said, after seeing all the issues Full Tilt and UB/AP have had returning player funds, combined with the current difficulty in payouts for the sites that continue to serve U.S. players, we can't in good faith continue to recommend playing real money games," wrote Adam Small.
For those of you in the U.S. who are looking to relocate, Small added that he and his team would be launching a service to help players relocate to countries where they will be able to continue to play online poker.
Read the entire statement at PocketFives.com.
Not Just a Baseball Player
Alex Rodriguez could be in some hot water. According to RadarOnline.com and Star, the Yankees third baseman, allegedly participated in underground poker games after being warned by Major League Baseball to stay away from them.
ESPN New York's Wallace Matthews spoke with an MLB executive who said: "We're talking to people involved in the investigation and we're taking this very seriously. Because he had been warned about this before, I would say a possible suspension would be very much in play."
The games, which were organized by Molly Bloom, who also organized the high-stakes games Tobey Maguire has been associated with, were hosted in Beverly Hills at the mansion of record-label owner Cody Leibel.
Poker pro Dan Bilzerian spoke to Star about the game, saying, "Molly ran one game at Cody's mansion. [One player] got all coked up. Everyone had to chase Cody down for the money, and he later paid me a sum and gave me a watch but stiffed me for $100,000."
According to RadarOnline.com, Rodriguez tried to distance himself from the drama. That game wasn't the only one Rodriguez allegedly attended. RadarOnline.com is reporting that the slugger allegedly set up his own high-stakes game in Miami with the help of Bloom.
There's plenty more about A-Rod's relationship with Bloom and how much he lost at RadarOnline.com.
PokerStars EPT Sponsor
The PokerStars European Poker Tour has secured its third major business partnership for its eighth season. Payment provider, Skrill will become the official payment-provider sponsor of Season 8 of the EPT.
"Skrill is delighted to join the European Poker Tour as its official payment provider sponsor. Now in its eighth season, the EPT has grown to become one of the largest and most lucrative poker tours in the world. Our headline sponsorship promises to deal a winning hand when it comes to strengthening our position as the leading digital wallet and bankroll management option among the world's poker players," said Nikolai Riesenkampff, co-CEO of Skrill Holdings.
Skrill Holdings operates Moneybookers.com, one of the largest payment processors in Europe. Skrill representatives will be on site at the EPT events helping players register for accounts.
"The European Poker Tour operates in more countries and markets than any other tour in the world, and it's wonderful that companies with global aspirations, like Skrill, recognise the opportunity we provide them to reach new customers in meaningful ways," said Jeffrey Haas, Global Poker Tours Limited managing director.
The press release has more.
Epic Logo Policy
There was certainly plenty of chatter surrounding the Epic Poker League's logo policy that was released on Tuesday. According to the policy, players are allowed "up to four logos or promotional patches for a single sponsor, distributed across a combination of four of the following five areas of the body: chest, back, hat, shoulder, arm." Players and league members are also allowed to wear any other logos or promotional patches of additional sponsors as long as the two instances don't occur on the same area of the body.
There are size restrictions on the logos and once television taping starts, you will not be allowed to change patches for that day. Players are also restricted from wearing patches associated with tobacco products, hard alcohol, handguns, x-rated material, illegal gaming products, and more.
There's plenty more to the logo policy and if you want to read up on it, head on over to EpicPoker.com for the PDF.
Sick Life
On Tuesday, Huckleberry Seed tweeted, "Internet poker is down in the US, but I'm still pressing buttons!" And then accompanied it with this photo: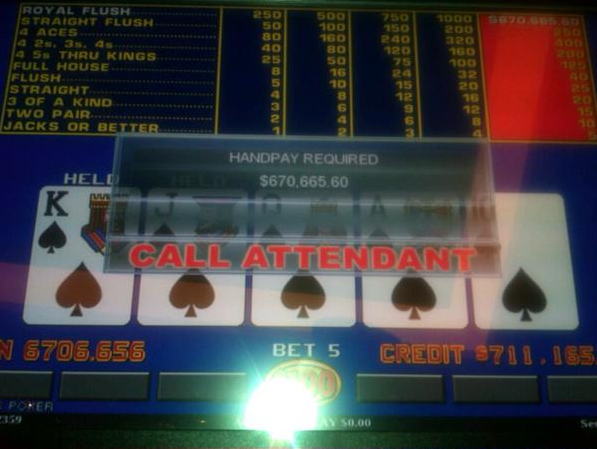 If you think your eyes are deceiving you, they aren't. It really does say $670,665.60, and yes, that is a poker machine. He went on to tweet that he was playing $500 per hand and had put around $50,000 in the machine over six hours before he hit the jackpot.
Think Grinding is Torture?
Sarah Grant may be in Tallinn, Estonia, for the PokerStars European Poker Tour, but she found some time to escape the tournament to check out the torture museum. So the next time you think that bad beat was torture, just remember this....
Follow us on Twitter for up-to-the-minute news.