The Nightly Turbo: Zynga's New Gaming Deal with Facebook, Rafa Nadal's PokerStars Debut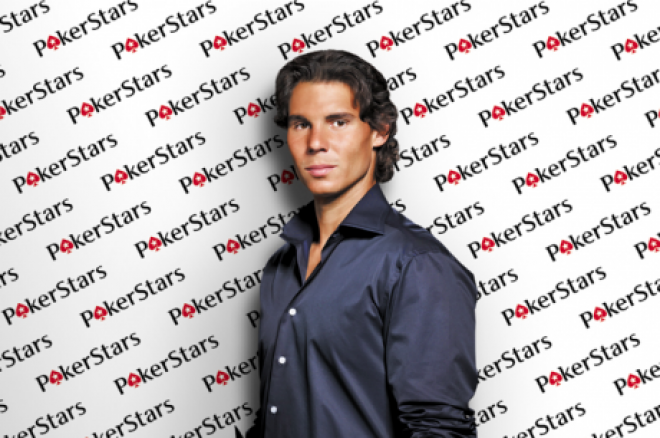 When will we see Facebook and Zynga offer real-money online poker? We have the latest on that story, plus the long-awaited PokerStars debut for Rafael Nadal, in this edition of the Nightly Turbo.
In Case You Missed It
How was the high-stakes action at the online tables this week? Read the Online Railbird Report to find out the week's biggest winners and losers.
Only 25 players survived Day 2 of the World Poker Tour Mazagan Main Event on Thursday. Clement Beauvois led the way, but there were still several notables in contention for the $168,207 top prize.
Need advice about moving up in stakes? CardRunners video instructor Peter Jennings, also known as "Marshall28" online, offers some expertise in his latest training video.
It's Friday, which means we're only two days away from Sunday's Week 13 schedule of NFL games. Rich Ryan offers his picks for each game and some fantasy advice in the Pigskin Diaries.
Friday was the last day at PokerNews for Editor-in-Chief Elaine Chaivarlis. In her final op-ed, she bids farewell to Team PokerNews and looks back at some of her favorite moments working for the site.
Did you miss anything from the past week? Don't worry, we've got you covered. Kristy Arnett and Sarah Grant broke down all the big stories from the tournament circuit in the PokerNews Weekly.
Facebook, Zynga Restructure Contract
According to a regulatory filing made with the Securities and Exchange Commission on Thursday, Zynga and Facebook have revamped their partnership to create some distance between the two companies. However, according to a stipulation in the amended deal, Zynga's real-money offering will be made available on Facebook when the new platform launches next year.
"If Facebook allows real money gambling games on the Facebook website in countries where Zynga has real money gambling games, Zynga will subsequently launch such games on the Facebook web site, if certain conditions are met by Facebook," the filing reads.
The announcement comes less than two months after Zynga joined forces with bwin.party digital entertainment plc to offer real money online poker and casino games in the United Kingdom. The deal will see the two companies launch real-money games such as poker, slots, roulette and blackjack in the first half of 2013. Bwin.party's poker platform, PartyPoker, will inherit Zynga's poker player liquidity pool.
Under the new contract between Zynga and Facebook, Zynga.com games will be under Facebook's standard terms of service as of March 31, 2013. Zynga won't have to display Facebook ad units or use Facebook credits on Zynga.com games, and the social gaming giant is no longer required to use Facebook as its "primary non-Zynga platform."
"We have streamlined our terms with Zynga so that Zynga.com's use of Facebook Platform is governed by the same policies as the rest of the ecosystem," said Zynga chief revenue officer Barry Cottle. "We will continue to work with Zynga, just as we do with developers of all sizes, to build great experiences for people playing social games through Facebook."
For more, read the story at Forbes.com.
Nadal to Play PokerStars ESCOOP Main Event
It has been nearly six months since PokerStars signed tennis pro Rafael Nadal to Team PokerStars. And finally, on Dec. 9, Nadal will reportedly make his online tournament debut at the Spanish Championship of Online Poker (ESCOOP), the first series of its kind at PokerStars.es since the official launch of online poker in Spain last June.
The ESCOOP will run Dec. 2 through 9, guaranteeing a total of €500,000. According to Poker10.com, Nadal will hit the virtual felt on Dec. 9 for the €200 buy-in Main Event, which offers a €200,000 guarantee and is restricted to Spanish residents only.
Being new to the tournament circuit, Nadal has been documenting videos on his progress to the PokerStars blog and has been since receiving coaching from Isaac Mayolas, who scored his biggest tournament win in 2006 at the World Heads Up Poker Championship.
Nadal may be the "King of Clay" and have 11 tennis Grand Slam titles to his name, but his talents on the felt are still very raw. Mayolas has acted as mentor to Nadal since June, teaching him both the rules of the game and strategy to succeed.
"So far we've put a lot of effort into understanding the importance of hand selection based on position at the table, Mayolas told the PokerStars Blog in September. "Hand selection and playing a solid game is twice as important for Rafa than for most players because so many people will try to outplay him. Who doesn't want to say 'I beat Rafa Nadal?'"
Mayolas seems to think that being ranked top in the world in tennis has given Nadal the mental capacity and competitive edge he needs to excel within poker. Added Mayolas, "Rafa is a very competitive person in poker. He has quickly learned the rules of the game, something that was unknown to him, and has been shown to combine tennis strategy with poker."
Poker10.com has the full story.
Reid/Kyl Bill Finds More Opponents
As you probably know by now, Sen. Harry Reid (D-Nev) has joined with Jon Kyl (R-Ariz) to create a bill that would legalize and set up a framework to license and regulate online poker at the federal level. The caveat, however, would be to restrict most other forms of online gambling, including state regulations to expand their lotteries into online offerings that resemble keno or slot machines.
For that reason, lottery officials from Kentucky, Idaho, Washington state, Missouri, New Hampshire, Georgia, and Iowa will fly to Washington next week to lobby against the bill.
"The purpose of the trip is to just get our message out that gaming is a right that belongs to each individual state and it's up to each state to determine not just the games they offer but the manner in which they are offered to their players," said David Gale, executive director of the North American Association of State and Provincial Lotteries.
With roughly three weeks remaining in the lame-duck session, Reid is seeking every avenue to pass the gaming bill while lobbyists have increased their efforts to restrict it. While supporters feel regulation at the federal level will be a safeguard to gamblers while offering protection to consumers, it is critics who combat with the belief that it would deprive states from inheriting the revenues of online gaming markets.
"It is just a draft," Reid spokesperson Kristen Orthman said about the bill. "We continue to work with all stakeholders, including states, to address concerns."
The lame-duck session will close by Christmas, leaving little time for Reid and Kyl to gather the necessary votes in Congress to move forward. PokerNews will continue following this story as it develops.
For more, check out the story at the Las Vegas Review-Journal.
PokerNews Nominated for Affiliate Award
The nominations are in for the Sixth Annual iGB Affiliate Awards, and we're excited to announce that PokerNews.com is up for the award of Best Poker Affiliate! The honor recognizes the poker affiliate that has excelled most in 2011-2012 based on criteria such as volume of traffic, innovation, reputation with players, and brand power.
To place your vote for PokerNews, head on over to iGBAffiliateAwards.com.
Darcourt Races With Quads
Poker pro Guillaume Darcourt is making a run at his second World Poker Tour title this week. Darcourt was among the leaders heading into Friday's Day 3 action at WPT Mazagan. But the Frenchman was still able to find some time away from the tables to face off against the WPT's Royal Flush Girls in a quad race. Have a look:
Follow PokerNews on Twitter for up-to-the-minute news.