The Weekly Turbo: Michael Phelps at WPT Montreal, PokerStars Smashes Records, and More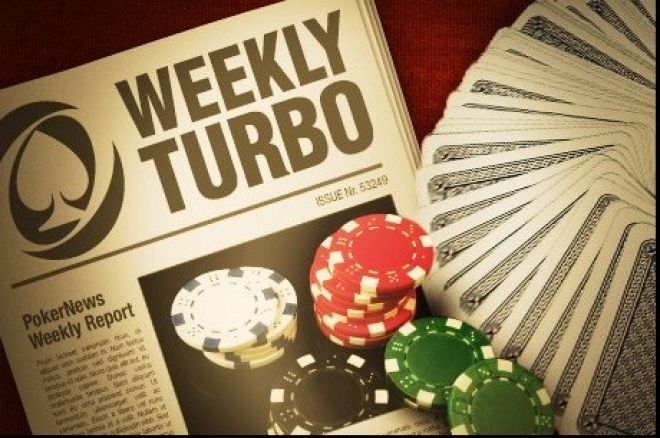 Did you miss any of the top poker news stories this week? Well you've come to the right place to get caught up. We're covering a surprise appearance at WPT Montreal from Michael Phelps, another online poker record for PokerStars, and more.
Online Poker
PokerStars One-ups Itself
The third edition of the PokerStars MicroMillions tournament series wrapped up last Sunday after 11 days of 100 micro-stakes events. The series boasted a total of 1,308,994 entries, becoming the largest online poker festival in history. The combined prize pool of MicroMillions III events was $8,276,083, which crushed the advertised $5 million guarantee.
The previous record for largest online poker series was July's MicroMillions II, which had 1,288,221 entries.
Two players completed their own historic achievements during the MicroMillions III series. "Alfons777999" and "ADP1985" each won their second MicroMillions titles, becoming the first two players to do so. "Alfons777999" bested 6,886 players in a $2.20 turbo rebuy for $7,371.32, and "ADP1985" won the $3.30+R No Limit Hold'em event for $14,096.
The big story, though, was Team PokerStars Pro Marcin "Goral" Horecki, who won his second MicroMillions leaderboard. Horecki played in all 100 events, cashed in 34, and even scooped a victory in the $4.40+R PLO 6-Max event along the way. For the accomplishment, Horecki received the MMIII trophy and a $16,000 PokerStars Caribbean Adventure package.
I did it again! Micro Millions III TLB Winner! Thanks to all my opponents for an exciting fight!

— Marcin Horecki (@MarcinHorecki)
For more information, including all MicroMillions III tournament results and historical statistics, visit PokerStars.com.
PokerStars Celebrates 90 Billion
PokerStars had more reason to celebrate Thursday when it dealt its 90 billionth hand, giving the players at one lucky table more than $228,000 combined as part of the Mega Milestone celebration. PokerStars rewarded hundreds of winners leading up to the 90 billionth hand, but the big prize came at a six-handed $1/$2 no-limit hold'em table on Thursday.
Railbirds and several members of Team PokerStars Pro (including Chris Moneymaker and Liv Boeree) flocked to table "Ornamenta" as six players were informed of their good fortune. After the announcement was made at the table, excitement from the players escalated.
carambaWOW: sick
Balazska87: wow
Kud3: its my first
guss23778: :)
m1sspiggy: bzzzz
m1sspiggy: buzzing
SHUR43: yes))) I am shocked))))
After a few minutes setting up the momentous hand, the cards were dealt and all six players moved all in preflop for a total of $1,689. The board slowly rolled out
, and the
of "m1sspiggy" was good enough to win the $1,220 main pot, plus another $66,380 for winning the promotion. The other five players split $162,150, with each receiving at least $14,000.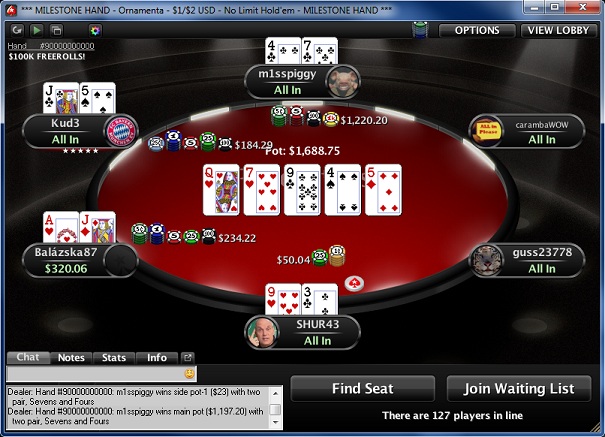 The next Mega Milestone at PokerStars will be hand No. 95 billion. For more on the 90 billionth hand, visit the PokerStars Blog.
Poker Legislation
Reid/Kyl Bill Faces Long Odds
The outlook for a federal online poker bill moving through Congress during the lame-duck session is becoming less likely by the day, and the finger pointing between Nevada Sens. Harry Reid and Dean Heller — two of the men working on passing the legislation — grew more hostile on Tuesday.
Reid, who drafted the bill with Sen. Jon Kyl, blamed Republicans Tuesday when asked what was holding up the web poker measure. Reid told the Las Vegas Sun that the bill would need 15 to 17 Republican votes to come to the floor. "At this stage, we've gotten none," he said Tuesday.
Heller reportedly snickered when told of Reid's comments, replying, "That's his answer to everything — blame Republicans."
Heller told the Las Vegas Sun Tuesday that the bill is still on the "frontburner" for Reid, Kyl and himself, but he added that the "fiscal cliff" and other issues are higher on the priority list for others in Washington. "It's just hard getting it to the forefront so that we can make it an issue and get it moving," Heller said.
Heller says he has been "working hard" in trying to coax Republican leaders and GOP senators into clearing the way for Internet poker legalization, but he admitted Tuesday that it's "going to be tough" to deliver the required number of votes.
The lame-duck legislative session has been deemed the last-ditch effort for a federal bill to move through Congress in 2012. Poker Players Alliance Executive Director John Pappas told PokerNews last week that there's still a lot of work to be done. "As Congress returned, we've spent a lot of time trying to get back in touch with staff and others to see what they are going to be working on," Pappas said. "The key for us is to find a legislative vehicle to be part of. It's still unclear what they intend to accomplish between now and Christmas."
As the Washington Times reiterated Wednesday, the lack of a federal bill would be a "jackpot" of sorts for states looking to capitalize on the emerging market.
For more, read the story at the Las Vegas Sun.
No Monopoly for South Carolinians
Last month, the South Carolina Supreme Court ruled that organized poker games are illegal, even when held in a private home. The justices also ruled that Texas Hold'em is not exempt from gambling laws, dismissing the idea that it is a game of skill rather than chance.
These decisions came in an appeal case regarding a raid on a home poker game in Charleston in 2006. During the raid, authorities seized thousands of dollars in cash, a small amount of marijuana and ticketed roughly two-dozen people for illegal gambling.
The South Carolina gambling law, penned in 1802, that was used in the case makes illegal any game with cards or dice – including board games like Monopoly.
"Whether an activity is gaming/gambling is not dependent upon the relative roles of chance and skill, but whether there is money or something of value wagered on the game's outcome," the court wrote.
Chief Justice Jean Toal agreed with the decision, but wants to revisit the 200-year old gambling statute, calling it "hopelessly outdated."
CBSNews.com has more.
Poker Business
Facebook, Zynga Restructure Contract
According to a regulatory filing made with the Securities and Exchange Commission on Thursday, Zynga and Facebook have revamped their partnership to create some distance between the two companies. However, according to a stipulation in the amended deal, Zynga's real-money offering will be made available on Facebook when the new platform launches next year.
"If Facebook allows real money gambling games on the Facebook website in countries where Zynga has real money gambling games, Zynga will subsequently launch such games on the Facebook web site, if certain conditions are met by Facebook," the filing reads.
The announcement comes less than two months after Zynga joined forces with bwin.party digital entertainment plc to offer real money online poker and casino games in the United Kingdom. The deal will see the two companies launch real-money games such as poker, slots, roulette and blackjack in the first half of 2013. Bwin.party's poker platform, PartyPoker, will inherit Zynga's poker player liquidity pool.
Under the new contract between Zynga and Facebook, Zynga.com games will be under Facebook's standard terms of service as of March 31, 2013. Zynga won't have to display Facebook ad units or use Facebook credits on Zynga.com games, and the social gaming giant is no longer required to use Facebook as its "primary non-Zynga platform."
"We have streamlined our terms with Zynga so that Zynga.com's use of Facebook Platform is governed by the same policies as the rest of the ecosystem," said Zynga chief revenue officer Barry Cottle. "We will continue to work with Zynga, just as we do with developers of all sizes, to build great experiences for people playing social games through Facebook."
For more, read the story at Forbes.com.
Mohegan Sun Chooses Ongame
On Tuesday, Mohegan Sun Casino announced it has selected an online poker provider to power its play-for-free online poker set to debut in 2013. Mohegan partnered up with Amaya Gaming subsidiary Ongame Network, which will provide the platform for Mohegan Sun ahead of real-money Internet poker regulation.
"We have been looking for the best possible fit for a poker partner for over six months," said Mitchell Etess, CEO of the Mohegan Tribal Gaming Authority. "Mohegan Sun needs a provider who has outstanding regulatory experience and flexibility to offer intrastate play-for-free poker at first, and the technology to enable real money online poker when it is legalized. We are proud to announce that this partner is Ongame."
Amaya Gaming purchased Ongame from bwin.party earlier this month for an initial payment of €15 million. If regulated online gaming returns to the United States in the next five years, Amaya Gaming is also subject to additional payments of up to €10 million.
Mohegan officials said in a press release that the Mohegan Tribe's recent movement is the first by an East Coast casino operation into the world of online gaming and poker. "This will enable Mohegan Sun to be at the head of the line when legalized real money poker is available to American customers," a statement from the company read.
Yahoo.com has more.
Poker Players
Nadal's Online Poker Debut
It has been nearly six months since PokerStars signed tennis pro Rafael Nadal to Team PokerStars. And finally, on Dec. 9, Nadal will reportedly make his online tournament debut at the Spanish Championship of Online Poker (ESCOOP), the first series of its kind at PokerStars.es since the official launch of online poker in Spain last June.
The ESCOOP will run Dec. 2 through 9, guaranteeing a total of €500,000. According to Poker10.com, Nadal will hit the virtual felt on Dec. 9 for the €200 buy-in Main Event, which offers a €200,000 guarantee and is restricted to Spanish residents only.
Being new to the tournament circuit, Nadal has been documenting videos on his progress to the PokerStars blog and has been since receiving coaching from Isaac Mayolas, who scored his biggest tournament win in 2006 at the World Heads Up Poker Championship.
Nadal may be the "King of Clay" and have 11 tennis Grand Slam titles to his name, but his talents on the felt are still very raw. Mayolas has acted as mentor to Nadal since June, teaching him both the rules of the game and strategy to succeed.
"So far we've put a lot of effort into understanding the importance of hand selection based on position at the table, Mayolas told the PokerStars Blog in September. "Hand selection and playing a solid game is twice as important for Rafa than for most players because so many people will try to outplay him. Who doesn't want to say 'I beat Rafa Nadal?'"
Mayolas seems to think that being ranked top in the world in tennis has given Nadal the mental capacity and competitive edge he needs to excel within poker. Added Mayolas, "Rafa is a very competitive person in poker. He has quickly learned the rules of the game, something that was unknown to him, and has been shown to combine tennis strategy with poker."
Poker10.com has the full story.
Kool Shen Joins Winamax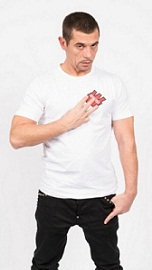 French rap star and accomplished poker player Bruno "Kool Shen" Lopes is the latest to join Team Winamax as a sponsored pro for the French online poker room.
Lopes, best known for his talents behind a mic, has terrorized the European poker circuit in 2012. In January, he won the Euro Finals of Poker Diamond Championship for $127,514. He followed that up with a victory at the World Poker Tour National Cannes Main Event in June for €100,500. He also took fourth place at the European Poker Tour Madrid Main Event for €140,000 in March.
"Winamax is proud that Bruno has become part of our representatives on the major international tournament circuit," said Winamax Director Frichet Canel in a statement. "His record in tournaments speaks for itself. Bruno is not only a media personality, but he is also a very good player. We truly believe that he will be full of surprises and will emerge as a major player on the professional circuit."
Lopes joins Gaelle Baumann, Davidi Kitai, Ludovic Lacay, Nicolas Levi, Patrick Bruel, and others on Team Winamax.
Check out the announcement at team-winamax.com.
Brunson Calls Clock
It isn't often that we see Doyle Brunson or Daniel Negreanu agree on anything. The two poker icons are constantly debating subjects on Twitter, whether it be about poker, politics, or sports. But in Brunson's latest blog post, he supported Negreanu's argument that live poker is becoming too slow and tedious.
Negreanu has long argued that live poker needs a shot clock, especially after ESPN aired the 11-hour three-handed marathon at the World Series of Poker Main Event final table.
If there was any doubt about the need for a clock in poker this is exhibit A. This is painstakingly tilting for casual viewers....

— Daniel Negreanu (@RealKidPoker)
Brunson echoed those sentiments in his blog Tuesday: "At least we agree that something has to be done about the slow play in the poker tournaments. It makes almost unwatchable TV and is very boring. A shot clock is the answer and the only question is how long can a player wait before he acts? I think one minute is plenty of time. We had a tourney in Lake Tahoe that had a 20 second clock and it was the most fun I've ever had in a tournament."
Brunson also discussed his recent cancer scare, the war in the Middle East, and the basketball player who scored 138 points in a single game. Check out his full blog at DoyleBrunson.com.
Michael Phelps Rails His "PBF"
In case you missed it this week, world champion swimmer Michael Phelps flew into Montreal to support his best friend Jeff Gross at the final table of the inaugural WPT Montreal Main Event. It was a rail for the ages as Phelps, the all-time medal winner in the history of the Olympic Games, sat beside Antonio Esfandiari, poker's all-time tournament money winner. WPT.com's Jeanine Deeb caught up with both before the final table began.
For more on Phelps' trip to Montreal, check out the piece in The Muck by Donnie Peters.
Follow PokerNews on Twitter for up-to-the-minute news.