10 Amazing Holiday Gifts for Poker Players
The holidays are upon us!
Lists are being made, checked twice, and people all over are asking each other the question, "What do you want for Christmas?" In hopes of spreading good cheer and giving our audience ready answers when they are asked this question, we've compiled a list of 10 potential gifts a poker player can ask for this Christmas.
Without any further hesitation, let's get started!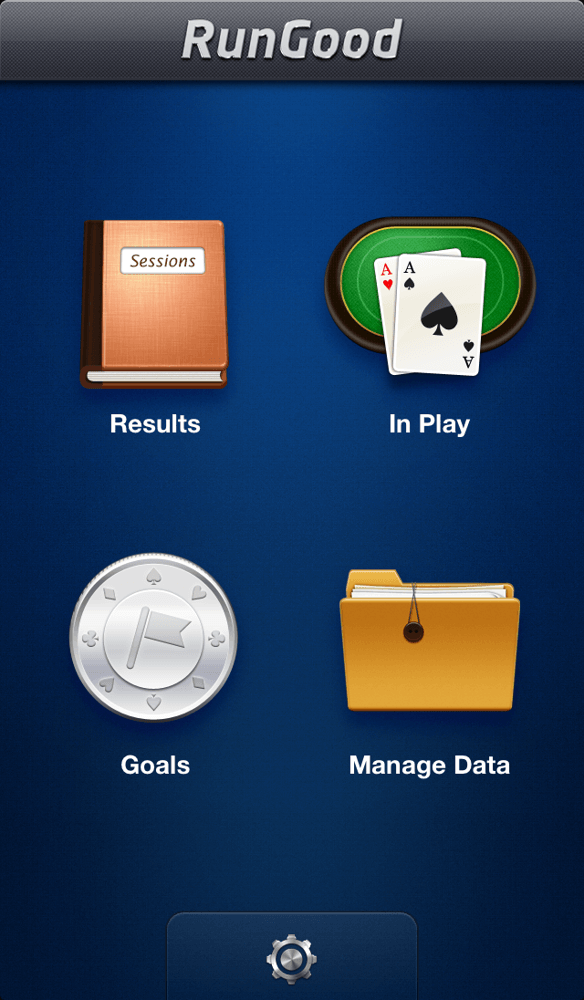 1. RunGood App — $17.99
The easiest way to describe the RunGood poker app is "PokerTracker for live games." The app lets you keep track of your poker sessions and provides stats and graphs of your results. With it, you'll soon learn which games you earn the most in, and which poker rooms you fare the best at, among other insights into your poker game. The app includes filters, tags, goals, and multiple currency support that even fetches the latest exchanges rates automatically. What also sets RunGood apart is its intuitive interface and ease of use. Everything in the app is well thought out and a breeze to use. It has proven to be an indispensable tool for me, especially without access to online poker in the U.S. RunGood is essential to any poker player that plays in live games and tops our list of holiday recommendations this year.
You can currently pick up RunGood for 50% off on the iOS App Store, and we've heard it will be coming to Android in the first quarter of 2014.
2. Off Tilt Poker Tables — $1,699
No one really likes playing poker on the dining table or a cheap folding table. That's why we love the custom poker tables designed and crafted by Bryan Knott of Off Tilt Poker Tables (www.offtiltpokertables.com). These are true furniture-quality tables designed and custom built with your choices right in the U.S. Best of all, it's very affordable and won't bust your bankroll. You won't have to bluff the fact that you have a table built the company that has built tables for Phil Hellmuth, the World Series of Poker, DeepStacks Poker Tour, Michael Mizrachi, and customers all over the world.
Pricing starts at just $1,699 with solid wood pedestals, wood crating and insured freight to your home.
3. Portable Phone Charger — $19.99
This is without a doubt my favorite gift of the year. If you're anything like me, a session at the poker table can lead to a drained phone battery more quickly than a verse of "Jingle Bells." (Or at least it seems that way.) With this bad boy, you can simply plug the USB end of your cable into the charger and the other end into your phone. Boom. Just like that your phone comes back to life and you can continue to entertain yourself with tweets, videos, or podcasts between hands.
4. 16 GB iPad Air — $524.99
This is a bit more expensive, but in terms of entertainment value an iPad is simply unparalleled. Personally, I wasn't sold on the concept of a tablet device until I began traveling the poker tournament circuit. I've been saved from boredom many a time both at the table and in the air flying to my next destination. And once you pick up an iPad, your entertainment experience won't be complete without…
5. Bose Quiet Comfort 15 Noise Cancelling Headphones — $269
When it comes to noise cancellation, these headphones are the stone cold nuts. I've owned a pair of these as well the Beats by Dre studio headphones and I must say that Bose definitely takes the cake. The noise-cancelling feature has made me forget that I've been on an airplane before and the actual headphones are as comfortable as they come. Not only that, but these truly come in handy when you want to drown out the annoying player to seated next to you in a tournament.
6. Every Hand Revealed by Gus Hansen — $13.13
This book has been around for a while, published way back in 2008 (and reviewed by our own Martin Harris for PokerNews here). Yet it still remains one of my favorite poker books to this day. The concept of this book is unique and there will likely never be another book like it published.
For those unfamiliar with the approach taken, Gus Hansen recorded and took notes throughout the entirety of his run in the 2007 Aussie Millions Championship. The real treat is that Hansen ended up outlasting a 747-entrant field to win the event, meaning that the reader gets to experience every stage of the tournament from early play all the way through heads up. Throughout the book, Hansen relives every single hand that he played and provides the reader with his thought processes. Certainly an interesting read and a journey into the mind of one of poker's most polarizing figures.
7. Take Me to the River: A Wayward and Perilous Journey to the World Series of Poker by Peter Alson — $17.99
While we're on the topic of books, I figured I might as well add my favorite non-strategy poker book to the list. This is a remarkably underrated book that recounts author Peter Alson's exploits at the 2005 World Series of Poker. While it's not a tale of absolute glory as Alson doesn't go on to win the Main Event or any of the other bracelets offered at the WSOP, the story does manage to hit home through other themes. Very much a tale about accepting one's limitations, the story told is one I'm sure many poker players can relate to and enjoy.
8. SwissGear Backpack — $69.99
I find that I use a backpack more in the poker world than I did back when I was in school. Generally, I tend to have a lot of devices (iPad, headphones, laptop, etc.) that I want to keep all together and close by, and this is where a backpack comes in handy. I've been using SwissGear products for years as they have tons of pockets to fit my items, are very spacious, and don't really hurt the bankroll too badly when you have to cave in and buy a new one.
9. Copag Playing Cards — $16.95
These are without a doubt some of the best cards that you can purchase. I like to stick to the regular sized cards as opposed to the larger print because they're perfect for playing Open Face Chinese poker with my friends. The standard sized print and the practically indestructible PVC plastic material that they are made of make them perfect for sweating your outs to make your hand. Each set comes with two decks and, as long as you don't lose them, these cards are durable enough that they will last for years.
10. Poker Chip Set — $29.99
If you don't own a set of poker chips already, the holidays are a perfect time to ask for one! Having your own quality set of poker chips will make your home games seem more authentic and allow you to play with your friends any time you desire. They heavy-duty aluminum case makes the chip set easy to tote around and they'll help to spice up your holiday home games!
Photo courtesy of www.giftbracket.com.
Get all the latest PokerNews updates on your social media outlets. Follow us on Twitter and find us on both Facebook and Google+!