Jerry Yang Responds to Joe Hachem's Harsh Comments about Poker Ambassadorship
Joe Hachem's interview with Bluff Magazine this week caused quite a stir in the poker community. The 2005 World Series of Poker Main Event champ called out several of his peers, and even blamed fellow Main Event winners Jamie Gold and Jerry Yang for "destroying the legacy of the world champ."
Here's the full interview with Hachem, in case you missed it:
We reached out to Yang on Friday, and the 2007 Main Event winner was very eager to respond to Hachem's comments. As you'll see, Yang has a very different view of ambassadorship and the current state of poker.
PokerNews: Joe Hachem recently said that you and Jamie Gold destroyed the legacy of the world champion. What was your initial reaction when you heard those words come from the mouth of a fellow world champ?
Yang: I was a little shocked. I don't know Joe very well to be honest with you. I haven't even played with him at a table, so when I heard [his comments] I was actually shocked. Joe is a nice guy and I have the utmost respect for him. He's a great champion and a great poker player and I'm not going to take away from him. But when I heard that I was shocked.
As a Main Event champion do you feel there's an obligation to be an ambassador for the game?
Absolutely. Of course.
Do you think you've fulfilled those duties?
I cannot play as much as other world champs, but I believe I have done my part in terms of charity. As far as I know I have been the only champion that has donated $1 million of my own money to charity. I have personally raised another $800,000 on my own. I have not seen one other world champion that has done that. So from a charity point of view and promoting the game we love, I think I have done my part.
Charity is my passion. I'm not going to play poker every single day. I have six kids and a business that I have to run. So just because I don't play the World Poker Tour or other high-stakes games doesn't mean I don't have the passion for poker. I always have and I always will.
So then why do you think Joe views you as a poor ambassador for poker?
That is why I am so shocked. I honestly don't know. He could be referring to my tax issue but that has nothing to do with being a world champ. That's my personal business. I may have made some mistakes in my past, but who hasn't?
Well let's stay on that. Do you feel like maybe he thinks you disgraced the game by allowing your WSOP Main Event bracelet to go up for auction?
I don't think that has anything to do with being a disgrace to the game. That's my personal issue. I made some mistakes and I don't think it has anything to do with poker.
You say that you ran into some tax issues last year because you made some financial mistakes, some of which had to do with the charity donations. How hard was it to lose your Main Event bracelet?
The IRS asked me to give up my bracelet and I did. Of course it was hard. It was my bracelet. It's once in a lifetime for someone to win a bracelet like that. It hurt me. But I learned from the lesson and learned to manage my money. Whatever happened, it happened.
How would you rate Joe Hachem as a poker ambassador?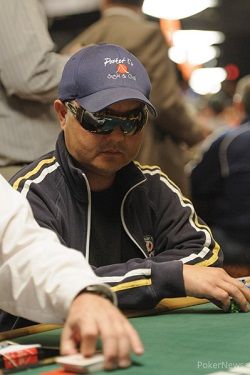 I can honestly say that I have not heard what he has done. I'm being very, very truthful with you. What has he done? What has he done from a charity point of view? I haven't heard very much of him.
I like Joe and I don't have any hard feelings about what he said about me. I'm going to continue doing the things that are dear to my heart. And that's charity. That's what I'm focused on based on my upbringing and my survival in refugee camp. I'm going to continue giving back to the poor.
That doesn't mean that I don't love poker. I will always love poker, and I will always continue to play.
Do you think any of the recent champions are doing their part to help the game grow?
I believe every world champion has their own responsibility and they have to follow what is in their hearts. If they see something that they can help improve, go for it. Honestly I haven't seen very much but that doesn't mean they're not doing anything. Maybe they've done something already.
Based on your reaction the moment you won the Main Event, it seemed like the victory really meant a lot to you. What was more important at that time — the money or the title?
I would say the money. Of course the money. I grew up dirt poor and put myself through school. I have six kids. My family has to come first.
I care about the poor and that's why I donated 10% of my Main Event winnings right away. I kept my promise when I made it on ESPN.
In the interview with Bluff, Hachem said that poker is dying because it's no longer fun for people to play. Do you agree that the game is suffering right now?
No. Well, maybe a little bit, but I think it's due to the economy. The last three, four, five years the economy has been very bad. And a lot of people are struggling.
I think the passion for the game will never go away. People will continue to love to play poker; once it's in your blood it's in your blood, just like boxing. A boxer wants to box for their entire lives but they have to stop due to their physical condition. Deep inside, they always want to box. And that's Jerry Yang. I have that passion, and I think most poker players still have that fire in them.
Because of the economy, people are slowing down. So I don't think what Joe said was correct.
Do you feel like there's anything you can do specifically as a world champ to help better the game?
I think there's a lot of things we can do as world champs. I'm opening my door to any organization out there. If they see there's anything that Jerry Yang can do to help, reach out to me. I have said this on numerous occasions. I can't do it on my own. But with the help of a lot of people, we can make poker even greater.
Do you think Yang and Jamie Gold have destroyed the legacy of the world champion? Is poker dying? Let us know in the comments section below.
Get all the latest PokerNews updates on your social media outlets. Follow us on Twitter and find us both Facebook and Google+!