Life After Poker with Former Professional Player Julien Nuijten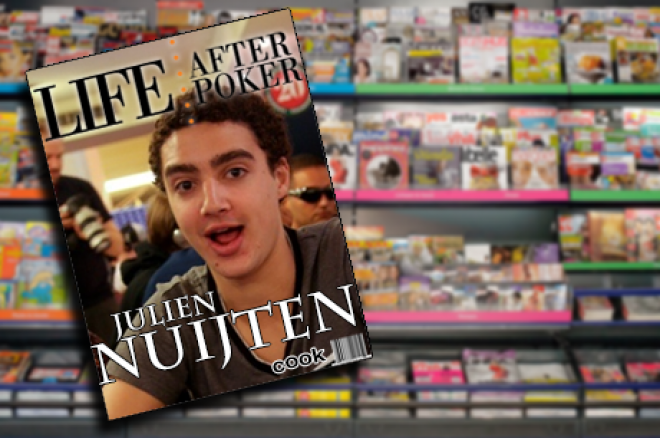 The youngest-ever Magic® World Champion, Dutch wunderkind Julien Nujiten came out of nowhere to stun the field. Just fifteen years old, Nujiten proved that he can play with the best. Playing a green-white Astral Slide deck designed to destroy "Affinity", he posted a respectable 4-2 record on the Standard day at Worlds and then calmly swept the field on the final day. — (source: Wizards.com, 2004)
Julien Nuijten started playing Magic: The Gathering when he was 12-year old, and only three years later he became World Champion in San Francisco brining home $35,000. He added some $17,000 more for ranking high on the leader board that year. In 2006, he became Magic World Champion once again, this time playing with the Dutch Team.
As many others from the world of Magic: The Gathering, Nuijten decided to try the transition to poker. He turned that into a career that allowed him to put together winnings for over $320,000 in five years.
In May 2008, he scored his first-ever cash in a big live tournament by winning the PokerStars Latin America Poker Tour in Rio de Janeiro for $222,940. Soon after that, Nuijten found himself becoming one of the most familiar faces on the Dutch poker scene and getting his poker skills recognized also far beyond his tiny European country.
Even so, poker turned out to be only an intermediate stage of Nuijten's life, as the once wunderkind decided to quit the game and try his best in a field that does not include green tables, cards or chips made of anything other than potatoes.
After managing a barbecue restaurant in Amsterdam during the past summer, at the time of this interview, Nuijten was working at a salad bar. After a couple of weeks, he decided to move on and started working as a cook at a restaurant in Amsterdam named Marathonweg. PokerNews met with Nujiten to talk about his life after poker and the reasons that motivated his decision of leaving the felt for good.
Should you name something that made you quit poker, what would this be?
I have played poker full time for five years, and although I wasn't too old when I quit, I can still say that I have been playing for quite some time.
I think I decided to stop playing more for a combination of things. The game got tougher, and I think a lot of people have experienced that. This means that if you really want to excel, you'll have to put in a lot of hours. These days, you have to study hard and be really disciplined.
During the first couple of years, things went in the right way and everything was easy for me as I enjoyed poker a lot. These days, I don't really enjoy poker anymore, to be honest. I hardly ever even play.
I played millions of hands, and I think one automatically loses joy in something when he does it for too long. After some time, you start getting tired and poker starts becoming mostly about the money. Money wasn't coming in as much as it used to, even if I was still doing fine and things weren't bad at all.
I must say that already when I quit my study to play poker full time, I knew that poker would have not be forever, and that it would be something for five to ten years for me. My goal had always been to earn as much money as possible so that I could do whatever I really enjoyed after that.
Do you feel you succeeded in this?
To a certain extent, I did. Yet, the real question is "When have you really earned enough?" A lot of players will say, "I want to have enough money to do whatever I want." But when is it that you can say you really succeeded in reaching this goal? When you've banked two million, and you have used them to buy two nice houses, the money is gone, and you can't do whatever you want anymore.
Things like that are relative, and while you are in the poker world, it is hard to see the big picture. The money involved is addictive, and a lot of people get hooked, but I don't need too much of it. I just want to be able to live comfortably in Amsterdam.
Once you left poker, you did not have a job anymore. How was to find yourself unemployed?
I thought about that and I planned it carefully in advance. I didn't want unemployment to be a too big of an issue for me as otherwise this would make me accept jobs that I wouldn't enjoy, jobs that wouldn't be beneficial to my development as a cook. Fortunately, I don't have to worry about that now.
This is not the first time you quit poker. You did it twice already, and soon after you started playing poker again. What's the big difference now? What makes you think this time you will not be heading back to the felt?
Back then, I didn't really have something else to do, I didn't have a plan. The first time, I just quit without anything else planned. It was a relief not to think about poker 24/7, but all of a sudden I found myself with a lot of spare time on my hands and nothing much to do, so I started playing again.
The second time, I did have a plan and I started studying. I was determined to quit poker, but I did have one last trip to Barcelona planned. The irony of it is that I went there, I played the European Poker Tour, and I closed with a nine-place finish worth €50,000.
Soon after, I discovered that the studies I chose had nothing to do with me, and that I did not enjoy them enough to continue. So I left them to play poker as a job, just to be busy. I needed something productive to do while figuring out what my new Plan B would be.
44:37: Julien Nuijten loses with
pre flop allin to eventual runner up Marc Goodwin's
and busts in 9th place (€50,000). Goodwin won (€530.000) for his second place, Carter Phillips won the tournament for €850,000.
Are you really sure you are not going to be seen at the poker tables again?
No, that's impossible. That's not going to happen. I might play every now and then because I enjoy that. Last year at the Master Classics of Poker in Amsterdam, I didn't play a single event, but this year I played the €1,500 reentry. It was exciting again.
I didn't play a single hand of poker in the last six months, so I had to get used to things again. It was funny to see that the poker scene hadn't changed all that much.
What about your new career in the kitchen? Is this something you wanted to do since before, or did it just happen?
I've always liked being in the kitchen, even if before that was just for fun. Back to when I spent an entire summer in Vegas in 2010, I was at the barbecue every day. I've never really worked as a cook before though; I started playing poker when I was 18 and never had any other job than playing poker.
How did you learn to cook then?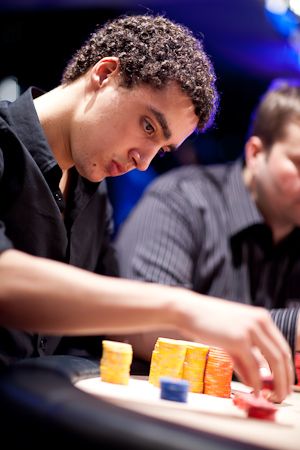 As I said, I was looking for a Plan B as a backup after poker because I understood that simply saying "I quit, I'll just see what I'll do next" would not work. I had tried that, and it didn't work for me.
This time, I thought of a couple of things I wanted to do, and one of them was cooking. Thanks to a friend, I was able to try out in a sandwich shop for a day. I know I just had to prepare sandwiches, but I loved it. I went with it and gave it a shot.
I attended cooking school for a little while, but then I had to quit it as I couldn't combine it with my new job. Since then, I have been working in all sort of places. Now I am working at SLA, a salad bar, a place owned by a cook I already worked for last year. I enjoyed working for her, so I'm helping out here for some time.
But I really want to work in all sorts of places before I settle down somewhere. The next big step for me is to work in a good restaurant where I will have to perform all the little French tricks.
Don't you need to have finished cooking school to get to work in places like that?
It would definitely help, but it's not a mandatory. Cooking is a profession where doing and practicing is the most important. When you apply for a job, you need to send a résumé and book an appointment for a day of practice, as people want to meet you and see what you are capable of.
As a cook you need to be able to do a million little things, and you'll only be able to tell how good of a cook someone is once you will see him performing in the kitchen.
Another player who has now quit the game told me that he missed the competitive nature of the game. Do you miss that too, or is there a way to get that feeling back even in the kitchen?
Competition doesn't necessary happen with someone who is right next to you, and if you are cooking at a competitive level, you can really compare your prepared meal with those of other restaurants.
In poker, a lot of money is pushed around the table without getting to the showdown, which makes the game mostly about making assessments of your play. When the money does go in and you have to flip over your cards, you might have the best hand or you might also have a good hand that's not actually the best one against your opponent's range.
When I played poker, I had a hard time trying to assess what was working and what wasn't. In cooking, instead, you can immediately see the results of your work and your actions. When I prepare a dish, I can immediately tell if it's better than the last time I made it or not.
Do you still play Magic or did you quit that, too?
I do not play much anymore. There's a nice format now with Magic, though. I think they came up with that about three years ago, a sort of Greatest Hits of Magic. It's called Cube Draft and features a lot of old cards and some newer ones, which are really good as well.
Is Magic more fun than poker?
More fun to play you mean? Absolutely! It's a better game as well, it's put together better.
Are there still professional Magic players around?
You can play Magic online, but more for fun than anything else. You can earn some money from it, but you can't make a proper living playing it like you can with poker.
I'm not really in the loop anymore, so I am not sure about who is playing full time these days. I assume it must be somehow like back in the days when I played, when those who were really good could make a decent living by playing. I think there were no more than fifty doing that, though.
I played professionally for some three years. I won the first big tournament I played, so it was easy to say, "I'll make this my living from now on." At that time, I was still in school and I was living at home with my parents, so it wasn't hard for me to call it a profession.
I think there are still some people playing Magic professionally today. But if you're in the top 50 of poker's highest winners, you're a multi-millionaire. If you get the same result in Magic, numbers are going to be very different. There are no Magic millionaires around, besides those making the cards of, course.
There are people who, looking back at poker, are not entirely satisfied with what they did. How do you feel about the time you played? Do you see it as a nice time, or maybe a time you didn't really progress as a person?
That would be nonsense if I felt that way. I was in my early twenties and made a ton of money. I was able to do anything I felt like and had all the freedom in the world. I don't really see a downside to it, either. Maybe the fact that I didn't graduate.
But in the end, I found my passion, and it turned out to be a passion you don't really need a college degree for. So that doesn't really bother me. Poker was very good to me during the five years I played. I feel I quit at the right time, though. Spending more time on the game, I might have ended my career with some regrets.
Get all the latest PokerNews updates on your social media outlets. Follow us on Twitter and find us on both Facebook and Google+!