Joy Ride: Doug "WCGRider" Polk's Road to the Nosebleeds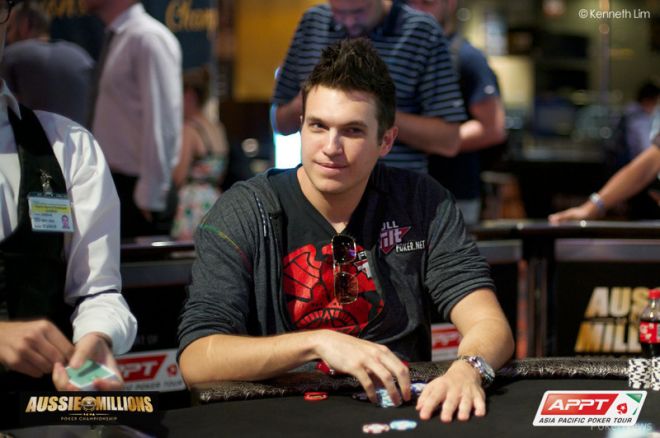 Doug Polk is a study in contradictions. On the one hand, he's quiet and unassuming in person, on the other, he's one of the most successful and divisive players in the online poker realm. Under the moniker "WCGRider," Polk has been terrorizing adversaries for years on his journey from the microstakes to the nosebleeds.
Born in Pasadena, Polk spent his early years bouncing around Southern California to towns like Oceanside and La Jolla. When he was five, his father took the opportunity to teach him the game of chess, and that blossomed into a lifelong love of games of strategy.
"He started off playing without a queen and two rooks, then once I would beat him he would slowly add pieces back in," Polk explained. "By the time I was nine years old, I was getting lessons from a grandmaster and my dad simply couldn't beat me anymore. There were lots of tournaments to play, and this gave me the framework to have solid critical thinking for the future."
Eventually, Polk and his family left Southern California and set up temporary residence in such places as Las Vegas, Raleigh, and Wilmington. When he was 15, Polk set his sites on Warcraft 3, and his knack for strategy games allowed him to find success straight away. In addition to coaching people and building accounts, Polk participated in several World Cyber Games (WCG) USA tournaments — hence his online poker handle.
Upon graduating high school, Polk attended the University of North Carolina Wilmington (UNCW), but as he soon found out, college wasn't for him.
"I dropped out in my first year to pursue poker full time," Polk explained. "The moment I dropped out was one of my favorite poker moments. I had amassed a healthy bankroll of four or five thousand dollars. School wasn't going great, and my interest was declining. Then, the day finally came that would change my life forever. I was in a class that had mandatory attendance, but I had transferred late into the class and didn't realize I was supposed to be signing a daily login sheet. The professor told me that I was going to fail the class due to absence. I asked her if there was any way we could work something out, as I had in fact been there and didn't know about the login sheet. She told me no and that I was going to automatically fail the class regardless of what I did."
Fed up, Polk packed up his stuff and made a beeline for Vegas with no clear plan in mind. Well, that's not exactly true as he had learned a new game at a WCG tournament — no-limit Texas hold'em. With encouragement from his fellow Warcraft players, Polk studied up and then headed to the microstakes on PokerStars.
In 2007, Polk began playing $0.01/$0.02 and worked his way up to $1/$2. "I turned $20 into about $10,000. I was a serious full-ring grinder," he said before discussing how things seemed to reign themselves in the following year. "I tried to transition into six-max unsuccessfully [in 2008]. Full-ring kept me afloat, but I was a fairly-breakeven rakeback pro."
While Polk may have thought reverting from a winning player to a "fairly-breakeven" player might've been hard, he said that in 2009 things got even tougher. "This was a very trying time for me. I remember running something like approximately 80 buy-ins under EV at mid-stakes full-ring, which takes its toll in a game where win rates are one or two big blinds."
But then, things would turn around when Polk made the transition to what would turn out to be his niche game. "In late 2009, I started playing heads-up poker," he said, "and I immediately went from playing $2/$4 to playing $50/$100 several months later. Heads-up poker came very natural to me, and I was started to build my legacy."
Despite running up the ranks of the high-stakes online realm and becoming one of the most feared players in the game, Polk again hit a bit of a roadblock in 2010 and some of 2011 that he mainly attributes to himself. "I really stagnated in these years. I put poker by the wayside and was focusing more on my personal life," Polk said of this time. "Spending, playing bad game types, and not focusing cost me dearly, and by October 2011 I was on the ropes of going broke."
Broke seems to be an idea so many of these high-stakes players flirt with from time to time, but it's also this ability to put a lot on the line that allows that an edge on so many others in the game and catapult their play into the nosebleeds. Even so, Polk recognized that it was either time to make it or break it. "I decided that it was time to get serious or go back into the real world," he said. "It's funny looking back on it now, I was seriously contemplating going back to school. I knew that I had to give HUNL another shot, and since then I've won several million by starting back at $0.50/$1.00. Now, I would consider myself to be at the top tier of the online poker community."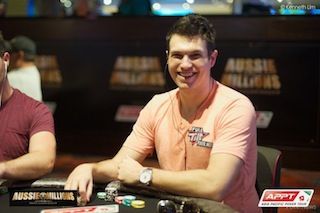 Today, Polk splits his time between Full Tilt Poker and PokerStars, where he has lifetime earnings of $1,139,367 and $745,606, respectively. He's developed a reputation as a player willing to give action, and he's not afraid to mix it up with some of online poker's biggest names including Viktor "Isildur1" Blom, Ben "Sauce1234" Sulsky, and Dan "jungleman12" Cates.
"I respect any of the guys that really worked from the bottom to get to the top. Even above that, I respect the guys that managed to do it in the past few years," Polk said. "Most of the players that hit it big back in the FTP games of 2007-2008 would never be able to make it back to the top stakes again if they had to start grinding at low stakes online. It takes years of hard work, dedication, and discipline, and players like Sulsky, Ike Haxton, and Alex "Kanu7" Millar have those traits. Those would be the players I respect the most."
While you wouldn't guess it, the last two years haven't been all smooth sailing for Polk. Last year, Polk was the victim of a computer hacking incident on PokerStars. The reputable site investigated and promptly returned $35,000 to Polk's account, but the episode was not without consequence.
"That incident was really horrible not just for me, but all of my roommates at the time," Polk admitted. "Between that incident and a lot of the scamming incidents that have happened recently, it's shaken my trust in the online poker world. Now, I only play on the two major sites and don't transfer with anyone. I also have to keep my computers safe, and I have to constantly question whether or not whom I'm playing is legitimate. Luckily, at high stakes, there is a limited number of opponents so it's easier to tell if you are being cheated, but it's still a scary scenario."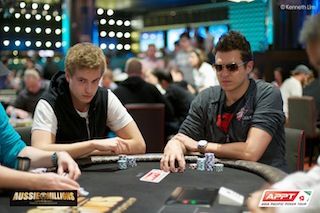 For years, Polk embraced the anonymity provided by his screen name, but now he has made it a point to build his brand. "I don't want to be seen as WCGRider, I want to be seen as Doug Polk," he clarified. "I'm planning on putting in more volume with tournaments, more live cash games, and trying to get more publicity."
Polk took the first step in that direction earlier this year when he traveled to Melbourne for the 2014 Aussie Millions and to play the $100,000 Challenge. Polk was one of the first eliminations in the tournament, losing the same amount he had won in the well-publicized challenge against Sulsky in October of last year, but he exercised his option to reenter. It proved a fruitful decision as he ended up placing fourth for $770,237, far and away his biggest live score. Even so, Polk didn't make a big deal out of it.
"I don't think that placing a lot of emphasis on good tournament scores is that important, as that tournament was essentially a turbo rebuy multi-table tournament," Polk said modestly. "There were only 70 people, and for the majority of the tournament the average stack size was 15-25 big blinds. I'm happy with how I played, and I'm glad that I finally got to have a 'big score,' but once you consider that I was in the tournament for $200,000, and that my score was for 8.6 buy-ins, it isn't nearly as impressive as it sounds."
Of course, the numerous reentries in the $100,000 Challenge — namely Haxton and Daniel Negreanu investing more than a half a million dollars apiece — sparked a bit of debate in the poker community. So what are Polk's thoughts on the matter?
"I think that most players and fans get way too riled up about the unlimited reentry situation. Each reentry is a unique tournament, and once that tournament's life is over the next reentry is a new and different one," Polk said. "I find it hilarious when people say 'Wow, why would Ike punch in that fifth buy-in? He will basically never win money this tournament!" But the question isn't how often do you net gain in this tournament — even in that vein of logic, if you don't rebuy you net gain 0% — the question was what was the individual expected value per tournament. If someone thinks that they are +EV in the field, then they should rebuy as many times as they are able to do so to capitalize on their edge. I think that rebuys are good for the poker community, and I will continue to play them should the event make sense for me to play."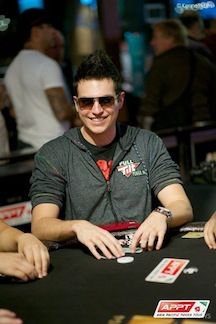 Since returning from the land Down Under, Polk has been bouncing between Vegas and California with jaunts to Vancouver to get his online poker fix. While he intends to play more live tournaments, Polk hasn't mapped out which events he'll be play other than to say he'll play a "full load at the World Series of Poker."
In the meantime, Polk continues to play chess, video games, and pretty much anything strategy related. Interestingly, he also has a passion for music and even played the violin for seven years before transitioning to the guitar as a teenager.
"In high school, I had a band called The Sarcasmics," Polk admitted, "but never really took the time to take music seriously. The problem at the end of the day is that a large part of being in your twenties is that you need to focus on career and where you are going in life, and music doesn't really help that. I still like to sit down and put the occasional jam session in. I will always love to play music."
Whether he's playing music, poker, or some other game, Polk has a clear goal in mind.
"I enjoy taking the time to talk with people and build that reputation. I think that a lot of fans dislike my comments on their favorite pros, and that has caused a degree of strife amongst the railbird community," he concluded. "That is who I am, though. I tell people about the poker world as I see it. I want people to know that when they hear what I have to say about players or the poker world, that it is my honest opinion, and I am not afraid to ruffle some feathers. Besides, where is the fun in lying?'
Indeed, because it's not like lying is some sort of game.
Get all the latest PokerNews updates on your social media outlets. Follow us on Twitter and find us on both Facebook and Google+!
Executive Editor US, PokerNews Podcast co-host & 2013 WSOP Bracelet Winner.