Chatting with the Senior Poker Tour's "The Duke of Fremont Street"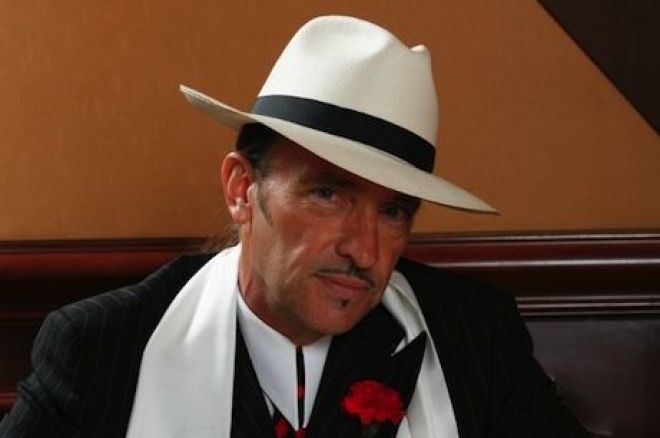 The Senior Poker Tour, which will host the SPT Vegas Spring Classic from April 8-13 at Stratosphere Casino, continues to expand its team of pros.
Just a few weeks after announcing the addition of Donna Blevins, Robert "Chip Burner" Turner and Nancy Todd Tyner to Team SPT, the tour, which previously joined forces with the PPC Poker Tour, has brought on one of Las Vegas' "legendary" players — "The Duke of Fremont Street."
If you've ever been in Las Vegas, you may have spotted a dapper man donning a pinstripe suit, sporting a white fedora with a ponytail hanging out the back, and carrying a violin case. He certainly sticks out in a crowd, not to mention at a poker table.
Born in Cape Girardeau on the Mississippi River on December 8, 1950, Ronald Lloyd Wall was the quintessential riverboat gambler. Eventually, he made his way out to Las Vegas, which is where he became "The Duke of Fremont Street."
Some people enjoy the character, while others think it's some sort of joke. For The Duke, he is an ambassador of a golden bygone era, one of glamour, romance, and adventure.
PokerNews recently spoke with The Duke, who claims to have survived a brutal murder attempt back in 2012, to talk about his mysterious origins, his legend, and representing the Senior Poker Tour.
PokerNews: How does it feel to join the Senior Poker Tour and why do you feel this is a good fit for you?
The Duke of Fremont Street: I am very honored and delighted to be asked to join the Senior Poker Tour and accept this invitation cheerfully. At 63 years old, many years over the minimum qualifying age, I've played poker for over four decades and witnessed and experienced the evolution of the game firsthand. Poker has always been much more than an income stream to me. It has been a lifelong passion. I believe that by joining the Senior Poker Tour I am presented with a perfect opportunity to re-invigorate my poker career!
How did you get the name "The Duke of Fremont"?
Years ago while celebrating my birthday at one of the Downtown Las Vegas strip clubs, Roberto Mercer, one of the original "Downtown Boys" flippantly dubbed me "The Duke of Fremont Street," a name and title that has become synonymous to who I am.
You travel around carrying a violin case full of money? What's the story behind that?
The violin case is not only part of my style and persona it is a very practical way to transport large sums of hundred dollar bills around my beloved Las Vegas. I do not wish to ruin my trouser pockets overstuffing them with gold money clips and cash.
You're also known for dressing exquisitely. What motivates you to do that?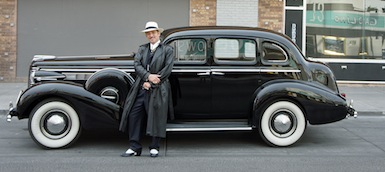 My grandfather and mentor, Price Catlett Wall, taught me a very valuable lesson. For as far back as I can remember, he would to say to me "Dress up and be somebody!" He lived by these words and I very seldom recall seeing him without a coat, tie, and fedora. I've never forgotten his thoughtful words and abide by his counsel to this day. I also believe I only have one shot at making a first impression so I make it a point to do everything in my power to make this first impression memorable and positive. Finally, I really enjoy getting dressed up, I refer to it as putting on my "Full Metal Jacket."
It seems "The Duke of Fremont" is polarizing in that some people love and are entertained by the character, while others might not care for it or poke fun. What are your feelings on this?
Great question! I believe my persona is very polarizing and that I have both admirers and haters. Having survived multiple murder attempts on my life, being kidnapping, being tortured, and being robbed several times, I realize that there are those that, for whatever reason, do not like me, to say the least. Fortunately for me, I believe these people are in the minority and certainly appreciate those that do like and respect me.
In your SPT bio it says you're a "treasure hunter." Can you explain that a little for our readers?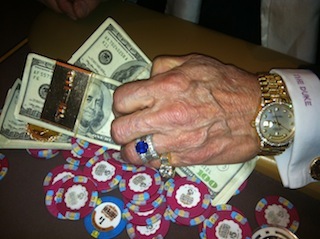 As "The Duke of Fremont Street, Las Vegas Treasure Hunter," I'm a patron and trader of vintage gold and silver coins, obsolete U.S. currency, antiques, artifacts, and collectables. I seek these items and acquire them wherever I travel.
It also says you are a world traveler. What sorts of places around the world have you played poker? What's been your favorite and why?
I've traveled to six of the seven continents seeking excitement and adventure pursuing relics, artifacts, and treasure. I've discovered there are diverse treasures wherever I trek. While exploring the planet I've been amazed to see the influence poker has had all over the world, even in the most remote parts of the globe. I've played poker with fellow explorers in the Amazon Rainforest and with indigenous tribesmen on the Savannahs of Africa. Not long ago, in a very isolated village in Papua New Guinea, a lodge even had window openings carved in the shape of the four poker suits, clubs, diamonds, hearts and spades. Although I've enjoyed my many poker games all over the world, my favorite poker location is still my beloved Las Vegas.
What else is on your bucket list as far as poker is concerned?
I wish to pursue and expand my poker career and want The Duke of Fremont Street to be a positive role model for the younger players in today's game. Although I'm known as a cash player, I look forward to playing in the Senior Poker Tournaments and will do my best to win in these exciting events.
You're considered a quintessential "Old Vegas" character by the poker world. Why do you think that is?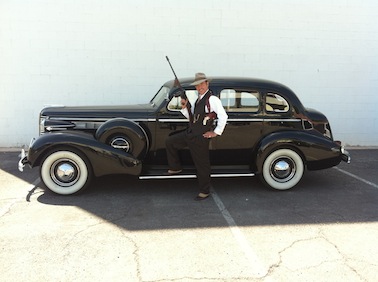 It's pathetic that we live in a society that posts notices to patrons that they must put their clothes and shoes on before entering an establishment. Poker rooms are filled with poker players dressed in sweats, hoodies, ball caps, tennis shoes and headsets, many of which have absolutely no manners or social skills. Many of these players have yet to discover the power of water and soap. My personal appearance and persona is an alternative to this popular trend.
Although I've had years and years of experience at poker and "Lady Luck" is my mistress, I personally believe my major edge in poker is not my luck or skill but my style and persona. I believe my persona is reminiscent of a bygone "Golden Era", an era of the Packard and LaSalle, big black cars with flashy chrome hood ornaments and wide whitewall tires, of tuxedos and platinum blondes, of enormous diamond pinky rings and spats, a long lost era of glamour, romance and elegance.
I wish to keep this era alive and have no intention of ever changing my point of view. We live in a society that wants to squash your panache. I will not allow anyone to succeed at this. Even with many bad beats in poker, and more importantly in the game of life, I'm certain I lead a charmed life and enjoy it to the fullest. Having it documented is just icing on the cake. For The Duke Of Fremont Street, the adventure continues!
For more information on the SPT, please visit SeniorPokerTour.com.
Get all the latest PokerNews updates on your social media outlets. Follow us on Twitter and find us both Facebook and Google+!