Does Jason Somerville Have What It Takes To Be the Next Daniel Negreanu?

Nick Wright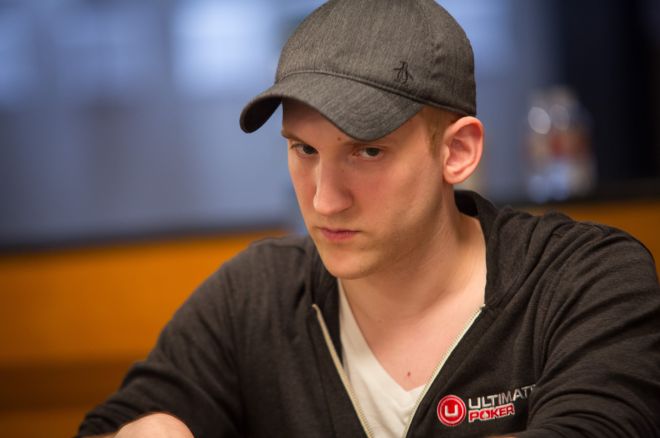 From the outside looking in, signing with a poker site looks to be the ultimate dream for a poker player. Once you sign a deal, the free buy-ins, flights around the world, magazine covers and inflated rakeback deals will all be yours simply for being good at a card game. But it's not that simple, as Jason "JCarver" Somerville, a sponsored pro with US-facing site Ultimate Poker, can attest to.
At 26, Somerville, who won a World Series of Poker gold bracelet in 2011, is fast approaching veteran status in the poker world. He's seen the poker landscape he inhabits affected by both the Unlawful Internet Gambling Enforcement Act (UIGEA) and Black Friday. Due in part to those two milestones, we're now in an age where poker sponsorships are as rare as a steak tartare, and as a white American male, Somerville doesn't exactly stand out from the crowd when it comes to patch-bearing players.
But, Somerville is smart. Unlike some of his non-patched peers, he knows that being good at cards is basically secondary when it comes to becoming a sponsored pro. "I think that a lot of poker players feel like just because they're good at poker it is enough of a reason for a site to want to sign them. And it's just not true," he says from his the Las Vegas offices of Ultimate Poker. "Being good at poker isn't really enough. You have to bring something else to the table, and you have to help the site in some way. I think most players don't approach a sponsorship deal in the right way; they approach most of these deals with the attitude of 'What are you going to do for me?' and that's just not really the best way to do it."
What Can I Do for You?
It's certainly not the way Somerville chose to approach it. For one, he didn't snap up the first deal he was offered. "I had talked with other sites in the past and I didn't feel like it was the right fit," he says. "They wanted me to do things that didn't feel right to me, or understand my personality or my work ethic, or how I wanted to spend my time. I found none of those problems at Ultimate and I was given support in the way I needed it."
Secondly, his deal came about because Somerville was pro-active in getting the sort of deal that he felt would benefit both parties. "I have always had a passion for video making and storytelling, but Ultimate Poker wasn't exactly looking for a guy like me, for the things I wanted to do."
But with lifetime tournament earnings of almost $5,000,000, Somerville knew he held some of the cards and came back with a counter offer. "I pitched them on the ideas and they were interested in working with me and they were very supportive," he adds. "To be honest, the first deal they were discussing didn't interest me really. It was a bare-bones pro deal, and I wasn't interested in that. I wanted a bigger role and wanted to be able to contribute with content because that's truly where my biggest edge lies. Our deal at its core is truly a co-promotion deal. I'm promoting them, they're promoting me, and you know together we're stronger than we would be individually."
What Somerville has done in the six months since he signed and decided to move out to Las Vegas is truly staggering and puts most poker players' volume to shame. Ironically, though, he's worked incredibly hard on everything apart from his poker. Not that he views that as a negative. "It's been the best six months of my life," he says. "Ever since I moved to Las Vegas, I've played zero hands of live poker and I've played under 100 hands of poker in any kind of serious fashion," although the day after this conversation Somerville admits he'll be playing his first big tournament since he blanked the 2013 WSOP.
Whilst he may not have been traveling the circuit, what he has done would surprise those who think sponsored pros are lazy and that they really don't make any difference to a site's bottom line and don't bring any value to a poker site. "I've spent all my time on Ultimate Poker and on Run It Up," he tells me. The latter is his phenomenally successful series of videos where he's attempting to turn $50 into $10,000 on Ultimate Poker. "It's been crazy, man. I've never worked harder," says the former grinder. "I work 12-hour days every day, no joke. I take one day off a week, if I'm lucky. It's been awesome, though. I's been wild, I've loved it."
Run It Up
And he's been putting those 12-hour days to good use. "I've made 76 Run It Up episodes since the middle of July, not counting 20 or 30 non-Run It Up videos," he says with a chuckle. "I've made a minimum of four videos a week, and up to seven videos a week, since July 15. I've been doing it for four months now. That kind of consistency is not expected from poker players, so I think they (Ultimate Poker) were not exactly sure what they were going to get out of me at first. But, I'm happy, they're happy, everybody's happy as far as that goes."
It's clear that Somerville regards his deal with Ultimate Poker as akin to a real-world job and treats it as such even if he doesn't have to clock in and clock out. "I don't have that kind of deal where I have to be in the office nine to five, that kind of deal doesn't work for me," which is of course part of the appeal of poker as a profession. "I still contribute in ways that other people really can't, I play a utility role in some sort of ways, but it's great. It's definitely my first 'real job,' but it never feels like work, I love it! I truly do, every day I go into the office with a smile on my face."
From hearing Somerville talk, it's apparent just how proud he is of his Run It Up series. At the time of writing, he's made 102 episodes of the show, which is part entertainment, part strategy, but almost always fun. Each episode that viewers get to watch on his YouTube channel weighs in at anything from 20 minutes to an hour, but the entire process takes much longer. "I usually start in the evenings around eleven, by the time I get the recordings going it takes 45 minutes to do an hour of recording and then editing the video usually takes about 20-30 minutes. I then have to upload, which usually takes about an hour, then I still have to annotate, you know do all the tags, publish, and promote the video across social media, so it's not easy, but I love it!"
What's more, the love he puts into the series has been reciprocated by the poker community. "It's so great to have a platform like Run It Up where so many people just enjoy it," he tells me.
It takes just a few minutes of one episode to know that Somerville has a blast making the content. "I feel like I've improved as a broadcaster to get to the point now where every show is pretty fun and every show is focused on trying to be entertaining while still playing good poker." And Somerville believes the emphasis with his content is very much on the fun, something he feels is lacking elsewhere. "I feel like recently, in the past few years as an American, the fun poker story telling was squeezed out. It's been eliminated, it's just gone. If you want to watch a poker video, you're stuck watching a fairly boring training video. I'm not saying it's not a good video, it's just not entertaining or that's just not the purpose of it. I eventually realized after the first 20 or 30 Run It Up episodes that the thing people really wanted to see was more entertainment, so that's what I started focusing on."
Feature Interview: Matt Glantz Discusses Growth of Parx Poker Room, a Pending Online Poker Deal, and More
The Mini Negreanu
With his entertaining personality, laid-back style and never being afraid to laugh at himself, it's been said that Somerville is a "mini Daniel Negreanu." Indeed, Somerville believes Negreanu is the perfect example of what a sponsored pro can bring to a poker site. "People like Negreanu, they're ambassadors for the brand and they're champions of the brand. I think that's the road for sponsorship." Furthermore, you can see some of Negreanu in Somerville, which is not an accident. "I was very lucky that my biggest poker influence was Daniel Negreanu (Somerville was an instructor for PokerVT), who is obviously the master at that kind of stuff. He is so friendly, so outgoing, and you know that to have him as a role model for me I've always kind of wanted to be more like that — friendly and outgoing — just because it's more fun for everyone."
Whilst it's clear that Somerville, with his work ethic, Run It Up videos and outgoing personality, brings something unique to the table, he is one of 10 members on the Ultimate Poker Team U roster that includes Antonio Esfandiari and Dan O'Brien, to name just two. What does Somerville think his fellow pros bring to the table? "Antonio is obviously great, poker's all-time, number one money winner. Not only that, he's also a great personality, that I bet you even if Antonio had a 10th of the poker accolades that he had I still think he would be a great pro for a site. He's charismatic, well-spoken and entertaining so he becomes valuable to a site because he's a draw. People like to see him, people want to watch him, people want to meet him — that's what makes Antonio good because he's kind of a celebrity."
And what of O'Brien, who was part of Somerville's Bracelet Hunting videos he made at the 2013 WSOP. "He doesn't have the same draw as Antonio, not even close, of course," admits Somerville. "But I think Dan is valuable for a different reason because he's obviously very well-spoken, he's kind of an up-and-comer to some degree, but he's out there. People will interact with him when they see him. He'll wear the patch, he'll be an ambassador to a lesser degree than Antonio, but he'll still play on the site, he's still a hardworking guy, he comes up with good ideas and contributes to content. I think Dan is almost like the low bar. I think Dan is great, but if Dan didn't do everything he does he would never get a deal. I think you have to work pretty hard these days to get a deal."
Yet, despite the amount of time and effort that most players have to put in to getting a deal these days, Somerville replies in the affirmative when I put it to him that lots of people within the poker community believe there's no value to poker sites having sponsored pros. "I agree, I mean it all depends on how you use them. If you're a guy and you're like 'Yeah, all right, I'll go out and wear a patch and do whatever,' those days are gone. You have to be a super top one-percenter for that deal to have any appeal."
And Somerville's view on what it means to be a sponsored pro has changed in the six months that he's been associated with Ultimate Poker. "There's so much more information that I didn't really understand six months ago from a player's perspective. But now that I've seen more of the world from all different angles, I understand a bit better as to the true challenges of the site and how I can really contribute. I think that a lot of poker players need to think from an operator's point of view, 'What good do you do for them?'"
When Things Go South
There are some downsides to being a sponsored pro, though, especially if you choose poorly, says Somerville. "Once you've lost your sponsorship virginity, so to speak, it's very hard get signed again," he says. "It's very hard to re-sign a guy who had a deal with a site and now you Google the guy's name and he'll always have a patch from a former competitor or be on a failed site. It's very important that you choose your partners selectively."
Despite Ultimate Poker being at the vanguard of legalized poker in America, Somerville had no qualms in signing on the dotted line with them. "I would've never have associated my name with Ultimate Poker if I didn't know 100% that your deposits are safe," he states. "We had to provide the Nevada State Gaming Control Board with documented evidence from one of the trial periods. We had to provide them evidence that every single action that was taken at Ultimate Poker in this relatively large timeframe, every single check, bet, call, fold was taking place within the borders of Nevada. So, we gave them this report, which was a PDF file that was 700,000 pages long! The upside of regulation is that everything is fair and legitimate and you're backed by the government. The government has said we're trustworthy and responsible. That's a pretty big plus after what we've been through in poker."
But as you'd expect from Somerville, he hasn't just crunched the numbers. He's heavily involved on the human side, too. "I know 80% of the operations staff at Ultimate Poker and probably 50% of the administrative type of people. Everyone here wants to make the best poker product they can make and they are there to serve the customer as the number one priority. If I didn't know that was 100% the case, I would never have a deal with them. I wanted to be very sure of that before I signed anything and I think maybe not all pros have taken that same level of due diligence. You know, diligence before they necessarily sign."
Of course, some deals don't work out as well as Somerville's has for everyone. Hot on the heels of Black Friday came the troubles at Lock Poker and it's often the pros, as the public face of a poker site, who find themselves in the line of fire when things go wrong, something Somerville thinks comes with the territory. "It's not a one-way street, you know?" he says. "It's not just a thing where you're just like 'Oh! I'm going to sign with these guys and take their money, that'll be great!' You're kind of vouching a little bit for the site, especially if you're not signing with the most major operator on the planet. I think that if you say 'Oh, well I had no idea there were any problems,' well that very well could be true, but what were you doing? I guess there are just 'wear a patch' deals and I don't think those people should necessarily be held liable or anything like that, you know. It would be like holding a guy who was wearing a patch one time liable for Full Tilt Poker's failures. But you know the guys at the top level, who are making the bigger amounts of money, the guys who are ambassadors for the brand, if you can't at least logically be able to say, 'Well look, I talked to these guys and it seemed to me like it was all good,' then you should at least be able to say, 'Wow, what happened? I thought this was all OK.'"
That, of course, was one of the most shocking things to come out of the Full Tilt scandal. The site had multiple Red Pros, but the fact that the scandal went right to the top, to the elite Team Full Tilt members, seemed unbelievable. Whilst some of these members disappeared, others stuck around to face the music and to try and make things right. None more so than Tom Dwan. "I have a lot of respect for Tom, and one of the things I think people like the most about Tom is that he never took the company line," says Somerville. "He always felt like 'I'm gonna try and find out what's going on here.' Tom is a very independent thinker, which you kind of want in these situations."
At the time of Black Friday, Somerville was still a professional poker player, although no longer what you'd call a grinder. "I never considered relocating for poker," he says. "I mean, even prior to Black Friday, I was never really that guy. I was playing pretty rarely, and just playing bigger stuff live. I had kind of transitioned away from the grindy life."
Real Talk
For Somerville, the two biggest moments of his life post-Black Friday both happened off the felt. On February 14, 2014, Somerville posted video No. 100 in the Run It Up series, but that date holds more significance than most for the Long Island native. On the same date in 2012, he posted a blog entitled Real Talk in which he came out as the first openly gay high-profile male poker player. "I mean, you know for so many years I walked around with a feeling of inadequacy. Like I was walking around with a dirty secret," Somerville says. "I carried it around as a burden, as a negative. I would even go so far as to say I was fairly disgusted by it, as though it was a weakness. Instead of just embracing it as part of who I am. I remember being a kid and being attracted to guys. Very clearly I remember this being the case. So it was never a thing that I opted into, and for too many years I kept it as a quiet burden that I never talked to anyone about. Literally, I never spoke a word of it until I was 22."
Almost two years removed from his blog post and with time to reflect, Somerville admits that a lot of the reasons for this repression were in his own mind. "I didn't want to be open with people, because I always felt like I had this secret that I had to protect, that I had to hide, that if it came out it would be an awful thing. Turns out, I was really wrong and it was like a cage of anxiety that I built for myself. No one ever put me in it, I put myself in it. I always said the world won't treat me well, the world will always look at me as the gay poker player, and I'll never be able to overcome that label. I didn't want that to be all that I 'accomplished.' But it was all in my own mind, and having broken that barrier it's become increasingly clear to me just how toxic that barrier was."
For all the things poker isn't, Somerville believes the game to be the most democratic endeavor he's ever been involved in and to quote his blog post, "One of the things that I think is universally liked about poker is that the game is open to anyone. If you've got the cash, we've got a seat open." Thankfully, the poker community embraced Somerville and the reaction in the wider community was overwhelmingly positive. The same is true of those close to Somerville. "You know, I had a lot of friendships get closer after I came out. As I brought people into the world, brought people into the truth, as I shared my story with people, I definitely ended up walking away closer. I've had maybe 10 people come out to me privately and I think that, to some degree, a lot of those guys are coming out to their friends and making it less of a public thing. It's more just like if they were asked about it they'd say, 'Yup, so what?,' but they're not making it a big deal. To be honest with you, given the fact that when I came out everyone was like 'Yeah, cool, whatever,' I don't think it would be a big deal."
The second huge moment for Somerville came when he was hired by Russell Thomas to coach him for the 2012 WSOP Main Event final table. Somerville doesn't think every good player is a good coach, though. "I think there are some really good players that would make for pretty garbage coaches. I would guess that if you took a top five percent poker coach, which is not necessarily Phil Galfond, but you took someone who was very good, took somebody like that and you put them down with an amateur player and said, 'coach this person' and you took Phil Ivey and said the same, I would take the five percenter everyday over Phil Ivey."
It's possible that Somerville is a "five per center," as by 2012 he was already an established coach, with players such as Max Silver having passed through his "JCarverLand" coaching program. And it helped that Somerville was also no stranger to WSOP success having won a WSOP bracelet in 2011. But ask him which experience was the more nerve wracking and there's no hesitation. "If you asked me which I was more nervous for, it was definitely for Russ playing," he says. "You know, he lived with me for three months, to try to make him as good as he could be for that final table, and when that day came I felt good because we'd prepared so much and Russ felt prepared."
The tutoring didn't focus on the Main Event until October, at which point Somerville left no stone unturned. "We ran 15 different simulations, with two-hour levels, and the exact same stacks. We tried to model the opponents. Sometimes we'd start with Russ as a short stack, sometimes with the tournament accelerated, you know like two levels in." And the size of the operation was staggering, too. "I think we had 14 people at my little house in New York," laughs Somerville. "We had 14 people that were just dedicated to making sure Russ was as prepared as he could be. I think it was so helpful for him. We saw situations where Jake Balsiger, who was on Russ' left, became the early chip leader. Jake was an aggressive player and put a lot of pressure on Russ, so he had to deal with that. That was great because it actually happened at the Main Event final table. It was so great to have those simulations because when the time came, not only was Russ familiar with all the different scenarios that could come about, but he was comfortable with the chips that were in play."
Feature Interview: From Russia with Love: Yakovenko Overcomes Brain Trauma and Aspires to Conquer Poker
Over the Hill, but Not Under It
Whilst Somerville may be semi-retired from poker and winning the WSOP Main Event might not be a realistic goal for a poker player to accomplish given the size of the field, Somerville is far from done with poker. "I still have poker goals," he says. "I still definitely want to earn a couple more bracelets, or win one of these big tournaments, but at this point I am focused more on different life goals. But they all sort of synergize. If Run It Up is successful, it makes it all the more sweeter when I do win a tournament down the line, there will be more people to be happy about it."
But he's aware that when you get closer to 30 years old rather than 20 that you're almost "over the hill" in poker terms. "I'm definitely starting to feel like one of the old guys in poker, but to be honest, I feel like in the last two years in particular I've matured a lot. I feel like I've really grown into my shell, so to speak. I've never really felt more challenged. I've never felt like I was more doing what I was supposed to be doing. I'm honestly not sure where I'm heading, though, and I'm excited about that. I think I have potential avenues into different business things. I've developed some really cool connections into the UFC, and as a huge UFC fan I would love to connect myself into that world, to do more work with them. And then finally, and not last of which, is broadcasting, and video production, which I have a huge passion for and I really love."
Try as he might, you sense he's going to be around poker for a long time to come, as the subject of legalized poker in America continues to grow. "I feel that online poker not being available in America is a joke. I love the fact that I'm contributing in some way towards the rebuilding of poker in America, my home country. I want nothing more than to be able to go back to my home state of New York and play online poker again. I feel like it was why I agreed, eventually, within the last couple of months with Ultimate, not just to be a pro, not just to help them out with videos, but to really try and help them in any way, wherever that role may take me. I've loved being in the meetings, and I really want to help rebuild online poker in America and take it to new heights."
Five Tips from Somerville
Jason Somerville is another of those lucky souls who started playing poker in freerolls and worked his way up to the top without ever having to deposit. To conclude, he shares some of his top tips for low-stakes players to move on up:
If you're trying to run up a bankroll, you should watch Run It Up!
I think it's really important that you work just as hard off table as you do on table. It's very important to review and talk poker, that's how you really get sharp.
It's important that if you're playing and you're having some losses to move down in stakes. Don't be afraid to move down in stakes, and don't get stubborn playing higher stakes when you don't really need to.
If you're going to play poker professionally or play poker for any kind of serious profit, I think it's important you also have fun with it. Keep it fun because if you're not enjoying yourself you're going to burn out or you're not going to want to play as much.
Experiment! Play the smallest stakes available to you and see whether you prefer tournaments over cash games, or sit-n-gos, or pot-limit Omaha versus no-limit hold'em... whatever. It's good to experiment.
Jason Somerville is a member of Team U for Ultimate Poker. You can follow his Run It Up series on his YouTube channel, contact him via Facebook, or follow him on Twitter.follow him on Twitter
Get all the latest PokerNews updates on your social media outlets. Follow us on Twitter and find us on both Facebook and Google+!