Matt Glantz Discusses Growth of Parx Poker Room, a Pending Online Poker Deal, and More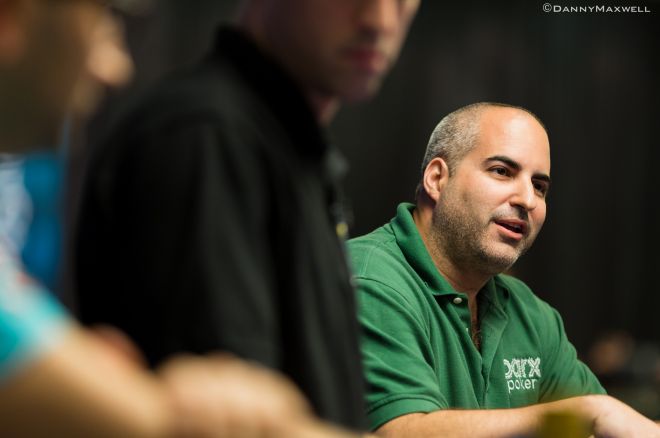 The tournament registration line snaked ever so slightly past one of the two-dozen low-stakes cash games in the Parx Poker Room this past Saturday afternoon. Well over 100 players were grinding in the ring games — some of them having already bagged chips on Day 1a or Day 1b of the Parx Big Stax V $330 event, while others were taking advantage of the big crowds and the high-octane atmosphere of Day 1c — and hundreds more were queued up to fire their first, second, or even fifth bullet in the tournament.
When registration closed at the start of play on Sunday, the tournament had a total of 1,857 entries and a prize pool of $529,245, smashing the previous Parx record of 1,364 players and the $150,000 guarantee. This type of production may be typical for an Atlantic City powerhouse like Borgata, which has been operational for a decade, but the Parx Poker Room is only three years old.
"In the tournaments Parx held before I joined up with them, the most players they ever had was around 200 or 300," observes Matt Glantz, the ambassador of the Parx Poker Room, who is pleasantly surprised at the room's burgeoning growth rate.
After signing Glantz, who has over $5 million in career live tournament earnings, in June of 2012, the Bensalem, PA, casino played host to the World Poker Tour in August. The $3,500 buy-in was extremely large for a venue without a hotel, but the tournament still attracted 500 players, generating a prize pool of $1.6 million.
"I was thrilled with that," says Glantz. "It was a huge expenditure to host the WPT, though, and the finances didn't work out so we didn't bring them back."
Instead of hosting a national tour, Glantz worked internally with Parx Director of Poker Bill Entenman to develop their own poker series. Glantz, a Pennsylvania native and East Coast cash-game player, believes that tournaments are a key catalyst for growth.
"The best way to market a poker room is poker tournaments," Glantz says. "That's how you get fresh faces from all over the place into your room. We wanted to create a brand that everyone on the East Coast would know and love, and ultimately would want to come and play each time we ran it."
Glantz, who's been married to his "Hall of Fame supportive" wife Deborah for 16 years and has an 11-year-old son and a nine-year-old daughter, understands the pulse of East Coast players. After falling in love with poker in a $5/$10 seven-card stud game held at the Philadelphia Stock Exchange in the late 90's, he cut his teeth playing $50/$100 limit hold'em at the Taj Mahal. Among the cast of characters he competed against were Phil Ivey, Joe Cassidy, and John D'Agostino. Glantz still prefers to play mixed games, but after the poker boom he started to dabble in no-limit hold'em tournaments.
"It was intimidating," Glantz admits. "I had no idea what I was doing. I would just play really nitty and sometimes get lucky and cash."
Glantz was admittedly so lucky that he reached the final table of the 2004 U.S. Poker Championship — the first $10,000 buy-in event he ever played.
When the dot-com bubble approached Glantz sold his trading firm, unwilling to assume extreme financial risk. He then transitioned to poker, establishing himself as one of the more frequent players in Atlantic City.
After months of preparation with Entenman, Glantz and his crew launched Parx Big Stax I in February of 2013. The very first tournament, a $330 buy-in reentry event, generated a field size of 1,364.
"We were so unprepared for that amount of players," Glantz laughs.
Under Pennsylvania State law, a poker tournament payout structure must be submitted and approved before the cards go in the air. Using the recent WPT as a barometer of success, the Parx tournament staff submitted a prize structure for up to 800 players, so by law they could only pay the top 80 even though they had well over a thousand players.
"A lot of players weren't thrilled with that," Glantz says. "But they understood the situation. Nobody expected the fields we got."
The tournament staff learned their lesson, and now prize structures go up to 3,500 entrants.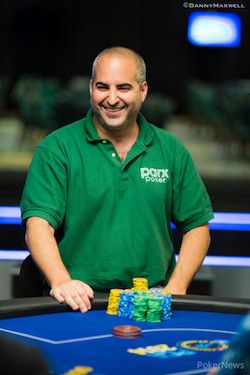 Glantz's role as ambassador extends well beyond the glad-handing and picture-posing that most "poster boys" do in the poker world. In fact, Glantz hasn't taken any pictures or done any advertisements for the room. His focus is on being a liaison between the players and the staff.
"I have a really good feel for what my players want on the East Coast, and I try to mend that with what the management and staff want," he says. "It's like two different forces are pulling, and if you can meet in the middle you're going to have a lot of success."
When there isn't a tournament series being held, Parx runs a weekly $200+30 tournament each Saturday. Glantz could easily just wander through the tournament area and chum it up now and then while taking a break from his $200/$400 mixed game in the high-stakes section of the poker room, but instead he plays in the tournament from time-to-time.
"It's not a luxurious event on the World Poker Tour or the World Series of Poker, but it's fun," Glantz says. "When I come to that $230 tournament, I'm sitting with eight or nine players that can give me input too. I learn a lot about what they like about the place and what improvements we can make. It's great feedback."
Always focused on improving the venue and the brand, Glantz hints that Parx may already be in preliminary talks with an American online poker provider. The Legislative Budget and Finance Committee of the Pennsylvania State Senate is currently analyzing the potential impact of online gaming on the Keystone State, and will report their findings on May 1.
"We'll certainly be the leading name in Pennsylvania [if online poker is legalized], and we would partner with one of the major brands that everyone plays on already, allowing them to use our facilities as a base for their site," Glantz says.
The unknown brand in question will not be WSOP.com — Caesars owns Harrah's Philadelphia in Chester, Pennsylvania.
"Unfortunately, Pennsylvania is a Quaker state," Glantz adds, grinning. "It isn't the most friendly towards gambling."
Glantz's leadership role in poker extends beyond the friendly confines of Parx Casino. When the Epic Poker League was up and running, he was a member of the Standards and Conduct Committee, and he recently consulted the WSOP staff to help construct the new schedule. When asked why he extends himself for the betterment of the entire industry, Glantz has a pragmatic view: "To be perfectly honest, I realize that the better the poker industry does the better I'm going to do. There's also the fact that I really enjoy it and I want good things for my friends in the industry. I want the people I've met to succeed, and I'll do whatever I can to make the game more attractive and to bring people into the poker world so they can enjoy it like I do."
For the next two weeks, you will be able to find Glantz in the Parx Poker Room nearly every day, fulfilling his roll as ambassador and grinding away in both cash games and tournaments. Parx Big Stax V continues on Thursday with a $550 buy-in reentry event, and the $1,600 buy-in, reentry Main Event kicks off next week. For a full schedule of events, check here.
Get all the latest PokerNews updates on your social media outlets. Follow us on Twitter and find us on both Facebook and Google+!