BlogNews Weekly: Stop Wasting Time on Bad Beats!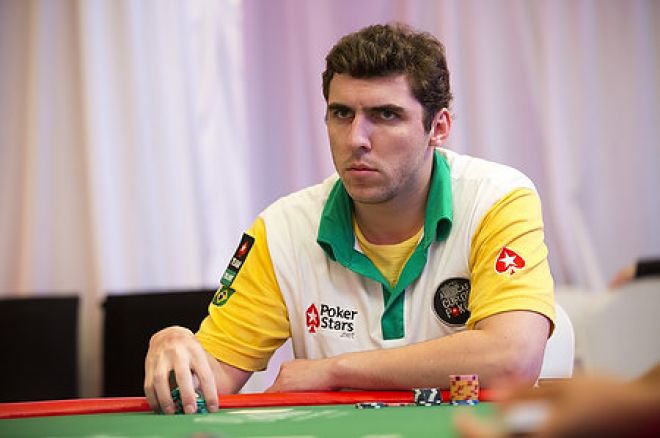 Each week, PokerNews brings you insight into the happenings at some of the major poker sites. Featuring the most popular blog posts, BlogNews Weekly is your one-stop shop for all your poker blog highlights.
In this week's BlogNews report, we bring you the highlights from PokerStars, Full Tilt Poker, and 888poker blogs from last week.
Stop worrying about bad beats
Do bad beats annoy you? You aren't alone if you answered yes. While it is fine and in some cases even natural for bad beats to get under your skin, it is important to move past them as quickly as possible and not have them consume your time.
PokerStars Team Online member Caio "pessagno" Pessagno talks about how he wasted time being frustrated by bad beats in his PokerStars blog titled Bad Beats Are Not Your Privilege, My Friend." The blog discusses how he moved on from this bad mindset and now focuses on things he can control and that can help his game.
Pessagno recommends you remember three things the next time a bad beat is about to consume your thoughts and create frustration - STOP, BREATHE and THINK.
He goes on to say how important it is to emotionally detach yourself from the game and to remember that bad beats are part of the game and every poker player frequently has luck go their opponent's way.
Go ahead and put bad beats behind you. Check out the PokerStars blog to read more about Caio Pessagno's thoughts.
Download PokerStars through PokerNews.
"Isildur1" wins $487,000 on Full Tilt Poker
The nosebleed action has been in full force lately on Full Tilt Poker, especially in mixed games.
The Full Tilt Poker blog covers lots of the high stakes action, including this past Friday's $487,200 win by Viktor "Islidur1" Blom - all on mixed game tables.
Blom started the day winning $263,800 during a long five-and-a-half hour 2-7 triple draw session against the likes of Kagome Kagome, samrostan, Gus Hansen, SanIker, Phil "Polarizing" Ivey, and Osama_no_Brunch.
After a bit of a rest Blom brought his daily profit to close to $500,000 while playing pot limit Omaha, 2-7 triple draw, and a variety of games on the 8-game tables. Not a bad day in the office.
Head to the Full Tilt Poker blog to read more about who the big winners are in the exciting Full Tilt Poker nosebleed action.
Download Full Tilt Poker through PokerNews.
Bankroll Building Adventures
The 888poker blog is one of my favorites, since all you need is the writing bug and a computer to post a blog there. Since anyone can and does post blogs there, you get to read about poker from the common person's point of view.
888poker blogger "David" has decided to document his journey from zero to hero in his blog titled "New Day, New Life."
He recently hopped face first into the poker world after experiencing a lack of success in the business world. His first goal is to make a modest $50. While this might seem like an easy goal to achieve, how easy do you think it would be with only $0.07 to start with?
David was inspired by the Ferguson challenge where Chris Ferguson started with $0 and built his bankroll to $10,000 following certain bankroll management guidelines. While David starts with a few cents more and his first goal is a bit less than $10k, it is great to see that challenges of old inspire challenges of new.
David already has five entries in his blog. You can read more on the 888poker blog about his trials and tribulations in becomes the next zero to hero poker player.
Download 888poker through PokerNews.
Get all the latest PokerNews updates on your social media outlets. Follow us on Twitter and like us on Facebook now!