Joe McKeehen: The Broad Street Bully Looks to Terrorize the WSOP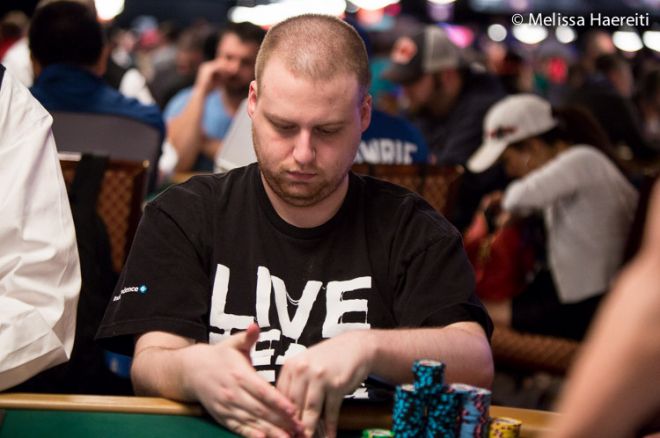 We made Joe McKeehen's acquaintance earlier in the year while covering the Borgata Winter and Spring Poker Opens, and with two victories in as many series, the 23-year old native of North Wales, Pennsylvania immediately made his presence known. First, we watched as McKeehen rolled through Event 3 of the Borgata Winter Poker Open, overcoming a field of 578 entries to take down top honors - along with $69,808 in prize money. Just a few months later, McKeehen returned to the winner's circle, defeating 193 opponents in Event 10 ($660 NLHE Reentry) for another $33,873 score.
In between those wins, McKeehen - a diehard Philadelphia Flyers fan who often sports his team's orange and black on the felt - added another first place entry to his résumé, winning a $1650 Foxwoods poker Classic event to add another $61,285 to his lifetime earnings.
McKeehen has made an astounding seven final tables in Atlantic City over less than two years of live action, and over a dozen during his brief but highly successful career, proving that when he plays the game he loves, he plays to win. Those final table appearances have garnered the young McKeehen a World Series of Poker Circuit ring from the 2012-13 Caesars Atlantic City Main Event, as well as yet another Borgata seasonal series win from last November's Fall Poker Open. That makes it three consecutive Borgata Opens in which McKeehen has held up a trophy, something that has made his parents Brent and Gina extremely proud. McKeehen jokingly told the table during his latest victory that he "wanted another trophy," before adding "my mom keeps them in her china cabinet."
With $937,253 in reported live earnings to his credit already, McKeehen has quickly become a a force to be reckoned with on the live tournament circuit, but he has yet to achieve the same level of success during WSOP play. We caught up with McKeehen while he prepared to take his seat in Event 4 ($1,000 NLHE) here at the Rio, as he looks to bring his East Coast dominance westward:
PokerNews: So Joe, Event 4 will be your first event of the WSOP?
My first event of the series. I'm so excited. Kind of. It's just another tournament, but in a different location.
PokerNews: For a pro like yourself who has probably played in hundreds, if not thousands, of live tournaments, does this scene still have the same cachet that it holds for amateurs, fans and media?
If I get deep it sure will. But I'm already down to three thousand chips, and I haven't even played a hand yet.
PokerNews: You mentioned earlier that you won a satellite event WSOP.com. Tell me a little about that.
It was on the internet last night. It was a $27 rebuy to any $1,500 WSOP event. There were eighty people, three got a seat, and I was fortunate enough to be one of those three people.
PokerNews: So you're running well already.
Yep, I'm gonna freeroll an event. I'm pretty excited.
PokerNews: During each of my last two trips to Atlantic City to cover Borgata Seasonal Open events, I've watched you win a tournament, so I know a little about your game as it stands today. Fill me in on your introduction to poker, and how you discovered the game.
I watched it on TV, like everyone else. And then I played freerolls in like seventh grade. And then I had money and I was happy. Right around 2003, something like that.
PokerNews: Which would put you at, what? Twelve, thirteen years old at the time?
I was pretty young, yeah. I was playing illegally for the longest time, but I'm legal now, so…
PokerNews: And how did your entrance to the live tournament game come about? Were you playing underground card clubs or home games?
No, I wasn't doing anything like that… before Black Friday happened I went once to play at Turning Stone where you only have to be 18 to play. And then Black Friday happened and I started playing live exclusively.
PokerNews: When did your breakthrough moment come? Was there a particular cash or deep run that made you believe you could make a living playing poker?
It was a big cash actually. I was only 20 and it was at the PCA. I won a side event ($2,150 NLHE Turbo for $116,230) and I had lots of money but I was still in school then at Arcadia in Pennsylvania.
PokerNews: Did the poker bug tempt you to put school on hold like so many other young pros who experience success early in their career?
No, I went through with it. Got my degree in Math… don't know if it's good for anything, but it's a piece of paper that says I did school, and my parents are happy, so yay.
PokerNews: After watching you roll through two tournaments in two series at the Borgata earlier in the year, I wouldn't have necessarily pegged you as a "math whiz" in terms of your play.
No, I look pretty stupid.
PokerNews: No comment sir. But in seriousness, do you think an educational background in mathematics influences your strategy or style on the felt?
I mean, I try to play every hand to the best of my ability. Math is involved… I crunch the numbers, but you play so much the numbers kind of become engraved in your head. You just know if a spot is good or bad.
PokerNews: How would you define your playing style aside from the numbers game, in terms of aggression, hand reading, and those supplementary skills it takes to win consistently?
I want everyone to think I'm crazy, because I'm not. So when I sit there and play two hands in an hour, everyone's surprised.
PokerNews: So back to your first big win at the PCA, you've got a roll built up at that point, your confidence is high… tell me where your poker career went from there? All players experience a downswing at some point, but a scan of your stats on Hendon Mob doesn't seem to show much of a letdown in your performance, what with almost a million dollars in live earnings since that first big score just two years ago.
Well, I went back to school, so I didn't play during school. And then, summer came, I forget what I did, and then I remember senior year, last semester of college, I went to Caesars in Atlantic City, ended up winning a big tournament there ($1,675 WSOP Circuit NLHE Main Event for $174,147). Then I had to go back to school and drag through it for a month, and it was terrible, but after that I was so excited. And after that I just started winning things, and hooray.
PokerNews: You've made seven final tables in Atlantic City alone, which is pretty astounding considering your age. Why do you prefer playing there? is it simply a matter of proximity, a comfort zone with the players, or just variance?
It's just the closest venue, yeah. I try to go wherever I can though. I've been to Florida a couple times, the Southeast, never really been West with the exception of here.
PokerNews: What would you consider to be you're greatest achievement in poker so far?
It was probably winning the ring at Caesars. I mean, they put my name on ESPN, so I was excited.
PokerNews: And from there, scrolling through your live cashes, all you seem to do is win. You've recorded five victories since earning your first WSOPC ring, including the aforementioned wins at the Borgata, and a Foxwoods Poker Classic $1,650 NLHE event. To what do you attribute your ability to close?
I don't know… I cooler people more than they cooler me. When it gets shorthanded, maybe I'm better than the rest of the table. Because a lot of the people, they're smaller tournaments, so maybe they don't have any experience shorthanded. Like, they fold way too much, so I just raise and they fold, and before they know it they're short. And then I get there and it's over. I kind of pick on the players who don't want to bust before a pay jump, the ones who play passively near the end.
PokerNews: As far as the WSOP goes, you recorded two cashes in your first full trip to the Rio last year, including a run to the money in the Main Event. What are your plans for this summer?
I'm playing everything, a whole bunch… like $5Ks and under, I should be in there. Mostly all no-limit, but I'm playing one limit hold'em event because I like torturing myself.
PokerNews: Do you dabble in the other games then, or is no-limit hold'em your preferred variant?
No, I don't know what the hell I'm doing… I'm smart enough to understand that I'm not good enough at PLO, so I'm not going to pretend like I know what I'm doing. No-Limit Hold'em is just comfortable, although I might even play a Pot-Limit Hold'em this summer. It's just so different, no antes, limping, all that stuff I'm not used to.
PokerNews: You're rooming with fellow pro D.J. McKinnon for the summer, so can you talk about how poker players banding together in condos and houses during a tournament series can be beneficial?
Sure, D.J. is just a great guy. I've roomed with all these guys last year, and they're all just really good guys. D.J., Chad Eveslage, Dan Dizenzo… they're great people and really good players. I expect everyone to win this year.
PokerNews: Does having a sense of community and camaraderie off the felt make it any easier to get through the two-month grind of a full WSOP schedule?
Definitely. First, being alone for two months would kind of suck, but just being able to talk through hands, make sure you're not making big mistakes, because everyone makes mistakes but you've got to continually learn from them. That's the only way to get better.
PokerNews: Finally, what are your expectations for the summer? Any particular goals in mind?
Win something… yeah, make lots of money and win something. I'll take a bracelet for my mom, she'd appreciate that. She's got a trophy case now, no more room in her china cabinet.
Get all the latest PokerNews updates on your social media outlets. Follow us on Twitter and find us on both Facebook and Google+!